Tanushree Nandan graduated from Symbiosis Law School, Pune in 2007. She went on to join DLF Ltd. On of one her trips she realised that there is a need to fill in this massive gap between a layman and a lawyer and she started the "the layman's lawyer". Currently, she is a designated partner at Layman's Lawyer LLP an online legal service provider, and she is also a Partner at Red Ant Realty.
We asked her about:
Experience at Symbiosis
Her subsequent jobs at DLF and Genpact
Her dream project The Layman Lawyer
How would you like to introduce yourself?
I am a lawyer by education, an entrepreneur by profession and a traveller by choice!
What inspired you to take up law? Did you have to deal with any resistance from family or friends while making that decision?
(Taking up legal education has not been a popular choice in India with the prime focus on STEM disciplines.)
Why did I decide to be a lawyer? Boy, that's quite a story! It was a tiny little thing. My father told me I ought to be an engineer just like the rest of my family because then I would have the support of my family to launch my career. That my father thought me incapable of making a career for myself, even though I was a confident and self-sufficient girl (thanks to him, in fact!), a reasonably good student, excellent at co-curricular & extracurricular, etc. jarred my ego!
Most of my school friends also thought that I should be an engineer (because of varied reasons: engineering runs in the family; the medical profession is too daunting) although it never bothered me that much, the peer pressure was against legal studies too! In fact, only one of my close friends took up law – for the rest, it wasn't even an option.
So, I knew the expectations of my family & friends. After my 10th boards but before beginning with the 11th standard classes, I had to decide whether I would at all take up science for my 12th which I did not want to, due to several reasons. One, I wanted to rebel and prove my worth by making a career all on my own. For another, I found the science subjects fascinating, but they did not seem irresistible to me.
Commerce, on the other hand, really excited me. I started spending hours in the school library and the computer lab, trying to read up on career choices after 12th for a commerce student. The obvious choices, of course, were CA, CFA, CS, so on and so forth, however, it was legal studies that caught my eye.
The more I read about the legal profession, the more I became convinced that lawyer was what I was meant to be!
To say that I faced resistance at home would be an understatement! When I told my parents of my decision, they went through a range of emotions, utter shock, disbelief, rage, and then resignation. Kind of like, well, if she wants to spoil her own life, what can we do?
I wanted to prove them wrong and show them I was making the right decision with all my being!
I started by qualifying in two of India's best law schools – Symbiosis Law School (under SIU) Pune & NALSAR Hyderabad!
It just so happened that Symbiosis informed me first – so I went to Pune. Never regretted it and never looked back! And neither did my parents. From the time I got through to Symbiosis, they became quite proud of my achievements.
Did you take part in co-curricular activities while in college? Can you please share with us your experience and opinion on the importance of them in a law student's life?
Yes, of course. I participated in national inter-college moots (Raj Anand, BACL Nagpur's annual moot, etc.).
They were super enriching – the thrill of the competition mingled with the satisfaction of making new friends. It also taught us a lot of things that aren't discussed in classrooms – teamwork, balancing grade-work and co-curricular, optimum utilisation of resources, and how to handle sleep-deprivation. These all come in quite handy in a lawyer's professional life. Especially the sleep-deprivation part!
How did you develop an inclination towards corporate laws? What were your other areas of interest during your legal education?
It was when I was reading up on the legal profession after 10th, and I decided to take up law… to be a corporate lawyer was a very early decision for me.
As I advanced through the course, I also became interested in IPR and international business laws. I had those subjects as my specialisation as well. But luckily for me, I never a found reason to waver from corporate laws.
Internships provide students with their first exposure to the practical aspects of the legal profession. Could you tell us about the internships you took up, and what you learnt from those experiences?
I had very exciting internships! I interned with Senior Advocate Mohan Parasaran when he was the Additional Solicitor General of India. This internship gave me a direct insight into a practising lawyer's life and the proceedings of high profile cases in the Supreme Court of India.
I interned with the Mumbai office of Kochhar & Co. twice, during which I worked mainly with corporate issues, consumer cases, and also attended an international commercial arbitration. I was taken under the wing by Kamni Ahuja and Sony George.
I also interned with Luthra Anand & Associates in New Delhi twice. These mostly taught me that marriage is dangerous! J
I learned a lot there from Sanjeev Sahay and Geeta Luthra. Although, I did not get a chance to work with Pinky Anand, I think she's totally awesome! I also worked with K. R. Chawla in New Delhi once – it was mostly corporate matters, legal opinions and the like; and with S. Jalan & Co. in Kolkata once too, mainly on land matters.
Tell us about your early professional experiences at DLF Limited. What have been the main takeaways you have had from your time there?
I got through to DLF through campus placement. I worked with some superb seniors there – Ms Suneeta Kar, the Eastern Regional Legal Head, was my immediate supervisor. She taught me everything I needed to know about land laws in West Bengal. Mr Surajit Roy & Mr Subha Chakrabarti, who were leading Business Development and Projects in East India, taught me how to balance legalities with business interests. Suneeta left for a better job within a year of my joining, so I kind of by default had to take up the mantle of the Eastern Regional Legal Head. Less than a year of PQE and heading the legal side with such senior and experienced professionals like Surajit & Subha was terrifying in the beginning! That was when Harish Sehgal (then Executive Director – Legal) & Poonam Madan (my immediate supervisor) really helped me grow, giving me the confidence to speak my mind without being intimidated by such senior people. As I let go of the fear, I realised Surajit & Subha were fun, nice people that my fear was only in my mind!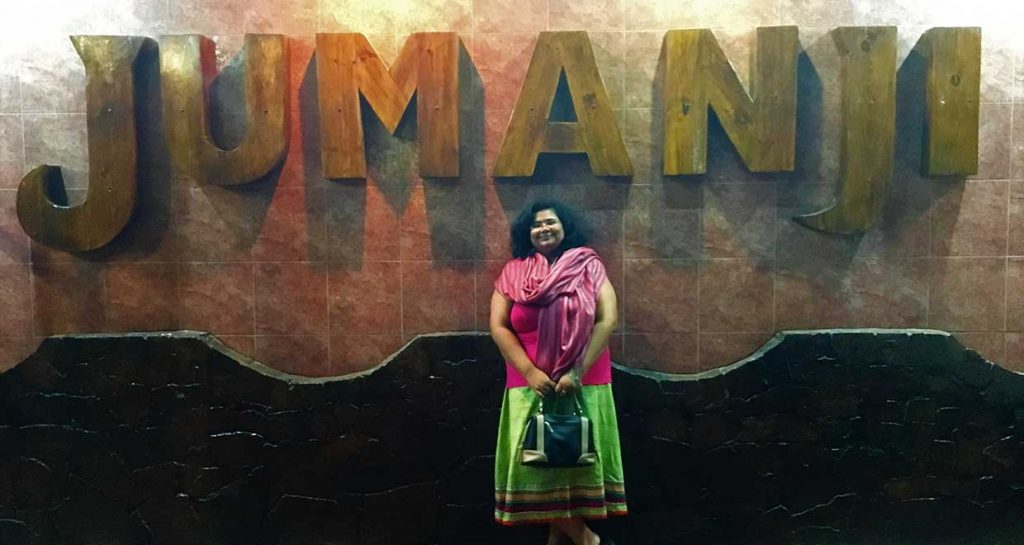 In deciding between Corporate and Litigation practice, what are the parameters that you considered?
I never wanted to be in litigation. In my opinion, the ratio of exciting cases versus dull, repetitive cases is quite sad! My internships also reinforced that – except with Mr Parasaran, most cases I handled were pretty routine and required no innovation.
How have you diversified your work profile during your tenure at Genpact? What did you enjoy most about working here?
Oh, a lot! While DLF was only about land matters, Genpact was a whole lot more. I worked with national and international contracts, both as a service provider and a service recipient. I was the Eastern Regional Legal Lead there too – I was responsible for all things legal in East India. So I also worked very closely and extensively with the HR team, handling employee issues, disputes and complaints.
Compliance management & litigation management were part of my profile too.
What prompted you to start The Layman's Lawyer?
Another funny story. I love travelling. Once, I was in this über cool resort, The Misty Mountains, in Uttarakhand. It was literally in the middle of nowhere, some 10 km away from the nearest village, nestled amidst the Himalayas. I was so in love with that place I wanted to stay there forever! And I thought to myself, how can I be a lawyer and stay here at the same time? That's when it struck me – hey, there was nothing but nature around, but there was internet! And we have very few online legal service providers in India, and the ones that are there are more a marketplace for lawyers and potential customers.
I discussed this idea when I got back with my co-founder Shankha, who by the way is also a Symbiosis grad from my batch, and we got going to make remote legal services a reality.
That's how The Layman's Lawyer was born!
Can you please share with our readers your work profile so far at The Layman's Lawyer?
The Layman's Lawyer is trying to make legal services available to the common man (aka "layman") in his pocket! You need legal services? A phone and internet – that's all you need to get it! We are concentrating on the non-litigating sector of legal services – drafting, vetting, opinions, compliances, para-legal services. Anyone, individual or business organisation, can use our services. Right now, we operate out of a website – www.thelaymanslawyer.com –and we're planning to introduce an app soon.
What does a typical working day look like for you as the Designated Partner? How do you cope with the pressures associated with your position?
Shankha and I are managing pretty much everything on our own now. So we have our hands full with not only client deliverables but also networking, PR, marketing (whatever little the law allows us!) we often end up working for 18 hours a day! But it's all good and satisfying – The Layman's Lawyer has been very well received in the market.
Given the dynamic nature of the field you practice in, how do you keep yourself updated about the latest developments in the law?
We read! Magazines, journals, articles, opinions, newspapers, etc. Whatever we can find! I don't think that there is any other way.
What books, judgements that you have read would you say have played an integral role in shaping your legal philosophy?
I am a voracious reader. I read hundreds of books each year.
It is not one book or judgment that has influenced me – there are many! If I start, I won't be able to stop naming them.
What are the causes you feel strongly about?
I feel strongly about pretty much everything! But I guess the thing that motivates me the most is liberty – we have fought long and hard to be free, and yet we don't seem to be using our freedom very well. Bans and slurs on what we say, what we eat, what we see, what we wear, who we sleep with when we sleep with them they all depress me. I mean, is this the best way to "cleanse" or "purify" society or whatever? Are we free?
How do you manage your time between your professional and personal interests? What are your interests outside law?
Personal life? What's that??! J
I love travelling and driving. In April this year, I was part of a team of Indian men and women (and a super cool British woman) who drove from India to London, United Kingdom. We crossed 18 countries including India, it took 50+ days to get there. It was awesome.
During this time Shankha managed the entire operations of The Layman's Lawyer by himself. I chipped in from time to time as best as I could.
I do the same when he requires some personal time.
Where would you like your career to take you five years down the line?
We hope to take The Layman's Lawyer global by then. Wish me luck!