Tariq Khan completed his graduation from Faculty of Law, Jamia Millia Islamia in 2014. He specialises in International and Domestic Arbitrations, MSME disputes, Commercial Laws, Writ Remedies, etc. He is currently working as a Senior Associate, Advani & Co., Barristers-At-Law, (New Delhi) and has also been appointed secretary to the tribunal for SIAC arbitration.
He is also a guest faculty in various law colleges across Delhi and NCR including Indian Law Institute and is currently working on his next book. Recently, Tariq featured in Fortune 500 (India) magazine (Special Issue, 2017-2018) for authoring the best seller book 'On the Rise' published by Universal Law Publishing (an imprint of Lexis Nexis). In 2017, All India Reporters Association conferred on him the title of Shaan –E- Awadh. He is a columnist and made it to the conference round of Judge Advocate General. He is associated with various NGO's, commissions and is frequently invited by law colleges across the country for interactive sessions.
With his demonstrated experience of working as a lawyer, author, academician, columnist, he talks to us about:
Problems in the Indian Legal Education
Biggest Challenges faced by Non-NLU students and First Generation Lawyers
Challenges faced in authoring first book
Making litigation more attractive to young lawyers
HOW WOULD YOU LIKE TO INTRODUCE YOURSELF? PLEASE TELL US SOMETHING ABOUT YOUR PRE-COLLEGE LIFE?
This is perhaps the first time I am writing about myself and it reminds me of a line from the brilliant film The Devil's Advocate: "Vanity is definitely my favorite sin." I am extremely fond of music and an ardent traveler. I can be described as a lone ranger who lives life by his own template and a frugal eater who mostly gorge on snacks. Incidentally, it is also literature that fills me with inspiration. I sometimes write on arcane but interesting topics and I feel that reading has shaped me personally and professionally. To sum up, I am brusque, direct and unbending.
I belonged to a middle class family and spent my early childhood in Shahjahanpur, a small city in Uttar Pradesh. I was an average student in a very average school and never possessed erudition or eloquence. English was a language I was not very familiar with. When I was in my seventh standard, I was relocated to New Delhi where I jumped eighth standard and took admission directly in ninth standard. I had a tumultuous school life in view of fact that my parents put me in science stream as a consequence of which I had a terrible sort of anger and grudge against them. The minutiae of mathematics and science did not interest me at all. Contrary to my apocryphal perception, my father would always tell me not to run after money but prodigious prospects. Throughout my school life I had a feeling that I was never adequately praised or appreciated for my achievements but frowned upon transgressions. All in all, suffering has been the best teacher as it has bent and broken me but in a better shape.
WHAT FACTORS INFLUENCED YOU TO CHOOSE LAW AS A CAREER? WHY DID YOU CHOOSE JAMIA MILIA ISLAMIA UNIVERSITY FOR PURSUING LAW?
Well the truth is that I never wanted to be a lawyer for three reasons firstly, I did not have command over English language; secondly, I had stage fright and thirdly, I hated studying/reading. I clearly remember my father telling me to give law entrance however; I told him that I would do anything but law. I surreptitiously began exploring other options as I did not feel the influence of law, lawyers and judges in my life early on even though much of my character was built early in life as I grew up in a household where free expression was practiced and encouraged. Since I was a science student, I wanted to be an engineer and hence, I appeared for various engineering exams however, I failed miserably. I must add that it is hardships in life which we have to meet with and overcome them to build our true character. Nevertheless, I realized the unvarnished truth that it's not what we take, it's what we leave that enables us to sieve and confidently winnow down the choices to career path and therefore, I can vouch for the fact that I didn't choose law , law chose me.
Amidst challenging economic circumstances, not all can afford the exorbitant fees charged by private law colleges and thus, Jamia was a perfect choice as our annual fees was around five thousand rupees.
WHAT ALL ACTIVITIES DID YOU TAKE PART IN DURING YOUR TIME AT LAW SCHOOL? HOW IMPORTANT DO YOU THINK IS MOOTING FOR A LAW STUDENT?
 My law school journey was fraught with controversies and obstacles. Compared with my contemporaries in other law colleges, I was a struggling law student in the first two years. What was even more disconcerting was that there was no mooting or debating culture in our college and there was hardly any support from seniors barring one or two. There was dearth of internship opportunities and there was no campus placement. But there's a silver lining; in stark contrast to this depressing picture, Jamia gave me a larger slice and a canvas to draw on. We learn best when we learn by doing and that's exactly how we learnt. At the end of the day, it's all about your perspective whether you see the positive or the negative. Some people complain because God put thorns on roses, while others praise God for putting roses among thorns. You always have that choice.
During college I applied for internships in almost every senior's chamber and almost all tier one and tier two law firms however, most of them never responded despite repeated follow ups though, some of the firms were gracious enough to revert with a standard email saying "Currently we do not have any slot available. We will get back to you in case of a suitable opportunity". Interestingly, this was the response even when I applied one year in advance. However, instead of giving up, I would remind myself of William Ernest Henley's golden words in the poem, Invictus: "It matters not how strait the gate, how charged with punishments the scroll, I am the master of my fate: I am the captain of my soul." Consequently, I had the rare honour of interning under the tutelage of veteran lawyers and in tier one law firms. Insofar mooting is concerned, my team won various national and state level moots. To my surprise, my team qualified for the Oxford Price Media Moot Court Competition and we were the twelfth Best Team of South East Asia. This was the first time Jamia participated in Oxford Price Media International Moot. I was an avid debater in college and won in various national debate competitions. As the president of the debating society of my college, I organised the first Jamia National Parliamentary Debate and also worked as the Coordinator for Internship and Placement Committee.
Mooting broadens the horizon of law students and provides them with a platform wherein they can learn, grow, work in new environments and of course travel and meet new people. It is the most enriching activity that gives law students a firsthand knowledge of being a lawyer. It's a platform for the law students to polish their rhetoric and research skills. However, appearing before a judge in a court of law who has to adjudicate many matters in a day is completely a different experience. Hence, in my view mooting doesn't really help much after the student graduates.
WHAT ACCORDING TO YOU ARE THE PROBLEMS IN THE PRESENT INDIAN LEGAL EDUCATION?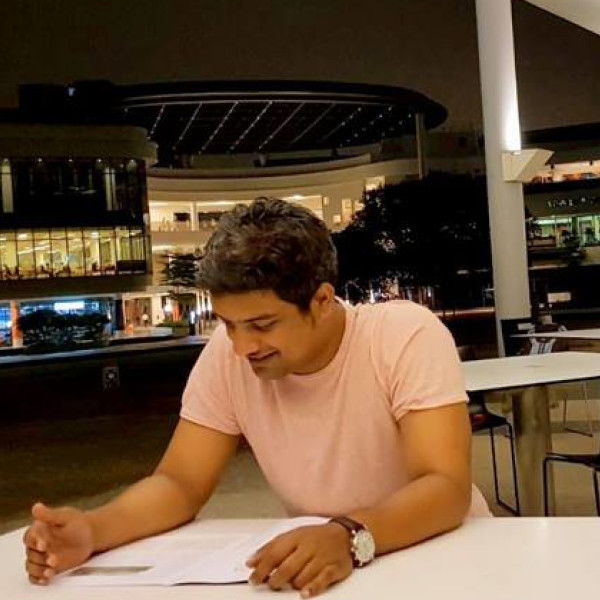 To borrow the golden words of Justice Krishna Iyer: "Education is now priced in India, not given." Money power has captured legal education in our country which is nothing but malignancy. Law colleges have become money sucking engines. Surprisingly, law students are being taught by teachers who have never even appeared in any court. There are certain anomalies e.g. we are taught penal statutes and tax statutes in second year or third year however, we are taught Interpretation of these penal and tax statutes in the fourth or fifth year. Serendipitously, we were fortunate to have a professor like Mr. Atyab Siddiqui who is a brilliant lawyer and equally a good professor who taught us the practical applicability of law using analytical method rather than the rote method.
WHAT ARE THE BIGGEST CHALLENGES FACED BY NON NLU'S AND THE FIRST GENERATION LAWYERS IN THE LEGAL PROFESSION?
 There are more than 1300 Non NLU's in India and the law firms recruit only from the top most law schools. Even the internships are given on the basis of the tag of your college and not on the basis of your achievements. Unfortunately, some law firms discriminate between trainees/associates at the same position or level by offering lower salaries to the Non NLU's. These practices deprive meritorious students of opportunities. Also, Non NLU's don't get internship opportunities with a lot of tier one law firm. In litigation even today, it is extremely difficult for a first generation or a Non-NLU student to get into a good chamber.
Nonetheless, it doesn't matter which college you are from and it doesn't matter 'who you know', the only thing that gets you ahead in the profession is 'what you know'. It doesn't matter whether you are a first generation lawyer or a second generation lawyer. There are ample opportunities for all of you who are ready to face the challenges and strive for such opportunities. There are humongous prospects for those who are willing to make their mark in this field. This reminds me of few lines by George R.R. Martin "Never forget what you are, for surely the world will not. Make it your strength. Then it can never be your weakness. Armour yourself in it and it will never be used to hurt you." Initially the profession may not be very rewarding however, if you stay in the profession and not give up, then you will be rewarded beyond your imagination. My mentor Dr. Singhvi has very rightly said that being a second or third generation lawyer definitely gives you a push and backup however, if you do not do well in first few cases, the system rejects you.
HOW DID YOU GET A JOB AT A TOP TIER ARBITRATION LAW FIRM? TELL US ABOUT YOUR LIFE AT ADVANI AND CO.?
When I was in my final year of law school I was very restless and perplexed and I would ask myself, what's next? It seemed like a dead end to me with no place to go. Mr. P Chidambaram has pithily put it that "In law, there is no dead end. What seems to be the end could very well turn out to be a new beginning." During my final exams, I applied for a job at Advani and Co. even though I had never studied Arbitration as a subject in college. I was interviewed by the then partner Mr. Apar Gupta who did not judge me on the basis of my law school and gave me a job. I was fortunate to work with him in the very first year of my career and learnt various facets of drafting and research under his tutelage. Thereafter, Mr. Gupta set up his independent practice as a counsel and left the firm. Since then, I have been working with Mr. Shashank Garg who is the partner in charge of our Delhi office. Mr. Garg in true sense is my 'Arbitration Guru' as he introduced me to the arbitration fraternity and gave me innumerable opportunities to argue matters in district courts, high courts and handle domestic as well as International Arbitrations all by myself. Advani and Co. has helped me grow as a person and as a professional. Since day one I have been working closely with Mr. Hiroo Advani who is an authority on the subject and I am privileged to have learnt the art of cross examination from him.
As a senior associate at the firm, I am primarily representing various Multi National Corporations, Public Sector Undertakings and individuals in high profile arbitrations and civil litigation. I have also published various articles on the subject and I am a guest faculty at Indian Law Institute where I teach ADR in PG Diploma Course.
YOU HAVE WRITTEN THE BOOK 'ON THE RISE' . PLEASE TELL US WHAT MOTIVATED YOU TO WRITE THE BOOK AND HOW CHALLENGING IS THE TASK OF AUTHORING A BOOK?
(Tariq authored the book 'On The Rise' that covers inspiring stories of young legal professionals which featured in Fortune 500 magazine.)
 I realised that there is no dearth of opportunities, but it is the dearth of information that restricts the trickling down of variety of options available to budding lawyers and hence, I felt that there was a dire need for a publication to give budding lawyers an insight of the legal profession and the challenges that follow. I must thank my mentor Mr. Shashank Garg who helped me extensively and also motivated me to come up with a book like this. Incidentally, the 20 contributors who believed in my idea deserve full credit of this book. When I came up with this idea, many people in fact discouraged me thereby making it one of the most challenging works of my life. It was difficult to execute the idea as it was my first book and being a first generation lawyer I did not have any connections however, I felt that here was no harm in taking aim, even if the target was a dream.
There has been a divine intervention in my life that cemented my faith in this noble profession as there are some veteran legal eagles namely Justice A.K. Sikri, Dr. Abhishek Manu Singhvi, Mr. Sidharth Luthra, Mr. Fali S Nariman, Mr. J.P Sengh, Mr. Arvind Datar and Dr. Faizan Mustafa that have constantly motivated and guided a 'nobody' like me. This book would not have been possible without their support. To my surprise the book featured in Fortune 500 Magazine. All in all the journey of this book has taught me that ideas become clear as we work on them. We just have to get started.
ACCORDING TO YOU, HOW WOULD LITIGATION BECOME MORE ATTRACTIVE TO YOUNG LAWYERS?
 Most of the law students come from middle class and lower middle class families. After graduating, they have to assure their parents that they are going to be self sufficient if they are not making fortunes and will not be requiring the support of their family financially. This is possible only when seniors in the profession become more professional about this. Young lawyers on joining should be assured of reasonable remuneration. Of course an individual litigating lawyer would not offer as much as law firms would offer and those juniors who enter into litigation are generally prepared for that however, those who have responsibilities or family expectations, they avoid entering litigation but it often happens that when they join chambers, they are not told how much they are going to get. Those who take juniors owe a duty to their juniors clearly as to how much they are going to pay them. Additionally, what puts off many young entrants is the spectacle of lawyers hanging out in the courts during the day often without substantial work and then having work in the evening later hours. I feel time management in courts and in office can make litigation more attractive.
WHAT ADVICE OR SUGGESTION WOULD YOU LIKE TO GIVE TO OUR READERS, WHO ARE PREDOMINANTLY LAW STUDENTS AND YOUNG LAWYERS?
I may not be the right person to give any advice or suggestion to young lawyers as I am myself in my legal cradle striving to grow up and increase knowledge and stature however, we must always remember that no matter how big the problem is, time will solve it. First and foremost, get rid of all the negativity around you, some people in our lives act like anchors that are constantly trying to slow us down, cut them lose. Live in your present and plan the future because if you carry the burden of past negativities/unpleasant memories and recall them, then your downfall is inevitable. Always remember that the greatest successes come from having the freedom to fail and by keeping your mind on the objective, not on the obstacle. Keep in mind, success is the best revenge. My senior friend Mr. Bharat Chugh time to time keeps reminding me that readers are leaders and he keeps giving me books to read. Reading definitely helps! In my free time I see speeches/videos of the legends of law and learn from them and I read judgments of my role model centenarian Justice Krishna Iyer who possessed hoarded wealth of a vast vocabulary which helps me in writing articles and has also improved my legal lexicon over the period of time. Keep yourself updated with recent developments in law that can easily be done by following legal news portals like Live law, which is an excellent initiative, by MA Rashid. Scrolling through Live law for two minutes in a day gives me insights of what's happening in the legal fraternity.
Lastly, I would like to borrow words of Chief Justice John Roberts who is one of the most brilliant judges in the world: "From time to time in the years to come, I hope you will be treated unfairly, so that you will come to know the value of justice. I hope that you will suffer betrayal because that will teach you the importance of loyalty. Sorry to say, but I hope you will be lonely from time to time so that you don't take friends for granted..And when you lose, as you will from time to time, I hope every now and then, your opponent will gloat over your failure. It is a way for you to understand the importance of sportsmanship. I hope you'll be ignored so you know the importance of listening to others, and I hope you will have just enough pain to learn compassion. Whether I wish these things or not, they're going to happen. And whether you benefit from them or not will depend upon your ability to see the message in your misfortunes.