Pooja Reddy Chirra completed her graduation from Fergusson College, Pune University in 2014. She is currently managing her own firm  and her area of expertise is indirect taxation. She is actively involved in litigation of IDT matters.
In this interview we speak to her about:
Challenges of managing her own firm
Importance of academics and grades
How to convert internships to PPO
HOW WOULD YOU LIKE TO INTRODUCE YOURSELF TO OUR READERS? PLEASE TELL US SOMETHING ABOUT YOUR PRE-COLLEGE LIFE?
I am 26 year-old Hyderabadi who is Mumbaikar by heart, an advocate by day and dramatic all the time! I specialise in Indirect Taxation and currently run my own firm, but I am more than my job description. I work with the Rotary Club of Bombay Powai, who were kind enough to let me organise the 'Unsung Hero Show' which has played a huge role in helping me do things which I would otherwise be too scared to take up. I also started organising etiquette workshops in 2015, focusing mainly on schools and colleges with students majorly from low income families.
My pre-college life was simple, protected and uncomplicated, like most other kids at the time. My brother and I were raised by a set of no-nonsense parents who moved to Mumbai nearly 35 years ago and built the life they have today, with no help from anyone else whatsoever. We were both sent to Kendriya Vidhyalaya, IIT, Powai. Mainly because I had started to demand luxuries, like a chauffeur and a full time maid to cater my every need (I was six!). My parents always were very conscious about us being humble and modest, and so, Government School it was.
HOW WOULD YOU DESCRIBE YOUR JOURNEY AS A LAWYER?
Back in 2014, right after I graduated from college, I joined my father's firm. Two weeks after I started, my dad had cardiac arrest and was hospitalised. Things got tense. My mother told me that if I wanted to help, the only thing I could do is to take care of work so that he won't have to worry about it. I was beyond overwhelmed because I had no idea who half of our clients were and I had zero experience in the subject. During that time, when my father was still in the ICU, one family member lectured me in the ICU waiting area, saying that if I wanted my father to get better I should get married, preferably to a lawyer, so that he can take care of dad's firm. It hit me then that in his eyes I had failed even before I attempted. Those words stuck me ever since and has been one of the reasons I so desperately want to make something of myself in the field of law. Fortunately, my parents were far more sensible and supportive. My father trained me in the strictest way possible, in the years that followed, we set a rhythm to our work, he did advisory and I did litigation, he would deal with the clients and I did the running around, we took turns taking vacation and we always had each other's back.
I realised later that during those few months when dad was ill, the kind of work I was doing was intense. I was appearing before various authorities without ever having accompanied a senior to observe how the proceedings are conducted. Of-course, it helped a great deal that my father prepped me well. But in those few months, my interest in the subject peaked and all inhibitions disappeared and I started to understand the subject instead of being afraid of it. After that there was no looking back.
WHAT IS YOUR TAKE ON ACADEMICS? HOW IMPORTANT ARE GRADES IN LAW SCHOOL FOR AN ILLUSTRIOUS CAREER?
Academics and grades are important, but it is not sufficient. Simply because you score well in school or college, will not ensure a lifetime of illustrious career. Definitely not in the field of law.
Your clients will come to you for your work ethic, your knowledge, sometimes even your honesty and compassion. Similarly, in a corporate office, your boss will not continue to keep you employed because you scored well in college, if you can't get the work done.
HOW FAR DID YOUR INTERNSHIPS DURING LAW SCHOOL HELP YOU IN YOUR CAREER AFTER YOUR GRADUATION? HOW WOULD YOU RECOMMEND THE PRESENT LAW STUDENTS PLAN THEIR INTERNSHIPS?
I interned during every college vacation, either with a counsel or with a firm. But the biggest mistake I made was to plan on what I intended to learn during the internship, and like most other law students, I tried to cram as many internships. The end result was that, I was once actually caught sleeping on the sofa by a Senior Counsel. Fortunately, he was nice enough to simply say, "go nap at the corner cubicle where no one can see you, so that others don't get sleepy."
Regardless, internships can do no harm, if you pay even the slightest bit of attention to your surroundings, you are bound to learn something or the other, whether you want to or not. However, one bit of advice to every student, would be to do long term internships. Instead of doing one month internships, opt for one, three-month internship. You'll end up learning way more and also increase chances of a PPO.
And, at the end, pick a boss, not a job.
HOW DID YOU CHOOSE YOUR SPECIALIZATION? HOW DID YOU GO ABOUT ATTAINING EXPERTISE IN THEM?
I didn't chose my specialisation, my specialisation chose me.
*dramatic pause*
In all seriousness, I actually never wanted to take up Indirect Taxation. In fact, during the first year or so of law college, I wanted to graduate and immediately become a famous, dramatic criminal lawyer or become a savvy corporate lawyer with a huge pay package. (Yes, I blame the movies and shows too.)
It was only after I started working on Indirect Tax cases, that I realised how interesting they were. There is constant change in the law, which keeps you on the toes. Each case is so beautifully different from the next. And in most cases you're dealing with hyper technicalities, which can be extremely fun to research on.
HOW CHALLENGING IS THE TASK OF RUNNING YOUR OWN FIRM? WHAT ARE YOUR ROLES AND RESPONSIBILITIES?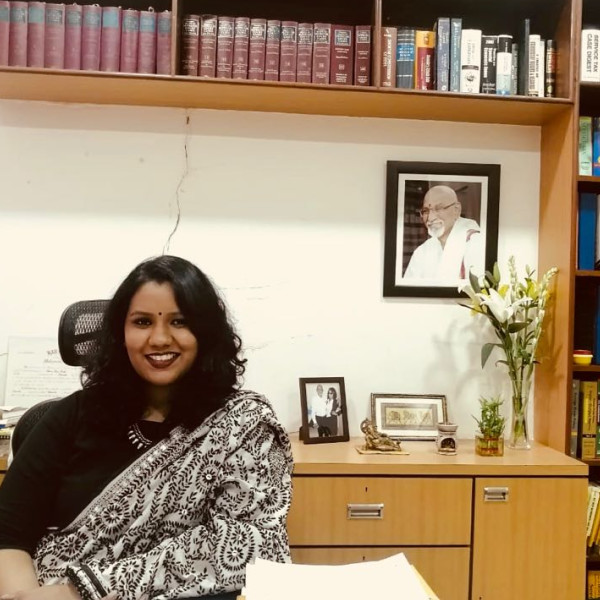 I wouldn't say it was easy.
I lost my father on 10th August, 2017. He died so suddenly that even till today it is hard for us to believe that he isn't around. The day after we cremated him, I started getting calls from my office and a few clients even I also got news of people trying to poach clients. I went back to work on 12th August and we immediately went into survival mode. Apart from my support staff, I have two colleagues with me, Arjun Nair and Vinit Dubey. They have proved to be the best team one could ask for. My dad's death was a huge loss for them too, but they never took a day off. For several months, we worked seven days a week and twelve to fourteen hours a day.
During the first few weeks I spent most of my time speaking to clients who were worried about the fate of their case. Several clients showed a lot of faith in us and stayed back, no questions asked. Some needed a little more persuasion.
What was more interesting, was to see how most people were more curious about whether I would continue to work, since I was recently married and what would happen if I had babies? There were a few others who told me that since everyone at the office was below the age of 30, we were too young to do this kind of work. And all this made us work even harder. Today it has been a little more than eight months and we are doing good. The initial fear of losing clients and not being able to pay the bills and salaries has gone down the drain, we have got new clients as well.
Through all of this, on several occasions I felt like closing the firm. It was emotionally and physically gruelling. While, my mother, brother, aunt, uncle and husband proved to be the best cheerleading squad one could ask for, I was more than fortunate to have Balani Sir, Krishnakumar Sir, Anish Desai and a few others encouraging me to continue. If it weren't for them, maybe I wouldn't have continued with this office.
I would still say that this is my father's firm, that he built on his own with the help of my mother. It is his legacy that he has passed on to me and right now I am only a guardian. Only after I build it further and scale it, I can truly call it my own firm.
WHAT WOULD BE YOUR ADVISE TO STUDENTS WHO ARE LOOKING TO MAKE A CAREER IN INDIRECT TAX?
Don't be afraid of the subject. Once you start getting a grip of it, it becomes an addiction.
WHAT ARE THE SKILLS ONE NEEDS TO DEVELOP TO SUCCEED IN THE LEGAL PROFESSION?
Be a good orator, learn to listen carefully, be ethical in your work and read like your life depends on it.
WHAT IS THE PROCEDURE FOR A LAW STUDENT TO APPLY FOR INTERNSHIP AT YOUR FIRM? HOW DO YOU SUGGEST THE STUDENTS CONVERT THEIR INTERNSHIPS TO PPO??
Anyone who wishes to apply either for internship or a job can simply send us an email at subbareddyandco@gmail.com.
If you want to convert your internship into a PPO, do the following:
Work on your research skills.
Be proactive. Don't constantly wait for instructions.
Don't be tardy.
HOW DO YOU KEEP YOURSELF UPDATED WITH LATEST LEGAL DEVELOPMENTS IN THE FIELD OF TAXATION CONSIDERING THE CONSTANT CHANGES?
For indirect taxation, there are weekly journals that are published, which my dad would read regularly. I picked up the habit from him.
Also, we live in a world today, where for every activity and for every group of people, there is a WhatsApp group. The CESTAT Bar Association also keeps up with this trend. On a regular basis, there are advocates who keep posting the latest amendments and judgements on the group, which is followed by an insightful discussion on the same where everyone weighs in their opinions.
The 'Chai Pe Charcha' sessions outside the courtroom while we each wait for our matters to come up, also helps us stay updated.
YOU ARE CURRENTLY PURSUING YOUR MASTERS, HOW IMPORTANT IS IT TO GET A MASTER'S DEGREE IF YOU'RE PURSUING A CAREER IN LITIGATION?
If you want to practice in courts and focus on litigation, what matters the most is that you start appearing in courts as soon as possible and as often as possible. All your learning will happen in a court room and court room training is irreplaceable. Spending two more years in a classroom after finishing law, may not be of much use.
However, if you want to broaden your sphere of knowledge, then it would help to do an online course while you're working. You could be a lawyer by day and a student by night. Just make sure you pick a university / course where examination is application based and not purely theoretical.
LASTLY, WHAT WOULD BE YOUR PARTING MESSAGE TO OUR READERS?
Truly learn to enjoy your life in college and don't be stuck in the library, since most of the real learning happens outside of it anyway.
Spend more time to develop life skills and long lasting relationships instead of trying to memorise the contents of the books enlisted in your syllabus.
Experiment, learn, make mistakes and grow.