Dr. Tarunabh Khaitan is an alumnus of the 2004 batch of NLSIU, Bangalore and a recipient of the prestigious Rhodes Scholarship. After completing his masters (BCL) from Oxford University, Tarunabh decided to pursue higher studies, he completed his M.Phil and D.Phil from Oxford in 2007 and 2010 respectively. Tarunabh is an Associate Professor at Oxford currently, he teaches Constitutional Law and Jurisprudence to undergraduates, Discrimination Law to graduates, and supervises research in his areas of interest.
In this interview he talks about:
Studying at NLSIU and at Oxford.
Building a profile and SOP for pursuing further studies at the best universities.
A bit about the
His experience working as an Associate Professor at Oxford and as a visiting scholar at New York University.
How would you like to introduce yourself to them?
I am an academic working on law and legal theory.
Did you have lawyers in your family or in close proximity? How did you come to touch with law?
I don't have any lawyers in my family. Where I grew up law wasn't something one aspired to. A more urbane cousin passed on the law school prospectus and I gave it a go—entirely serendipitous. This chanced encounter with the law motivated my discussions with Shamnad Basheer on the need for diversity in law schools. I am very pleased to see his dynamism and energy in taking the IDIA (Increasing Diversity by Increasing Access) project from strength to strength.
How was your law school experience at NLSIU? Do you recall your first day at the Halls of Residence? Would you like to share any observation/memory from those days?
I loved my time in law school, largely because of the friends I made, and because that is where my political education happened. My politics and history classes and my internship with Aruna Roy's Mazdoor Kisan Shakti Sangathan (MKSS) early in my law school career were particularly instructive. These early influences have continued to shape my thinking and career ever since.
I don't recall my first day at law school, but I was probably very nervous and convinced they made a mistake in letting me in. Everyone else seemed cleverer. In hindsight, despite many positives, I don't think law school challenged me enough academically. With some honourable exceptions, most courses required minimal effort, and reading cases or articles was entirely optional. I got a lot out of those five years and wouldn't change that for anything else, but Indian law school needs to do a lot more to deliver on their primary mission of teaching law to young minds, and to help them think independently about the law.
What were your areas of interest during your graduation? How did you go about developing expertise and knowledge in these areas?
I was interested in public law and human rights law. My interest in these fields has continued, although I engage with them through a theoretical lens mostly.
How do you think a law student can build up his profile to get through to top-notch universities like Oxford? What should one do differently in college if he wants to pursue higher studies after graduation?
Most people in law school are very clever. Effort and motivation is the main thing that makes a difference. Most postgrad universities care about academic excellence alone. If you want to join the academy, more important than strategically designing your profile is to have a genuine love for scholarship—if you have that craving, you are likely to do the right things. So it is useful to ask yourself why you want to join the academy, what you think the role and purpose of a university is, and whether and how your personal goals interact with the point of scholarship.
That said, investing in learning how to write well can help. Indian law schools typically require you to do a lot of writing, but good feedback on improving your style, structure, argument and content is rare. I learnt the importance of clear, simply-communicated scholarship during my time at MKSS rather than at law school. To paraphrase a conversation over a dinner with Aruna Roy some 15 years ago, I remember her telling me that a polity needs good scholarship, but one that is readily intelligible. It was an important lesson.
What was your area of study during your masters at Oxford? What was the academic pressure like and did you find time to engage yourself in other activities?
I focussed on jurisprudence, human rights, constitutional theory and the penal system for my BCL. My doctoral research was on discrimination law theory, which was eventually published by OUP last year.
How did you take the decision to pursue higher studies? How did you go about choosing the programme and the university?
Like Edward Said, I believe that the role of an intellectual is to speak truth to power. It is the truth-seeking purpose of scholarship that underscores the importance of academic freedom. As for choosing Oxford, I got a scholarship to go there: that mostly did it.
What was your first reaction on learning that you are being awarded the Rhodes scholarship? Do you recall the first few days and the interview?
I was very happy, as one would expect. It has been a while (more than a decade), but I think most questions were character-oriented.
How did you go about writing your résumé and most importantly, your Statement of Purpose?
Not sure what résumé I submitted then, but I have come to realise the importance of short résumé, no more than one and a half sides. Selection panels include busy people, who have little more than a few minutes to make an initial judgment. Be kind to them, give a clean, professional résumé with your most important achievements. For the SOP, get as much feedback as you can on early drafts—from friends, family, professors, anyone whose opinion you care for. Make every sentence mean something. Keep it direct, personal, and honest. Don't do platitudes.
What would be your advice to our young readers who would like to apply for Rhodes scholarship in future? What all does it take to have a brilliant profile good enough for the Rhodes?
I don't think there is a formula. Rhodes scholars are a very diverse bunch, and there are many different ways to succeed. It is also important to remember that while the Rhodes Scholarship is valuable, it is not the only available door. While the role of luck cannot be discounted, if you have worked hard, something worthwhile should turn up. Being at an elite law school is already a position of immense privilege, one that secures opportunities not available to many others.
How was your experience at Oxford? What are the classes and professors like? Are the classes more interactive?
Oxford undergraduates are taught mainly in tutorials where 2 students meet a tutor for an hour once a week to have a pre-submitted essay dissected in detail. The contact hours are few—an undergraduate student typically gets 12 hours of tutorial in total in an 8 week term. But the intensity of exposure is staggering: there is no place to hide, not for the student, nor for the tutor. Lectures are mostly optional and students choose to go if they like the lecturer. Graduate students are mainly taught in larger seminars of 10-15 students, although they also get a limited number of tutorial exposure. The mainstay of the student experience here is the astonishing amount of self-study expected from students. A typical undergraduate student will normally read about 6-10 cases and 4-8 journal articles every week—graduate students read even more.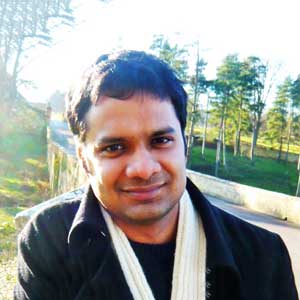 How rigorous was the academic schedule? Would you say a doctorate from Oxford can help make a good grounding for a career in academics?
Research students don't have any schedule, it is really important to be self-disciplined and be passionate about your research to keep going. Research can be a lonely and daunting process, and your relationship with your supervisor is the key. I was lucky to have a great supervisor in Nick Bamforth, I also know people who were less fortunate. A good doctorate is increasingly becoming absolutely essential to a career in legal academia. I would recommend prospective research students to make early informal contact with potential supervisors. Doctorates in the UK tend to take a lot less time than they do in the US.
How is your experience of teaching at Oxford? Which subjects do you teach? How are the current batches of students whom you teach?
I currently teach constitutional law and jurisprudence to undergraduates, discrimination law to graduates, and supervise research in my area of interest. I find that teaching feeds into my research in interesting ways, and with the best students, I frequently learn as I teach.
Do tell us more about the Global Research Fellowship Scheme, 2016 and your experience at NYU.
I am on sabbatical for the rest of this calendar year. I am currently visiting the law school at the University of Melbourne, and plan to spend a few months later in the year at New York University. It is just a time to get out of Oxford, learn a bit about how things are done at other universities, and get some research time without the pressures of teaching.