Aishvary Vikram is a fifth year student of School of Law, KIIT University, specializing in comparative constitutional law. His team was adjudged  the best team at the 29th All India Inter University Moot Court Competition, 2013,  where he bagged the award for best speaker. He has participated in seven moots at the state and national level.
In this interview he speaks to us about:
How to start preparing for moots
How to draft memos
His internship experience
Why did you want to study law?
Law was never my first preference but ultimately it became my last choice. For a science student there have traditionally existed only two career choices after class 12, either engineering or medicine. Despite being the 4th generation in my family with a formal training in law, I never got the opportunity to see the law in motion. My great grandfather was a lawyer who later became an MLA but I never got to meet him; my grandfather was a judge but his death prevented me from benefiting from his experience once I had joined law school; my father studied law but never practiced it, so I never got a chance to see what the practice of law is. People usually study law to enter into practice seeing their parents or relatives, and later end up in law firms. Or they are inspired by great legal luminaries, or fictional characters such as Alan Shore or Danny Crane (From the Boston Legal TV series), or at best they want to serve society. This was however not to be my story. I gave the entrance exams for law due to my father's continuous insistence. Not being able to get through CLAT, I appeared for KLSAT and joined KIIT.
What internships have you done so far? Did you receive any assistance regarding this from your college?
My track record with internships is really poor. Lost in my own ideology to learn from internships rather than collecting certificates, I have spent a lot of time at BHU, the Allahabad University and the faculty of law library for which certificates were however not provided. Nevertheless, I have done a total of seven internships. Out of these internships, one was under an NGO in my first year, two in a district court in my second year, two in High Courts in my third year, one under Prof. Faizan Mustaffa, Vice Chancellor of the NALSAR in my fourth year and the last under a senior advocate in the Hon'ble Supreme Court in my fifth year. The college has always provided us with great assistance in getting internships and now it has opened various programs to provide internships to the students in accordance with the fields they are interested in.
Which internship experiences will be right at the top and why?
I have very little to say about my internships due to my inexperience. I find myself an incompetent person in this regard. However, as a piece of advice I would like to say that I have always disliked the working style in law firms due to the non-participatory nature of work where one is only asked to find the law and given no opportunity to relate it to the facts. Sitting on a chair the whole day and finding material is like being Google, which has never interested me (this is my personal opinion and people reading this, are free to discard it).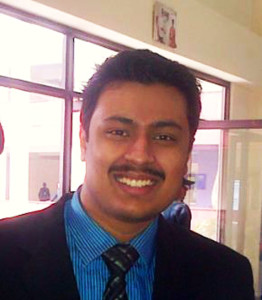 Tell us about your mooting accomplishments.
The first page of the BCI moot chapter started with a phone call from my friends Nitesh Ranjan and Navneet Sahey. Both were in college and were planning to take part in the 29th BCI Moot court competition. Unfortunately their third team member Satyabratha Das was at home, planning to come a little late due to her internships. The 29th Bar Council Moot was something I never planned for. Really, being in the fifth year, people don't do this moot at this stage. But no other team was ready to do this moot as our vacations had just ended and the date for the open challenge was not suitable. So we made a plan to do this moot just to pass a month, as very little was there to study and our friends were not back from their internships. After the problem was released, we realized that it is far more difficult to research. We had actually done many moots earlier, but for the first time we realized how tough it is to research for four moot problems in a month. We divided the four problem in three groups— Nitesh Ranjan, the lead researcher was to deal with the first problem with Neha Tripathi, an additional researcher provided by our college, Navneet Sahey was to deal with the second problem with Vikash Chandra Shukla, another additional researcher, and I was to deal with the third and the fourth problem. This is how our memorials were prepared. The biggest contribution to our success was from our friend, Abhinav Gupta, who not only assisted us in drafting but did the formatting of the moot memorials, even though he was the convener of the First KIIT Conference on Intellectual property rights and Bikash Shaw, who was always there with us online, downloading the cases even when we were in MITS giving our orals. This moot was more than a moot; it was a litmus test for the bond of friendship we have. Knowing the fact that only participants will get the certificate, our friends as our additional researchers were always with us. The moot experience in terms of orals was extremely good. The teams we faced were well prepared. In preliminary rounds we faced Christ Law College; in he quarters we faced BHU; in the semis we faced NLSIU and finally we faced NLU Bhopal. All the teams were excellent and well prepared. This success wouldn't have been in our hand if our lead observer, Akshay Rajpurohit was not with us. From printing the compendium, compiling it to bringing snacks and cold drinks, he was always there with us.
What factors do you think contributed to this success?
My senses are too weak to see the whole picture of support and contributing factors towards my success. My words of appreciation about their contribution would be such a small  description of their help that it will be an insult to the sources. Therefore, without specifically narrating all the assistance I got, I will generally thank my teachers and friends for always assisting me and my parents for always holding my hand.
What separates a great memo from an average memo?
I will give due credit to my law professors for this, as unlike traditional law universities, our professors have always prepared a course structure taking into consideration laws and practices of different countries to the extent that it doesn't affect the basic structure. Specifically our Constitutional Law general and specialised papers conducted by Prof. Kumar Kartikeya has taken a further step by incorporating not only the foreign principles or case laws referred to by the Indian judges but has designed the structure in such a way so as to give us a short idea of the constitution in four countries, namely US, Australia, India and unwritten constitution in UK. Due to this comparative approach it was easier for us to research and find case laws and statutes in various countries. If one refers to our memorial, specifically the third and the fourth memorial, one would find foreign case laws and doctrine, which I failed to find in the memorials of other teams in the semi-finals and finals.
Speaking skills or knowledge of law, what is more important?
It is important to marry the two. The knowledge of law is like an armour which one may use to protect his case while, speaking skills are a spear to rupture the judges' sarcasm and leave a long time impression on a judge's mind.
When you get the problem, what is the first thing you would do?
Read it (I believe this satisfies this question literally), but on a purposeful note, one should read the problem until he is aware of the purpose of each and every single line. It may happen that a part of the problem may seem to be introduction, but later on one realises that even though the particular fact instigates no law finding but, is of peculiar importance to support the formulation of arguments or argues on the basis of the fact.
Share your formatting secrets. 
A mooter must prepare multiple arguments amalgamating reason and logic. Prepare multiple arguments, so that you may never run out of options. Using rational and convincing arguments with the spirit of law is of utmost importance. Instead of quoting a number of case names or details of the cases and presenting a thesis, one must try to formulate reason, practical and theoretical as to why his argument must be accepted by the court. I have seen people whose memorials consist of hundreds of cases and thousands of authorities but lacks reason or logic. Merely taking a particular statement from various books without knowing the reason or its relevance is of no use. If one may cast a look on best memorials in international moots, one will find my observations true.
Why is mooting important? 
Actually, I have not yet tasted the flavour of advocacy so I hardly know how it will contribute to my skills as a lawyer. Mooting has been an accident for me. When a colleague could not make it to a moot, my best buddies Vikash Shulka and Abhinash Barik approached me and convinced me to moot with them. So from the first year itself our mooting started and slowly it engulfed me in its charms and beauty. From first year till now, we have done a number of moots. The incentive to start off my mooting carrier goes to my friends but the continuation of this goes to my seniors and my parents who were always there to help me and always motivated me to carry this extra load.
What is your opinion on your intra-college mooting system? 
The intra moot court system in our college is really good. Thanks to my friend Abhinash Barik, my teachers, Asst. Prof. Kasturi Bhagat and Asst. Prof. Kumar Kartikaya whose imaginative thinking has brought various changes to the system of mooting. There is no favouritism, nor can anyone dominate the moot court society and this includes the Director as well. The moot court competitions are divided into two segments, all national moots except the Bar Council of India and B.R Sahany moot are allotted according to the results of the intra moot court competition and the international moots and the two moots listed above, are open to open challenge. The transparency and student welfare is the fabric of our moot court society, which leaves me with no comments for improvement.
If I have never mooted in my life, but I want to, how should I get started?
Getting started is really simple as there is no competitive written exam which one needs to qualify to call oneself a mooter. Trying out for national or international moots is also mooting, but continuing the academic practice of mooting is very difficult, as there is always a tilt towards running away from the extra burden a student has conferred upon oneself. Every attempt may not bear a fruitful result and add to that, the extra burden of college good reputation which is a constant pressure for the team, which may bring efficiency but in many cases forbids creativity. One has to have a strong determination if he so intends to enter into the arena of mooting and use his creativity, as judges in various moot courts are not always looking for the case laws in support but the extent of artistry and understanding of law that has been put to the problem. Further, one thing must be really clear before one even attempts to call himself a mooter that mooting is not always among the equals, there is no Article 14 application here. It has always been between students irrespective of their institution, quality of teachers and extent of their support, the year in which one is, no consideration is given to these facts. The thing which every mooter possesses is the moot problem, the library and his creative mind which one has to solely amalgamate and, support of teacher may serve as a catalyst but can never be the basic foundation.
How important is the role of a researcher in a moot team vis-à-vis the speakers?
Well, in our team, all were researchers seven days prior to the moot and it is only after the preparation of the memorials that we decide who all will be the speakers. The role of speakers and researchers are equally important but I also feel that speakers have a slight edge above the researcher in oral presentations and in sharing the fame, if they so win a moot. There is no "I can do better or it's not good for me" game in mooting, there is always "What is good for the team and who can better serve the team in orals." It's very rightly said that if one wants to travel faster he may run alone but if one wants to survive longer, walk with someone– try to apply this in mooting as well.
What message would you like to share with our readers?
My inexperience and little knowledge will to some extent make my views premature and short sighted but nevertheless, some of the things I learnt are:
In moots don't go for law in the strict sense, always try to use creativity and imagination, don't see the judgement but look behind the judgement and try to focus on jurisprudence than on case laws.
Prepare the brief and arguments and take notes of the judge's name and para number to some extent, to show your level of preparation.
Try to formulate multiple arguments for the same proposition.
Avoid difficult words.
Show respect for the judges but no flattery.
Be confident and never emphasise on a wrong proposition for the sake of argument.