Ajay Chandru graduated from GNLU in 2009 with a B.Sc.LL.B. degree. During his days at GNLU, he attended various summer schools including George Washington University Summer Program, Munich, Franklin Pierce Summer Program, Cork, Ireland, Intellectual Property Summer Program, Macau, World Intellectual Property Organization's Summer program at Bangkok, Thailand. Soon after graduation, he joined Lakshmikumaran & Sridharan as an Associate and worked there for two years. Thereafter, he went on to pursue Masters in IPR law from George Washington University. Currently, he works as an Associate at Nishith Desai Associates.
In this interview, he talks about:
Summer schools during under-graduation
Work experience at LKS
LL.M experience at The George Washington University
Induction and work at Nisith Desai Associates
What brought you into studying law? Was it fate or planned?
I had taken up Science as my stream in eleventh and twelfth standard. Like all science students I followed the herd and joined coaching classes for IIT. However, I and my parents realised after my coaching class IIT test results, I was definitely not cut out for IIT. My dad then spoke to the director of HR at his company to discuss what will be the most in-demand professionals in the next five to ten years. One of the professionals in demand he said would be corporate lawyers.
I had no clue at that time what corporate lawyers were. I actually wanted to be a pilot and was keen on going to flying school but I realised while looking at the job market in India for pilots back in 2004 that it was not practical. I then googled for the best law schools in India and then I came across the ever so misleading India Today rankings.
I also came across Law School Tutorials ("LST") and started solving the entrance exam papers, I found it very easy as compared to IIT entrance exam papers, so I thought law entrance exam would be pretty easy to crack. I used to solve the law school entrance papers even in my free time because I especially loved the General Knowledge section. My Mom thought I was spending too much time in solving these papers and not focusing on my twelfth exams, so she hid the LST prep material and did not give it to me until two weeks before the law school entrance exam. In conclusion you can say that me being a lawyer was a mix of fate and plan.
Did you take part in moots when at GNLU or indulge in academic legal writing?
I was never an avid mooter. However, I did take part in a couple of moot courts. I was always focused on Intellectual Property Rights law since the first year of my law school. I never bothered to concentrate on a moot court which was not related to Intellectual Property Law. I think it was in the third year that we first had an internal moot on an Intellectual Property Law issue. I took part in it and actually topped the whole law school in that internal round.
Looking back, I do feel that I should have taken part in more moot court competitions, especially the international ones because they give you a lot of exposure and you do hone your oral and drafting skills.
When it came to writing I did end up writing some articles on the subject of Intellectual Property Law. I do think writing academic articles is important. However, it has to be done the right way. The article should contribute or develop the existing legal jurisprudence on a particular subject. Articles should not be written just for the heck of putting that in a resume. It can actually backfire against you. All the big law firms and even companies have started asking for writing samples or published articles for recruitment purposes. It is very easy to identify the quality of the article by briefly reading it on the first go itself. Plus, if you have written an article on a subject, it is presumed your fundamentals on the subject including the leading case laws are within your knowledge off hand.
During your days at GNLU, you attended various summer schools. What was the reason behind pursuing these programs?
I attended George Washington University Summer Program, Munich, Franklin Pierce Summer Program, Cork, Ireland, Intellectual Property Summer Program, Macau, World Intellectual Property Organization's Summer program at Bangkok, Thailand. All these Summer Programs were on the subject of Intellectual Property Rights. I pursued these summer programs mostly from an academic standpoint. It also helps from a recruitment point of view as it shows that you have command on the subject.
How do you think such summer schools are beneficial for a law student?
The method of teaching in these summer programs is different. They are very practical and assignment oriented, which make you think on these subjects. This kind of academic exposure I did not get in GNLU. Further, you tend to meet a lot of people from different countries with the same kind of academic mind set. This exposes you to a different kind of thinking, which results in expanding your cultural and academic horizons.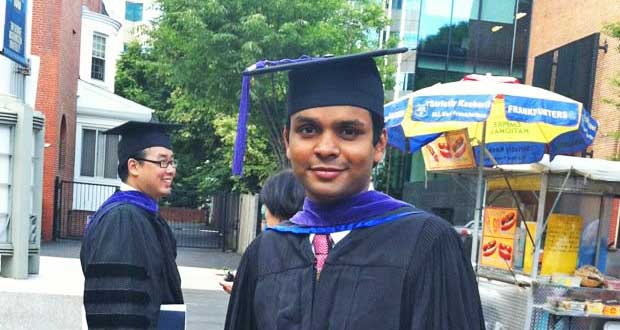 Right after graduating, you joined Lakshmikumaran & Sridharan as an Associate where you worked for two years and then went for LL.M. Why did you decide to go for higher studies?
I honestly wanted to go for my LL.M right after college. However, I realised it made more sense to go for LL.M after gaining some work experience because I would have a better grasp on the subject by then. This was important, if I wanted to make the most out of my LL.M. Also, work experience gave me a different practical perspective of the subjects I undertook in my LL.M. I ended up taking a lot of practical and very specific interest oriented subjects within Intellectual Property Law and did not undertake a lot of foundation courses on Intellectual Property Law, as I was already familiar with fundamentals on the subject.
Tell us something about your LL.M year at The George Washington University. How did this influence your career?
It was an exciting and probably one of the best years of my life. I did study a lot because I was genuinely interested in the subjects I undertook. I did also party a lot I have to confess. Plus, the LL.M programmes are structured in such a way that you so many events to party and most of which are actually funded by the Student Bar Associations of the college, this is apart from the partying that you would do with friends.
I think if you want to pursue LL.M in Intellectual Property Law, George Washington is the best place to study. One, because of its reputation in Intellectual Property Law and second, is because of its location in Washington DC. The Federal Circuit Court (the appellate court for patent matters), USPTO, the US Copyright Office and the Supreme Court are all located in Washington DC. Because of this most law firms and institutions dealing with Intellectual Property have a presence in Washington DC. This gives George Washington unparalleled access to a lot of resources including excellent part time lecturers.
Do you think it makes sense to students to go overseas to study law when they want to work/practice in India?
Honestly, I don't think so. If you are thinking of doing an LL.M from overseas just to get a job overseas, it's a bad idea. You need to have a genuine interest in the subject that you want to focus on. The chances are pretty slim that you will get a job overseas. It might be still possible to get a job overseas but the question is what kind of job you want to do. If you have worked in a law firm in India and worked on high profile litigations and transactions or a law firm in India is giving you that opportunity then would you want to do work for a contract management firm or discovery firm overseas, if you are okay with doing this kind of a job chances are you might ending up getting a job overseas, if you try.
However, what an LL.M does is irrespective of your job prospects, the exposure that you get in an LL.M when you make friends and hang out with people from different countries is extremely invaluable that can't be quantified by any amount of money. This exposure makes you so culturally aware and shapes your personality, which is very important in your professional careers.
You have also worked as an intern at Boehmert & Boehmert, Germany. What kind of work did you come across?
Boehmert & Boehmert, Germany is a law firm specializing in Intellectual Property Law. The kind of work I came across was patent prosecution, trademark related litigation research, European Pharma regulatory research work and trademark prosecution work.
Working in a German law firm is very different than working in an American or Indian law firm. The working atmosphere was very relaxed. People generally never stayed longer than 6.00 p.m. in the firm. However, people did not waste a single minute while working in the office. The efficiency of the associates, interns, secretaries and paralegals in time management was extremely good.
The interns in the law firm were treated almost like associates. We had our own cabin and even secretaries assigned to us to help with the backend work and you directly reported to a partner and the work was assigned to you by a partner and not an associate. The responsibility that you are given is also equivalent to an associate. In this way it was completely different than an internship in an Indian law firm.
You are working as an Associate at Nishith Desai Associates. Tell us about the nature of work you're entrusted with therein.
At Nishith Desai Associates ("NDA") I primarily focus on Patent prosecution, Intellectual Property litigation, Intellectual Property centric transactions, Pharma regulatory litigation, General commercial law litigation and General Commercial Law related documentation.
At NDA we have 70:20:10 philosophy; wherein you need to spend every year 70 percentage of your time in your core area, 20 percentage of your time in related core area and 10 percentage of your time in an entirely non-related core area. So I do end up doing work, which is not related to Intellectual property law.
NDA being a research oriented firm, a substantial amount of my time is also spent on drafting research articles and hotlines that get circulated to the NDA external mailing list or get published in national and international publications.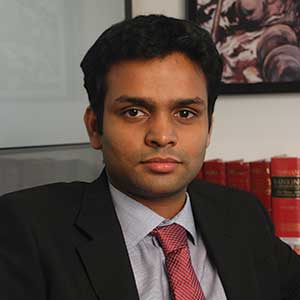 How do you say one can gain expertise in IPR? What does it take to be a good IPR lawyer?
The first and foremost thing you need to decide if you want to gain expertise in IP is whether you are genuinely interested in the subject, does it excite you, does it make you want to read more and gain knowledge in the subject. If the answer is yes, then you should decide to gain expertise in the subject. As, a student the best way to again expertise in IP would be to intern with a law firm specializing in IP. I think this is one of the best ways of gaining exposure and experience on the subject and it also increases your chances of recruitment. Another is attending summer programs to gain exposure and to have comparative understanding of the subject, which is very helpful as it gives you a broader perspective on the subject. You should also be abreast with the latest development in the subject area by reading blogs and major case laws on the subject.
To be a good IP lawyer, you need the same qualities as any other lawyer. However, it does help very much if you have an inclination to understand and better grasp the fundamentals of science especially if you want to do patents. Plus, if you have science degree even if from National Law School such as GNLU you are eligible for giving the Patent Agent Exam in India. Having this qualification is also very helpful, if you want to focus on patents.
Nishith Desai Associates takes on interns as well. What do you feel makes an intern stand out and is very important for him to do to have a chance of getting a call back or even a PPO?
Interns at NDA generally work across teams. So it is important to have a mindset where you are open to work across subject areas. You should be able to work anywhere, be it in Intellectual Property or corporate or tax or litigation. Dedication to your work, time management, meeting deadlines and consistency in the quality of work are also important. In addition to NDA being a research oriented law firm, we also look for good drafting and analytical thinking skills in a potential recruit. Analytical skills are essential; for example, if you are drafting an article on the latest case law, you need to understand the broader implication of the judgment on the jurisprudence and the industry and your critical analysis of the judgment.
Is there any success mantra that you follow which you would like to share with our readers?
I think be it any field or any kind of work, according to me, if you need to be successful, dedication, hard work and time management are the most important. You can't achieve success without possessing any of these qualities.