Akshata Srinath graduated from Christ College, Bangalore University in 2011 and subsequently did a dual LL.M. course from New York University of Law (NYU) and National University of Singapore (NUS) in 2014. After having interned at several top legal firms of India, editing a journal at NUS and winning the Dean's Award in her Master's programme, Akshata is today working at the Dacheng Wong Alliance LLP, Singapore as an Associate (Foreign Lawyer).
In this interview, she tells our readers about:
The importance of certificate and diploma courses for a law student
Her experience of successfully applying for a foreign master's degree and getting the Dean's Award at NYU-NUS
Working and writing for journals
Difference between the work culture in Singapore and India
Her views on entry of foreign law firms in India
What was your motivation to study law? How did you come to choose Christ Law College for your law degree?
I went through a lot of career seminars in secondary school to decide on what I really wanted to take up afterwards. Law seemed to be interesting and different. I attended few workshops for career counselling and realized law is not only about litigation (for me back then law meant going to the courts or being a judge), it showed me the corporate culture, NGO/pro bono work, legal editing work. Also at that time, my father was with ITDC Vigyan Bhawan where till date there are numerous events relating to different areas of law taking place. So he used to bring home materials, information and other details for me to read and therefore I was sure that I really wanted to pursue law as my career.
Christ College Law was under Bangalore University at the time I joined. I did get in to a law school in Delhi, but going to Christ felt like coming out of my comfort zone which I still believe was a right decision. The campus is beautiful and a few friends who were already studying in Christ College, but in different departments, helped me take the decision. During my admission process, I also spoke to a faculty members which added to my motivation to choose Christ.
You have interned with most of the top law firms in India. How did you go about securing internships at these firms? How was your experience with them?
I have been lucky to have secured internships with some of the top law firms in India. I applied to the HR of the law firms, dropped reminder mails and few phone call follow ups to get the internships. My experience at every firm was different. I have interned with JSA in Bangalore and Gurgaon and was surprised to see how different the same law firm in different cities is. In Bangalore, the partner would directly come and give me work. I would be surrounded with lawyers so interaction level was surely high. But in Gurgaon office I found it impossible to reach the partner, because the number of lawyers was so much that you become less noticeable.
I have always been given quality work, which involved drafting of few agreements and research work. I have made presentations for lawyers and attended few client meetings. I was given a good practical experience on how work is done in a law firm.
Are there any extra-curricular activities you participated in during your 5 years at Christ?
I did a couple of national and international moots but soon realized mooting wasn't a good idea for me. I ended up taking part in parliamentary debates, Mock UN, presented papers in conferences and took part in national negotiation rounds. I have few publications in national and international journals. I also did some volunteering and legal aid work.
Could you please describe to our readers the various Certificate and Diploma courses you studied, and the benefit you got out of them?
I started doing certificate and diploma courses from my second year. I did diploma courses in corporate law and law of corporate mergers and acquisitions and certificate courses in dispute management and IP rights. I also attended the summer programme in international law by the Indian Society of International Law.
Bangalore University law course is structured in such a way that we only get to read law subjects from the third year. So by doing these extra courses, you are clearer on a particular area of law. There is always a benefit in doing something extra. In my case, it helped me in bridging gaps in my knowledge. I knew a little more when I was making notes on research given to me in my internship. The extra knowledge also helped me in writing papers for publication, and a competitive edge. And lastly, resume for a fourth year or final year student looks good with extra courses.
How did you secure a job upon graduation? What was the work profile like?
(Upon graduation, Akshata joined as an Associate at the offices of KSB Partners)
I applied to various law firms for job interviews and KSB Partners gave me this chance to work and grow with them. The work profile of KSB Partners was interesting. We did project finance and mergers & acquisition related work involving mostly drafting of agreements and preparation of due diligence reports including doing some research and giving legal opinions on the same. I couldn't have asked for a better place to start working in the industry. This was because the areas of law were interesting and the Partners surely knew how to guide you through a particular task. I was fortunate to work with all the three Partners and receive knowledge and certain tricks from each of them.
When and how did you decide to get a Master's degree?
I wanted to do Master's but wasn't sure when and how to go about it. One of my friends was applying to an architecture course in NUS for the year 2013-14 which made me think about Master's. Also, I knew few friends who had been to NUS law so after getting information from them, checking few more details online, I discussed it with my parents and applied. I applied only to two law schools, one being NUS and the other being NYU Singapore.
Can you please tell us about your experience applying for your Master's degree? Do you believe it is more difficult for non-NLU students to get through into foreign universities?
(Akshata pursued a dual LL.M. from NYU and NUS)
Applying to NYU was a last moment idea and a hope that turned into reality. While researching for NUS Law School I did come across this unique course that seemed really fascinating. Submitting a statement of purpose was not required for NUS but in NYU they require SOP plus other documents like an essay for scholarship, a write up of experiences that you want to share with the admission committee, IELTS and TOEFL exams and the like. It was the most tedious fifteen days because I had to come up with a lot of documents. My parents played a huge role in this by reading every single document I was preparing for admissions. I asked few of my friends to read my SOP and I remember submitting the revised SOP no. 15 to the admissions committee.
I don't believe it is difficult to get into foreign universities for a non-NLU student. I have classmates, friends and juniors who are from non-NLU colleges but made it to elite institutions, some with scholarships. When it comes down to how to go about applying for universities, I believe it's all up to how much you can open up to the admissions committee and how well you have spread your ideas in that one paged word document. As a very good friend and mentor for this process told me, "I don't want to know what it is already there in your resume. I want to know what is beyond it, which is in your mind."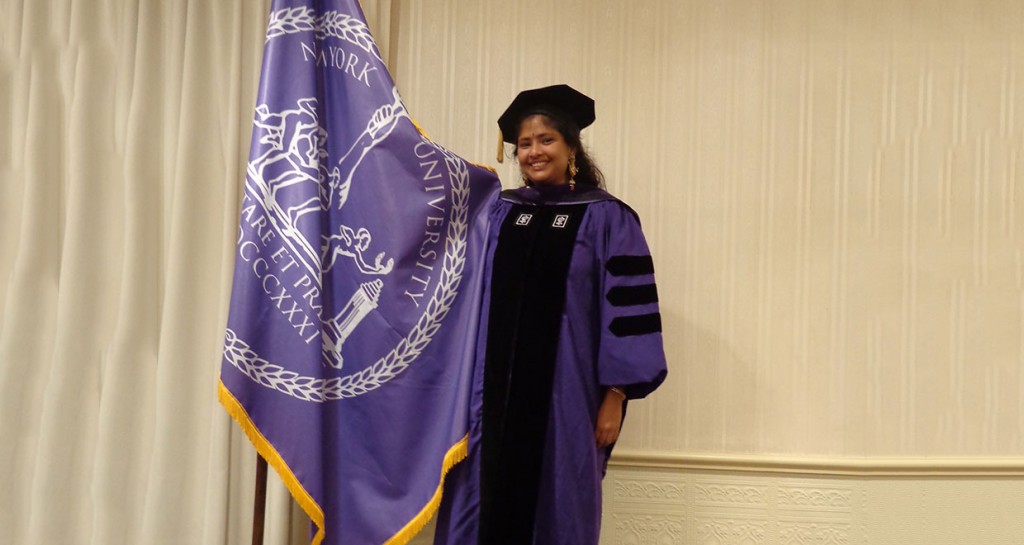 Please describe to our readers the experience of studying at both these elite institutions.
It was a great experience studying in both NYU and NUS. Our term started in May, so the first three months were purely for NYU subjects. The NYU faculties fly in to Singapore and the subjects we choose are taught for two or three weeks depending on their credit. It is a little intensive since the subjects are studied over these weeks without any break for three hours every day. In NUS, apart from the intensive subjects which follow the same pattern as those of the NYU, each course you choose is taught once a week for three hours. So the NUS way was a bit more relaxed.
However, irrespective of the Universities, we have spent nights in the study room preparing for classes next day or finalizing papers for submission. I have been part of a week-long group paper submission, a 24 hour typed out exam, paper submissions, presentations, three hour exams, and even practical exams. I really learnt time management, prioritizing work and understanding how much was my capacity. Apart from studying, NYU and NUS celebrate certain festivals and occasions and arrange for guest lectures and alumni gatherings. Having classmates from all over the world helps you to develop personally, increases your patience and gives you lots of memories. In a nutshell, it was a great year of learning in every way.
You have the experience of editing and writing for law journals. Please share your experience with our readers.
(Akshata was the Student Editor at the Singapore Law Review)
The Singapore Law Review (SLR) is managed exclusively by the students from the Law Faculty of the National University of Singapore. They have a two-step selection process which involves filling up of an application form along with submitting any article you have written. After being shortlisted they would call you for an interview. Being part of SLR mainly involved editing articles submitted by peers and also contributing write ups for their monthly newsletter. In India, I had never been part of an editorial board, I was always the one writing and submitting to the board. Therefore I can't draw comparisons. However, it is more strenuous work than writing an article. Understanding and dividing the content of the paper as descriptive or analytic, grammar issues and citing concerns (most of us know them by the name of 'bluebooking'), takes time and involves the need to understand what the writer has tried to convey through his paper.
How valuable do you think the Master's degree has been for you? How do you think it has added to you professionally and personally?
Master's has definitely been valuable for me. The whole experience changes your way to perceive and understand how a particular idea or in our case how a law works. Professionally I wanted to develop my career and my interest in corporate law, especially M&A, and this made me do my master's.
Master's helped me to channelize the area that I wanted to expertise in. For me both my master's degrees have indeed increased my knowledge, professional skills and even perhaps boosted my confidence. I gained a clearer insight into how the law firm industry works in Singapore, and through meetings with alumni I created invaluable contacts with some key people. You always end up learning something or the other from the university alumni meetings. Personally, I have made a lot of friends and learnt about various different cultures. It has changed my acuity and the way I look at things now is more logical and with a wider perspective.
How did you go about achieving the feat of being awarded the NYU-NUS Dean's Award?
While preparing the documents for application, we had an option to apply for the scholarship as well by writing a scholarship essay. The NYU@NUS Dean's Award is a merit-based award given to students who have demonstrated significant academic promise and/or achievement in their respective fields. With my offer letter, it was informed to me that I have been given the Dean's Award. I am not in the position to explain how I was given this award, however, I believe with good scores one really needs to be involved in other co-curricular and extra-curricular activities. Whatever you do in the five years of law school definitely helps at a later stage.
How did you join a reputed foreign law firm after your Master's course?
(Upon completing LL.M, Akshata joined Dacheng Wong Alliance LLP as an Associate [Foreign Lawyer]).
I interned with Dacheng Wong Alliance LLP in the winter break. I continued doing some research work for the firm during my second semester with NUS. Due to my course structure, I had only three subjects that semester. This gave me enough time to continue with that work. And before the course got over, I was offered an opportunity to join DCWA. I now work for the South Asia practice of the firm.
What is an average day like at a multi-national law firm like Dacheng Wong? Is work-life balance a problem?
An average day in DCWA is involves attending to clients from Singapore and China and preparing draft agreements for ongoing transactions. Since Singapore is ahead of India in time, by afternoon after lunch, we need to cater to the Indian Clients. Most of the work is preparing agreements and providing legal opinion under Indian Law. Work-life balance is really not that difficult to maintain. The firm works on priority basis. So we try finishing most of our work during office hours, but if required, work has to be completed over the weekends.
Do you believe that a Master's is a must for lawyers seeking international exposure, and joining a foreign law firm?
It is definitely one of the ways to seek international exposure but not the only way. For joining a foreign law firm, students in their final year can apply to foreign law firms under the training contract. However, to seek an international exposure study wise, doing master's allows you to meet a variety of people, develop your understanding from a different view and gives you a wholesome development.
How different is the work culture in Singapore from India? Are law firms in Singapore better managed?
Work culture in both the countries is similar to each other. The difference is the fact that Singapore is open to international firms so this raises the bar for performance because of which there is a competition for giving out best results. Singapore also gives a wider scope in terms of involving a lawyer in laws related to other countries. I have myself been part of teams that work with the laws of most of the Asian countries apart from the laws of India.
In Singapore, people are of different ethnicities, we not only dealing with Chinese clients, but also Malays and Indians along with Europeans and Americans. So work ethics differ from person to person. A person is expected to keep himself/herself updated. However, when it comes down to working, the 9 to 6 work hours are really not followed, which is something similar to the working style in India.
Although international and domestic firms are organized and efficient in their deliveries and performances, the international law firms are better managed than the domestic firms in Singapore and India, since the headquarter is in a different country and managing the law firm worldwide needs specific staff with the right qualification. So the entire process becomes more crucial and highly scrutinized.
What is your view on the entry of foreign law firms in India?
Entry of foreign law firms in India is more of a tricky situation. I personally think it might be a loss for an Indian firm if a foreign law firm enters into the Indian market i.e. the foreign law firm is allowed to practice Indian law. There might be issues that established law firms in India could face starting with work culture. There is a basic difference on how transactions are handled in India as compared to other countries. I did find a difference in the training provided to me in India and the training I was given while working in Singapore. However, this is just my point of view. There might be a possibility that the foreign law firms actually help in the growth of the industry if they work together with the local firms.
Would you have any parting words of encouragement for our readers who would like to follow your footsteps?
My mom was the biggest inspiration during my testing times. She said one thing that I would like to share, "work hard for these five years, and then enjoy your remaining years."
Just do what you feel is correct. Explore your five years in a way that you don't regret not trying any extra-curricular or co-curricular activities. One can utilize every semester break to intern, to do summer courses. Surprisingly, now I feel five years is less of a time to understand and achieve things. Law school is tough, it's competitive but it is not impossible to utilize the time spent in law school successfully. It's been a few years since I graduated from Christ College and now when I look back, I know I have come a long way. And the pain was all worth it.
This interview was taken by: Amish Aggarwala, Advocate, Delhi High Court