V. Mohana graduated from Coimbatore Law College (now GLC, Coimbatore) in 1988, India's first batch of the five year law course. She joined the chambers of Mr. M. Panchapakesan as a junior after graduation, where she had also interned in her final year. Thereafter, she moved to New Delhi and worked with Ms. Indu Malhotra and Mr. C.S. Vaidyanathan, enriching her expertise in litigation. After successfully passing the Advocate on Record examination in 1996, she has been practising independently in the Supreme Court, Delhi High Court, National Consumer Commission, etc.
She has worked on matters with eminent seniors like Mr. Kapil Sibal, Mr. K.K. Venugopal, Mr. P. Chidambaram, Mr. Arun Jaitley, Mr. T. Andhyarujina, et al. She was also a Panel Lawyer for the Government of India. She was designated as a Senior Advocate by the Full Court of the Supreme Court of India on 23rd April, 2015.
In this interview, she talks about:
Being a first generation lawyer: college life, internships and interest in litigation
Moving to New Delhi and establishing her practice
Cracking the Supreme Court Advocate on Record examination
Her wide range of practice encompassing various courts, tribunals and as a Panel Lawyer
Being one of the few women Senior Advocates of the Supreme Court
Please introduce yourself to our readers. Were you always interested in pursuing law? Are there any lawyers in your family who motivated you to join law school?
I am a first generation lawyer, and I have been practicing for the past 27 years. From my school days, I was interested in debating, public speaking, theatre etc. I took an interest in law during my higher secondary education. The sole credit behind my motivation to do law goes to my Mother. There were no lawyers in our family until I finished law. Now there are more than three, and a few more in the making.
You are a student of the very first batch of the five year integrated law course, introduced for the very first time in India. We would love to know about your college. Was there any confusion/mismanagement, considering it was a new concept?
Yes, I belong to the very first batch (1983-88) of the 5-Year integrated law course after higher secondary, introduced for the very first time in India in the year 1983. Our college those days (Coimbatore Law College, Bharatiar University, Tamil Nadu) was run in a rented premises. There were very few classrooms during the first year since we were the only batch and the rest of them were three year law students. We had a small library and a very small room for sports activities.
Our syllabus was structured similar to the present syllabus, but it was not very detailed. We also studied subjects like Sociology, Economics, Legal History, History and Legal Language & Legal Writing etc. during the first two years. The rest of the three years we had subjects like Family Law, Transfer of Property, Constitutional Law, Income Tax, Insolvency, IPC, Evidence Act, CPC and Cr.PC along with Drafting, Pleading and Conveyancing.
There was no confusion or mismanagement and, of course, the infrastructure was limited. There were few teachers and we had hardly two to three classes a day and only one session either morning or afternoon. There was no hostel for girls and there were very few girls in the class.
Were there any student activities and opportunities such as debates, moot courts et cetera? What was your typical day like? Did you also pursue any hobbies?
There were activities and opportunities such as debates, dance competitions, quizzes, etc. which were conducted by other Arts & Science colleges in which we all participated. There were a few moot courts competitions as well that were conducted by colleges outside the city and state, so participation was difficult. Our typical day was very relaxed and had only two classes/lectures. We had a lot of free time to pursue any extra-curricular activities, but we did not have many opportunities. I was in a working women's hostel and our timings were very restricted. I used to give tuitions for school children in my free time.
Did you do any internships? What was the work allotted to you like?
The concept of internships was not in vogue back then. However, we were regularly going to court in the morning since we had classes only in the afternoon. During my final year, I myself went and joined a Senior Civil Trial Lawyer Mr M. Panchapakesan who is one of the doyens in the Civil Bar in Coimbatore. After a short interview and after checking my aptitude, he agreed to take me as an intern and I started going to his office and court in the morning and after college hours. The work I was initially asked to do as an intern was to note the case diary maintained by the office clerk which reflected the entire list of cases on a day-to-day basis for the whole year. Every day we had to note down the date of the particular case in the diary and maintain it regularly so that we get ready in advance for a trial. This habit is something I follow to this day. Apart from that, my senior would dictate legal notices, plaints and written statements which would be taken down by the juniors. I was asked to re-write the same in big font with triple spacing on white sheets of paper and give it to the senior for his correction and editing. By this method, I learnt a lot about drafting and pleading. There was no concept of stenographers in our office those days. Every pleading, application and written submission used to be dictated to juniors. I got the benefit of directly taking the dictation from my senior very soon after I joined as an intern, due to the fact that I could write fast and my handwriting was legible.  I have acquired maximum advantage in profession due to this practice of taking dictation.
How did you manage the internship with studies? How did the practical exposure compliment the theoretical knowledge imparted to you in college?
My internship never disturbed my studies. It rather helped me in learning what was taught theoretically in college. For example, we had papers such as CPC, Cr.PC, Drafting, Pleading & Conveyancing in the final year. I feel that these papers should be taught only in the final year. Since I was going to the trial court in my final year and taking dictation in my office, I could practically learn the application of CPC, Transfer of Property, Partnership, Filing Suits, etc. due to the personal practical experience. Even today, it is that training which is helping me. The art of drafting sale deeds, lease deeds etc also helped me in my conveyancing exam.
Did you consider pursuing higher studies after graduation? How important is it for a lawyer to go for higher studies? Were you inclined at any time, towards the civil services?
Honestly, we could not think of pursuing higher studies after doing law. Those days, even a five year law course was a luxury and we could not afford to think of any further education, coming from a big family. It is good to go for higher studies if one can get a good scholarship or afford it. However, it is not compulsory if one is planning to do litigation in India. Of course, higher studies abroad gives you wide exposure and analytical approach so it is very helpful. I never thought of civil services at any point of time since I always wanted to practice in a court of law.
You joined the office of Mr. M. Panchapakesan upon completion of your law degree, with whom you had interned as well. What was the scope of work?
On completion of my law degree, I continued to work in the office of Mr M. Panchapakesan. Initially, the scope of work was the same as it used to be during my internship. Eventually, he would ask me to prepare notes for trial and involve me in discussions with clients and in taking down depositions of witnesses while it was recorded in the court room, in order to review it in the evening. We also drafted plaints in simple suits and some applications. The working hours used to be 8.00 a.m. to 8.00 p.m. He would allow us to go home on Friday evenings. On weekends we would work full days on Saturdays and half-days on Sundays. It was a pleasure working there and he would always take good care of us. All other juniors were elder to me and they would take very good care of me, being the only girl in the office. They were all like my elder brothers and till date we are in touch like a family.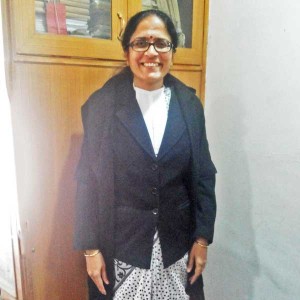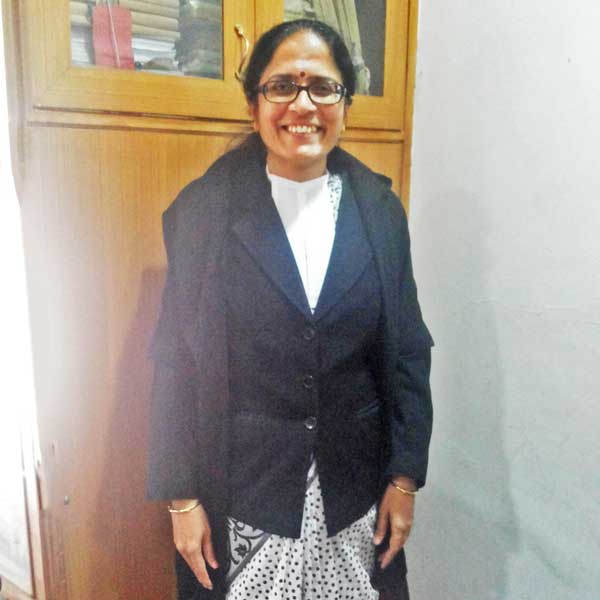 How was it to appear in the court for the first time? Can you recall any specific incident?
It was quite comfortable for me. I was not nervous at any point of time since I have always been confident and had no stage fear even while in school. Of course, whenever my senior was likely to be present in court, I would get nervous. The courts were also very congenial even in those days. I have great respect and regards for courts and judges but I never got scared. Once, I was moving a temporary injunction with a very senior lawyer opposing me. When he was not getting his way, he started saying things like women should not be seen raising their voices in court and that their place is in the house, to which I replied by saying that if he has any point in the case he can argue and that such statements are quite immaterial to the merits of the case. The trial judge also took exception to what he said, but I never got annoyed or lost my temper. I succeeded in the case. He was a fatherly figure and a great lawyer. After a few days, he became very affectionate to me and we both developed a very cordial relationship at the Bar. I only feel that one should never lose their temper in a court of law and one should always respect one's opponent. After all we are not fighting our personal cases!
How did you decide to move to New Delhi? What difficulties did you face initially? Would you say Delhi provides more opportunities than any other cities?
I was in the trial court till the summer of 1992. I had just then started getting a few cases of my own, but it was difficult for women in those days to get cases of their own, especially in small cities. At that time few of my married sisters and two elder brothers were living in Delhi and my senior advised me that if I wanted , I could try my hand in Delhi and was welcome to join him back at any time if I felt uncomfortable. At that point of time my parents also thought that since my sisters and brothers were in Delhi, it would be easier for me. I had no difficulties in Delhi, though I came very reluctantly. Through my very best friend and his contacts I joined the office of Ms. Indu Malhotra, Senior Advocate (then an Advocate-on-Record).
Delhi provides lots of opportunities, definitely better than any other city. Because you have trial courts, high court, administrative tribunal, MRTP commission (now Competition Commission, Competition Appellate Tribunal), CESTAT, Army Tribunal, etc. and of course the Hon'ble Supreme Court of India. So there is a varied practice and scope for every field.
How was the experience of working with Ms. Indu Malhotra? How did it feel to interact with and brief some of the best seniors of those days?
It was a great experience working with Ms. Indu Malhotra. She was one of the busiest Advocates-on-Record doing a lot of private work from Tamil Nadu, Kerala, Maharashtra, Punjab & Haryana, Himachal Pradesh etc. She was also the then Standing Counsel for the State of Haryana in the Supreme Court. That gave me a lot of exposure and I learnt how to draft Writ Petitions and Special Leave Petitions, do research work and brief Senior Counsels. We used to get a lot of appearance in court and that gave me ample opportunity. It was great to interact with and brief some of the best seniors of those days: Mr Kapil Sibal, Mr. Arun Jaitely, Mr P Chidambaram, etc. All these seniors would normally allow us to give our view points in every briefing and also discuss the strategy to be adopted while arguing the case. It gave me lot of confidence and exposure.
In fact, once in the beginning, I had briefed a senior counsel where we were to oppose a stay in a Special Leave Petition as caveators, and the petitioners were represented by a batch of seniors. Those days, a caveator would never get a Passover when matters are called if the advocates for the petitioner are present. Even today many courts follow this practice. When this matter was called, the battalion of seniors were present for the Petitioner and I was seeking a Passover for our counsel since he was in some other court. Ms. Indu Malhotra was also busy in another court. But, the Passover was refused and the petitioner argued the matter for the interim relief. Due to the conference and guidance of the earlier day, I was successfully able to oppose the petitioners' counsel and averted an interim order. This instance gave me a lot of exposure and it was only due to the experience of working with Ms. Malhotra.
You then joined the chambers of Senior Advocate Mr. C.S. Vaidyanathan. What prompted this shift? Was there a change in the kind of work that was allotted to you?
In August 1993, I joined the office of Mr. C. S. Vaidyanathan, Senior Advocate. Though I was learning a lot and getting to appear in court, I thought I had learnt Drafting to some extent and I needed to sharpen my skills in complete legal research and counsel work. I wanted to work under a Counsel so I could learn how to prepare arguments and improve my research skills.. So, I shifted from Ms. Malhotra's office to that of Mr. CSV. The nature of work was different in the sense that there was no work involving the drafting of SLPs, going to the registry and briefing other counsels etc. Instead, we had to read files, which would come for the Senior Counsel engagement from different AORs, and prepare notes for the case and do research. We would participate in the conferences and prepare a list of dates and events and case law notes. Sometimes the briefs would arrive at the last minute also, so it was a learning of a different kind.
Could you share with us any interesting case that you were a part of? How did you strike a balance between family and work?
Mr. CSV is a fantastic and an amazing Senior Advocate. He is quick in his uptake, has wide knowledge and is a brilliant lawyer. There were several reported cases between 1992 to 1996 that he had appeared in, when I was working under him. There were several interesting cases. Amratlal Prajivandas case (SAFEMA case: 9 judges matter), Mc Dowell case etc., Jain commission after the death of Rajiv Gandhi were all good  and interesting matters where I got opportunities to learn.  I got married in the meantime, so I had to balance both family and office work. But, our working hours were not so bad and we had the flexibility to adjust our office working hours. My husband helped me a lot in all domestic work and so I was able to manage in office and at home.
Did you require any preparation to appear for the Supreme Court Advocate-on-Record examination? How was the experience? What would be your advice to lawyers appearing for it?
Yes. One has to plan and prepare for the AOR exam. I had put in a few hours of study every night for a period of about three months. I was not able to study on all days or do it at a stretch. In fact my son was born in 1994 and he was very small when I started preparing for the exam, therefore, it was difficult to concentrate and study. So I feel that a long time planning for few hours everyday will help one to pass easily. I was appearing for exams after a gap, so I was nervous while sitting in the first exam. Thereafter, I became comfortable. My advice to all the lawyers who want to write that exam is to read regularly and attend the classes conducted by the Supreme Court for this purpose prior to the exam. Answer all questions carefully and you can easily pass.
What was your experience like, to practice in the newly established disputes redressal system under the Consumer Protection Act, 1986? How was it different, in terms of procedure et cetera from practicing in the Supreme Court and the High Courts? Which other tribunals do you appear before?
I started getting cases in the National Consumer Disputes Redressal Commission. This is the apex commission which has now the jurisdiction for complaints more than Rs. 1 crore and also for appeals from State Commissions and Revisions. This has a summary procedure and evidence in original complaints are by affidavits only. It gives a quick remedy in respect of consumer disputes. It was a very good experience for me. In exceptional cases, they do send interrogatories. It is very easy to practice there if you are thorough with the Consumer Protection laws and related subjects. I used to appear in MRTP (Now Competition Commission, and Appellate Tribunal), CAT, and CEGAT (Now CESTAT).
You seem to have been a part of cases involving sensitive issues like custody of children of warring parents. Could you share with us any experience?
I have done a few custody cases. But, as a Mediator in the Supreme Court I have handled these more. They are very difficult to resolve and are usually fought bitterly. In matters of custody between husband and wife, the welfare of the child is always the paramount consideration.
What responsibilities did you have as a panel lawyer for the Government of India? What exactly does a panel lawyer do? What kind of cases did you handle as a panel lawyer?
I have been in the panel for the Central Government for many years. The nature of work differs from one panel to the other. There are drafting panels and appearance panels, and I am in the Senior appearance panel. We get the matters and we have to always be ready to appear. In case the law officers are not able to attend we will have to argue. I have handled various subjects like civil, service, criminal, narcotics, prevention of corruption cases, and constitutional law matters etc. It gives a great exposure and wide range of work experience.
Could you tell our readers about the pro bono and socio-legal work that you have done? Do you also have any academic interests?
I have been a panel lawyer for the Supreme Court legal services committee and did a lot of matters during 1996-2013. Now, I appear pro-bono for accused in the criminal matters concerning murder appeals, etc. I have been appointed as an amicus curiae by the Hon'ble Court in several matters-both civil and criminal. Other than that, I am a mediator in the Supreme Court. I attend cases in mediation for resolving disputes when they have been referred by court. These are all pro-bono.
I like to read a lot. I used to be an honorary editor for the Supreme Court Reports (SCR) earlier. Now they have their own editors.
You were recently designated Senior Advocate by the Supreme Court. Please tell us a bit about the appointment mechanism for our curious readers.
I was designated as a Senior Advocate by the Full Court of the Supreme Court of India on the 23rd of April, 2015. As far as I know about the mechanism, we have to apply stating our experience and range of practice in sufficient copies to be circulated to the Hon'ble Judges. Then there is a mechanism by which applications, which have some minimum number of recommendations from the Hon'ble Judges, are taken to the Full Court meeting. Then there is a voting procedure by which it is determined.
What all do you think led to your appointment as a Senior Advocate? Are there any specific benefits of being a senior? Is there a radical shift in the workload?
I think hard work, sincerity, dedication, and consistency are some of the essential requirements. You also need a lot of blessings from the Almighty, your parents and elders. J There are no specific benefits of being a senior. In fact the responsibility is even more now. Of course, the nature of work is very different. Now, I neither need to do any drafting, nor write letters to clients! My nature of work is to prepare and argue cases, give opinions, settle pleadings etc. Sometimes briefs come in the last minute, so work pressure varies.
There are very few women Senior Advocates in the Supreme Court. What are your views?
Yes, there are very few women seniors in the Supreme Court. I feel that the general tendency has changed now. People have started recognising women lawyers and their good work. But there should be more designations and elevations from the women's section. Women should also work harder and continue to work with sincerity and dedication. I am sure there is scope for everyone with hope, hard work, consistency and dedication.
How can students wishing to intern under your valuable guidance get in touch with you? What qualities will you look for in an intern?
I encourage interns and they can always write to me on my email if they need an internship. I look for interns with positivity, willingness to learn and work hard and with some basic knowledge of the subjects which have been taught in college so far. Honesty and sincerity are some of the essential attributes I look for in any intern/lawyer.
The quintessential question: the NJAC or Collegium for appointment of judges?
I will not be able to answer since I have been a part of the team on behalf of the Central Government in that matter and the judgment is awaited.
What is your message for our readers, especially those who aspire to do counsel practice? What hurdles should they expect and what are your tips to tackle the same?
My message to the readers is: Learn your lessons in college well. Read regularly. Read law related books and articles whenever you get time. Work hard and be sincere. Develop your communication skills and improve your vocabulary.
Being argumentative does not mean that you will be a good lawyer. You have to be clear in your thoughts, talk only when needed in court, read latest case laws and developments in the law. Be good to all colleagues and be respectful. Dressing well does not mean dressing expensive. Make a good appearance, be healthy, and maintain discipline. There is no short cut to success. The legal profession is highly competitive. In case one is very serious and hard working there is a lot of scope.
More than winning the cases one has to be honest and sincere to the client, and the court, work hard and suggest the best possible solution for the clients. People don't come to us overnight. It takes many years, so be patient. Even if there is only one case, one has to take it seriously and do their best. There is a lot of work out there and if one wants to excel there is ample scope.