Ankur Deka Rabha graduated in law from NLSIU, Bangalore in 2002. Having experience of more than fifteen years in the legal industry, Ankur is a versatile and result oriented leader with global exposure to diversified business strategies. He was the General Counsel- India at Bosch Limited for over a period of seven years and then had a brief stint as Head – Legal and Contract Management at Alstom Transport Limited. Currently, he heads the legal department of Essilor Group striking a balance between growth and compliance through innovative ideas to enable business.
In this interview, Ankur answers to Rounak Biswas of SLS Pune the questions posed by Shafina Salahuddin of Calcutta University focussing on:
Being a first generation lawyer
Challenges in early years of practice
Roles and responsibilities as Legal Head of Essilor Group
Importance of conciliation for dispute redressal
HOW WOULD YOU LIKE INTRODUCE YOURSELF TO OUR READERS?
A lawyer driven by passion for his work and still eagerly learning each day in order to be a better business lawyer.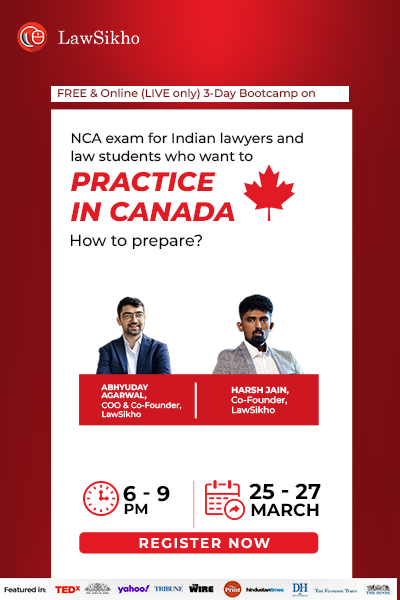 WHAT MOTIVATED YOU TO PURSUE A CAREER IN LAW?
I do not come from a family of lawyers. I am a first generation lawyer. During the late nineties there were not many career opportunities for students in Guwahati besides courses like engineering or medical or the remaining alternative of the quintessential three-year degree course. Hence, once I completed my higher secondary, I was looking for course other than medical and engineering, so law became an obvious choice. It was also because my friends were already studying there. That's how I got into NLS.
HOW INSTRUMENTAL WAS NLSIU, BANGALORE IN SHAPING UP YOUR LEGAL CAREER?
I remember my years in NLS as a period of learning law, diversity, people, cultures etc.
There was a paradigm shift in my thought process and the way I saw and perceived things before and after I joined NLS.  What I liked about most is that teaching methodology was not theory centric but practical learning. It makes you think, question and rationalise. As a student, it was an exciting journey of learning and nurturing my skills on research, writing, oratory skills, rationalising and analysing the law. These things definitely helped me nurture the basic skills required as a legal professional.
Of course it is humbling to be part of such a great institution but one thing I realised when I started my career was that an institution can only help to nurture you, the rest is up to you to make what you want of yourself and succeed professionally. 
WHAT WERE THE CHALLENGES YOU FACED IN THE EARLY DAYS OF YOUR PRACTICE?
To be honest, the initial challenge was not about law but about trying to sustain myself in a big city like Delhi with a meagre income and also find good seniors to work with. But I was resilient and persistent and carried on with the belief that it will bear fruits in future. I think this the period I realised my strengths —patience, resilience and self-belief and taking on challenges.
I was fortunate to have very good seniors who taught me a lot. One of them told me something which I still remember, "always see every challenge as an opportunity rather than a hurdle and grab it. If you are not quick enough, someone else will take it". Although I only had a short stint as a litigating lawyer as I shifted to the corporate side soon due to personal reasons, I did thoroughly enjoy it and had great learning experience. For me litigation is not always about just law and arguments, it is also about strategy.
My experience as a practising lawyer does help me manage situations as an in-house counsel. I realised that litigation is not the first option to suggest to an internal customer even though it's the only option which they might desire. Sometimes it's a question of egos not as much of a case of dispute which cannot be resolved across the table. We as in-house counsels have to understand business and appreciate that any kind of litigation involves costs and man hours and basically affects the bottom line in a business. We need to explain the same to our internal customers so that alternate solutions can be explored and we should facilitate that. I have always pushed for alternate methods of conciliation and been successful in resolving many high value disputes without going to court during my short professional career.
WHAT IS YOUR OPINION ON FAILURE? IS IT ACCEPTABLE TO YOU?
Of course there is no alternative to hard work and yes performing well can sometimes can be stressful. However, I personally feel it is very important, whether as a student or as a professional, you are passionate and enjoy what you do. We stress ourselves so much for what we don't have that we forget to appreciate what we have at present.
We have to understand that success and failure are part of life. Mr. Ratan Tata said "Ups and downs in life is very important to keep us going, because a straight line even in an ECG means we are not alive".
Basically, what is important here is how you see things. It's all about perspective. Life is neither constant nor should you want it to be because if you do then you will never experience something new and learn from it.
Therefore, I think it is important to experience failure sometimes because such instances can only make you stronger and wiser. The main thing is to be resilient and not give up. One only fails when one gives up trying. If you want to grow not only should you have the courage to fail but also have the courage to look at it positively and learn from your mistakes. It is then called an experience!
WHAT ARE YOUR ROLES AND RESPONSIBILITIES IN YOUR CURRENT POSITION?
One of Essilor Group's core principle is "respecting laws by applying high standards". My management is fully aligned and committed to this principle and I am fortunate to have great support (not only from India but also from AMREA headquarters in Singapore) where the tone is set from the top in order to enable the organisation to be a responsible and compliant corporate citizen.
In my role, my first and foremost responsibility is to assist in implementing strong internal compliance mechanisms and processes. On a day to day basis, it is mostly contracts, FDI related issues and general corporate advisory. I act as a business partner to find simple solutions for complex issues through innovative ideas. I
Over the years working as an in-house counsel in various organisations what I have learnt is that it is really important to reach out to internal customers if you want to bring change and contribute to business growth. If we sit in our chairs and expect internal customers to come to us, then nothing will happen. At Essilor, Legal & Secretarial team goes that extra mile to reach out to internal customers, interact with them on a regular basis across India to build trust for partnership.
HOW WAS YOUR EXPERIENCE WORKING WITH LAW FIRMS AND HOW IS  DIFFERENT IS FROM YOUR CURRENT ROLE?
Well, being in law firms during my initial years was more about drafting and documentation rather than direct client facing and negotiations. Also, role was usually watertight and didn't have any scope to venture into other areas of law. For example, if you were in a corporate group you would be mostly doing just that and would not be handling issues of litigation or IP etc.
As an in-house counsel, the equation is quite different. It is basically a client facing role on an everyday basis.
First and foremost, it is essential to understand the business before delving in on its problems. If you cannot understand the business you cannot make necessary provisions in your contracts. Being proactive and visible is also essential to maintain balance between compliance and business. I have always supported the idea of my colleagues providing trainings on various issues, distribute Do's and Don'ts, SOPs etc., to ensure that they are visible to the internal customer and there is trust built for future cooperation.
My role as an in-house counsel has been a journey of every day learning and there is always something new to do and something new to learn every day. I realised early in my career as an in-house counsel that it is not just about law but about finding possibilities to assist business and growth and at the same time also being strong to say "No" when its actually required and still have buy-in from your internal customers.
Being an in-house counsel you also need to be a generalist in addition to your specialised subjects as you need to advice the management on all issues of law.
WHAT WOULD YOU ADVICE YOUNG LAWYERS ON WORK-LIFE BALANCE?
Speaking only from my personal perspective, even today I see a lot of people having the wrong notion that their organisation or bosses will think they are hardworking and dedicated only if they sit and work late hours on weekdays and even weekends. Yes, hard work is important for success but then you can work smart as well. For me if someone sits late hours every day and I know there is not much to do, then there is definitely a problem with time management.
As a professional, amongst others, time management and punctuality is very important. We should plan our day (for example, divide your time, prioritise work) in advance. With little checks and balances I feel one can always manage between work and home.
I have always ensured my colleagues understand the value of time whether at work or at home. A stress free mind can innovate/ think out of the box or else we will only end up having robots which can only do what it's programmed to do and not innovate or think out of the box.
Although it's not easy when you begin, but it is important to first understand business of your organisation and align your department goals to that of the organisation, build a rapport with your internal customers, understand and anticipate their requirements, train them to take care of minimum risks, have SOPs for all kinds of transactions, draft templates etc. All this goes a long way in giving you a cushion required to ensure work life balance.
At the end of the day, it's left to an individual or a team to make it happen. No one else can do it for them.
AS A PARTING MESSAGE, WHAT WOULD BE YOUR ADVICE TO OUR READERS, ESPECIALLY ASPIRING AND YOUNG LAWYERS?
I am still learning myself so I will only speak from my short experience so far.
Firstly, learn to enjoy what you do and have fun. If you are passionate about what you do, then no one can stop you from achieving your goals.
Secondly be a thorough professional. Learn to prioritise and manage your time early in your career. Be punctual. Do not compromise on your values. If you promise to deliver within a time to an internal customer/client, then make sure you deliver within that time. You can either create your image or ruin it.
Thirdly, be humble. Be willing to learn and unlearn. Be willing to listen and observe to learn new things as opportunity lurks everywhere. Be willing to ask when you do not know. Be willing to pass on knowledge to those to seek.
My advice to budding lawyers who want to make their career as in-house counsels is to first start their career by practicing law and then maybe spend some time in law firms before actually shifting to an in-house role. Of course financial stability could be an issue in the beginning but then it's an investment which will surely give your benefits in the long run. In a corporate world you have to deal with everything. Hence, overall knowledge in every aspect is a quintessential requirement.