Pritam Ghosh graduated from Symbiosis Law School in the year 2008. His deep interest in Political Science and Sociology made him gravitate towards law. Pritam always believed in understanding the nuances of any subject and by thinking beyond the text in a critical and analytical manner which led him to the field of academics. Currently, he is the Assistant Professor of Law (Senior Grade) with IFIM Law College, Bangalore and also a  recipient of the HENRY DUNANT RESEARCH FELLOWSHIP awarded by the INTERNATIONAL COMMITTEE FOR THE RED CROSS (ICRC), South Asian Regional Delegation. With seven years of academic and research experience Pritam has also been the Legal Editor for LexisNexis Butterworths Publications.
In this Interview, Pritam shares his insights with Rounak Biswas of SLS, Pune on:
Henry Dunant Research Fellowship
His interest in academia
Being a prolific writer
TELL US A BIT ABOUT YOUR CHILDHOOD AND PRE-COLLEGE LIFE AS WELL AS EDUCATIONAL BACKGROUND.
Growing up in a nuclear family I was brought up by my parents in a liberal yet traditional manner. They made it a point to inculcate all the basic Indian as well as Bengali traditions, values and intellect in me and above all taught me to be a good human being. I was educated in Calcutta Boys' School and Sri Aurobindo Institute of Education which happen to be two of the best english medium schools of the city even today. I was also taught how to maintain a balance between academics and personal life which helped me to have my fair share of fun and frolic along with studies as well. My pre-college background in Humanities at the 10+2 level was one of the major reasons that was going to influence my decision to study law later in life.
HOW DID YOUR INTEREST GRAVITATE TOWARDS LAW?
It needed a suggestion from my father and his bringing the prospectus of WBNUJS, Kolkata home that sparked my interest towards law and made me deviate from my original choice of studying Psychology (Honours) at the undergraduate level. Also, my interest in Political Science and Sociology in school and orientation from my teachers who told me that these two subjects which I had already done form the basis of law, was another major factor influencing my decision to do law.
WHICH AREAS OF THE LAW FASCINATED YOU THE MOST AS A LAW STUDENT?
(Pritam completed his BBA., LL.B (5 years integrated) from Symbiosis Law School, Pune in 2008.)
During my undergraduate education, I was extremely fascinated with information technology law, international law, criminal law and constitutional law which are areas of teaching and research interest for me even today. I went into the in-depth study of these areas of law by referring to some of the best books and articles written on these subjects including the diploma material on cyber law prepared by the Asian School of Cyber Laws, Pune. Referring to such scholarly materials helped me to understand the nuances of these subjects and also to start thinking beyond the text in a critical and analytical manner.
DO YOU FEEL THAT THE LEGAL PROFESSION HAS SIGNIFICANTLY CHANGED FROM THE TIME WHEN YOU DECIDED TO STUDY LAW?
Indeed, the legal profession has changed significantly as compared to my times. The average law student today possesses a sound basic understanding of law right from semester I of the LL.B course and does not take time to find his feet unlike our times. Also, today's law students are extroverts who realise the importance of networking in the legal industry as well as the positive effect of staying updated on current legal profession. This has changed the way law students study law both inside and outside the classroom. As a result, the boundaries of the teaching-learning process are constantly stretched which requires even teachers to update themselves even more than what was the case fifteen years back during my times.
Two other positive changes that have come about in the legal profession during the last few years is the use of Information and Communication Technology (ICT) in law teaching and the legal profession generally. Legal information is available these days in digitised format either on the internet or in research databases in a soft format which helps lawyers find instant solutions to their problems online as well as helps teachers like me in making a law teaching session more lively and interesting. The use of ICT has ensured that law teachers can no longer afford to be one-dimensional as apart from teaching what the law is, they also have to teach students the places where the law can be found such as websites, search engines and research databases.
The other most important change in the recent times in this profession has been the opening up of newer avenues and job profiles such as that of legal editors, legal journalists and startup lawyers who constitute the seemingly off-track branch of the legal profession. This has ensured more job opportunities for fresh pass outs at the entry level as opposed to the conventional practice in the courts of law or law firms that were the only two options during our times.
BEING THE INTERNSHIP AND PLACEMENT COORDINATOR FOR THE LAST TWO YEARS, HOW RELEVANT ARE INTERNSHIPS FOR A PRESENT LAW STUDENT?
Internships are extremely important for any law student as they help all law students to get exposed to the practical side of law and also to find out the application of law in real life. However, internships should be planned and executed very carefully by all law students as they help a student to decide about the future options for employment after completion of one's undergraduate or graduate studies.
HOW DID YOU DECIDE TO GO INTO ACADEMICS? WHAT WOULD BE YOUR ADVICE TO THOSE LAW STUDENTS WHO WISH TO GO INTO ACADEMIA BUT ARE INSTEAD FORCED TO OPT FOR OTHER FIELDS THAT ARE CONSIDERED MORE LUCRATIVE?
(Currently, he is the Assistant Professor of Law (Senior Grade) with IFIM Law College, Bangalore.)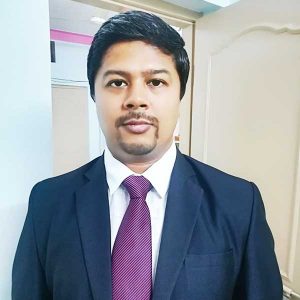 I was oriented and influenced towards making a career in academics during my stint as an LL.M. student at the West Bengal National University of Juridical Sciences (WBNUJS), Kolkata as I discovered that I have the happy knack of discovering new and innovative information in research and also liked delivering presentations and seminars before a large audience which happens to be the basic method and characteristic of law teaching.
To aspiring law teachers and academicians, my message would be that it is a popular misconception that teaching is not a lucrative profession as long gone are the days of being paid peanuts in academics. Moreover, the 21st century law teacher has several options of earning a fortune by expanding their horizons, acquiring additional skills and knowledge outside one's basic area of specialisation and trying out new avenues of legal research as well as business such as venturing into online legal education. Academics is a profession which does not leave one exhausted at the end of the day and depending on personal interests, allows law teachers to take up additional employment and business opportunities on a part-time basis as well thereby ensuring good inflow of income as well as substantial contribution to the society.
However, all law students aspiring to take up academics as a full-time profession need to possess the right kind of attitude and aptitude and also need to realise that teaching is the most difficult profession on this planet earth as this is the only profession where right from day one, teachers have to assess the work of people who are much junior to them in terms of age, experience and maturity. Therefore, this profession is only meant for people who are confident that counselling and orienting is their passion and who have loads of patience to deal with teenagers and adolescents of immature age and understanding. For instance, at times a question asked to a teacher by a student of the first year of an LLB course may seem very childish and foolish, but the teacher should never forget that the question is important for the student as it was posed to clear a doubt and gain knowledge about something.
HOW DO YOU FIND TIME TO WRITE SO MANY SCHOLARLY ARTICLES?
(Has also authored a book titled "Prevention of Torture on Detainees by Armed Forces Personnel: Global and Indian Perspectives with Special Reference to the efforts of international organisations" which was released from Germany by LAMBERT ACADEMIC PUBLISHING CO.)
One of my teachers told me that a teacher who does not publish is no teacher at all. Keeping this important lesson in mind, I always make it a point to read up more and publish my personal opinion on all contemporary issues of law as it helps me to build on the knowledge base and thereafter encourages me to take the additional knowledge gained, to the classroom to be disseminated to students who are always hungry to acquire more knowledge. Personally, I prefer publishing rather than engaging in plain debate and discussion which at times knows no end. So far, I have always used up the time I got during the mid-year semester breaks and vacations at my workplaces to publish at least one research paper on a contemporary issue. Also, this book is a refined and upgraded version of my LL.M dissertation thesis, the publication of which will help me in future to gain more leverage on my work and is also a basic requirement to get international exposure relating to the subject areas involved in the publication. This advise was given to me by a senior colleague of mine for which I am extremely thankful.
HAVING A  TOTAL OF SEVEN YEARS OF ACADEMIC AND RESEARCH EXPERIENCE INCLUDING LEGAL EDITOR FOR LEXISNEXIS BUTTERWORTHS PUBLICATIONS; PLEASE SHARE SOME OF YOUR EXPERIENCES.
My experience can be broken up into six years of teaching and one year of corporate experience which has given me exposure to both the theoretical and practical sides of law. Working as a legal editor was particularly beneficial for me as I developed a habit of reading everything with a hawk's eye and has helped me to take editorial positions with law school journals later on in my life. My professional experiences have taken me across the length and breadth of India into six different cities thereby giving me the opportunity to interact and build on my professional network and a chance to teach students from diverse backgrounds thereby allowing me to gain popularity and make a lot of friends among the student community. I have enjoyed every bit of my career so far and have earned a lot of respect and good wishes of people which has taken me higher in life. I have particularly enjoyed my role as an internship and placement coordinator and career counsellor as this additional responsibility has helped me to discover another side to my personality. I have realized that the more confused students are, the better it is for me as I love to orient and motivate people who are the so called underdogs or the confused lot. I can proudly say that to this point I have successfully oriented and helped many towards making a good CV and choosing the ideal career option.
WHEN WOULD YOU SAY THAT AN ACADEMICIAN IS SUCCESSFUL?
The answer to this question has to be given in a different manner. An academician may consider himself successful only when his or her work and contribution to the society as well as to the existing literature is remembered even after his or her death. They may not live to see the effect of their pioneering contribution, but people will always remember them and they will be revered and respected in academic circles. For this, the primary aim of an academician's career should be to invent or discover something which no academician would have done before and also to constantly get their new scholarly work published for the world to know. Academicians should aim to make pioneering contributions to their areas of expertise so that people remember them as authoritative figures and their scholarly contribution leads to more fruitful research.
In order to achieve the above objectives, teachers should constantly think about personal development and skill development rather than only restricting their activities within the classroom. A law teacher especially should think about ways in which to get practical exposure and to utilize the knowledge gained through such exposure to enrich the student community as well as to be known as an academician who has the ability to turn academic debate into action.
WHEN WOULD YOU SAY A LEGAL ACADEMICIAN IS READY TO START WRITING BOOKS?
A legal academician should not attempt to write books without gaining at least five years of work experience and also sufficient exposure to the theory and practice of law as writing a book involves exercise of one's intellect at an extremely advanced level, a solid understanding of legal research methodology and the technique of compiling information in hard format by penning down one's thoughts and personal opinion. Moreover, one needs to possess sufficient amount of critical thinking ability to go beyond the existing literature and formulate new opinion for it to find proper place in a book.
YOU ALSO APPEARED BEFORE THE HON'BLE KARNATAKA HIGH COURT IN A WRIT PETITION UNDER ARTS.14, 19(1)(G) AND 21 OF THE CONSTITUTION OF INDIA CHALLENGING THE IMPOSITION OF GST BY THE CENTRAL GOVERNMENT ON HIGHER EDUCATIONAL INSTITUTIONS WHO OUTSOURCE THEIR AUXILIARY SERVICES. HOW IMPORTANT WAS THIS MOVE IN THE CURRENT SCENARIO?
I am extremely thankful to the management at my current workplace for giving me this opportunity to get hands-on experience of the practice of law for a brief period while being on the job. The current result of this petition is that the finance ministry of the Central Government is now thinking about imposing GST on all private educational institutions as a whole without making any sub-categories or discriminating among private higher education institutions only on the basis of who outsources their auxiliary services and who does not. Thus, looking back now, the filing of this petition was an extremely important bold and timely move as well, as it has now got the government thinking and has created awareness among other private higher education institutions. The cause has also been supported by the Education Promotion Society of India (EPSI) which has been pursuing the matter with the Central Government for quite some time now.
YOU ARE A RECIPIENT OF THE HENRY DUNANT RESEARCH FELLOWSHIP AWARDED BY THE INTERNATIONAL COMMITTEE FOR THE RED CROSS (ICRC), SOUTH ASIAN REGIONAL DELEGATION. PLEASE GIVE US AN INSIGHT TO THIS PRESTIGIOUS MILESTONE.
I am thankful to my guide Prof. Manoj Kumar Sinha, who is currently working as the director of the Indian Law Institute in New Delhi for encouraging me to apply for the fellowship and also Dr. Sanoj Rajan who is currently working as the director of the School of Law, Ansal University, Gurgaon. He was the then head of the academic division at the ICRC, New Delhi Office and helped me in securing the fellowship. The addition of the fellowship in my CV has helped me to realize my aspiration of specializing in a new and contemporary branch of Public International Law, i.e. International Humanitarian Law and has helped me to publish in the area in combination with the other area of interest I have, i.e. information technology law/internet law.
WHAT WOULD BE YOUR MESSAGE TO THOSE HARDWORKING LAW STUDENTS WHO DID NOT MAKE IT TO A TOP NLU BUT WANT TO EXCEL IN THE PROFESSION?
My message to such students would be not to lose hope as all is not lost. Having studied in both the private law school and national law school systems and after having analysed both systems thoroughly as an academician, I have understood that the only criteria that distinguishes national law school and private law school students is exposure and fluency in English. Therefore, all law students studying in private institutions should constantly strive to keep enhancing their CV by participating in more co-curricular and extra-curricular activities, attend seminars and conferences on contemporary issues and most importantly have 2-3 publications during their undergraduate study on various issues of law that they may like to read and research about. They need to identify the areas of law that they like the most and build on those areas with publications and other activities focusing on those areas. Also, these students need to take their internships very seriously and try to repeat their internships in the same organisation, in case if they get through into an organisation that makes students learn the basics of court procedures and the general practice of law.
Apart from reading the textbooks of law, every student studying in a non-NLU institution should try to improve their fluency in English by completing at least one novel or story book in every semester of the law course which means that they would have read ten good books by the end of the five years integrated LL.B course.