Hitesh Sablok studied law from Vivekananda Institute of Professional Studies (affiliated to IP University, New Delhi) in the Batch of 2003-08. A corporate lawyer by experience, now turned entrepreneur, he has worked at Vaish Associates and Amarchand & Mangaldas. Recently he has started his own business in logistics: PackandShift.com.
PackandShift is his new venture, it is an aggregation based platform which renders economical, reliable and hassle free transportation and relocation services.
In this interview he talks about:
His experience in the corporate world, the responsibilities involved.
Founding a startup, gathering the initial investment, finding a co-founder and other aspects regarding the same.
PackandShift's main business model and facilities provided.
Advice for law students venturing into entrepreneurship.
Tell us a bit about your childhood and pre-college life as well as educational background. Did you have lawyers in your family?
I was born in Meerut and brought up in Delhi. My complete education has been from Delhi, so it won't be wrong to call me a Delhi boy! I have been an average student throughout but always had a knack for connecting everything with logic, related concepts, application, techniques etc. My interests ranged from technology and science to nature to war history to superheroes. Major source of all this back then was the Discovery Channel, which started around the same time and till date is my favourite on TV.
My dad, who is also a lawyer, played a very vital role in shaping up my career. In fact, it was on his advice and guidance that I entered into a law school. In fact now we have another lawyer in our family – my better half!
You were till recently working at Vaish Associates as a Principle Associate. What constituted your work profile? What were your daily tasks and responsibilities?
At Vaish Associates I lead teams on transactional assignments; primarily relating to M&A and PE. I was responsible for every aspect of the deal i.e. from structuring of a transaction from a regulatory perspective, discussing and negotiating the commercial terms of the deal with the opposite party, drafting, reviewing and finalizing the agreements required in accordance with the deal structure and last but not the least – ensuring proper closing the transaction (including some post-closing activities/ filings). The day used to start early and revolved around con-calls, client meetings (be it for discussing an ongoing deal or for business development) and finalizing drafts of agreements/ documents for one or the other on-going transactions.
Earlier you were working at Amarchand Mangaldas, what was the work that you dealt with?
At Amarchand Mangaldas I was directly reporting to my Partner and was responsible for any corporate matter that came to our team (be it a transactional matter or an opinion or general corporate advisory); however, even then my work majorly revolved around transactional assignments. It was a short but a beautiful experience working at Amarchand Mangaldas and taught me so many fine things that a professional should practice.
Share the biggest challenges that you faced in the early days of your career. How did you address them?
I entered as an intern and gradually became an associate… Ours was a populated team of about 20 people. Each and everyone wanted to outshine the other and get the best work. Every senior wanted the best junior to work with him, which is a very fair need. That was my initial challenge…to prove my worth! To be the best one out of the lot… I knew that the only way was to prove my ability and that's what I went after; BUT, how do you do that when you do not have any work? I started taking up assignments which no one was probably wanting to take (cause of whatever reasons) and I also started picking up small researches from my seniors and even from my colleagues and used to give more than my 100% to the minutest aspect possible. It was from one of such researches that I got involved in my first major and full time assignment. To my surprise I was the only junior on that matter and then there was no looking back. However, this was not an easy road – there was endless brainstorming (so as to think out of the box and come up with workable, effective and legally tenable solutions), great deal of hard work (in successfully capturing the understanding in the document) and flawless execution (which used to be the icing on the cake).
The point that I am trying to make here is that till you get an opportunity keep preparing yourself and keep finding ways to generate an opportunity; when you get it – make the best of it.
What are the skills you banked upon to successfully carve out a niche in the corporate world?
A focus on three important skills:
1 – understanding the situation/ facts (UNDERSTAND);
2 – analysing all the pros and cons and regulatory hurdles revolving around the situation (ANALYZE); and
3 – following a problem solving approach and providing a solution basis the first two steps (SOLVE). With one's experience and knowledge increasing every day, the inputs in the above steps shall keep on increasing; however the outcome remain constant – coming out with a best possible solution!
The above approach coupled with discipline, dedication, hard work and ownership of work will definitely take you a long way!!
Recently you left your job at Vaish Associates, to co-found a start-up. Do tell us a little more about packandshift.com, the business model and the idea behind it?
🙂 After around 6 years in the profession and having experienced everything that a transactional lawyer can imagine, I wanted to take on a bigger challenge and also had this feeling of doing something of my own. After discussing with my family and a few close friends I decided to go for it and give it my best short. But this was only one third of the road to the start point.
The second important thing was to find someone trustworthy to start-up with and on this front I was lucky to have one of my close friends Sougata (my co-founder at www.packandshift.com) to agree on taking this road with me. The last and the most difficult thing for us was to identify the sector. PackandShift's idea originated from one of our personal experiences wherein my family and I were relocating from Delhi to Gurgaon and it was a pain for us to identify and appoint an economical and a reliable relocation service provider. Very soon we realized that finding both these qualities in one person and that too in this sector was next to impossible. Therefore, we let go of the economical part and moved forward with the reliable part and zeroed in on one of the best relocation companies in India.
This became the starting point of our research into the completely disorganized sector and after months of research and discussion we finalised on transportation/ logistics as the sector where we would operate in and PackandShift was born.
Currently we offer three kinds of services:
1 – Relocation Services – Under this head we arrange for hassle-free, economical and reliable services to the customers so that they can completely sit back and relax throughout the entire relocation process. Being economical and that too along with hassle-free and reliable services is the hardest part of the game as the current players in the market who are reliable and provide hassle-free solutions are definitely not economical from a common man's perspective.
2 – Intra-City Transportation Services – Under this head we arrange for small trucks for anyone who requires to transport within Delhi NCR. We provide very attractive and transparent prices and the customer is also saved from the hassle of calling multiple transporters and negotiating to get the best price. This segment is very helpful for distributors, retailers, individuals buying items which can't be transported in their personal vehicle.
3 – Inter-City Transportation Services – Under this head we currently arrange for trucks of any size (basis the requirement) for anyone who requires to transport anything from one city to another.
In how many cities is your business operational?
It is impossible to start all the above segments in multiple cities at the same time. Its only been around 3 months that we have commenced operations. Currently, the focus of our Relocation Services and Intra-City Transportation Services is Delhi NCR; however, for the Inter-City Transportation Services we are currently focusing on any requirement moving to/ from Delhi NCR.
We operate on an aggregation model and for all the above services we have identified and verified transportation partners who actually render the services to the client; however, PackandShift monitors and controls the quality and the prices (in the capacity of a third party) so that the customer can get the best possible user experience.
Is this a new venture and concept in today's market?
It would be incorrect if I say that this is a new concept in today's market; however, the approach and the mindset is different. Being transactional lawyers and being in the service industry since long, both Sougata (my co-founder) and I
(i) understand and appreciate the importance of customer satisfaction; and
(ii) are able to understand nuances of any sector quickly and adapt accordingly (as we have been trained to do that while advising our earlier set of clients who were operational in various sectors).
I personally believe the above skills and approach will make the entire difference in developing an economical and a hassle free experience for any client.
Was it a big jump from being a corporate lawyer to being an entrepreneur? Could you elaborate on why you opted out of the legal scenario?
Throughout my legal career I was blessed to have brilliant people around me (which is a luxury today) who taught me and who have guided me always towards the right direction. My seniors always trusted my capabilities and gave me all the room and independence to handle my assignments from a very early stage. Everything was in the right place and I very much enjoyed every bit of it; however, as they say, it lacked soul! There was always an impending feeling of something missing. I always wanted to do something of my own, my own brainchild, and my very own venture! And this feeling became stronger and stronger with every passing day (especially in the last year of my legal career). This feeling coupled with the idea of PackandShift was the time I decided that now was time to take the plunge. It was definitely a very big decision as the switch was from a white collar job and corporate lifestyle (which revolved around AC offices, corner workstation with a beautiful view, client meetings and negotiations, teams and support staff to manage all your requirements etc. etc.) to a blue collar job and complete field job (having no practical office, complete day spends in the field, managing all tasks – from that of a peon to that of a CEO).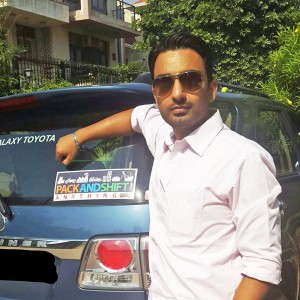 How much market research did you conduct before going ahead with the start up? What were the odds that were not in your favour, what all obstacles did you have to overcome?
Once we had identified the problem areas, we undertook a mammoth research to understand whether the solution would qualify as a business case or not. After we had satisfied ourselves with the business viability, we discussed and researched for about 5-6 months to understand the prevailing scenario in the sector followed by competition analysis. Once we had a grip on all this information, we started developing our model and eventually it was time to hang our boots! Honestly speaking we never went into discussing the odds in our favour or against us as we believed that the solution and the service which we aim at rendering shall only make life easy for people and therefore, there was no reason for not liking it.
During all stages of our venture (starting from the conceptualization stage to the operations stage), the greatest obstacle was to understand this highly unorganised sector. Further, acting as an effective medium between the operators/ service providers and the customers also emerged as a herculean task considering that the demands and expectations at both the ends completely differ. However, for every problem we have always had only one solution "Customer Satisfaction" and what differs in every situation is the path to reach that solution.
Since then it has been a continuous learning process and every day new challenges surprise us & we surprise them back! 🙂
How did you find a co-founder? Was it an easy task?
In my case finding a co-founder was easy. Sougata is a very close friend of mine and we have known each other and worked together for around 4 years now. We understand each other's strengths and weaknesses and are able to make up for each other's short comings.
For a start-up, probably the most important factor is investment. In this regard, how did you manage the initial investment in your new business?
Very true!! Money is a key ingredient for any start-up recipe and same was the case with us. The only thing which differs from case to case is the quantum of the monetary requirement.
In our case, both Sougata and I have been corporate lawyers and since graduating from college, we have worked with leading law firms of the country. Thanks to our previous jobs and help from our family and friends, we were able to raises the initial investment amount and commence operations of our business.
You have worked at larger law firms earlier and then after starting your own venture do you feel the work/life balance has changed? Is it more comfortable being your own boss or is the pressure of work almost similar?
"Being your own boss" does not make a difference for me. If you are responsible and dedicated to your work then it actually does not matter whether you work for yourself or you work for anyone else. In both the cases you will put in your best to deliver timely results. So practically for me there has been no change in terms of work pressure. The bottom line has always and still remains "complete everything within the deadline and move to the next task".
Coming to work/ life balance – I definitely feel work/ life balance has changed; work takes more time now 🙂 when you decide to become an entrepreneur, it's your job to lay down the foundation and set-up the business. At the initial stage one works for the whole office but it's all futile if you don't get the desired support from your family. I must say I am lucky and blessed to have a supportive family who always encourage me and stand by me. I try to spend as much time I can with my family…
What advise will you give to young lawyers who aspire to become entrepreneurs?
I only have two pieces of advice.
First – always have a logical reason and a rationale for what you want to do.
Second – understand what you wish to deliver and only then the path would be clear.
Following these two steps have helped me throughout both my careers as they bring clarity to the entire situation and one is able to systematically approach towards the required things.
What skills and qualities do you think have helped you achieve your current position and stature?
I think the journey has just started for me and it's a bit early to answer this question 🙂
However, the basic skill set comprising of dedication, responsibility, timely delivery, result oriented approach, is useful irrespective profession and therefore, one should aim at developing and mastering them; and the only way to do that is by completely imbibing it in your routine.
Education definitely plays an important role in shaping one's career, but more importantly, the experience one gathers while working first hand on something, i.e. on the job training, and hard work has NO substitute. One should aim at practical experience as it plays a vital role in developing the overall thought process and the ability to take right decisions. It's simple – the more you see, the more you understand and better you deliver.
All of these are very small things and have been very critical in shaping my career…
What is your long term plan, with regard to the start up? Do you plan on expanding?
Our current and top most priority is to strengthen and stabilise PackandShift's operations in the Delhi NCR region and thereafter, we shall plan to expand in different geographies basis the respective market and dynamics.