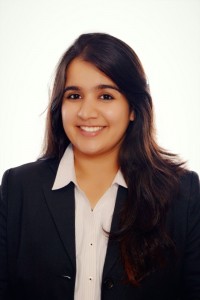 Harshita Khurana graduated from University of Petroleum and Energy Studies (UPES), Dehradun in 2015. She has been the University's scholarship holder. She holds a medal for being the top scorer of her batch. She has represented UPES both nationally and internationally. She has also represented India in World Business Forum, New York. Her best achievements include winning Moot Courts, University Medal, Academic Scholarships, best speaker award at the various national level debate. She has worked with Wadia Ghandy & Co., Mumbai in their Banking and Finance team. Harshita is currently working with Shardul Amarchand Mangaldas, Mumbai.
In this interview, Harshita talks about:
Her experience at the Law School and what incidents from college days contributed to shaping her career as a Lawyer
Her internship experience. How one should go about internships and how it can benefit in the career ahead.
Her thoughts about activities like Mooting, Debating and Publications
What were the biggest hurdles in the first few months of the start of her career
How one should about framing their C.V.
What prompted you to think of law as a career? If not law, what other options would you have considered for your career?
I am a first-generation lawyer, so yes the choice was challenging. But to start off, it was my family and teachers who saw my grit in oration, topical debates and liberating discussions. Later, I started realising my inclination towards law and policy, and …here I am. As a Corporate Lawyer, when you represent your client in a deal wherein all that he has earned for his entire lifetime is at stake, the trust they place in you brings a lot of responsibility, and that's where the true satisfaction of being a lawyer comes from. However, had I not been a Lawyer, I might have considered journalism as one of the possible avenues. Again, for the similar reasons.
Tell us about your law school experience. Share some highlights from your college days that shaped you as a lawyer.
It has been tremendous. The experiences have been instrumental in shaping me, both professionally and as a person. Those five years have taught me that doing law is not just a chase for money and recognition, it taught me to have a voice of your own but at the same time be tolerant to the contrary opinions.  I was fairly good in academics but at the same time, I always had a flair for extracurricular activities. Be it moots, quiz contests, debating, or even sports. I did it all.
Did you do any internship during your studies? How should a law student have a structured pattern for internships and what is its importance in shaping the career ahead?
Absolutely. The best part of being a law student is being exposed to numerous internships and legal training at various organisations. I have personally done approximately ten internships before graduating, and this helped me verify my areas of interest.
If you are not a part of the so-called 'NLU-Hype', you might have to face problems. In all my internships/external assignments, the first thing I was asked was that which college I am from, even before my name. And that's how people may judge the quality of work they can expect from you. Prove otherwise and show your worth. After graduation, despite being a non-NLU candidate, I had offers from Wadia Ghandy and Hewlett-Packard. And now, it's Amarchand. So, if you are good enough you don't need a big name to add stars to your candidature, you will create your stamp.
And yes, I would take this opportunity to address all those who come from a complete non-legal background as me. We know how things work these days, and when you don't have a direct contact to call a law firm's senior associate or a partner for fixing your internship in your preferred slot, you will face difficulties. But don't loose hope, keep following up and keep trying. This way, I've had a good fortune of working with the reputed law firms, corporate houses, the best advocates. You must make a choice only after trying your hands at all possible options. What we read as a law student and what we get to practice as a full-time lawyer is very different. So, before going for a final promenade, we should experience all that's in the lane.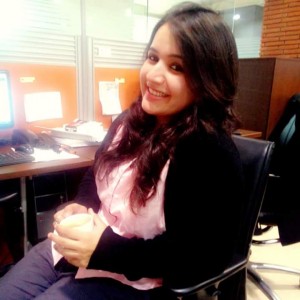 What are your thoughts on activities like mooting, debating and publications in journals? What skills do law students acquire by engaging themselves in such activities?
I put them first on my priority list. I have myself been an avid mooter. As a law student, mooting is the most enriching exercise that gives us a firsthand experience of being an advocate. It's a platform for the law students to hone their oratory and research skills. Publications are again, critical. Especially when done in the areas one wants to explore. Research in your probable areas of interest can help you verify your interest and guide you in deciding the best pick.
What helped you shape your current professional profile within the field?
I graduated with Hons. in Corporate Laws. So, though I always had a knack for corporate and commercial laws, I was unsure about the area of specialization to be chosen within this domain. Developing expertise comes through practice and expediency. I am still a learner and an explorer. Landing in the niche field of banking and finance was by chance, but continuing this would be my choice. A long way to go from here.
What were the biggest hurdles and challenges in the first few months? How did you deal with them?
It takes a while to learn the ropes. The legal profession is demanding, the stakes are high, and it can be harsh on the one making mistakes. But mistakes are bound to happen if you are new, so take the onus and fix it. Apart from that long working hours, heaps of paperwork and research requires a lot of whip-smartness. But the zeal you see around in your colleagues, seniors, and the enthusiasm they carry even after working for 15-20 hours at a stretch brings a lot of motivation from within. One needs to be flexible to adjust to a law firm's environment.
How is your experience so far? How's your workday like?
Truly amazing. Every day there's a new task in hand to look forward to. Law firms are very quick and swift in their working as compared to any other place. When I joined, on the first day I was briefly given an insight of the work and the nature of transactions and from the very next day I was made to handle the transactions, complete documentation, attend the clients, etc. Now, that's where the direct market exposure and learning comes from.
The day is usually hectic; we work for almost 10-12 hours a day on an average. However, it's very important to balance work and life. Juggling the demands for each can be difficult in the beginning, but don't let one invade the other.
Any tips on how one should go about framing a C.V. and prepare for an interview?
For the CV, the most important thing is a clear depiction of your areas of interest. This can be done through the diverse range of internships, moots, publications, etc. Now coming to CGPA. The saddest part of our education system is that we focus on making a student more marketable by quantifying academics. So no matter how much I disagree, a piece of advice would be to have a decent CGPA. For an interview, just study the organisation well and be yourself. Do not settle for anything that's not your forte or not a part of your plan.
What would be your parting message to law students?
I am learning this, and I definitely want to share..no matter how lucrative an opportunity in hand looks, you must always have the courage to say 'NO' if it's not in tune with your long term goals.
Be a 'self-made' person, chase your dreams, and once you've done that… you can proudly call yourself a 'superlawyer'.