Medha Chhabra graduated from Symbiosis Law School in 2011.During law school, her internships were a mixed bag of law firms and companies including Philips and Vodafone. She started her legal career Sesa Goa Limited as an Associate Manager-Legal. Currently, she works at Piramal Enterprises Limited as an Executive-Legal.
In this interview she talks about:
Law school experience at Symbiosis
Importance of co-curricular activities and CGPA
Appointment and work at Piramal Enterprises Limited
Though it's one of the most asked questions but yet, why law?
I used to watch a lot of Hollywood movies and TV series (Boston Legal in particular) and was always fascinated by the characters depicting lawyers and their lifestyle, the courtroom drama, the confessions and the on table corporate discussions. Subconsciously, I drew an image of a lawyer as the person, who possesses righteousness and superior knowledge, has a good conscience and is guardian of common man. That is it.
Tell us something about your college life? What all activities did you participate in?
I went to Symbiosis Law School, Pune. The things I appreciate most about Symbiosis are the curriculum and the exam pattern (i.e. objective driven) which compelled the students to do an in-depth study, especially of the bare acts. The second best thing was the class timings. It offered students ample time to participate in extracurricular activities or do whatever they wanted to do.
I was in-charge of the PR and Media relations for Symbiosis as a part of the student council. Also, I served as a student cabinet (the core decision making group for all the events organised in the college) member of Symbiosis Law School. Further, I was a member of the Corporate Law Cell of Symbiosis to enrich my area of interest.
What were your areas of interest during your graduation? How did you go about developing acumen in these areas?
Initially, I was fascinated by intellectual property laws the most. To pursue it further, I completed a diploma in the same and worked as an intern with Mars and Partners, a Delhi based IP boutique law firm. Subsequently, my various internships with multinationals ignited my interest in Contracts, Consumer and Labour laws.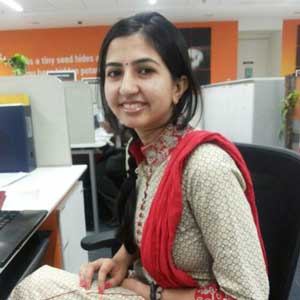 At Symbiosis Law School, you were associated with a lot of student committees. Can you share with us your some of your experiences which you think have been helpful in the long run?
Being a part of student council demanded a lot of time and energy. It made me realise that people management and networking can be the most challenging task of all.
Such experiences helped me evolve as an independent being and a professional.  It helped me inculcate self-discipline, being firm and empathetic. I had to be tougher on myself, take decisions for others and ensure that the same are well executed. I learnt to put individual interest aside and to work as a team and achieve common goals against pressing timelines.
What kind of internships did you do in your law school? Which internships will you consider to be right at the top and why?
My internships were a mixed bag of law firms and in-house.
I would not say that any particular of them was better than other. I equally enjoyed all of them. All these internships helped me learn about some fundamentals of the law profession such as objectification of the issue/ legal point, developing an optimistic approach for solution, devising a plan of action and finding a solution to the same. This is the key mantra, I learnt from them, and I have applied the same to all aspects of my life.
Our college used to offer internships during our semester breaks.
Did you learn any skills while interning? What are these skills and how did you acquire them?
While interning, in addition to what has been stated above, I learnt that hard work and perseverance are the two indispensable skills which every professional should imbibe in him/her.
My legal acumen definitely developed during my internships. I learnt to be punctual, multitask and deliver within the pressing deadlines. Most important of all, I learnt to be meticulous and to have an eye for detail.
Interning at different palaces gave me a fair idea as to the work culture at various places. I got an insight as to how law firm culture differs from that of a company in terms of skills and expectations which helped me take further professional decisions in my life.
What do you feel about the importance of a good CGPA & networks when attempting to secure an internship?
In my personal opinion, a good CGPA is very charming factor, not only from an internship perspective but also from a overall good resume perspective which helps you fetch a good job and may be a very good offshore study opportunity in the end. It shows consistency of efforts and academic excellence of a candidate.
As a lawyer, networking is an essential expertise. Needless to state, it helps you by several means.
What do you have to say about mooting at law school and legal writing for journals? Do they have any 'bonus' value when seeking jobs?
They certainly help you understand the finer law points, their evolvement, objectivity, and learn presentations and many more skills. As a fresher, these co-curricular activities may bag you an extra point.
After graduation, you joined Sesa Goa Limited as an Associate Manager-Legal. What had contributed towards this appointment? What does Sesa Goa Limited do and what was the nature of your work there?
From college placement, I was recruited by Vedanta Resources Plc. and was offered to join their subsidiary Sea Goa Limited.
As we know, Vedanta Resources is the largest private sector mining company in India. Sesa Goa is involved in iron ore mining, marketing and selling the same in domestic as well as international market.
My work profile constituted of commercial contract drafting and negotiations, briefing counsels of corporate litigations, secretarial compliances and liaising with various government departments.
I enjoyed working at Sesa and needless to state, loved the city. Legal team was excellent and highly supportive.
After having worked at Sesa Goa for a year, how did the shift to Piramal Enterprises Limited take place?
After a year I had decided to relocate to Mumbai and was looking for a job. I came to know through a friend that there is a vacancy at Piramal Enterprises Limited. I approached them myself and got recruited.
What does your current work profile at Piramal Enterprises Limited consist of? What's a typical day like?
My work profile consists of commercial contract drafting and negotiating on behalf of business team with legal counsel of external parties like customers, vendors, suppliers etc., briefing counsels for corporate litigations and advising business teams on various day to day legal issues.
Every day at Piramal is different and brings upon me different challenges. The day typically starts with emails and drafting agreements. To understand the need of business, I may need to attend meeting with business teams from different departments on various issues. Sometimes it leads to attending meetings with external parties as well. Not very often but there are hearings at courts for the litigation matters in which I have been involved in. My portfolio also includes international businesses of the Company, hence, sometimes, there are late evening calls with the business teams located at the jurisdictions other than India and their external parties.
What would be the one misconception you'd say you'd always held about real life legal work till the time you were an intern but changed once you started working as a lawyer?
As a student I never thought that there could be a problem in enforcing a law but as I entered the profession, I realised that the mechanism to enforce law in our country lacks strength. The factors contributing to the same, in my view, are huge population, lack of technology, and sometimes, the will of the people to obey the law.
Lastly, what would be your parting message for our readers?
Law is an ever evolving subject. I believe that one should never stop learning. Reading and keeping ourselves updated about the latest developments in various fields of law would help in professional development and skill enhancement.
Separately, life is short, live it to the fullest. Do whatever you like and try to be the best at it.