Murali Neelakantan shared with us his insights and advice on mooting, skills of a lawyer and on being the current Global General Counsel of Cipla earlier in another interview on Murali Neelakantan on being Global General Counsel at Cipla, necessary skills of a lawyer, judging at Manfred Lachs & Jessup and importance of mooting.
In this interview we speak to him about:
Being a Senior Partner at Khaitan
Being one of the first few India educated lawyers to have become a partner at a London law firm
Higher studies and the exposure one can get from them
What does being a partner at a big law firm like KCo entail? What would a typical workday look like?
A client sees a law firm partner as an experienced lawyer who can help it take key decisions, especially when there is no clear legal position and one needs to completely trust the judgment of an expert to predict the future. For example, when a client was considering investing in an Indian telecom company that had been granted 2G licenses, the key issue for me was the validity of the license – the only asset of the telecom company at the time of the investment.
My view in 2008, based on my own research and due diligence, was that there was a major risk that the licenses could be cancelled and the client needed protection against this with a clear indemnity so that the full investment was refunded if the licenses were cancelled. As everyone knows today, the 2G licenses were subsequently cancelled by the Supreme Court, leaving the investors with no remedy.
An English court recently held in the case of one of these investors that, the full amount of the investment ought to be refunded with interest. Many other investors in Indian companies whose licenses were cancelled have not been successful in claims against their Indian joint venture partners. Perhaps their lawyers did not see this risk or could not persuade the client to address the risk in this manner.
A partner is also an owner of the law firm and is expected to take full responsibility for the firm's success. Every firm is organised differently but, by and large, it is expected that every partner will look out for all the others and work towards making the firm successful and profitable. Often, partners have specific roles which suit their skills and interest. For example, one may be interested in HR matters like campus recruitment, another may take it upon himself to ensure training for all the lawyers, others may be focused on managing the firm's relationships with professional networks like the IBA, IPBA, INTA, etc, and some others may focus on writing opinions so that there is one view across the firm on key contemporary issues.
My work day begins quite early and by the time I get to the office, I have usually read all my email messages and planned my day. I try not to carry forward work to the next day. It would be difficult to generalise but a typical work day would include responding to client questions, reviewing and discussing drafts of various documents prepared by the team, reviewing articles or presentations that the team is preparing, every now and then, working on pitches to existing clients for new work or to prospective clients and lunch with fellow partners or clients. There is also work for the firm like the HR team meeting, preparation for internal and client training, creating of "know how" and mentoring junior lawyers. In addition to this since I was keen to judge a few moot courts every year, I would ensure that I had enough time in the day and on weekends to prepare thoroughly.
During the Jessup season, from late November to March, preparation and marking memorials takes up most of my free time. That is also the cricket season and I try to play as many weekend games as I can. I try to leave the office at a reasonable hour so that I get some time at home before the family is asleep. However, I do ensure that I read all my emails before I go to bed, take stock of the day and think about what tomorrow's plan will be. Unlike most people, I switch off my cell phone just before going to bed!
How important is it for a law firm partner to be good at business development?
Business development is a much maligned word. Those who "specialise in business development" will very quickly realise that clients don't trust them. Clients want to meet lawyers who are able to help them with the law, not just glib talkers. So unless one has real knowledge of the law and the issues confronting the client's industry sector, no amount of smooth talking or entertaining will be sustainable in attracting and keeping clients.
Seeking out new clients is interesting but even those lawyers will need to spend most of their time working on legal issues with real clients, to have credibility during the pitch. Nothing impresses a client more than a lawyer who understands the clients' industry sector and has a good knowledge of the solution for its issues. Obviously there will be some lawyers who prefer not to be involved in pitches but will be very effective in building relationships with existing clients and keeping them satisfied with excellent work. Rainmakers can make rain but that is just wasted water if no one is there to plant the seeds, tend to crops and harvest it in time. A good firm should have a diversity of partners with complementary skills and interests.
It is almost impossible to have a clear list of qualities or criteria that separates partners from other lawyers who are not, but I have always felt that promotion to partnership, at least in the leading international law firms, is a signal that you have been accepted as a leader by your peers, ready to represent them all in public. I saw it as an achievement and an endorsement of my skills.
What are the typical challenges you faced on your way to become a partner at Ashurst or at Arnold & Porter?
It has been quite some time since I went to London and much has changed there since. So I am not really sure if my experiences are really relevant any more. There were many challenges but almost all of them can be traced to the fact that I didn't either study or train there. Since I went there as a third year associate, I had no friends at the firm and the law school network didn't exist in the days before Facebook. These days, law students get training contracts and have their seniors from the law school there to guide them through the system.
When I landed in London, I hardly knew anyone there. Almost every little thing was a challenge. For example, since I didn't have a credit history in the UK, it was difficult to rent an apartment or get a bank account or credit card. Unlike most of my peers who had a network of family and friends within and outside the firm, I had to find my way around.If there was a situation where one needed help on a tax issue, my peers would have a friend who they know from university or as fellow trainees in the tax team, who they could call. I wouldn't even know where the tax lawyers in the firm were!
Being a vegetarian teetotaller didn't help with socialising in a country where the heart of the social scene was the pub. It was cricket that saved me. Simmons had a long tradition of supporting cricket, rugby, softball, netball and hockey and players of all abilities were warmly welcomed. There was always a very enjoyable dinner in the Long Room with an eminent cricketer as the speaker to kick off the cricket season. It was my opportunity to know people from all over the firm besides playing cricket which I loved, even though I was not very skilled. I also played for a team composed of lawyers in Barnes called the Nashers, after Malcolm Nash, whose claim to fame was that he was the bowler who was hit for 6 sixes in an over by Gary Sobers. I love the way the English are understated and don't take themselves too seriously. Cricket was the highlight of the English summer for me and I miss it very much. Watching India play in England, battling the conditions at Nottingham and winning the Natwest trophy against all odds will always be a cherished memory.
Building a practice, a euphemism for having a list of profitable clients who are loyal to you was, and still is, a key qualification for partnership. While I was working on English and international deals like many of my peers, one needed to find a niche. It was ironic, being a teetotaller, that many of the significant deals I did initially were for Interbrew, a family owned Belgian brewer which, over the years has become AmBev, the largest brewer in the world. Being one of the few Indian lawyers in an international law firm in London at a time when Indian companies were looking to expand in the UK and Europe and several international corporations were looking to establish themselves in India, was fortuitous. Simmons was always recognised as a great place to work, taking very good care of its people. Senior associates were trained for partnership over a few years so that they always knew what was expected of partners and were equipped for the role when elected. Jeremy Sivyer, a partner at Simmons and my mentor, encouraged me to use this opportunity to build a practice focused on India and Indian clients.
During 2004 – 2005, I started receiving calls from headhunters for opportunities in other law firms who wanted to build an India focused practice. It was also a time that the US law firms were establishing themselves in London and there were some clients who preferred to have one firm for both English and US law matters. Simmons had a joint venture with Fried Frank for some time but when that ended, there was a risk that corporate and capital markets work that had a US element would be out of reach for me at Simmons.
At that time, I met Ian Kirby, a partner at Arnold & Porter who charmed me into accepting equity partnership at Arnold & Porter. Arnold & Porter is one of the great American institutions – a firm that was well known for its diversity, strong views on civil liberties, emphasis on pro bono and like Simmons, a reputation for being one of the great places to work. It was an opportunity to test if I had indeed built a practice! I resigned from Simmons on the day of the London bomb blasts and started work at Arnold & Porter the following Monday.
No one I know who worked at Arnold & Porter has anything but nice things to say about it. It may never be the most profitable law firm but it is, as someone described it, a collection of the brightest stars in the night sky. It has always had some of the most eminent lawyers as partners, those who are universally acknowledged by clients and peers as the best in their field of specialisation but who worked in the most collegiate manner. It was an honour to work with many of them and I, like many of their other alumni, always look out for opportunities to work with lawyers at both these firms.
What prompted the shift to Simmons & Simmons from Nishith Desai Associates?
I joined Nishith Desai soon after I graduated. I had interned there in my final year and Nishith was extremely kind to me. In fact, after my internship in February 1996, I spent many weekends in Bombay during my final trimester working with him. He has said very often that my first day at work with him was on his annual trip to the US visiting clients and law firms. Nishith was keen, with almost a childlike enthusiasm, to always learn something new. At the time, his was a very niche practice in a small office in Nariman Point. The global reputation that he enjoyed for his international tax expertise was exceptional. Almost all the tax law that I know, I learnt from him but he encouraged me to find my own niche.
It was a time when technology companies were just breaking out and I had the opportunity to work on the Indian aspects of a NASDAQ listing of an IT company called IMR Global. With that experience, I pitched to Infosys to list on NASDAQ. I guess they were surprised that an Indian law firm had thought of it and knew how to do it. It was the last deal I did in India before I left for the UK. There was quite a buzz about all aspects of the technology wave including broadcasting with significant uncertainty on legal issues. Investing in research meant that I was able to work with Zee TV, Usaha Tegas and Panamsat as clients.
The other sector that was beginning to look promising was infrastructure. With the personal goodwill that Nishith enjoyed, I managed to work on deals in this sector. While all the other law firms were already advising on several power and road projects, we managed to get on to the Birla AT&T financing, a small role advising SBI. No one in the firm knew exactly how to do it because a non recourse financing for a telco had never been done but between two young associates, we got it done.
Another example was the opportunity to work on the first common carrier oil pipeline project for Petronet, which had just been established. There was no concept in India of a pipeline being a common carrier and it was the extensive research of the commercial and regulatory models for pipelines around the world, with the CFO of Petronet, Sidharath Kapur, currently the CFO of GMR, that helped us put together a bankable set of documents for Petronet.
Similarly, someone I knew in Bangalore told me about an elevated light rail project that was being conceived by the state government. There seemed to be constitutional issues since railways was a Union subject in the Constitution. My research found a way out of it and we decided to pitch the idea of a new enabling legislation for the government of Karnataka. Since we didn't really know all the aspects of the system, we looked for expertise overseas. Simmons & Simmons had been advising Railtrack in the UK for many years and also on railway projects in other countries and they were keen to work with us on this opportunity. Two of the Simmons partners who worked with us were Jeremy Sivyer and Colin Leaver who were keen on building the Simmons brand in India. It was Jeremy who, after working with me for a few months, asked if I had considered working at an international law firm in London. One thing led to another and I eventually joined Simmons in 1999.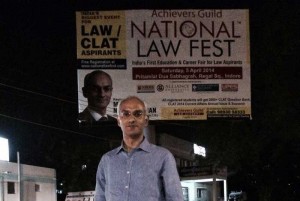 What strategies should an Indian law student adopt if they want to work at a London law firm?
Since international law firms are recruiting directly from campus and also offering internship and training contracts, I would think getting an LLM from the country one wishes to practice in is the best opportunity for lawyers who are interested in practicing law overseas. This opportunity did not exist when I graduated from law school. It has now become very difficult to move to an international law firm, as I did, after a few years of working in India. Similarly, very few of those who have gone overseas recently to study for an LL.M have been able to find jobs in international law firms. It therefore seems to me that a foreign LL.M is unlikely to be valuable to either an international law firm or an Indian law firm.
Does Cipla offer internship opportunity to law students?
Cipla has not had interns from law schools but it is something that we are considering. The qualities that I expect to see in an intern are exactly what I would like to see in a law graduate. Obviously the interns will have had fewer opportunities but it is possible to demonstrate those qualities in the first three years of law school.
How do you think interns can get noticed in a positive way in the limited time they have?
All interns have to do is exhibit the qualities that we expect them to showcase. A keen intern who does all the work given enthusiastically, looks out for opportunities to exhibit personality and skills will definitely get noticed. There is always work for those who do a good job and every employer is looking at interns as potential hires and internships as the opportunity to observe and evaluate them. We have nothing to gain from disappointing or ignoring interns.
Do you think higher studies are a necessity for a successful legal professional?
There are certain career paths that require specialised knowledge and it would definitely be helpful to pursue further education. Many alumni have careers in the UN and other international organisations. Those at the UNHCR would have benefited from a thorough knowledge of refugee law, for example. However, I am not sure if there is great value in an LL.M if one is likely to be back in India to be a litigator. This is really a question to ask from the many lawyers who have studied overseas. What studying and living overseas does, is make one aware that there is definitely more than one way of doing almost everything and one should not take anything for granted. That perspective is of some value but is perhaps not valued much by Indian employers currently.
How do you maintain work-life balance?
All organisations have their own culture and it is really for the interns to research, experience and understand this for themselves. There will be trade-offs to be made since no place of employment is perfect in all respects. No one who has worked with me has complained about lacking a work life balance. Since I have never found it to be an issue for me, I can only hypothesise that there is a mismatch in the expectations of the students and reality. I am surprised to hear this since all of them have the opportunity to see it for themselves during internships. The initial years of work will not be hard for those who, through law school, have been working in a disciplined manner on multiple tasks to tight deadlines.
My own view is that young lawyers don't invest in themselves by working on building expertise and personality. There comes a point very quickly in a lawyer's career when one should know the law in their area of specialisation but those who delegate research to interns and due diligence to their juniors will find that their foundation is unstable.
One will be successful only if one can work with colleagues and clients and that is based less on expertise in law, which many lawyers will be expected to have, but more on one's personality. A passion, even unrelated to the law, is essential to stand out. I know clients who are fanatical about movies and a lawyer who shares that passion would find it easier to relate to such a client. Legal service is not a product where one can easily demonstrate relative superiority over competition. To be appreciated for the work that one does, being liked by the client and having a personal relationship is critical.
Lastly, what would be your message to an Indian student pursuing a law degree?
Law can be an avenue to pursue any passion that one has. If one is interested in cricket, I would think that if one cannot play the IPL, the next best thing would be to be a lawyer who represents the players, teams, sponsors, organisers, etc. Similarly, if one was passionate about music but will not make it as a professional musician, there is a great opportunity to work with the music industry. The list of opportunities for a law student is almost endless. I hope each of them finds their passion and is able to pursue it through a career in the law.