Nilanjan Banerjee pursued his LL.B degree from Hazra Law College (Department of Law at Calcutta University). Thereafter, he pursued his LL.M from WBNUJS, Kolkata. After graduation, he worked at the Supreme Court as a Research Assistant. He then worked at CPA Global followed by Lexplosion. Currently, he is a Senior Consultant at Ernst & Young.
In this interview, he talks about:
Studying at Hazra Law College, Kolkata
LL.M from WBNUJS, Kolkata
Being a Research Assistant at the Supreme Court
Working at CPA Global, Lexplosion and Ernst & Young
Tell us a bit about your childhoo
d and pre-college life
.
Did you have lawyers in your family?
Well, my childhood was like that of any other kid of my generation. Being born in the early part of the 80's had its own share of advantages and to some extent some minor glitches too. We were not from the internet generation which guys born in the 90's had access to. Our access to knowledge and the outside world were initially limited to the classroom teachings imparted in our school and through news series like "The World This Week" aired on Doordarshan during those days.
Having said that, I did my schooling from one of the best schools in my hometown in Durgapur, St. Michael's School and was among the rankers in my school. Passing the ICSE in 1999, I was still not sure about my future and did my Higher Secondary in Science in 2001. It was then that I was at crossroads, with very few people at that time sticking to higher studies in Bengal and opting for Engineering and Microbiology courses (which was a craze at that time) from states like Karnataka and Maharashtra, my dad asked me to pursue law. I am the first lawyer in my family and initially I was sceptical about the idea of pursuing law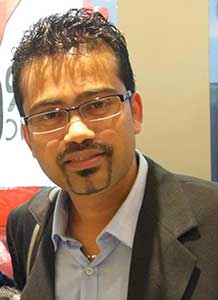 What brought you into legal studies? Did you face stiff opposition from your friends about becoming a lawyer? What were your objectives while still in the preliminary years of Law College?
Well as highlighted in the previous para, my foray into legal education was not planned at all. My parents felt that it would be the ideal educational background for me since I was always good in elocution and analytical skills from my childhood days. They thought that potentially I could be a good lawyer and hence I went by what they suggested like any other typical kid during my days in early 2000.
While most of my friends went outside to places like Bangalore and Aurangabad to do their further studies in the field of science and engineering, I joined a traditional college to do my law which was one of the least coveted professions during my time. It was more so since there were no good law schools (recall NUJS had only started in 2000 and no one could predict the prospects of doing law from the same since it was early days for the institution), and law as a profession was meant for people who had no other option during those days. My friends and relatives were apprehensive about my decision and so was I.
To be honest, I could not figure out what I wanted to do after completing my five years of legal studies during the first three years of the LL.B. course. I was not sure about the entire course structure, about the way it was taught and about the career prospects since most of the people doing law during those days were not aware of the law firms and law was supposed to be meant only for practicing advocates who were in the field of litigation. But I was sure of one thing, that I would not be a part of the struggling litigation community in Kolkata.
In
Kolkata
, universities are always
charged up with a political atmosphere
.
How was your experience as a student of Calcutta University?
My initial few days in the college where I studied law was more of a cultural shock coming from the background where I belonged to. I studied in a convent co-ed school in Durgapur where things were well planned and structured which was quite opposite to the scenario I faced in Hazra Law College which is the Department of Law of Calcutta University. The college had an active Union affiliation and all the newcomers in the First year were forced to be a part of the same. I dreaded going to college for the first few days since I always avoided political affiliations during those days. To be honest, my experience as a student of the college was not so good during the first couple of years. But I stood my ground and I was firm about the fact that studies were a priority for me since I had come away from my hometown to do the same. Things fell in place from the third year of my college life and seniors could understand that I could never be a part of their group and join in the political discourses that they wanted me to join.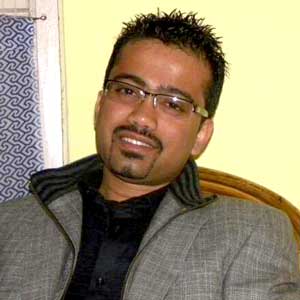 What were your plans after graduation? Did you think of joining the Civi
l Services or litigation ever? How did you decide to pursue LL.M?
As I previously mentioned, I had no plans or intention of joining the domain of litigation. My father though wanted me to give the Judicial Services examination but I did not want to join the same. Hence, I decided to do my LL.M since by that time I had developed an active interest in the field of law and wanted to pursue my higher studies from a reputed institution to sharpen my understanding and skills in the same. Somewhere at the back of my mind, I knew that I might want to pursue Ph.D and settle in the education sector at a later stage of my life. Hence, the decision to do my LL.M course.
How valuable would you say your legal education was
?
When did you actually expe
rience the learning curve?
Would
you
agree with
people
who
say that all that they have learnt is in their years of practice?
Well, not all was bad in Calcutta University. We had subjects which were quite elaborative in nature and there were some good professors who would take the pain and effort to teach us law in the way it should be taught. Further, owing to the fact that the college where I studied had its own tradition and history behind it, I got to know some legal luminaries and gained valuable insights from them.
I do believe that what you learn in your college days is just a small part of it. The actual learning is on-the-job learning that you gain while either during your years of practice or in the sector that you work in when you start your career. It is true that the college helps you to build your base and foundation and helps you to decide where you want to head after your education is over. But true learning and potential is realised once you start working.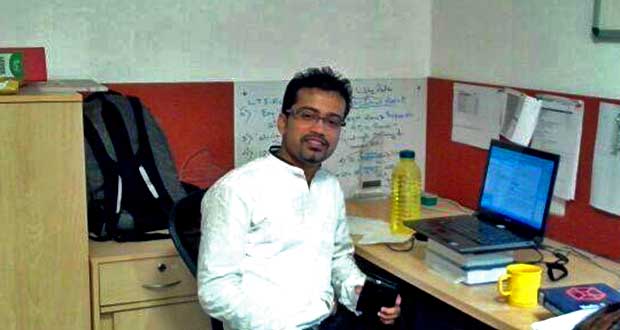 How diffic
ult would you say it was cracking the CLAT for
M
asters at WBNUJS, Kolkata? Which universities did you consider for your post-graduation?
Well for me, it was not difficult at all to be honest. I knew I had to do masters and I also knew I was not in a position to move out of the state at that time. So the only good option for me was NUJS and I did give the CLAT during that time. Luckily for me, I fared well in the entrance and during the interview and group discussion that we had and the rest followed.
How
do you recall the academic setting of NUJS? How was your experience with the faculty and facilities of NUJS?
For us, being a part of the LL.M fraternity in NUJS, things were easier for us vis-a-vis our interactions with the faculty members and easy access to them. What I could realise during my early days in NUJS was that the university wanted us to be a part of them after we passed out and we were treated accordingly. The set up was completely different from what I had experienced during my LL.B at CU. The library, the infrastructure, the course structure, classroom lectures were of the top notch and far different from my previous college. It was only during that time that I really enjoyed going to the college and attending the lectures of the faculty members of NUJS.
Right after your post-graduation you started work at the Supreme Court as a Research Assistant. How did this happen? What was the application pr
ocedure and profile requirement
?
Well, I would say that I had been lucky throughout all these years. I got the right break at the right time and maybe that helped me get the little bit of success I have achieved so far. I remember that we were the first LL.M batch of NUJS to have framed our own Placement Committee and I was the co-ordinator of the same. Initially, the University was a bit apprehensive of the idea since LL.M students were supposed to join the University as faculty members and we were asked to do the same. But thankfully all my batch-mates were of the similar opinion that they did not see their future in litigation. It was during that time that we got to know of this opportunity that the University had received from the Supreme Court Registry for LL.M. candidates who were willing to join the Registry as a Research Assistant. We were asked to apply for the same after which our profiles were shortlisted. I was the lucky one to have got a chance and I happily accepted the opportunity that came through
After serving the Supreme Court how did you get appointed at CPA Glob
al?
H
ow did you adjust to
 a different work profile
? What were your typical workdays
at CPA
like?
My LL.M dissertation was on Intellectual Property Rights. To be precise, my dissertation paper was on the non-obviousness or inventive step requirement which is one of the patentatibilty requirements for a successful patent application. It was during my days at Supreme Court in Delhi that I got this opportunity from CPA Global which is the largest Intellectual Property Service Provider in the world. Knowing very well that I did not see my future in the domain of litigation and that I always had interest in IP, I happily took up the offer that I got from CPA.
CPA was an out an out professional organisation. It was my first major corporate experience. The work culture, colleagues, set up and everything was so different from that of Supreme Court and I thoroughly enjoyed my experience. Adjusting to the set up was not difficult majorly owing to the team and colleagues I was working with. Having a good background and knowledge in Intellectual Property helped me as well. Working with CPA was fun and enriching. The work life balance was amazing with holidays on weekends. Typical workdays were from 9 am to 6 pm and we had all the facilities that we wanted.
You have also worked at Lexplosion for about two and a half years right after quitting CPA. How did this transition take place? What
did your work profile consist of at Lexplosion?
The major turning point of my career came when I was forced to shift back to Kolkata due to family obligations. It was then that Lexplosion happened. Lexplosion, by that time, had developed into a major player in the Legal Compliance sector and was one of the few good companies in Kolkata. Lexplosion helped me to use my analytical and legal skills to their complete potential and the clients that I was catering to further helped me to grow myself as a lawyer in the legal domain.
My major responsibilities included among others:
 to maintain and manage the regulatory legal compliance of major Indian Clients through extensive research on existing laws and preparation of an extensive and comprehensive compliance inventory;
To work closely with the in-house legal teams of client and their legal counsel on matters relating to labour disputes, appeals to the appropriate forum and guide them on the future course of action;
 Leading the process of end to end compliance management for top Indian companies and MNCs through the dedicated compliance management software of Lexplosion- "Komrisk".
Currently you are a Senior Consultant at Ernst & Young. Would you say your experience at CPA and Lexplosion
helps you at your current job?
EY is a different ball game altogether. At EY you always have to be on the money and perform at your highest competence level. Obviously working with a brand like EY has its own major advantages. The exposure that one gets, the learning opportunities and the challenges that you face all put you in good stead as an individual and a professional. The professionalism and international exposure that I gained working with CPA has immensely helped me deal with the MNC clients at EY. Further, my knowledge of Indian laws and regulatory compliance matters which I have carried forward from Lexplosion is a niche skill set required of my job responsibilities at EY.
How did your appointment at E&Y take place? Were there traditional interview
s
and short-listing procedures?
I had got a call from a recruitment consultant who had mentioned about the opportunity with EY. I accepted the opportunity, interviews were scheduled and it was a smooth process thereafter. Since my resume was forwarded by the recruitment consultant to EY from the job portal, I would not be able to comment on the shortlisting part of it, because I am not aware of the same. But the entire process was smooth and did not take much time.
Many young lawyers at corporate firms complain about the work being too exhausting, and that maintaining a
work-life balance is just not possible. Could you share any tips on this?
I personally believe that it all depends upon you, how you approach your career and where you want to head. I believe that if you are confident of your abilities, and have the experience required, the organisation would recognise your abilities and you can have your say when required. Work-life balance is a matter of perspective and there can be no straitjacket formula or answer on how to tackle issues pertaining to the same. But you have to be focussed and realise that organisations which provide you with the right opportunities and have the right learning curve for your career would expect you to deliver. When there is more work, there are more opportunities, and when there are more opportunities there are more ways to progress in your career. It's a matter of choice for an individual.
Do in-house counsels have it easier than law
firm
employees
?
I personally don't feel that it makes any difference now in the competitive market that we are in. Law is no more a profession limited to the area of litigation and there are so many opportunities and versatility this domain has now. Thus, it provides equal opportunity to all. If you are good in what you do, the companies would hire you since there is a requirement at every level for good, competitive lawyers. While in-house counsels typically bring their experience working on issues pertaining to a specific industry they cater to, lawyers from law firms have their own versatility since they are not limited to a specific industry or domain. Further, I believe law firms owing to their structure teach you to absorb pressure and challenges. Again, as I mentioned, I would want to reiterate that it all boils down to one's own abilities and skill sets.
Do you offer internship opportunities at E&Y? What are the elements you would look for in a cover letter and C.V.?
We have internship opportunities at EY, but to be honest it is not explored to that extent owing to the confidentialities and ambit of operations that we have.
A resume should highlight your strengths, the areas that you have worked on and your professional experience. I have noticed that many a time a typical resume focuses too much on your academic laurels and publications. While I believe those are necessary, but in a professional set up like EY we focus more on the work experience and versatility of work profile of a candidate.
Lastly, what would be your message to an Indian law student who wishes to have an illustrious legal career after the five years of law school?
I would suggest that once a person decides to invest his five years for studying law, it is of paramount importance to indentify the institution from where he wants to study. There is no short cut to success as everyone says and that is more so correct for this profession. Law is a coveted profession now and there are multiple opportunities in the legal domain. Owing to the complexity of an organisation and the transactions/business opportunities that it caters too, there is an ever increasing need of legal professionals to deal with intricate and complex issues that these organisations face. Hence, any budding law student must focus on the area of law that interests him/her and accordingly must prepare for achieving the success that he/she dreams of.