Nishad Pai Vaidya graduated from NLU, Jodhpur in 2013.  But he then decided to forgo a career in law to pursue his passion, sports journalism. He has been a freelance writer for the Mumbai Indians IPL team, studio lecturer for Banquet Sports, and a cricket correspondent for CricketCountry.com.
In this interview we speak to him about:
Studying in NLUJ
Making the transition from law to cricket
His experience as a sports journalist
How would you like to introduce yourself to our readers?
At present, I am a cricket correspondent at CricketCountry.com. I cover the matches, follow the events etc. I am a graduate of, NLU Jodhpur. I spent five of my years there, and got a degree in B.A. LL.B Hons. And currently I am a full time sports journalist.
What motivated you to choose law as a career?
I was originally a science student. I took up science just like my friends.. We all tend to get brainwashed at that age and are convinced that it is best to take that path and become a doctor or an engineer. Ultimately, once I took up science, I realized that it wasn't my cup of tea. I had to do something where I really, perhaps, could have the chance to shine. So, in my mind even when I was just 16 or 17, I always wanted to do something related to cricket in the media. I could have gone for media science, but then my parents impressed upon me the need to have a solid degree that would add value. I went through a lot of literature about law, and what lawyers do. I was attracted by it all.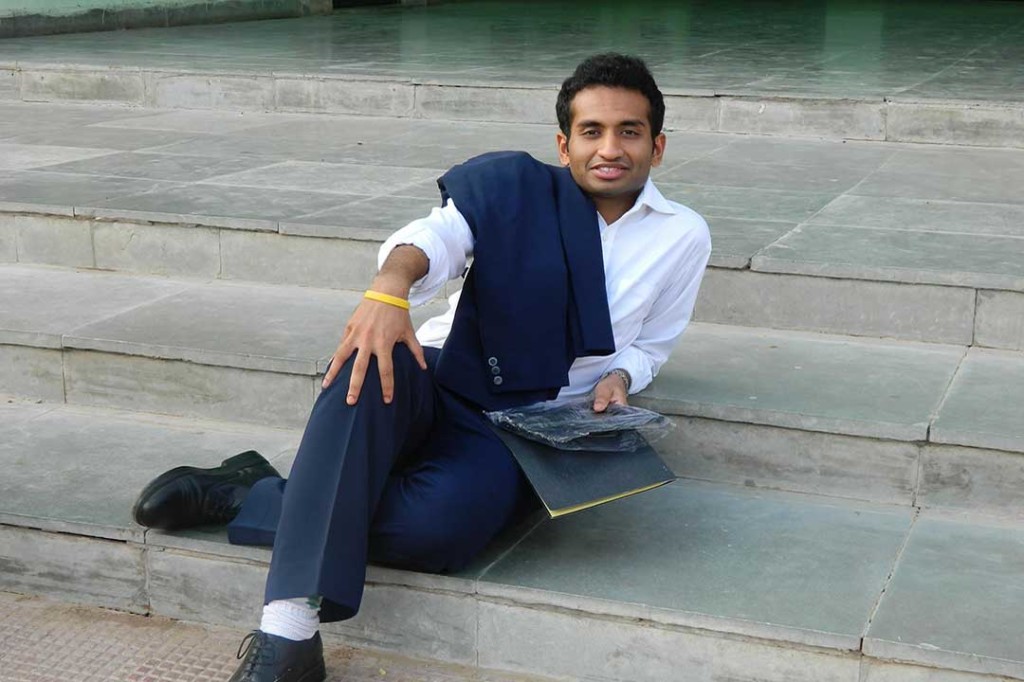 In retrospect, how would you compare NLUJ with other premier law institutions of the country?
I wouldn't exactly compare NLUJ to other law schools, but I feel that it was different in terms of the infrastructure we had, and the number of courses we had. At that time, NLUJ was the only college offering BBA.L.L.B. The campus was nice and quiet, with a lot of space for sports. That was what allowed us to host an All India Law School Sports Meet called Yuvardha, which is now a biennial event. We had our own individual rooms, which gave us the space we needed in a typical day. That is why we felt that we had an edge over other law schools. There was a person in our batch who had obtained a really high rank, and could have gone to NALSAR or any other popular law college, but he chose to be at NLU Jodhpur because of the whole package. People talk about academics, but that is just one part of life. There are so many things which can't be taught in class. You have to go out there and figure it out, all by yourself. When you come to law school you are just a kid, and you start learning how to manage yourself; you learn from your bad days; you realize how to manage time and studies. Over the years you learn a wide range of things, apart from academics, which contribute in shaping you into a complete individual. One thing which is very important at this stage is writing projects and making presentations. In law school, I always started writing a project from scratch. The learning curve which you achieve during such research works is unparalleled. This is also something you would be required to do as a lawyer.
What internships did you pursue when at law school and what influenced your decisions to do so?
I did two internships at law firms; these were experiences that I enjoyed, but when I saw lawyers drafting case memos, arguing for their clients, etc. I knew that my heart was not in it. So after my third year, I just stopped doing law internships. And then I completely switched over to journalism. As far as law internships are concerned, they do help you in dealing with reality. For example, even in my second year, I used to feel that courts worked the way they were depicted in movies and TV shows. They were supposed to be glamorous places. But the first court I went to left me shocked. I came to know what goes into becoming a lawyer. I didn't want to be one of those conventional lawyers. And in my 3rd year, I went to intern at CricketCountry.com and have been there ever since.
How did you approach CricketCountry.com for an internship?
It was quite interesting. Today, we are in a world that is connected through internet where nothing can be hidden. In a way it's good because we have so much exposure, as compared to our parents' generation. I knew that I was not going to end up as a routine lawyer after my last law internship. I decided that I would never step into a law firm for an internship again. I felt that even if I would work in the best law firm of India, I would be a miserable guy. It would also not be fair to someone who deserved the internship more than me. Thereafter I started writing a blog during the 2011 World cup. One of my friends introduced me to a veteran journalist, Mr. H Natarajan. He is one of the biggest names in the field in the country, and used to be the Sports Editor of IndianExpress at one time. I connected with him on Facebook, and sent him my blog link. I also messaged him, telling him that I needed someone for guidance. He replied the next day, saying that I could write, and that CricketCountry was a platform that was there for me. He became my mentor and guide since then. This was during my 6th Semester- that's when I started writing for them. Soon after, there was this one particular match during IPL 2011, where Sachin Tendulkar was declared to be out based on a wrong replay. I was the only one who spotted the error and I wrote an article about it and sent it to CricketCountry. When the article was put up, it went viral! news channels, online media – basically everyone was talking about it.They were also putting across the fact that a twenty year old law student picked up this mistake. A lot of things changed after that. Later, Mr. Natarajan congratulated me. At that time CricketCountry was just starting up, thus it benefited me, and it benefited everyone else. I requested Mr. Natarajan for an opportunity to learn along with him in the upcoming summer vacation, and he gladly accepted my internship request. I learnt how to frame, compile and edit news reports; how to cover a typical cricket match. That is how I applied for an internship at CricketCountry and I have been a part of it ever since.
How did you make up your mind to pursue sports journalism?
Life is not just about following what others do, and what path others have taken. So many beautiful things have happened when people have dared to go and chase what they want. On the one hand people tell me even today that if I were in a law firm, I could have seen huge financial success, but then I have to ask myself :would I have been happy in terms of my work? Even now, I work for most of my day, but while doing that work I am happy. I enjoy what I do, and there's always something exciting in store. With my colleagues, I am always discussing Sachin Tendulkar, Shivnarine Chanderpaul, Sourav Ganguly and others during work hours, which other people get to talk about only during their tea time. For me, it is this fresh excitement at work I feel every day that motivates me. Initially, it was tough. People used to constantly ask me why I had chosen this path. However, then the years at college passed by and in my fifth year, I was penning down articles every day. With the guidance of Mr. Natarajan, I improved in whatever way I could. One and a half years later, I started getting noticed. We created a YouTube channel and I was anchoring videos. Soon after that I was called for a programme on national television, where I was involved in a cricket talk-show for an hour. This is what I had dreamed of since long back, and ultimately I realized it. Also, fortunately, I have featured in a few more since then. And if I could do it once, I realized that I could do it again. To try new things is not easy; it tests you mentally, physically and emotionally, pushes you to your limits. I have been blessed to get good exposure early in my career, and it is up to me now to work hard and persist with it. This is just the start.
How did CricketCountry work out?
As lawyers you tend to do mainly procedural jobs. But in the larger frame of life, there is no such procedure. So what works for me might not work for somebody else. The least one can do is to exercise the right to write a blog, you have the power of YouTube, Facebook and Twitter. You should reach out to people with what you are doing, promote yourself. And ultimately something or the other will work out. I have been very fortunate to meet Natarajan Sir. There isn't any set procedure; you can do it your own way using the power of the internet. You have to build contacts, you have to reach out to people, that's how you can head on to any field today.
Do you think there is a scope for lawyers in the sports journalism arena?
There is scope of law in sports journalism, but in a very general sense. You have to be very sensitive while writing stories. Your words have to be perfect. If you miss one word here or there, the meaning of a sentence can change, and you may come under some legal fire. Things like defamation, copyright, match fixing, are being dealt with everyday. In a way there is scope, but of course you are a journalist first, being a lawyer can be an added value.
Do you feel like your training as a lawyer has helped you in any way?
Yes, truly. Whatever I learnt in those five years at Law School – it does help me. You read something and you how it can be expressed in exact words. For example, being a lawyer, you know how important the word 'alleged' is. Also I would say that I wasn't a good writer when I joined college, but writing all those projects helped me grow.

Tell us about your workplace and what a typical workday in your life looks like?
When it comes to workplace, it depends. I have played different roles. As far as our YouTube channel is concerned, when I have to make videos for that, then a workday would include getting the footage in place, getting the shots ready, getting yourself ready for the shoot, and then once the shot is done, sitting for another day getting the shots edited. When it comes to the news desk, you edit the copy, you see what the flow of news is like, and then you write down an article describing whatever happened. And legal side of sports controversy – yes I do get to work on that. For example, when the controversy broke out last year during the IPL, I did a few articles on why spot fixing is not an offence under Indian Law, and what exactly is an offence, among other things. It also includes opportunities to interview experienced lawyers. I feel great to do that as far as sports controversies are concerned. It's not only the law of the place, but even the laws of cricket that I work on. The educational background I had makes it easier to interpret those laws.
How do you deal with rough patches?
So far I have not faced any controversies, as such. However, what happens usually is that when you have a story, you have to be absolutely sure about it. It also depends on whether your interviewees are conversing with you on the record or off the record. Suppose that during your interviews, an important person says something a bit controversial. If this was said on the record, then it is brilliant, if not then you can still check with such persons, showing them what they said, and asking them if that is what they truly meant. If they assent to what has been quoted, then you can move ahead with publishing the same. If someone had commented on something then it's your responsibility to make sure that it is on the record and it is clear. Partly, I am lucky that I didn't have to experience such rough patches and partly because I have been guided very well. It is important to be honest with the job.
Where do you see yourself five years down the line?
It's very difficult to say. I just look back at my five years, and catch sight of where I was when I was eighteen, and I realize that at that point of time, I was still very serious about my law career. I couldn't imagine that at 23 I would be doing what I am, currently. Five years down the line, I would certainly like to still be connected with sports journalism. But how I do that, and where I reach is not something under my control. At most, I can give my 100% – I can give my best shot, and leave the rest to God. I haven't even taken my bar exam, in fact. So, I won't return to law career.
What would be your suggestion for law students keen on taking up a job in the world of sports journalism?
The best suggestion I can give all students is that if you are, say, a football fan, or a basketball fan, or a formula one fan, then you should probably start writing about it. Promote those articles; maybe reach out to people who matter. Start contacting those websites which allow you the opportunity to showcase those articles. It's very important to be on the web, what with the kind of influence you can have on the web. If you are interested in video journalism or something similar, then you could possibly start your own YouTube channel. The possibilities are endless. You can create your own niche; create your own way to reach your destination. My advice would be start writing if you are really into it and follow it diligently.