Philip Teoh graduated in law from National University of Singapore, Singapore in 1989. Currently, he is the Partner at Azmi & Associates. He is also Arbitrator with the Asian International Arbitration Centre [ formerly Kuala Lumpur Regional Center for Arbitration] and has conducted arbitrations in Malaysia, Singapore and internationally as Arbitrator and Counsel.
In this interview, he talks to us about:
How to acquire skills to become a great lawyer.
His role in legal academia.
His experience on different cases
HOW WOULD YOU LIKE TO INTRODUCE YOURSELF TO OUR READERS? PLEASE TELL US SOMETHING ABOUT YOUR PRE-COLLEGE LIFE?
I am a practicing lawyer and arbitrator with 28 years of experience. I am from Penang, Malaysia and come from the same school as Datuk Professor Sundra Rajoo the Director of the Asian International Arbitration Centre [formerly KLRCA] whom you previously interviewed. Both of us studied at the Penang Free School, probably the oldest English school in Southeast Asia founded in 1816. After Penang, I went to study A levels in Singapore under the ASEAN Scholarship in 1983 at Hwa Chong Junior College. Thereafter I studied law at the National University of Singapore and graduated in 1989. I enjoyed my school life, and made lifelong friends whom I am still in touch.
HOW DID YOU GRAVITATE TOWARDS THE FIELD OF LAW?
I have always been interested on how law regulates society and business. In many ways law shapes business and vice versa. I was particularly interested in international trade and shipping as the common driver.
PLEASE GIVE US AN INSIGHT INTO YOUR ROLE IN ACADEMIA.
My interest in writing and teaching was cultivated by writing assignments in law school and the positive feedback and reinforcement by my lecturers. I had the good fortune of being taught by excellent lecturers and tutors in the law school. The brilliant minds such as Professor Tan Yock Lin who made a subject such as conflict of laws become immediately relevant and useful . Till date, I find this to be my favourite subject and I use in my shipping and international cases often. My interest in this subject culminated in my writing Halsbury's Laws of Malaysia on conflict of laws. I was also taught by the brilliant Professor Ellinger one of the sharpest legal minds, the great Professor FMB Reynolds, who came over from Oxford, who taught Shipping and Agency. I was impressed that Professor Reynolds and Professor Ellinger were writers of textbooks and they were also very good lecturers.
We were also fortunate to have Professor Ho Peng Kee as a vice dean who went out of his way to help students. His words of encouragement helped me spur on and to eventually obtain a second class upper in my LLB.
I have been speaking at industry conferences within and outside Malaysia for sometime. I have lectured at the University of Malaya Law Faculty Continuing Education Programmes and I am an Adjunct Lecturer at BAC, Malaysia's largest law schools. I spoke in Pune last August in an International Arbitration Conference where I met many Indian Arbitration Practitioners. I look forward to further speaking engagements in India.
More than fifteen years ago, I started the series of Practitioners Texts in Malaysia in shipping and related titles. These include the Annotated Merchant Shipping which covers the law regulating Merchant Shipping, Collision, Marine Pollution. Malaysian lawyers drafting Agreements use my precedents from the Forms and Precedents on Shipping. I also wrote the Halsbury's key titles on Equity, Conflict of Laws, Shipping, Carriers [ Land Air and Sea]. Last year I wrote the Chapter on Carriage of Goods by Sea in the Malaysian Bullen & Leake Precedents of Pleadings. These books are used by Judges, Arbitrators and lawyers. I have seen some of the texts I have written cited in Reported Judgments.
From time to time, I have been invited to contribute to Trade Publications on matters affecting industry.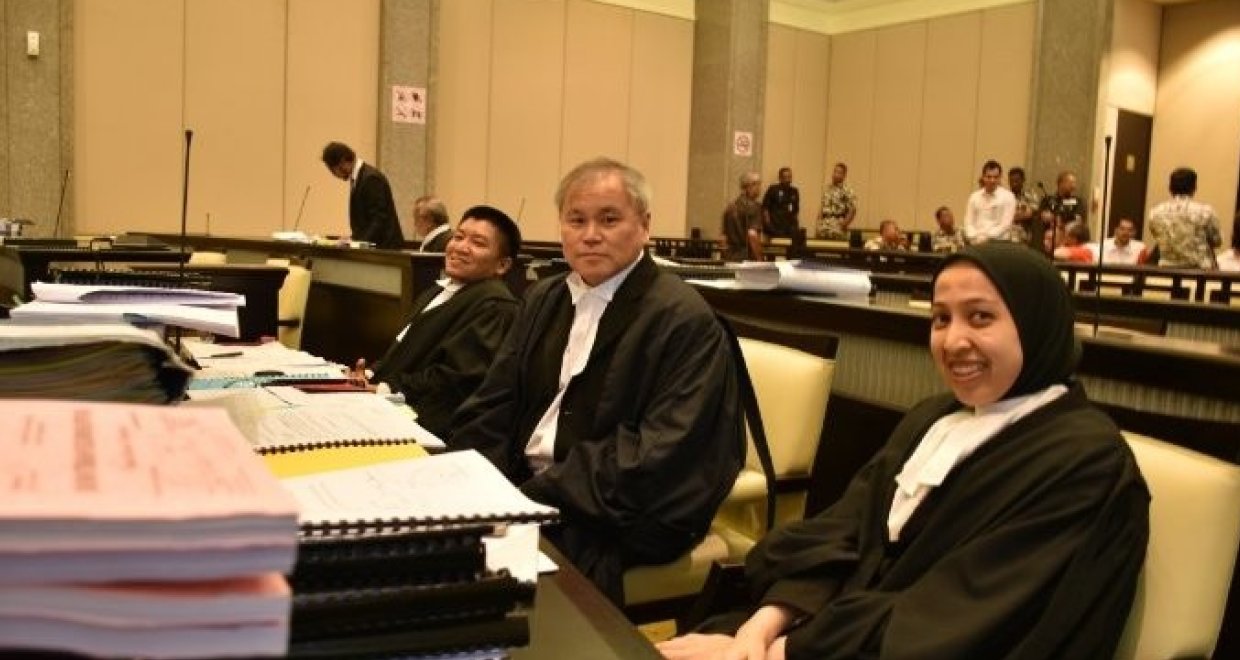 WHAT IS IMPORTANT IN INSTILLING CREATIVITY AND INNOVATION IN LAWYERS?
Lawyers must embrace change and adapt. For instance, when I started practice, lawyers did not use internet and hardly any one used email. And this was in Singapore which then was more advanced than many other Asian countries. Now email, internet, law firm websites, blogs, social media are ubiquitous. Lawyers who don't keep up, will be lumbering dinosaurs, who eventually will be obsolete. I profile my practice and run a 20,000+ network on LinkedIn. I find this useful as a substantial part of my work is international.
For court lawyers, practice makes perfect. Every trial, application and appeal is a challenge, we need to be able to understand and be confident on our own abilities. I was fortunate to work under Mr Harry Elias at the beginning of my law practice and I saw how he took on Queens Counsel and opponents in court. I was also fortunate to have a work attachment in a Penang law firm, which firm engaged the late Karpal Singh, easily Malaysia's foremost Constitutional Lawyer and Politician. These were invaluable mentors and experiences which spurred me on to continue with contentious work and it has been 28 years since. From the very beginning I also consciously maintained a non-contentious aspect of my practice and I have drafted many agreements for various clients. When the Malaysian Shipping Line started its LNG Fleet, I was involved in the beginning. I was the local Counsel for the Syndication of Lenders in the Puteri LNG six new buildings in the Japanese Yards around 2002.
So you can see law is very wide and the hard working lawyer can find learning opportunities in every case, transaction and agreement. I make the junior lawyers work hard but they learn.
Innovation and creativity can only be spurred by attitude. If the junior lawyer takes the attitude that he / she knows everything, pretty soon he / she will know nothing.
HOW DO YOU KEEP YOURSELF UPDATED WITH THE LATEST ARBITRATION ISSUES, NEWS AND CASES?
Internet, journals and in Malaysia, the Asian International Arbitration Centre have good and relevant talks and conferences, some of which I participated as speaker. I am in touch with many practitioners worldwide and we exchange ideas.
WHAT QUALITIES DO YOU THINK HAVE HELPED YOU ACHIEVE YOUR CURRENT POSITION AND STATURE?
It all started when I entered NUS and being grateful and happy to study there. And to accept I have no 'current position and stature'. That way I know that I have to continue to improve and to learn. Students must realise that university is only four years but a career is a lifetime. And I enjoy my work, I enjoy the challenge of difficult cases.
AS A PARTNER AT AZMI & ASSOCIATE, WHAT DOES A TYPICAL WORKDAY LOOK LIKE FOR YOU?
If I have a trial, it will be straight to court and it will be the same for the whole duration of the trial. The whole day will be spent in court conducting the trial. As much as I prepare for the trial, I have long learned that it is important to adapt to what happens during the trial and be vigilant for opportunities. Some examples in the trials which I have conducted, eg. I cross examined the shipping agent who set out in his witness statement six bills of lading and asked him whether he had seen the documents he mentioned and explained in his statement, and was surprised he said no, not before trial. Another case, the chemist had detailed in four pages how carefully dangerous chemicals were packed, I asked him whether he was present during packing and he answered he could not remember. Apart from direct clients I also act for other law firms, so in these trials, I work with my instructing lawyers. I have written on the role of Counsel:
https://www.linkedin.com/pulse/litigating-malaysian-courts-use-counsel-philip-teoh/
This Wednesday was particularly rewarding as I argued an Admiralty Appeal in the Court of Appeal. There were decisions of the High Court which set aside ship arrests on wrong principles and one of these was a ship arrest I undertook. I appealed against this decision and the appeal was heard by the Court of Appeal. I was successful in arguing the appeal and this case is important as the Court of Appeal judgment will be binding and will set guidelines for parties undertaking ship arrests in the future. For more details, you can go to my LinkedIn posts:
https://www.linkedin.com/feed/update/urn:li:activity:6389686362479661056/&
https://www.linkedin.com/feed/update/urn:li:activity:6390524570524319744/
The profession in Singapore and Malaysia is a fused one, so I am both Advocate and Solicitor. I also handle corporate and advisory work. If I don't go to court, I will prepare for submissions in the office or draft agreements. From time to time I am visited by foreign lawyers who come to Malaysia for business visits. Many of these lawyers are my LinkedIn connections. My work day could also be to attend meetings with clients whether in my office or theirs.
I try to make time to interact with the junior lawyers and interns who work and assist me. I have written on the role of the Senior lawyer as Mentor:
https://www.linkedin.com/pulse/learning-law-mentors-perspective-philip-teoh/
WHAT WOULD BE YOUR ADVICE TO YOUNG LAW STUDENTS AND LAWYERS AIMING TO BECOME ARBITRATORS IN FUTURE?
Don't waste the university years. What you study in university is crucially relevant even if it is not immediately obvious. Cultivate interest in subjects especially subjects Contract, Tort, Evidence. Be willing to learn everything.
Interestingly many students approached me after my talk in Pune last August and asked how they can become arbitrators. I was taken aback as they wanted to become arbitrators without thinking of embarking into litigation.
Arbitration like litigation is contentious / dispute resolution. Lawyers only become arbitrators if they can bring value or experience to the Dispute Resolution Process. This may take years before the lawyer can establish his reputation in court, be recognised and respected as court / Arbitration Counsel and only then can he become an arbitrator and obtain appointments.
So I will tell the students, aim to be a great lawyer, become great advocates. The court skills are important to arbitration. Only then you can become a respected and popular litigators earning the respect of your opponents and eventually you will acquire a solid track record and reputation. Only then you will be ready to become an arbitrator; this may take decades but the diligent will achieve this.The arbitrator who does not go through this crucible will not be effective and will forever chase appointments.
Link to some of his works are below:
Presenting your case in International Arbitration:
https://www.linkedin.com/pulse/presenting-your-case-evidence-international-arbitration-philip-teoh/
Strategies on Managing Choice of Law along One Belt One Road:
https://www.brinknews.com/asia/chinas-belt-and-road-initiative-managing-risks-and-disputes/
Speaking at AIAC Arbitration Conference
https://www.linkedin.com/pulse/resolving-disputes-along-one-belt-road-philip-teoh/
Speaking in Pune last August
https://www.linkedin.com/pulse/contemporary-issues-international-arbitration-philip-teoh/
Philip Teoh's LinkedIn profile :
LinkedIn profile: https://www.linkedin.com/in/philipteoh