Puneet Bhasin, graduated from  GLC, Mumbai in 2011. During her time as an undergraduate, she has interned with the likes of Fox Mandal Little and Advani & Co. In 2012 she went on to pursue a postgraduate diploma in Cyber Laws. She is currently a master candidate in the University of Mumbai, specializing in business laws with a focus in e-commerce laws and compliance.
In this interview we speak to her about:
Winning the Surana & Surana Int'l Technology Law Moot
Choosing to pursue Cyber Law
Her internship experience
How would you like to introduce yourself to our readers?
I am an advocate practising in the area of Cyber Laws. It is a new and growing field. I started practice three years back after I graduated from Government Law College (Mumbai) with the B.L.S.LL.B. degree.  I was interested in this field from my first year in law college, and I did the Diploma in Cyber Laws from Asian School of Cyber Laws. This basic course made me realize that I wanted to pursue a career in this field and that is when in my second year in law college I became a Certified Cyber Crime Investigator. Subsequently, I did my Post Graduate Diploma in Cyber Laws in the fourth year of law college. Additionally in my final year, I did short courses in Intellectual Property Laws, Hacking & Cyber Security and E-Commerce Laws. I passed out from college in 2011 and started practicing on my own.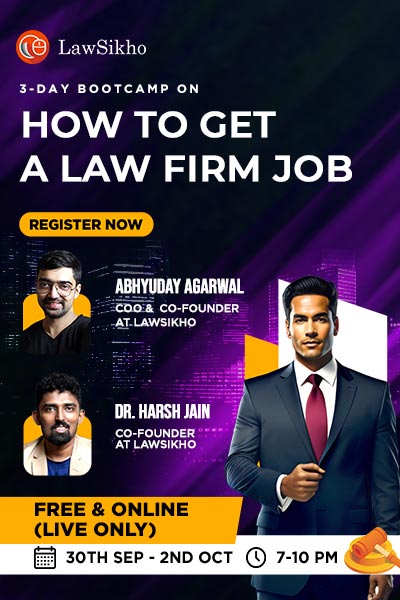 Why did you decide to study law?
While in school, I never thought of pursuing law, though many of my family members are lawyers and in judicial services. However, after the 12th Board exams, I came across the prospectus of Government Law College, and the subjects appealed to me. I read up more about them, and decided I wanted to pursue law; and within the first week of law college, I realized that this was probably the best decision I made in my life.
What does it take to be a great mooter?
(Puneet has won the Best Student Advocate Award at Surana and Surana International Technology Law Moot Court Competition.)
It was God's grace that I got many opportunities to participate in moots in college. Surana and Surana International Technology Law Moot Court Competition was one of the most memorable one for me. I was selected to represent GLC in this moot in my second year, and it gave me an opportunity to research on main law subjects, as till the second year we had only pre-law subjects. The moot problem surrounded a very interesting premise of "legal liability in cases of Augmented Reality", which means that who is liable if a computer with artificial intelligence does something wrong.
It is very important to be open to learning in order to excel in moots. Good research skills are a must along with excellent oratory skills. However, the more you participate in moots, the better you become.
Moots give you practical experience to some extent. More than anything else, they teach you how to handle success and then deal with defeat also. When you win many moots and then you lose in a moot, it is a big set-back for your self-confidence, but it is very important for you to experience this as this is what real world litigation practice is all about. Winning and losing cannot affect you much at all as it is a part of practicing law. You learn to dissociate feelings of self-worth from practice.
Share some of your memorable mooting experiences.
Surana and Surana International Technology Law Moot was a very memorable experience, and I was judged by the Director of Asian School of Cyber Laws in one of the rounds in that moot in 2008. Surprisingly, she remembered me even in 2011 and got in touch with me to teach Post Graduate Diploma in Cyber Laws in their institute. Moots definitely give you recognition and help build contacts.
I participated in the Kanga Moot Court Competition in 2010 and we won the Best Team award along with Best Memorial. The moot problem was based on arbitration, and that is where I got interested in Arbitration and interned in this area of law also. One thing about mooting is that it gives you a chance to read up extensively on different subjects of law, and this helps you to know where your interest for practice lies.
The Bar Council of Maharashtra and Goa moot was my first moot and it was in Ahmednagar. That was the first time I had gone to stay in the interiors of Maharashtra, and the simplicity of the students there was very impressive. I loved the experience of interacting with the law students there.
What kind of internships did you do while you were a student?
I interned in Fox Mandal Little and Co.  under Senior Partner Mr. Pal. He specializes in Shipping laws and I assisted him in matters. However, this experience made me realize that shipping laws was not my cup of tea. Then I interned under Managing Partner Mr. Khatlawala in Corporate Law arena,, and I did like it. I got to learn a lot. Under Junior Partner Ms. Rajni Divkar, I got the opportunity to assist in the drafting of Rules under a State Act.
But soon Arbitration caught my fancy, and I landed up with an internship under Mr. Hiroo Advani, who is an expert in Arbitrations. I really liked working on arbitration matters and attending arbitration proceedings. In Advani and Co. I even worked on couple of Due Diligences, but soon realized that typical corporate law work like due diligence is probably not made for me.
The internships gave me a clear insight on what I love doing and what I would prefer to avoid as a career choice with respect to legal practice. They made me more confident along with helping me build good networks in the legal fraternity.
Do you think participating in extracurricular activities like MUNs is essential?
(Puneet has been awarded Honorable Mention in Human Rights Council of GLC Model United Nations.)
Any extra-curricular activity teaches a lot and mere participation makes us a better person and equips us with skills we did not have before. I used to actively participate in Debates, Moots and MUNs in college, and I felt that they made me more confident and improved my analytical and logical thinking skills.
Students must participate in extra-curricular activities, not just to win, but to gain meaningful experience.
How did you become interested in a career in cyber law?
I realized that I had a profound interest in Cyber laws in my first year in law college, and I pursued this interest by doing further courses so that I could equip myself well to be able to practice in this area of law.
Academic skills of cyber laws you can learn by doing courses on this subject, and practical skills you will learn only on the job.
What were the difficulties you faced in shaping up your career as it stands today?
Cyber law was a very new field at that time, with very few people practicing it. This had many advantages, as unlike many fields of law where seniority, experience and age matters, in cyber laws there was less competition three years back, and there was no question of seniority as it was a very nascent and new field.
However, the major difficulty faced by me is that there are victims of cyber crimes everywhere, but they are ignorant of the law and don't know that they can seek legal recourse.  I started blogging on cyber laws on http://indiancyberlawyer.wordpress.com and http://blog.ipleaders.in to create awareness about cyber crimes.
In the initial stages of your career, patience is the key.
A lot of people don't understand the specialization of cyber law. Why do you think is this the case?
Cyber laws are a very specialized field. A cyber lawyer is a techno-legal lawyer who is well-versed with technical aspects of computers, computer networks, communication devices and has complete legal knowledge including the special laws and rules applicable in techno-legal matters. Most evidence in criminal cases is obtained from cell phones or computers, and a cyber lawyer is the only one who can help in proper appreciation of such evidence or to find loop-holes to make such evidence inadmissible. Also, with the advent of E-Commerce, the concept of e-contracts and digital signatures has emerged, and only a cyber attorney would be able to advice with respect to the same. Intellectual Property Rights in cyber space is also a growing arena which requires lawyers proficient in technical aspects.  Cyber security standards are also governed by laws in India, and a cyber attorney is the only person who would be able to give sound advice on the same.
Tell us something about being an Associate Member of Chartered Institute of Arbitrators (CIARB), UK.
Affiliation to CIARB (UK) requires you to attend the course conducted by them and then submit your research on the topic given by them. The research paper is graded and if you get above B grade then you are qualified to pay the requisite fees and become an Associate Member of CIARB. This is the first step to become a Chartered Arbitrator.
Lawyers who are interested in this should visit the CIARB website and enrol for their course in India.
How do you go about teaching?
(Puneet is also a faculty for Post Graduate Diploma in Cyber Laws at Asian School of Cyber Laws.)
I love to teach cyber laws, and being a faculty gives me that opportunity. It keeps you in touch with the subject and also helps you to contribute to the growth of this field in India, by training lawyers and IT professionals in this field. Practicing law is very satisfying and lucrative, however, life as a professor is not as lucrative but it has a very feel good factor to it, as your students look upto you and you get a chance to shape their careers. Teaching is a very humbling experience.
How important is social media engagement?
Lawyers cannot advertise, and in specialized fields like cyber laws, it is impossible for people to know about the services you offer. Social media and blogging play the role of the bridge between a legal professional and potential clients.
Where do you see yourself after five years from now?
I would like to believe that with the growth of Cyber laws in India even my career will reach new heights in the next five years. Hopefully with God's grace I would be able to make a lasting mark in the legal fraternity in the area of cyber laws.
Do you accept interns with you? How does one apply?
I do accept interns. I even take interns on a distance mode basis for research work. Anyone interested can apply with their resume to contact.cyberjure@gmail.com.
Last but not the least, what would be your message for aspiring law practitioners?
Law is an amazing field, and if you aspire to enter this field then you are definitely going to love it. Law involves a lot of human interaction, which is the best part of it. You get to learn new stuff about human nature each day, and in the process you change for the better each day. Good luck for your wonderful journey of becoming a lawyer!