Rohan Joshi graduated from Symbiosis Law School, Pune, in 2008. After a successful stint at Kotak Mahindra as Senior Manager, he went on to pursue his Master's Degree in Management from ESADE Business School, Barcelona.  He is currently part of the International Development and Strategy Team at Tata Mutual Fund, where his role entails Business Development and Marketing for EMEA and Asia (ex-Japan) regions, managing offshore products and legal structures.
He has also been Vice President-ESADE Alumni, India, for two years now.
In this interview we speak to him about:
Making the shift from law to business
Difference in curricula between BBA LLB in India and an MBA in Europe
His diverse experience
How would you like to introduce yourself to our readers?
I'd say that am an International Business professional with a Business and Law background.
What motivated you to pursue law?
My encounter with the legal field was an accidental one. I actually wanted to get an undergraduate degree in business but there weren't many good schools that were offering the same at that point. It was by sheer chance that I came across the newly launched BBA LLB dual degree program at Symbiosis. The combination of business and law coupled with the opportunity to attend a premier school such as Symbiosis, Pune, really appealed to me and hence I signed up for the same.
Tell us a bit about your college days at Symbiosis Law School, Pune.
The decision to go to Symbiosis Law was probably the turning point in my personal and professional development. I owe a major part of what I am today—for better or for worse­—to Symbiosis. Being in that vibrant and multicultural environment where you are surrounded by people who are talented in their own unique ways was such a great experience. The academic life was rigorous, specially a month before the semester exams, and there was a lot to do in terms of extracurricular activities, both on and off campus. The fact that besides contributing its fair share of alumni to the who's who of the legal fraternity, Symbiosis also has a sizeable alumni base outside of law, which is a testament to the holistic learning and the networks that the school provides.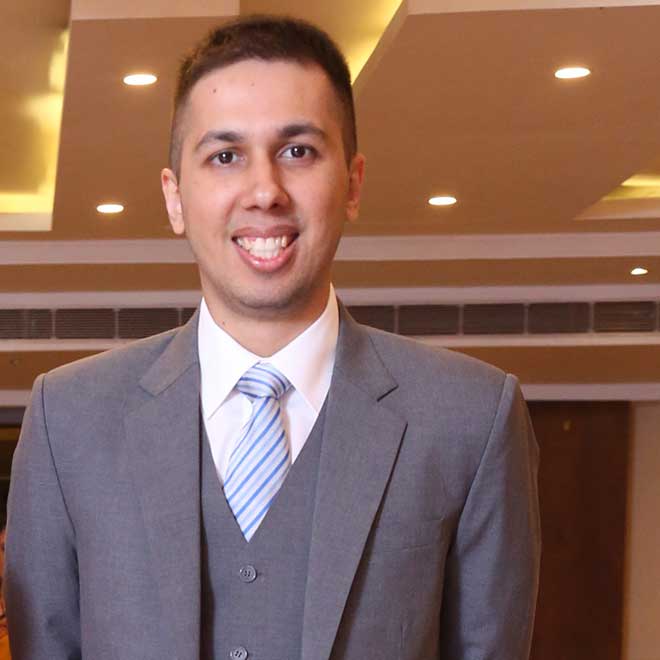 Could you tell us about the internships you took up, and what you learnt from those experiences?
Internships provide key insights into the practical applications of what you learn in law school. I interned with HDFC Bank, Reliance Infocomm, Singhania & Partners, Fox Mandal Little & Co., etc to maintain a balance of working in corporates and law firms. These internships not only gave me exposure to various industries and both the sides of the business (i.e., in-house and law firms) but also gave me the confidence that I could do a decent job as a lawyer.  Eventually it was the internship at HDFC bank that in a way helped me in getting placed with Kotak Bank.
What areas of law interested you during your legal education?
Contracts, Arbitration, International Law were and still remain some of my areas of interest.
Tell us about your early professional experiences at Kotak Mahindra Bank.
I didn't have any set parameters of where I wanted to work. However considering my long term goal of transitioning into a business role, I choose the Corporate Track during the placement week. The idea was to do justice to my legal education and work as a Corporate Lawyer for a few years. I was lucky to have been recruited by Kotak Mahindra Bank on the first day of Symbiosis campus placements.
Having interned with HDFC Bank, I had a fair idea about the in-house legal work in a bank. However like any other law graduate fresh out of law school, I quickly realized that being a full time employee means a whole lot more in terms of work load and overall responsibility. Joining the workforce in 2008 amid the global financial turmoil also meant that there was a steep learning curve as in-house counsels (especially in Financial Services Firms) had to hit the ground running. Luckily the Corporate Legal team at Kotak comprised smart and seasoned legal professionals who were helpful enough to guide me. In fact within six months of joining Kotak, I was managing the legal support for entire northern region operations of a business vertical under the overall guidance of the Regional Legal Head. This responsibility was a bit overwhelming at first but thanks to the faith and guidance of my seniors I managed to do a decent job of the same. After a span of around two years, I was given the opportunity to move to the Corporate Office in Mumbai. After having experienced the work at a regional level, I got to have a closer look at the workings at the corporate level and also got exposure to varied business verticals.
How did you decide to pursue an MBA, as opposed to a Master's Degree in Law?
I always wanted to pursue an MBA and felt that it would fit my long term plans better, hence didn't really give LLM a thought. I figured I was already a lawyer and needed to develop my business skills. After having worked as an in-house counsel for around five years, I decided it was time to make the switch.

 Tell us about your experience studying in ESADE.
At the time of applying to International Business Schools my aim, like any other Indian applicant, was to get into a Global Top 20 MBA program. Given the high opportunity cost of a US program and my inclination towards Europe, I decided to focus on the European programs within that list and hence ESADE became an automatic choice for me. I got really sold on the school during an event in Mumbai and decided that that was where I wanted to be. Besides the MBA, the opportunity pick up another language on the side by way of mandatory Spanish language classes also appealed to me.
The ESADE MBA was a once in a lifetime kind of experience. Living in Barcelona, studying in a multicultural/multilingual environment with talented classmates from around 50 nationalities and being exposed to world class faculty from ESADE and other top global universities was amazing. Add to that the occasional guest lecture by a key industry leader/CEO and live consulting projects with multinational companies, the entire experience was incredible. The icing on the cake was the opportunity to pursue an additional Geopolitics course that was taught by the Former European Union High Representative for the Common Foreign and Security Policy and Former Secretary General of NATO, Mr. Javier Solana.
How did you receive the ESADE MBA Leadership Scholarship?
Every year ESADE provides some scholarships under various heads to incoming students who have displayed certain attributes in the past and show reasonable promise for future. I was lucky to have been considered and awarded the leadership scholarship. The application process was straightforward i.e., you had to write a few essays highlighting your leadership experience/potential and how you would contribute/add value to the community. Thanks to my time at Symbiosis and Kotak, I had a series of activities such as being on the University Students Council, the Editorial team for an Kotak's Legal e-magazine, voluntary military training from NCC, etc. to write about.
I think students these days are fairly well informed and have well rounded interests but in any case I would recommend current students to explore their interests in co-curricular and extra-curricular activities in school.
How do you perceive the differences between teaching and learning processes in India and abroad from your LLB and MBA experience?
Before I compare the two courses, it is only fair to highlight some basic differences in terms of participant profiles and course content – unlike in India, the average experience in any international MBA program is around five to eight years. Further, the MBA is a more generic course that gives you a lot of information about different streams of management in a very short time. Keeping this in mind and the fact that methodology may have changed since it's been some time since I went to law school, the most obvious difference was that an MBA puts a lot of emphasis on learning by doing. There are a lot of case studies and projects that you have to turn in. You learn from your professors but there is a substantial amount of peer group learning as well. The idea is put smart people with rich experiences in a room and to get a good discussion going. I think most LLB programs are more a one way learning streak mainly because of the nature of content as well.
What prompted you to take up a position with SBI Mutual Fund?
(Rohan has handled their business development strategy, offshore funds, along with legal structuring.)
After the MBA I wanted to work with a big corporation as compared to some of the boutique firms in Europe that I was getting offers from. So I decided to come to India. When presented with the opportunity to work with SBI Funds Management, a JV between State Bank of India and Amundi France, I grabbed it with both hands.
I joined SBI Funds as a Product Manager and gradually moved to the International Business team. Being my first business role in the Financial Services sector, the learning curve was huge and a lot of time had to be put in. The roles I handled were a good mix of Products, Sales/Business Development, Strategy and Legal Structuring. It was an absolute pleasure working on complex transactions and deals with seasoned professionals and the opportunities available due to the strong brands of the parent companies were also astounding. The biggest take away was probably the realization that I would end up utilizing both my qualifications (MBA and Law) for the kind of work I was/am involved in.
On what parameters do you choose the projects you work on?
Well, the choice of projects is a function of the overall strategy for a region, level of maturity of the target market, competitor and regulatory landscape, cost-benefit analysis, etc. While the methodology may change between projects, the rationale is to have a holistic understanding of business and regulatory aspects in order to take an informed decision to capitalize on underlying opportunities.
What does a typical work day as AVP at Tata Mutual Fund look like?
I work in the International Business team at Tata Asset Management and work on developing business opportunities around the world. My role is in some ways a combination of Strategy and Business Development with some parts of Product Marketing and Legal thrown in. A typical day would involve a few client meetings to discuss businesses propositions, preparation of some product/marketing documents (presentations, reports etc) on our key investment strategies, internal meetings to monitor the financials of the business vertical, and a bit of structuring work with some consultants and lawyers (in house and/or external).
Did you have a mentor or guide during the formative years of your career?
I usually don't prefer using the term "mentor" whether in someone else's or in my context, but I do think it's important to have people to look up to for counsel. Having said that, I also think it's important to be in tune with what you really want. Only once you have that clarity can you really take a call on whom to approach and what you want to imbibe. In my case I've been lucky to have met such people at various stages of my career who have been kind enough to share their experiences/perspectives and have been supportive even if I went with my gut on something. My bosses and colleagues in Kotak, SBI Funds, Tata Asset Management, and my professors and peers through the years have all had an influence on me in one way or the other.
How do you manage your time between your professional and personal interests?
I believe that just as it is important to prioritize work and give your 100% in the office, it is equally important to switch off every once in a while to recharge your batteries. I try to manage my time in such a way that most of the work gets done during the five working days. Unless there is some business exigency, I usually try to keep my weekends free and only access my mails once or twice to clear some important emails.
I have always been passionate about travelling. Having lived in ten cities till date, the idea of being in a place for too long doesn't appeal to me. This is also a reason why I enjoy the ever changing world of International Business. Like most other people who love to travel, the love for food, experiencing new cultures and some kind of inclination towards fitness is also a given and applies in my case as well.
What are the challenges you have faced in building up your career as it stands today?
My career, as the case may be with many of my peers, is still work in progress. There have been a few challenges along the way, leaving law and switching careers was a major one.
I don't usually give a lot of thought to where I would be at a certain point in the future. I enjoy what I do currently and think that I have the right skill sets and background to make a reasonable contribution in similar roles. So wouldn't mind continuing being in a similar role in this or some other industry five years down the line.
Giving the dynamic nature of the field you practice in, how do you keep yourself updated about the latest happenings in your field?
Being in International Business, you have to be up to date with a lot of things. Besides being keeping track of market requirements and your own offerings, keeping in tune with the dynamic competitor landscape, the global markets and regulations is very important. There is a fair bit of reading and research that goes on and that usually suffices. However it's important not to get so tied up with research that you lose focus of running/developing the business. Hence I talk to the consultants and lawyers to understand their view on some of the major developments from time to time. This helps me and my management take an informed view on critical issues pertaining to our business.
​
What advice would you like to give our readers, who are mostly law students and young lawyers?
I don't know if I'm qualified to give advice but I'd only ask young lawyers to be a bit pragmatic about their choices, especially the ones who are not looking to practice or join law firms. Law is a very broad field of study that equips you with a unique set of skills that have very wide spread applications. For the people joining corporate as in-house counsels, I'd just say that besides striving for excellence in the legal work, make sure you understand the business your company is in. This will help you look things in the right perspective and enable you to discharge your duties more effectively.