Rohit Pothukuchi graduated from NALSAR, Hyderabad, in 2013. Subsequently he went on to pursue his Masters from UC Berkley School of Law. He is the Founder and Chief Editor of Standard Indian Legal Citation (SILC). He serves as an Affiliate Student Research Fellow, Harvard Law School Program on the Legal Profession. He will soon be joining White & Case LLP as an associate in NY. In 2013, Rohit was invited to speak as a panelist at UNESCO headquarters in Paris. Rohit will speak to us about:
Founding and being Chief Editor for Standard Indian Legal Citation (SILC)
Speaking at the UNESCO
Joining White & Case, NY as an Associate
Serving as an Affiliate Student Research Fellow, Harvard Law School Program on the Legal Profession
How would you describe your childhood, pre-college life and educational background?
I spent most of my high school years in Kodaikanal, TN, where I attended the Kodaikanal International School. When I was accepted to NLSIU Bangalore and NALSAR, I chose to attend NALSAR, primarily to spend more time with my family, parents and grandparents. Law and policy have always interested me. Although I almost chose to pursue a career in medicine or finance, I chose law because its such a versatile subject,and it affects so many aspects of society.
What are your responsibilities as the Chief Editor and the Founding Editor of the Standard Indian Legal Citation (SILC)?
(Rohit has been a pioneer in creating and promoting our own Indian citation format. SILC now has registered users at over 85 law schools, numerous firms, and courts across India. )
There was a strong requirement for an Indian citation system. Researchers were frustrated with the difficulty of finding appropriate citation standards for Indian legal sources, most of which are not covered by foreign citation systems. Foreign manuals could be hard to find, expensive, and were just not tailored for India. You have to keep in mind, most of these foreign systems were created for their respective countries (the UK, the US, etc.)—it was time for a change. Debanshu Khettry, Shambo Nandy (the other two founding editors), and I first started discussing this idea when we were doing our B.A.LL.B. At first the task looked very daunting, and even impossible. Convincing the Indian legal community—a group of some of the most argumentative individuals I know—to change their practices is by no means an easy looking task. I didn't think we could reach a wide enough audience.
However, I felt it was the right thing to do and that we should put in our best effort. I took leadership as Chief Editor. We have truly been lucky to reach the nation -wide audience that we have, and I am so thankful to all of the practicing lawyers, faculty members, and students who have started using SILC and have taken the initiative to join us in this national movement. SILC has truly been a team effort, Before I speak about my responsibilities, I would like to acknowledge the efforts of our entire team of hard working editors from across India and our phenomenal advisors. SILC would not have taken off without them.
I especially acknowledge Vikrant Pachnanda, Akshay Sreevatsa, and Megha Mathur, senior editors of SILC, who have put in tremendous efforts and bounds of time to make this citation system a reality. As Chief Editor I was responsible for overseeing all aspects of the citation system. Particularly, setting a vision, building a team, being involved with drafting the citation system, and the daunting task of getting this to a nation-wide audience. I had to think of ways to build an India-centric citation system that was easy and appropriate for a variety of uses and user groups ranging from practicing lawyers to law students to even non-lawyers reading legal material. Seeking the right guidance and building the right team were critical aspects in doing this. As a recent graduate, you can only possess so many skill sets. But in the aggregate, as a team, you can put together the skills needed to create an appropriate citation system. Once our core team of senior editors came together we were able to do this. I reached out to some of the nations leading lawyers and academics to try and get insights on how to make this citation system practical and useful for India—many of them were kind enough to join our advisory panel. Subsequently we added editors from across India who had great experience with journals at their law schools and with legal research.
I came up with the name "SILC", because it was catchy and appropriate. Almost everyone I spoke to loved the name, and we stuck with it. I first created the logo on Microsoft word, and eventually ended up providing rough sketches and designs for most of the web-site to our web developers. Our entire team of editors and advisors unanimously wanted a citation system that was not exclusively built and just put online. We wanted this to be a movement of lawyers and students across the nation who are choosing an India-centric citation system that is more suited to the nation's needs.I hope we have made a move in this direction. We launched a "working draft", precisely because we wanted to get input from as many practicing lawyers, faculty members, and students as possible. This is, after all, a system built for the Indian legal community, and we wanted to hear from that community before a version 1. Additionally, we wanted this to be accessible to everyone—some foreign citation manuals really can be expensive for Indian audiences and hard to find—cost should not be one of the reasons that deters a student from research.
If you are interested in learning more, I have spoken about SILC in a podcast/interview with MyLaw, which you can listen to here: http://blog.mylaw.net/a-new-citation-system-for-uniquely-indian-legal-material/
What is the vision going forward?
The "working draft" is in circulation and we are getting input from as many students, faculty, and practitioners as possible. I am also conducting a survey for some research, its not directly related to SILC, but is related to citation practices across India and will help us understand areas where citation standards needs to improve. I am thankful to everyone who is able to take it. It can be accessed here.
What has been the most gratifying moment for you with regard to SILC?
I think the first few days, launching the citation system, and getting such a fantastic response was frankly a very very happy time for me. I never would have expected registrations from across the country, and such a positive response from academics, students, and practitioners alike. Students from more than 40 law schools registered in the first few days, and we got so many great responses. It's truly a wonderful feeling to see your vision come to reality. I have to say, I was very nervous before the launch. We still have a long way to go, and our team is committed to working very hard to make this the best it can be.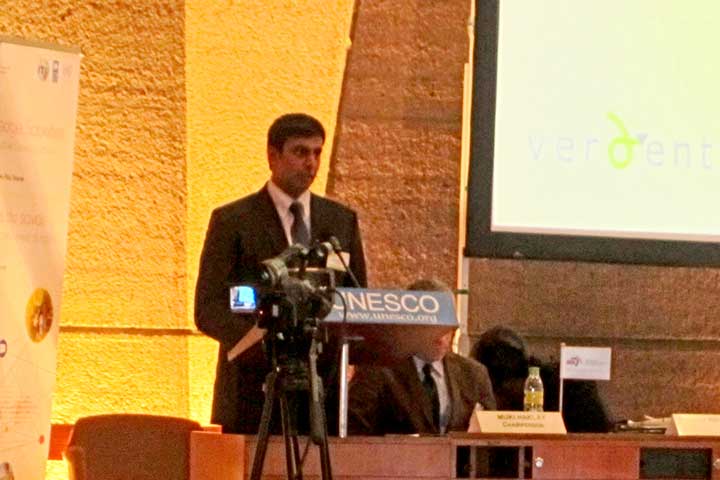 How was the experience of being invited to UNESCO headquarters to speak as a panelist at the World Summit on the Information Society Review Committee Meeting?
It was an incredible honor and one of the greatest experiences of my life. The World Summit on the Information Society meetings took place in 2003 & 2005, and came about after the UN General Assembly approved resolution 56/183 resolving for the need for such a summit. The summits were the major effort of the UN to discuss the global information society, access to the internet, the growing digital divide, communication policy, and other issues, amongst nations of the world. The Summits have lead to the establishment of the Internet Governance Forum, and in a sense have helped develop the global vision ahead for dealing with the internet and technology—Wikipedia has a nice summary.
The Review Committee Meetings which take place pretty much every year look at the issues and upcoming trends as well as developments after the summits. I spoke at one of these Review committee Meetings. A very senior official at UNESCO learnt about some of my work, and subsequently, I received an invitation to speak. Frankly when I saw the email I couldn't even believe it. I spoke about e-science trends in India, and about Verdentum a non-profit social network I will be launching in Fall this year, which hopes to connect policy makers with students around the world. A portion of my presentation at UNESCO can be found on the UNESCO web page here.
More information on Verdentum can be found at www.verdentum.org . I never thought I would be invited to give a talk to an audience that would be simultaneously translated into several languages while I was speaking. I kept looking at the translators—I was absolutely baffled. I was a bit nervous, and one of my personal role models, the former head of the Intergovernmental Panel on Climate Change was in the audience, which made it worse! He was speaking on a related panel. Thankfully, I had very positive responses, and I think the talk was well received. Of course, it was such an amazing experience, and I was very very lucky to have been flown there, put up, and have had this opportunity. Paris is a wonderful city.
How is White & Case different from  top-tier Indian law firms?
It has been thrilling working with White & Case at three of their offices. The work is some of the best I have seen in any of my internships and experiences–it is truly international, cutting-edge, and exciting. I think there are very few places where, as an intern, you get to help with multi-billion-dollar deals involving 5 or 6 different jurisdictions, and some of the worlds leading corporations, banks, and government bodies. This was especially true at the Abu-Dhabi office, a relatively smaller office, where I had the chance to be involved with the project finance, capital markets, and M&A groups and some of their transactions. Just being able to read through some of the documentation, and having lawyers who care about teaching you the dynamics behind a deal, one can learn so much.
I thoroughly enjoyed being able to meet and interact with extraordinary, industry-leading lawyers. I never thought I would get to meet some of the lawyers who have truly shaped areas of law, or whom I had read about because of their involvement in prominent deals and transactions. White & Case has an incredibly open culture, most of the doors are open, and even senior associates and partners are really happy to talk about their work, and guide you. I think being in such an environment inspires one to be more involved with his work, and take the extra step. Being at the NY office was an experience in itself, you really cant beat walking into a sky-scraper next to Times Square every morning. I feel incredibly lucky to be joining such a fantastic firm, and to have had these unique experiences. I think the volume of highly international work at White & Case differentiates it from any other firm I know of.
With that said, the firms I have had the privilege of interning with in India have been outstanding, and I have learned a great deal from being at those firms for even brief periods of time.
Can you give us advice on applications and interviews, especially with foreign law firms?
I think that it's important to tailor one's application specifically for each separate firm or organization. Many students provide relatively similar or generic answers to most applications. Read through the firm's web site and identify their core values and principles, ask yourself if your application is in line with those; tailor your answers specifically.
I think it's also helpful to ask the question "do I fit into this organization?"—take a look at the lawyers there, their careers, and their achievements, I think that reveals a wealth of information about what the firm is looking for, and what you need to do/work-on to be there. Another piece of advice: build relationships. Don't just expect to apply one day and get a job, continue to intern there, work with lawyers there to genuinely learn more in fields that interest you, do some research if possible, and have a positive attitude in whatever work you are given. I have interviewed with White & Case, a magic-circle law firm in London, and several international companies/ organizations. I would say do some thorough research about the firm and the deals they are involved in. This information is not easily revealed through the firm's web-site all the time. Sometimes it helps to talk to lawyers at the firm.
Know how the firm you are interviewing with is different from other law firms. They will usually have an area of law where they are the absolute best, or particular cases where they have distinguished themselves. Be familiar with the firm's strategy and vision for the future if possible, ask yourself how you fit into that. I learnt that it really pays off to know a bit about the lawyers interviewing you—the major deals and areas they have worked on. These areas could occasionally come up in your interview.
Know your CV thoroughly; be ready to answer questions about internships, and research that you have worked on. Additionally, be pleasant and be respectful of your interviewers' time. Another note: It's ok to say that you don't know sometimes. You can't know the answer to everything, and I don't think you are expected to always know the answer. Additionally, try to stay positive. The application and interview process can be difficult, and everyone gets at least a few rejections (in my case I got many). As much as there are very low points in this process, learning from those experiences and bouncing back with improved applications is important.
How did you go about applying for and getting these foreign internships?
(Rohit has interned with numerous organizations in 5 different countries such as Oracle in Australia, the California Earthquake Authority, Worley Parsons; in India, AMSS, Tatva Legal, SKS Microfinance, and numerous other places.)
It was very hard getting internships, especially abroad. I had a lot of difficulty. I was an ordinary law student from India, and I didn't have any contacts who could help me. I had to work very very hard. You are up against candidates who are better suited, are usually graduate students with more experience (because you study law after an undergraduate degree in the US), etc. When I tried getting an internship abroad during an exchange program at Santa Clara University in my 3rd year I think I got rejection letters from most large law firms with offices in the bay area, and most small law firms I applied to as well. Im pretty certain I had at least 30 to 40 rejection letters in my inbox at some point. A litigation-oriented law firm in San-Francisco's financial district finally gave me a chance.
The lawyer who gave me the internship was one of the nations leading plaintiff's attorneys, and truly an inspiring figure, she guided me with my work and we continue to stay in touch today. I'm very thankful for the chance I was given. For the first time I got the feel of a US litigation environment. I got to do hands on work and be involved with real matters. I have to add—it was so awesome working in a sky-scraper in downtown SF. I worked as hard as I could, I tried to catch up on relevant law. I used to travel about two hours by public transport to SF, early in the morning and two hours to come back go to class, and then study till late in the night. I tried to work on research in different areas I was interested in during my second-third year in NALSAR and I tried to seek the guidance of professionals that were in those fields I was interested in.
Slowly but steadily my internship opportunities increased, and I was very lucky to get the kinds of opportunities I had. I really wanted to travel and see different work environments around the world, and I was able to get foreign internships that paid me enough that I was able to do that. It is possible, it requires perseverance and hard work. My advice is to work hard, build relationships with people and firms that are focused on areas you are interested in, and be perseverant. I have had several mentors from my internships who over the years have given me incredible guidance. Im thankful for their kindness. I think students should seek out mentors who can give them the right advice. If you have a positive attitude and a willingness to work, I think people will help you. I got so many rejection letters, again and again and again, but I kept at it.
Could you tell us about your current research program at Harvard?
Headed by Professor David B. Wilkins (Vice Dean for Global Initiatives on the Legal Profession), the Harvard Law School Program on the Legal Profession is a research think-tank which seeks to make a substantial contribution to the modern practice of law by increasing understanding of the structures, norms and dynamics of the global legal profession. As part of it is major, multi-national, multi-diplomacy research on Globalization, Lawyers, and Emerging Economies (GLEE), PLP is actively engaged in examining and understanding the Indian legal profession.
The GLEE India research team is comprised of scholars from a host of leading universities, research institutions, and law firms in India, the United States, United Kingdom, and Singapore. The GLEE India research team is pursuing the first comprehensive set of studies examining the changes in the Indian corporate legal sector and its effects throughout the legal profession. This includes studying Indian and foreign law firms, in house counsel, legal process outsourcing, trade law capacity and capacity building, senior advocates, legal profession regulation, legal education, the role of gender, small town lawyers, diversity concerns, and pro bono and public interest lawyering.
Using surveys, interviews, participant observation, and archival research, GLEE's India research contributes to a richer and more textured understanding of the substantial changes to the corporate sector of the Indian legal profession as well as its relationship to the developments in the legal professions in Brazil, China, and other emerging economies. You can learn more about GLEE – and all of PLP's research projects – on its website. My current research is focused on citation practices and experiences of lawyers and law students in India, I am currently circulating a survey for my research, the survey can be accessed through this link. I would be thankful to any members of the legal community willing to fill it out. I intend to expand my research to more areas in the future."
Tell us about your editorial experience and how it has benefited you as a lawyer.
(During his time at NALSAR Rohit helped establish the ADR Review and Media Law Review, and served as the highest ranking student editor of two journals simultaneously.)
I have indeed learnt a lot from this process. As far as the future is concerned I can say that our editors who are in charge are working hard and continuously improving the journals. We are looking at the growing importance of the blog, digital formats, and involving more practitioners. We want to make these journals as relevant as possible to a modern Indian audience. Of course it's tough getting journals off the ground, but getting experts in the relevant fields to write and being perseverant is really important.
How were these teams built and what draws students to write an editorial board test for these two journals?
(Both journals have a truly impressive board of editors that have included winners of prestigious moots such as VIS, Oxford Media Law, etc., associates at leading law firms abroad and in India.)
We follow a very different approach at the ADR Review & NMLR when it comes to journal leadership and governance. There is hardly any hierarchy. Our editors stay on for the entire period of time at law school. It's very difficult to be selected, we have a very small intake, but our editors take their job seriously. We also believe in a holistic approach towards selecting editors. As much as the ed-board test plays an important role, we care about leadership and initiative, and people who care about the journals and the subjects—not just people who want to put things on their CV. We strongly believe that it's difficult to learn enough about a subject and editing in a 1 year period—which is the time span many journals in India continue to keep their editors. We also encourage editors to creatively be a part of the management process and try to actively improve the journals. We are still pretty young, but I believe we have a bright future ahead. We are planning to initiate a mentorship program for editors of our journals, with alumni editors who have graduated, so they can get guidance early on and have access to more career resources in India and abroad.
How did you manage extracurricular interests with academics?
(Rohit was a finalist of the Habitat National Geographic Young Visionary Award in your 2nd year, getting through the semi-finals at IIT Chennai.)
I was pleasantly surprised to have made it through, some of my ideas were climate-change related. I was lucky to be a national finalist. I believe the competition and Award have been discontinued in recent years. I served as the Moot Court Committee Representative to the NALSAR Student Bar Council in my 1st year. I was a bailiff for so many moots, that I never wanted to enter the moot court hall again!
Well, I guess it's important to work on what you like. I always did stuff I enjoyed, so it didn't feel like a lot of work. I had awesome friends through law school. And with some bias I have to say the graduating batch of 2013 is THE best batch NALSAR ever has had and ever will have!! I've also gotten to know so many great juniors and seniors. So, spend time with friends. It was a lot of fun taking trips and wasting countless afternoons at local dhabas, driving around the city aimlessly, eating bhajjis on the side of the road, etc. — you need to make time for these kinds of things.
Also, I would say plan ahead. Just know what you want to do and where you want to be and make schedules (I have to admit I didn't always do this, but wish I had). You will find that you are hitting your targets and doing what you want to do. Additionally, I tried not to let go of some of my hobbies. I think a lot of people do this, they love to play an instrument or sing, or do something else, and this disappears when they get to law school. Hang on to your passion and continue with it. I tried to continue painting and this really kept me happy. I completed a series of sixteen pieces titled "Shattered Perspectives 1-16", which are mixed media on paper. I created them for the Disability Law Center at NALSAR, and they are now a permanent installation there. The series of pieces portray the importance of law in piecing together the "shattered perspectives" of society towards persons with disability.
What would be your message to students who wish to pursue a legal career in a top-tier U.S. law firm?
I don't think I've come far enough in my career to provide this advice. However, I would say: Start thinking about your goals very early on and seek the right guidance. I wish I had done this earlier. As early as the end of 1st year. I think by the time you reach your 3rd year you realize you've lost a lot of valuable time that you could have used towards internships, experimenting in different areas of law, figuring out what you like. Do this early on. Talk to seniors and graduates, find the right mentors, and work on what you love. I think that will take you where you need to be.