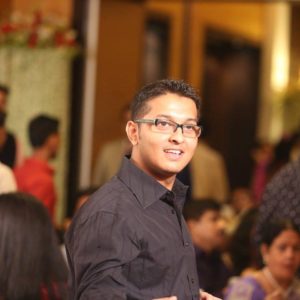 Saptarshi Banerjee is an alumnus of School of Law, Christ University, Bengaluru who graduated in the year 2013. During his college days he was interested in many things, few of them being Chess, Politics of India. Like a Bengali,he is quite fond of the trademark and Quintessential Bengali "Adda" and is a connoisseur of food, especially anything that is deep fried. Unlike many others, he was part of various cells and committees of his college in order to satisfy his interest in multiple law subjects. From an early stage of his career he has had an intention of joining litigation. Starting under the tutelage and watchful eyes of Advocate Ratnanko Banerjee, currently he can be described as a practicing counsel based out of Kolkata.
In this interview he talks about –
His career in litigation
His work experience
His take on litigation and life
His future career plan
HELLO SAPTARSHI, BEING A LAWYER, I GUESS YOU ARE NOT ALIEN TO THE CONCEPT OF THE SUPERLAWYER AND ITS READERS. HOW WOULD YOU LIKE TO INTRODUCE YOURSELF?
For the purposes of this interview, let me introduce myself as an extremely surprised (pleasantly though) person as well as extremely humbled on being asked for this interview.
TELL US SOMETHING ABOUT YOUR CHILDHOOD, SCHOOL AND COLLEGE DAYS.
Oh! As a child I was someone whose guardians have been called innumerable number of times. The kind of child whose pranks and mischief are renowned subjects in the neighbourhood. Often, I was regarded as a rebel for my affinity with logic.
DID YOU TAKE PART IN THE MOOT COURT ACTIVITIES?
Yes I did. My first year was horrible and from second to my fifth year I have always been within the top five teams in our internals but believe it or not I could not go to any of the moots. I did get the runners up trophy in the Rizvi college moot in my second year but I had not been able to go for that either. It was my team that went and I researched. It's most unfortunate and possibly one of the rare things in my life I would change, if I could live it again.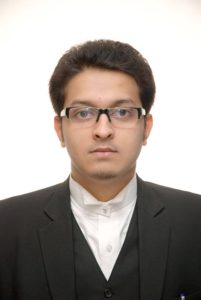 TODAY EVERYONE WANTS TO SEE THEMSELVES IN THE OFFICE OF RENOWNED LAW OFFICES AND MNC'S, WHAT MADE YOU CHOOSE LITIGATION? DID YOU GET ANY MOTIVATION FROM SOMEONE TO JOIN THE LITIGATION?
Too many questions there! Yes I did have motivation. My maternal side of the family always wanted me to take up the mantle from my grandfather. They had tried it with my uncle, my mother, my elder brother and the result was never quite to their liking. I was their fourth attempt and I too had passed on the idea quite early. I like the profession but hated the big fat books from an early age. It was rather in the final year of school when my school counselor impressed with my analysis and my keenness at debating prompted the idea. And it was at this time that the idea stuck around with me. I too had my moments of wanting to repeat a Sachin Tendulkar or take up flying kind of ambitions but then law happened and I am very happy about it. In fact another major factor that drove me towards a career in litigation is my intent to join politics at a latter part of my life. I believe a successful career in law is an ideal stepping stone to a second innings in politics. Well the job thing was never really a factor; I did not even take my placements seriously. The one interview I sat for, I had clarified to them that I was not interested to continue unless they were involving me in real time litigation. In fact ever since the first day at law school, or rather from the first moment I decided to settle for law school, I knew I wanted to see myself arguing in that black robe before a judge. And also knowing full well that every word I speak can either make or break someone's life, someone's fortune.
IF COMING TO LITIGATION WAS A PRE-DECIDED CAREER OPTION, HOW DID YOU PREPARE YOURSELF FOR THE SAME? WHAT ARE THE SKILLS THAT YOU LEARN BEFORE JOINING LITIGATION? WHAT ACCORDING TO YOU ARE THE ESSENTIAL SKILLS THAT ARE REQUIRED TO BECOME A LITIGATOR?
There is no standard rule for litigation. No thumb rule at all. To me it's a lifestyle and you better figure out your own set of lock and keys to that lifestyle. Fali Nariman in Before Memory Fades, gives a sound piece of advice for juniors at the bar. He advises one to think more on a matter than he reads up on it. Litigation is actually dealing with people and words. And every matter, every argument is slightly different from the others. It's really who thinks of it differently and with more clarity. One cannot have a set rule for that.
KINDLY TELL US ABOUT YOUR ENCOUNTER WITH THE BAR EXAM.
That's one exam I wouldn't mind appearing for another time as long as time is not a consideration. It can be described as absolute circus, pure entertainment, invigilators quite insecure in front of the invigilated. It's a classic example of how to waste time and public money because the people at the helm have to once in a while create the illusion of them being at work. Whether such work achieves the purpose or not is the least of their consideration.
HOW IS YOUR WORK EXPERIENCE SO FAR IN LITIGATION? HOW ARE THE SCOPES OF LITIGATION AT THE PRESENT SITUATION?
It is humbling, satisfying, intellectually stimulating but at the same time very grueling and at times ruthlessly heartbreaking. The scopes are as broad as they can get in a recession free industry, but one has to have the gut for it or should have parents to be able to pay for all the hardships. Whether you are successful here or not does not depend on the industry. It depends on how industrious one is and broadly speaking three other things.
1) The senior you chose and if he/she believes that you are one of his/her responsibility
2) The family you come from. Not because without one you are destined to fail but exactly because of the opposite. With one you are destined to be safe and sound for the rest of your life.
3) Your own ability to fall back and get up on your feet. I don't mean it in the romantic way that it sounds but more in the brute way that it is.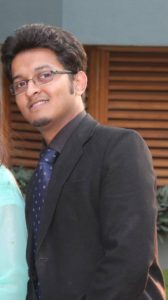 HOW WILL YOU DESCRIBE YOUR ASSOCIATION WITH THE CHAMBER OF ADVOCATE RATNANKO BANERJEE?
I am very proud of my association with his chambers. He has been extremely kind to me and I find myself privileged to work under him. I have no hesitation in accepting how much I owe to him. Very honestly, he is a strict mentor, sometimes extremely scary. But during the few lighter moments that we share as a chamber I see that he does it mostly with a feeling of affection. He will make me feel like terrible news and sometimes I will actually in the heart of my hearts hate him for that. But I know that tomorrow if I do well and if I have it in me to do well at the bar, he will be proud.
CONSIDERING THE HUGE PENDENCY OF CASES IN COURTS, HOW DO YOU THINK THE PROBLEM CAN BE MITIGATED, IF NOT SOLVED?
I think it's a downward slope, especially under the current political disposition. After the emergency this is the first time we hear so much clamor in the judiciary as well as in the media. It's high time to speed up appointments throughout the judicial structure and encourage the use of technology in all departments. If this does not happen soon we will be at a point of no return. I am a firm believer of the fact that this country has gone through many upheavals and one of the few institutions that have held it up from breaking away is the Judiciary. No point in blaming certain individual judges. They come from within the collective that we are, and they are as good or as bad as we get. Sometimes slow, sometimes arrogant, sometimes even ignorant. But there has always been the will and the bar too has played a responsible part so to speak. But nowadays no one is paying attention to the need of speedy appointments. I say the bar associations have a responsibility and must bring the government down to its knee unless all courts have 95% of vacancies filled. Off course I am not advising that bar should influence appointments but the bar should indeed act as a pressure group to ensure that the courts are optimally functional. It's not the battle of the judiciary alone.
WHAT ARE THE CHALLENGES YOU FEEL IN WORKING AS A JUNIOR LAWYER IN KOLKATA HIGH COURT?
Honestly money. And I think there is a strong contingent of old school believers who don't expect a junior to do well unless he is five to seven years into the bar. So the first five years are a struggle.
WHAT IS YOUR AVERAGE DAILY WORK-TIME LIKE?
I am not as diligent as many. I survive. But when I am in full swing I am easily working fourteen to sixteen hours in a day. First, court then the chambers and finally your own research or your own drafting. You cannot neglect your independent work. In fact you hope that the independent work increases because that is what you are ultimately going to ride on.
CAN YOU PLEASE SHARE WITH OUR READERS THE INTERNSHIPS YOU HAVE UNDERTAKEN DURING YOUR COLLEGE LIFE? HOW BENEFICIAL DO YOU FIND INTERNSHIPS UNDERTAKEN IN YOUR COLLEGE LIFE IN YOUR LITIGATION CAREER?
I knew I would be in litigation and I knew I would start from Kolkata. Most people do not know of it so early and it makes sense for them to go out and try variety. But with my conviction in the things I wanted to do, I interned in Kolkata all through and all of them litigation based. I never sent out a single CV to any law firm. Much later in my life I have kind of toyed with the idea of trying something different but I could not give up on litigation. Let's see what follows next. Because now I am also kind of open to the idea of trying at Delhi but I guess I will focus on building something in Kolkata first. But that too has to be a good lit based offer that can make me leave Kolkata.
DO YOU HAVE ANY SPECIALITY IN YOUR PRACTICE? OR IS IT GENERAL PRACTICE?
As a junior counsel you don't have any expertise and you should not have a speciality. You must do everything. I certainly do. But yes more often you will find yourself more exposed to the branch your senior is an expert of and hence I do end up doing more commercial litigation than any other.
FROM A LAW STUDENT TO LAWYER, HOW WILL YOU DESCRIBE THE TRANSITION?
A lawyer is as much a law student just that he starts to learn the art of teaching himself.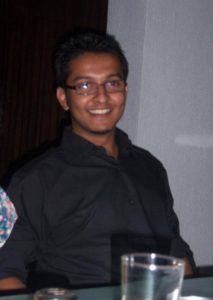 RAPID FIRE QUESTIONS –
ANY RED-LETTER DAY IN YOUR CAREER SO FAR –
Yes when I took up this matter pro bono for a govt employee who had superannuated under suspension and had a stiff situation at home. He himself was a heart patient and had a specially abled son and his medical expenses to take care off. The family of four was living out of an income of eight thousand rupees a month along with all the hostilities life had to offer them. His daughter had approached me through Facebook. With the help of a senior I did get him all his arrears which amounted to something around Rupees fifteen lakhs and that was huge for him. A month later he visits me with five thousand rupees and a box of sweets. Initially I declined the payment but later realised that it means a lot for him to be able to pay me that money and so I humbly accepted. Till now one of the best moments of my life.
IS THERE ANY CASE THAT MADE YOU CHANGE YOUR PERCEPTION ABOUT LITIGATION AND ALSO ABOUT JUDICIARY?
Yes the Hok Kolorob case. Having organised the students and having shared in their expectations it was most unfortunate to see and be a part of it the way the entire thing transpired. However I shall not say anymore on this because it involves a lot many other issues too.
MOST CHALLENGING SITUATION OR CASE FACED –
A case is not challenging as such based on the merits. At least for me as a lawyer, I believe that my case is my case and my client is my client. I have to do the best I can do with that. But the challenge is often in situations inside the courtroom and your ability to muster enough presence of mind to see the situation through. For example when you are supposed to be led by a senior and he gets caught up in another court. I have faced that challenge a couple of times and have fared decently. In fact on both occasions I got the orders my client was looking for.
But yes the Hok Kolorob case and the ongoing Writ Petition of Calcutta Stock Exchange against SEBI are two matters that have given me insights I will treasure.
ANY UNPLEASANT SITUATION –
Many but not fair to float them in public space. Either I will have to blame an individual or I will have to end up explaining my own actions. Neither of which I enjoy. So I shall pass.
DO YOU HAVE ANY PLAN OF PURSUING HIGHER STUDIES IN NEAR FUTURE?
I always wanted to study in JNU may be get a masters in Political Science. But that's more for the experience. I think student life in Delhi is worth the years that it takes.
WHERE DO YOU WANT TO SEE YOURSELF 5 – 10 YEARS FROM TODAY?
I don't know. Honestly don't want to think about it. I just want financial stability, a few opportunities to be able to contribute to the society and do cases that leave one with a sense of satisfaction and feeling of content. If I can do the above I am sure riches, glamour and luxury will follow in due course.
ANY ADVICE YOU WOULD LIKE TO SHARE WITH THE READERS?
If by readers you mean law students then I would really not want you to read this expecting to gain unforeseen insights. May be the trick is to understand that life as a lawyer is full of reality and chances. It's not as funny as Vinny's cousin but it surely is a lot of fun. It will disappoint you immensely if you take up this life expecting to consistently close like Alan Shore or Harvey Spectre. But if you let this life dawn upon you with a feeling that you do know a bit and there is still much more to know, you will enjoy the ride.