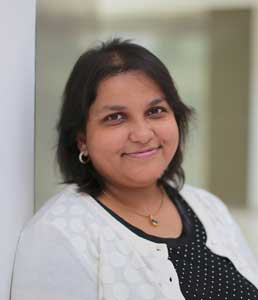 Shweta Bansal a graduate from NUJS, Kolkata, After a successful career with AMSS, she went for the Civil Services. With utmost diligence and determination, she successfully cleared the Civil Services exam. She gives an insight into her childhood, the hurdles in life which she overcame and how she has been able to mould her life into a real success story.
In this interview she talks about:
Her life and journey as a law student
Preparing for the Civil Services
Books and other knowledge sources helpful in preparation
An insight into the interview process
Please introduce yourself to the readers? Please tell us a little bit about your childhood and your background?
I was born and raised in Lucknow and pursued my schooling from the prestigious La Martiniere Girls College Lucknow. My life took a drastic turn at the age of 6 due to a major spinal injury, after which for many years I had to push myself immensely to grapple with a disability. Gradually, with the support of family, friends, and teachers, I continued with my studies. My grandmother has been thoroughly instrumental in my life and is the reason behind my little success story. At the Intermediate level, I studied humanities with Economics and secured a top spot in my class 12th boards. My good performance at school and at extra-curricular activities can be attributed to my teachers, more specifically to Mrs. Bhavna Kalra who taught me the importance of standing up on my own two feet. Thereafter I pursued my law from NUJS and spent few of my most crucial and definitive years there, shaping and building my career in Law.
How was your experience at NUJS? What activities were you involved in apart from the regular academic curriculum?
[sociallocker]
I look back at my experience at NUJS as a great learning experience and despite the struggles I encountered, it provided a strong base to my career in Law. I am a person with a keen interest in a variety of non academic activities and NUJS gave me a brilliant platform to explore various such opportunities to help groom me as a well rounded personality. I fared well academically despite several health challenges and had an opportunity to perform with my college band, participate in fine arts and sketching competitions both at NUJS and at other Fests and Cultural events. I was even fortunate to present my paper at Hong Kong on legal valuation of patents as a solution to farmer suicide due to crop failure.
You secured a job with AMSS. What worked for you in securing the placement?
My journey with AMSS has been the best experience of my life. In 2006 after completing a two and a half month internship with AMSS, New Delhi and I was offered a pre placement at the Firm by Ms. Anuradha RV who has been a constant guide and support throughout my career at AMSS and even after. The work experience and firm culture at AMSS is unmatched and goes a long way in understanding and dealing with different areas of law. My experience at AMSS was exceptionally good and Mr. Shardul Shroff has been like a father figure in my life, Ms. Gunjan Shah and Ms. Purva Chadha played an instrumental role in shaping my legal skills and mentoring me.
When and what inspired you to appear for Civil Services after having a career at AMSS?
Truly speaking I was always keen to take the civil services exam but wanted to establish myself professionally before taking the plunge. I personally feel having an option to fall back upon provides you with the required security to give your best at the preparation level and if one has law as a career, civil services would tremendously compliment it as a career.
How did you manage preparing for the Civil Service exam with your law firm job and other commitments?
I was fortunate to be granted a sabbatical by Mr. Shardul Shroff to help me prepare for the exam.
When did you start preparing for the exams? When should a person ideally start preparation for the Civil Services exam?
Civil Service preparation requires absolute dedication and thus in November, 2010, I took a two year sabbatical leave from my work at AMSS and pursued my preparation. I gave my prelims with 5 months of preparation and cleared it however I couldn't clear the mains due to my Hindi language paper. In my second attempt I cleared all three legs paving my way for the services.
How many hours did you put in for your preparations every day? Is having a fixed schedule or weekly targets important according to you?
The key to Civil Service preparation is consistency and diligence. I would plan my preparation targets on a daily basis and made it a point to achieve them so that there is no backlog created as the material to be read and study is extremely vast. My targeted study period was nothing less than 8 hours daily. Reading of The Hindu daily is a must for any civil services aspirant.
Which were the easiest and the toughest part of your preparation?
The easiest part for me during the Civil Service preparation was to tackle and remember the material provided by the coaching institutes, which hardly constitutes 30% of the entire bulk of study material one has to go through. Moreover I was extremely fortunate to get great guidance and support from Cyril Darlong Diengdoh and Ashutosh Salil who constantly mentored me. The tough part is primarily to figure out the remaining 70% of the study material and syllabus and this makes all the difference. I also faced the mammoth 'Maths' dilemma in CSAT since I had primarily been a student with a humanities background. I consider prelims and General studies papers for the Mains the toughest leg of the entire exercise. Prelims requires a thorough reading of  the fundamental concepts of different subjects and mains requires more focus on the current affairs.Prelims is the first scanning ground so the competition is really tough and negative marking only adds to the competition. Mains in contrast gives you an opportunity to get creative with your answers of course without derailing from the subject. GS paper I and II of Mains require very thorough reading of the editorials and various reports published by the government.
What are the aspects that a Civil Service aspirant must focus on and start preparing for in advance?
I would begin by stressing on the basics, they are the cardinal point of the entire preparation for Civil Services and if one is well prepared with the basics, one can tackle most of the questions. It is also important not to get lost in the sea of knowledge. Instead, focus on a few basic books so that revisions are possible. Since Prelims focuses more on the basic concepts, NCERTS can be quite handy, the Main examination is a combination of basic and current affairs, so your focus should be on newspapers, government reports and government websites.
What were the attributes of your legal education and background which helped you in succeeding in the Civil Service Exams?
A legal education and background definitely helps in the civil service preparation especially in Polity and General Studies Paper I and II of the Mains. Certain topics are common between the Law paper and Public Administration so that makes life easier. Also having studied law equips you with analysis and digging of most concepts and thereby providing an added advantage in writing answers. My background as a lawyer went a long way especially in my interview as most of my interview questions were based on law.
What is the importance of CGPA for law students especially for Civil Service exam aspirant? Does it make any difference during the interview?
CGPA is important and it is a reflection on the attitude and seriousness of a student but it does not per se reflect upon the merit of the person. Thus it makes a good impression to have a good CGPA but it is not the only factor that determines the merit of a student.
Tell us about your interview? What kinds of questions were asked by the interview board?
My interview was conducted by a 5 member panel headed by Mr. P.K. Mishra. The panel is always well read and grills you on the basis of your mains form. The major thrust of the questions was about my take on various socio-legal issues like Khap Panchayat, live-in relationship, decriminalization of S. 309 of the Indian Penal Code which criminalises attempt to commit suicide, the Aruna Shanbaug case. My legal background and extensive work experience also helped me tackle questions about good governance and withdrawal of subsidies. The panel also intended to assess my perspective on various problems and my ability to provide a solution for the same, for instance, crimes against women and measures to curb and tackle it. During the interview the objective of the panel is multifaceted since they assess your overall personality and knowledge. In fact the panel asked me to sketch one of the panel members within 30 seconds, since they read about my interest in sketching. The interview is both grueling and unpredictable.  It is very important to maintain your calm and be absolutely honest with the panel. Mr. P.K. Mishra was a great help in my interview once he realized I knew my stuff. He discouraged excessive grueling by other members.
For the meantime, before your training period starts, you are holding the position of a Consultant with AMSS. What is the nature of your consultancy with AMSS and has your role in the firm changed?
I came back to AMSS after my mains in 2012 to work with my mentor, Mr. Shardul Shroff on a unique role which has absolute administrative bearings and nothing to do with the transactional work of the firm. At the moment, I aid the firm with regards to firm development and handle the administrative concerns and issues.
What would be your message for law students who are preparing or planning to prepare to appear for the Civil Service exams?
The thumb rule should be firstly to focus on your education as a law student, studying and working towards making one's basics strong. It is exceptionally useful in Civil Service to hold a law degree but before plunging into Civil Service preparation one should secure themselves a career to fall back upon as civil services can be a gamble. Education, work and then Civil Service has been my strategy as I believe that one should never put all their eggs in one basket.
Lastly, what would be your message for the readers who want to pursue career in Civil Services?
There is no substitute for hard work and diligence. Consistency and dedication goes a long way in achieving the desired result. One should regard coaching institutions as a very small part of the Civil Service preparation and should rather focus more on self preparation and self study. Be honest in your preparation and give your best. The outcome is never in your hands but the effort is. Civil services requires focused study so its important to isolate yourself socially till you are done with the Mains.[/sociallocker]