Surabhi Modi is an outstanding Fulbright scholar from Delhi University. She is an ardent reader; research scholar in films and literature and a successful entrepreneur in the field of legal education. She is the managing director of Team Satyam, Clat Possible tutorials, which was conceived in Lucknow but is now a leading name in legal education and amongst tutorials nationwide.
Surabhi talks about:
Her interests and journey as a scholar.
Her entrepreneurship in the field of law and the success of Clat Possible.
She discusses the viability of CLAT and her take on CLAT 2015.
Her mantra to law students in the area of entrepreneurship
Please introduce yourself to the readers? Please tell us a little bit about your childhood and your background?
Introductions are most difficult I must admit. I'm an educational entrepreneur and erudite. I'm currently the managing director at Clat Possible, which I must proudly admit is India's fastest growing law test prep brand, currently at number 2 in terms of volume in its very young existence of just 4 1/2 years. I love studying which explains the fact that I'm doing that still, I'm a research scholar in films and literature. I've graduated from Hindu College, DU and received a Fulbright Scholarship from UC Davis in 2009. I'm an avid reader and promote reading through a small Reading Café. I'm also a movie buff and screen films for my students. I'm planning to start small film appreciation courses at various colleges as well.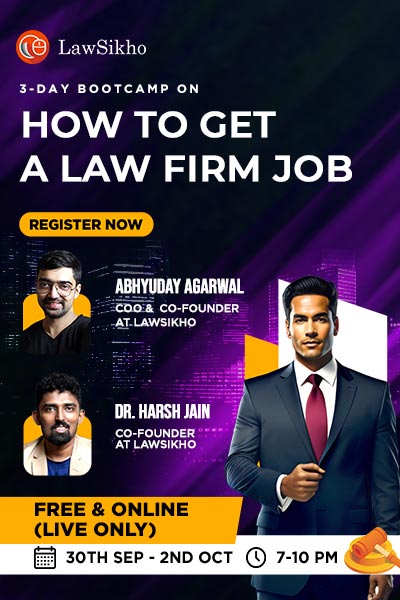 You have an exceptional background in English literature and have also been a recipient of the prestigious Fulbright scholarship. Tell us something about it.
The funny thing is that I started out as a science student. I was a very curious case of misplaced love towards subjects and wrong career counselling; which is why I make a good career counsellor as well!! But eventually I had the good sense of pursuing this subject professionally and taking it forward now that I'm doing my PhD on it. Because I have always been a reader right from my school days, I always got 90 + in high school and intermediate I was comfortably able to switch to English. I loved classics and gender studies even when I did not understand the terms; so I had introduced myself to Doris Lessing, Mahasweta Devi and these helped me in getting my scholarship.
Without much background, you decided to pursue your entrepreneurship in the field of law? What gravitated you towards law?
Frankly, we were earlier only into PG entrances like CAT etc, when my friend from NLSIU brought to us his venture for law entrances. I agreed to take it up just because he was my very good friend and then I did not read much into basic details like what is market size of this product etc. We started extremely small with 8 students. all wards of lawyers or judges. Then there was no CLAT, all law schools held their own exam and we only looked at NLS, NALSAR and NUJS and also NLIU. We sent at least 7 to the NLUs from the 8 that we taught. It didn't make business sense but the kids were very bright and it was a happy change. Next year we enrolled 17 students and that year 2005 I was even getting married so my family imposed a curfew on me for 2 months and you won't believe these kids started coming instead to be taught by me. Now that really endeared us to this product and here we are today 4000 students plus and yet all very dear to us.
Our passion is only fuelled further with the love these kids give us, for example this interview was requested by my very dear student Gargi. So each of us at CP would go the extra mile for these students, who in turn reciprocate our love and care. We are not perceived as coaching wala but as friends and mentors  and that's my most prominent achievement. I've successfully broken the traditional 'coaching' mould.
You are a founding member of Clat Possible. Please tell us about ClatPossible and its verticals. With so much of competition existing in the coaching and teaching field, tell us about your journey with Clat Possible so far.
So I think I got carried away in the last question and really did answer it there, now that I see it had asked me only about how I started. Sadly, brevity surely is not my talent.
In your opinion, what makes Clat Possible different from its peers?
As I had mentioned earlier, which I reiterate; CP is not just a coaching centre. It has become (thanks to my supremely talented and highly qualified team) a mentorship program. The real reason being that each one of us has voluntarily opted for this career leaving behind great careers if I may say so or rather acceptable careers in mainstream education (which is me), FMCG sector (Satyam Sahai, Founder after his MBA) and my other colleagues who have come from Amarchand, Luthra etc. So our job doesn't end at teaching reasoning, we help the children grow and gain confidence.
We screen movies, hold talks on books, engage them in a parliamentary debate, hold mock parliaments, summits, policy summits. Now how these exercises one might ask are relevant to CLAT? Well, they are. The research involved would eventually help them in GK. A film might help them with language and their EQ and everything is relevant for learning which should be liberal and not skewed. Most of my colleagues are very well read and are national level debaters, researchers and mooters. Now that team can just not sit and teach a syllabus in a pedantic mould. Honestly most of us will die if we do not innovate and you see our results which are living examples of how are innovation and maverick style has helped do many students successfully join law schools and with such aplomb they are carrying themselves there. So we don't just give the NLUs we provide them with confident students.
Do you provide any work opportunities for law students? Do you recruit undergraduate law students as part time faculty?
Not just part time- we are regular on the place com and recruit NLU talent for various roles where teaching is only one!! There is R & D, operations, franchise management, HR and even opportunities at business partnership. We are a regular firm with a proper hierarchy and roles.
What are your views on CLAT and its viability and standard as an entrance exam for premier law schools in India?
CLAT is a decent exam but has a lot of underutilized potential. Its undoing if ever there will be would be the fact that it is fraught with errors and ad hocism. It still needs a structure which needs to be followed sanctimoniously. There are also many question types to it that are obsolete and need revision. I really loved the question papers that came when there was no CLAT. Each law school had good questions and really did test aptitude in the true sense of the word. If CLAT could revert to that kind of questioning the exam would get into an international league.
CLAT 2015 is most likely going to be Online; how do you think students should get themselves prepared for an online exam?
The basic fundamental learning would not change. The only difference would come in in the platform where the paper would be supplanted by the screen. A much easier option I tell you. A computer based test is a very convenient thing for both the organisers as well as the students (if they are comfortable with on screen reading). Anyway nothing is sure now but it will happen one day for sure. As it removes a lot of hassle of printing and exam leakage and even costs.
The students just have to practice a lot of taking exams from screens. They need a good interface and a great test engine to give them real time experience. But as I said the fundamental prep remains the same. We are now giving all handouts also on the student account of CP and the students have an option of writing both the mocks and other practice tests online. So there has to be loads of practice of sitting on the computer for more than two hours and continual reading with unwavering attention. Maybe aside from test taking students read their newspapers and magazines online to help them get into the momentum. Even books, good time to go Kindle.
Being a law and CLAT mentor, any advice to students preparing themselves to give the CLAT exam and entering into law schools.
The single most relevant advice to all CLAT aspirants and even otherwise is; start reading newspapers. Most of your career woes will end there. All issues regarding learning good English, GK, reading, concentration and even reading speed will enhance. So I'm not asking for the moon. It is just a small life style change from not reading the newspaper to reading one. After you're done just come to CP and you'll be mentored so thoroughly that an NLU would just be one of the benefits.
What are the prime hurdles that a non-lawyer entrepreneur has to come across?
In the lawyer world? None. Infact you are trusted more for the fact that you are not a liar….. sorry lawyer. Ha ha. But really none. And maybe that can be attributed to the fact that lawyers are a discerning people and when they see talent they respect it. I'm friends with so many lawyers and judges now, even VCs who appreciate my work, who want to work with me or who entrust me with the career of their wards.
What does it take to be an entrepreneur? What are the three great skills of an entrepreneur according to you? What differentiates the best and the rest?
Entrepreneurship is a big word and is even taught as a subject in B Schools. And I have no formal training in it which is just as well. Whatever I know today, I know from experience and more so from the whip learning from my husband who as the word goes is most intolerant of any shoddy work on my part. But yes, I've learnt a lot, had my share of struggles and now I can say each entrepreneurship experience is as unique as your DNA. Nonetheless it has some essential ingredients which from my experience I believe are:
Leading from example
Eye for detail
Knowing when to delegate
And they are in their order of priority. Till date I have no qualms about doing ground sales, waiting for meeting principals and clients for hours each time we open our centre in a new city, eventually to be turned down or getting no audience with that principal. I have to do these things still because I know I do them best, I have resilience and also I'm the best sales pitch in the company. Now no one on my sales team can err or give up because they see me. I do not sit on a high chair saying it's below me to meet individual clients and schools. As an MD and mentor most VCs welcome me and/or invite me and I have respect in my circles but the moment I become the business woman I get my share of 'please come another day, the principal is busy.' The beauty lies in this irony. I'm invited a judge or chairperson for a debate by the same institutes who would later reject my proposal.  Yes, there is a marketing team and a sales team but we all work together. Every new city sees me as the first face and we move on.
Lastly, what would be your message to law students and young lawyers who want to pursue entrepreneurship?
Please do so by all means, contact me at surabhi@clatpossible.com and let's become entrepreneurs. It definitely has its shares of lows but then what doesn't. but the sense of achievement the first 1000/- bucks you earn gives you may not come from the 1 lakh salary. Abstract as it may seem in thought it is just as tangible in experience. The joys of entrepreneurship are cathartic, however one should be ready to sweep one's own room, shine the plate that says MD and then sit with aplomb in the room and play MD.