Subhradipta Sarkar graduated from Calcutta University with a BA LL.B degree in 2003. He then specialised in Human Rights Law while pursuing his Masters at National Law School of India University, Bangalore. His internships include the National Human Rights Commission as well as the United Nations High Commissioner for Refugees. Before becoming an academician, he worked as a Law Research Officer at People's Watch, a human rights NGO where he worked for around two and a half years. He also had the opportunity to work as a Lecturer at BILS and as Assistant Professor at MATS Law School.He is currently teaching at ITM Law School, while pursuing a Ph.D from NLSIU on Crisis/Emergency/Disaster Management.
In this interview he talks about:
Specializing in Disaster Management and Human Rights
Working at People's Watch
Being a teacher and academician
Tell us a bit about your childhood and pre-college life as well as educational background.
I hail from Balurghat, a small town in West Bengal. I am the only child of my parents. Incidentally, my father is a lawyer who has a long experience of practice in the District Court. My mother was a strict disciplinarian and was very concerned about my studies and future. And today whatever I have achieved, I owe a great deal to my mother's sacrifice and tenacity during my school days. I went to a Bengali medium Government High School. During my school days, my reasonably decent academic achievements might have prompted my mother to dream of me becoming a doctor. To be honest, coming from a small town with no concept of career counselling I am not sure whether I was geared up for a career as a doctor. However peer pressure and family pressure compelled me to go ahead. Fortunately and expectedly, I failed to clear the medical entrance exams. Otherwise I could have never gotten the opportunity to study law.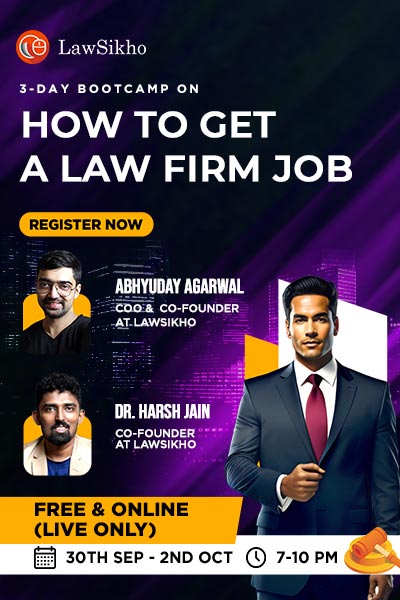 How did your interest gravitate towards law?
I never found interest in the core science subjects even though I continued to score marks. I was more interested in debates and reading newspapers/magazines for enhancing general knowledge. I always wanted to utilise my interest in pursuing my studies. Of course, I never got encouragement from home in pursuing law despite coming from a lawyer's background. I remember when I first expressed my wish to become a lawyer, my mother started crying. My intuition told me that I would enjoy this course and I went ahead on my chosen path. Since then, I have never regretted for that decision.
Having graduated from Calcutta University and pursuing LL.M from NLSIU what were your areas of interest? How did you go about developing expertise and knowledge in these areas?
My graduation from Calcutta University is B.A.LL.B. without any specialisation. However, I found interest in IPR and Corporate Law. After clearing NLSIU Entrance Exam for LL.M., I got myself registered as a Corporate Law student. While doing a book review as an assignment in Research Methodology in the first semester, accidently, I picked up Neera Burra's book Born to Work: Child Labour in India and that changed my interest and vision altogether. This book prompted me to read more books on Human Rights. My interest in Corporate Law diminished and I wrote to the PG Council to change my specialisation to Human Rights Law. Subsequently, I went on to have invaluable experiences interning at National Human Rights Commission and United Nations High Commissioner for Refugees. Particularly, the UNHCR internship provided me with practical exposure to deal with human rights issues including interviewing Afghan refugees through interpreters. This was something I have always treasured. In fact, my LL.M. dissertation is on refugee law.
Before becoming an academician, you worked as a Law Research Officer at People's Watch, a Human Right NGO. How was the experience?
Excellent. Working at People's Watch gave me an edge which many of my counter parts in academics never got. While doing my LL.M., I wanted to work with UN agencies and for that I wanted to start in the real world with Human Rights NGOs. Professor Vijayakumar recommended me to People's Watch. Hence, it was kind of campus placement for me. I ended up in Madurai. I was extremely fortunate to work under the guidance of Mr. Henri Tiphagne, who is the Executive Director of the organisation. He is an extremely good strategist, with superlative oratory and writing skills and one who knows the law very well. I am thankful to him for shaping my early career. I had the opportunity to work with some socio-legal issues like the STF (constituted to nab Veerappan) violence, caste atrocities, custodial violence, post tsunami relief and rehabilitation, etc. Had I not gone for that job, I would never have the opportunity to witness the actually working of law in the real world.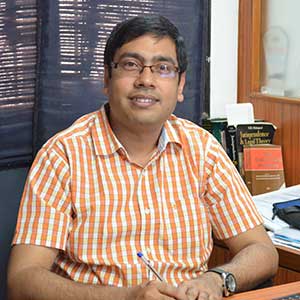 How did you decide to go into academics?
After working for a couple of years with People's Watch, a few things were bothering me as I was increasingly getting annoyed at the donor driven agendas of NGOs. Secondly, eulogising hardcore criminals and advocating for their protection of human rights were somewhere pricking my conscience me as I believed that it was a partial view of the entire truth. Furthermore, I was also not visualising long term growth in my career by confining myself to Madurai as I neither had roots nor knew the local language. I was getting suffocated by work with predetermined agendas and wanted to express myself more freely and independently. Those things prompted me to leav Madurai and migrating to Bangalore to join academics. Additionally, I always felt that many teachers cared little for our issues/problems from our perspective rather they imposed theirs on us. They did not travel an extra mile in making studying law easier. I wanted to change this attitude and that is only possible if I take up teaching.
What do you like best about teaching at ITM Law School? Which subject(s) do you teach? Which one interests you the most? Why?
ITM is a very professional organisation. There is always a pressure to achieve more as they always push you to go further in enhancing your academic capabilities. There is academic freedom with accountability. I teach Law of Torts and Jurisprudence. This semester I am offering a course, namely, Disasters, Development and Human Rights, to LL.M. I like teaching Jurisprudence.
This is a subject which law students generally hate and I like the challenge to make an all out effort to make them love the subject. I feel that if one can understand the fundamentals of law then understanding any kind of law will never be a problem. I am glad that every year I have been successful in influencing a bunch of students to study the issues analytically utilizing legal theories of various jurists. I even started a Facebook group called 'Jurisprudence for Fun' where I post many legal news and opinions. I encourage students to comment on them. I also have a Whatsapp group with students where I discuss about many legal problems outside the class hours. They help me to stay connected with them.
You have authored various papers in many reputed Law journals. What role do publications play in the life of an academician?
I strongly believe in the saying for academicians: 'Publish or Perish'. This is more appropriate for law teachers and researchers. Unlike our counterparts in engineering or medicine, we do not have labs or equipments for demonstrating our research skills; and therefore, publication is arguably the best method to demonstrate our novel ideas. One example I may provide from my own experience. In 2006, I published a critique of the Disaster Management Act, 2005 in Economic and Political Weekly. This was well-taken by many and brought recognition to me because at that time very few scholars had researched in this emerging area from legal point of view. The article was even cited by the 2nd Administrative Reforms Commission in its report on 'Crisis Management'. It enhanced my interest in the area too. Subsequently, I was asked to do a book review and write monographs in disaster management. I did my M.Phil. in the area and now I am also pursuing my Ph.D.
What, in your view, are the few most important skills that law students should strive to acquire in order to write research papers effectively?
Good oratory and writing skills are sine qua non for a good law student. When you write you tend to think logically in an organized manner and endeavour to make others understand and appreciate your contribution. Keep those things in mind when you write a research paper. You can write in any area of law you have interest. Just don't write for the sake of writing or to add a line in your CV. The reason is that if you have interest in an area, you tend to undertake elaborate literature review to find the missing links to contribute. Then focus on one problem in the area and go ahead with the same. That's the way you develop expertise. I have come across academicians who write in numerous areas – from space law to land law. They add up to their publication number list but I don't find them in contributing meaningfully in any area and they are not considered as 'experts' in any of them. So limit your areas of research and expertise because that is actually feasible for most of us.
In the meantime, you managed to pursue Master of Philosophy in Crisis/Emergency/Disaster Management from NLSIU. When did you realise the importance of an M.Phil. in your professional profile?
M.Phil. happened to me by accident. I was involved in various field researches in post-tsunami context. At the same time, law and policy regime in India regarding disaster management was in its nascent stages. So, Prof. Vijayakumar of NLSIU advised me to put down all the work I was doing in form of academic work. I went on to comply with his advice. M.Phil. helped me in numerous ways. Besides adding an academic degree, while undertaking the research, I read significantly about various aspects which certainly enhanced my knowledge. It also laid the foundation and encouragement for further research including my Ph.D.
At present, along with teaching at ITM Law School, you are a Doctoral Candidate at NLSIU. What made you pursue a Ph.D.?
Most importantly, Ph.D. is essential for promotion in academics as per UGC norms. There is also a demand for good law teachers with Ph.D. Besides career advancement, I wish to make a genuine contribution in disaster management – an area in which I have developed keen interest. Moreover, there is no book available in India from the law and policy perspective. I aspire to become one of the earliest and meaningful contributors in this regard.
What is your topic of research for Ph.D.? What was your motivation behind the selection of that topic?
Natural disaster management and implication of international law. As already explained, I have worked in coastal areas of Tamil Nadu after the Tsunami of 2004, wrote research articles and monographs on this issue, and pursued my M.Phil. in this area, so it became an obvious choice.
How do you manage your research for Ph.D. with your work?
It was a bit difficult and stressful. I try to utilize the time after a day's work. Working for few hours every day is helpful. I have certain plans to do some empirical research during the holidays of the university.
Describe an outstanding teacher. What do you think makes this educator outstanding?
The most important quality of an outstanding teacher is command over the subject. Essential qualities includes excellent oratory skills, ability to explain very difficult concepts in a lucid manner, approachable, good understanding of students' psychology, and fiercely impartial in judging students' affairs. He must be an inspiration for the students to follow in their lives. I have come across few teachers, especially Prof. Vijayakumar, Prof. M K Ramesh (both from NLSIU), Prof. Shanthakumar (my mentor), whom I consider as outstanding. May be each of them did not possess all the qualities that I have mentioned but indeed I learnt a lot of things from them and I have endeavoured to put them in practice in my case.
Do you think students should behave with the professors like friends, or is it necessary to maintain a disciplined environment to create a good classroom environment?
Both are important. While friendly relationship is required in facilitating the students in asking questions and clarifying their doubts without any inhibitions, maintaining a disciplined environment is also important. Students have to realize that probably a true teacher is the only person other than their parents who selflessly strive for their successful future. The only thing we look forward to in return is respect.
What do you think is wrong with public education today?
Where is public education? Everything has become private. Be it school or college, it has become so expensive that public cannot afford it. Despite being state institutions, even the National Law Universities charge through the roof. I would have expected the State to pump in more money in education so that more and more students from the middle class get an opportunity to get the highest quality of education. Otherwise in a wrong run, we will lose many smart brains only because of enormous educational fees.
Also do you feel any changes need to be introduced in the current legal education system of our country? What do you, as a law professor feel has scope for improvement?
More emphasis should be given to the component of clinical legal education in all subjects. Teachers must be given credit hours of teaching for their involvement in such activities and students should be assessed for their part in such activities. As of now, Drafting, Pleading and Conveyance, and Professional Ethics are considered as clinical subjects which essentially become taught courses. Besides, the simulation exercises are included which are not concerned with real cases. Rather, I would prefer students being attached with legal services authorities assisting the courts, consumer forums, government departments, public bodies in dealing with legal problems or even paralegal works in various fields and that would have a social impact. Otherwise, whatever we do in the law schools have no impact outside the boundaries. And if we can formally integrate them in the course curriculum, then it would not be left to few enthusiastic students but the whole student community would be involved.
Any important things which law school didn't teach you but 'teaching' did?
Law school helped me to comprehend any legal topic for my own consumption alone but as a teacher, I have to put myself in the shoes of almost all the students including the worst student in the class. Now I have a responsibility for the performance of the entire batch.
What are your long-term goals? What do you plan to accomplish in the coming five years?
First of all, I aspire to complete my Ph.D. Then I would prefer to leave academics for a while and go and work in the field for any governmental/non-governmental/UN organizations dealing with disaster management. Subsequently, equipped with considerable practical knowledge, I want to come back to the classes. I guess such amalgamation of theory and practice would make my lecture delivery more meaningful and real.
What would be your advice for law students who want to take up the profession of teaching?
Take up teaching only if you have a passion for it. You should be prepared to learn throughout your life and study systematically for that. Well-read teachers are revered the most by the students. No part of the subject which you are going teach can be earmarked as more or less important. Students may ask you anything to quench their thirst of knowledge. Be bold to admit that you don't have an appropriate explanation for a student's enquiry. Come out of the class and try to find the answer. Relax, you are not God but a human being after all. Don't try to trick the students through elusive explanations. They will soon find out the truth and paint a negative picture of yours. Remember, teaching is a unique job where you will primarily be apprised all your life by people who are junior to you in all aspects. You need to be an efficient manager to control a diverse group of students who are in the class for varying reasons. If you fail to manage the class, you will always be a failure despite all the knowledge you may possess. And never hesitate to act in just and fair way, even if it makes you unpopular for time-being, you will always gain in a long run.