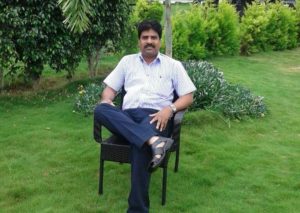 Mr. Surendra Naik, Additional Collector and Additional District Magistrate, North Goa, graduated in law from V. M. Salgaocar College of Law in the year 1999 and shares his views and experiences in his long and successful career. This Interview was conducted by AJAY BORKAR of GR Kare College of Law
IN THIS INTERVIEW HE TALKS ABOUT:
1. What could be a short introduction of yourself?
A humble ordinary citizen of India, with zeal for social work and to contact with common people, to work for their cause.
2. Please elaborate on the motivating factors which helped you in choosing legal studies?
Right from my childhood, I always dreamt of being part of the Indian judiciary since my father always wished that I either become a lawyer or a judge.
3. How would you describe your academic career while at V. M. Salgaocar College of Law, Goa?
I did my three years degree course in law in V. M. Salgaocar College of Law. I was privileged to have good faculty, who introduced me to the various legal aspects and assisted me in understanding them. I was ranked 1st in all three years at the Goa university.
Further, as the institution was located in Panaji which is a hub for lawyers, I had the opportunity to intern with advocate F.E. Noronha in Panjim, wherein I gained some practical knowledge of dealing with the clients and attending cases in court.
4. What role do you think mooting plays in a law student's life?
I hold moot courts at a very high esteem. I think each and every student of law should compulsorily participate in moot court. It enhances their power of understanding and analysing legal situations and enhancing their power of arguments and plays a major role in their overall personality development and legal ethics.
5. Please tell us about how you decided to pursue your career in civil services? Were you considering any other opportunities?
After completing by graduation in law, I applied and received Sanad from the Bar Council of Maharashtra and Goa. Also, I joined the chamber of Adv. F.E. Noronha in Panjim, who was basically practicing in various Civil Courts, Tribunals, Revenue Court and also in the High Court of Bombay at Goa. I had an opportunity to work with him for about 7 months. During this time, there appeared an advertisement for post of Mamlatdar, Joint Mamlatdar and Asst. Director of Civil Supply through GPSC, for which I casually applied.
Thereafter I received a letter for written examination for which I appeared and then I received a letter for oral interview by the GPSC and subsequently I topped the said examination and oral interview and was ranked first in the selected candidates and immediately thereafter I received appointment letter as Mamlatdar. I always wanted to be a Civil Judge or Judicial Magistrate First Class, but during that time there were no advertisement of civil judge. The requirement was 3 years practice as lawyer which I could not fulfill.
6. What has your experience with legal education been like and how relevant do you feel it has been to your profession after graduating in law?
As per me, my legal education has helped me immensely. It changed my attitude and my way of looking towards everything. Qualification in Law was the basic requirement for the post of Mamlatdar. It also helped me immensely in discharging my duty as Presiding Officer of the Revenue Courts and also for performing many other quasi-judicial functions.
7. What are your main responsibilities as the Additional District Magistrate of North Goa?
Presently I am posted as Additional Collector and Additional District Magistrate, North Goa. My primary functions are mainly Administrative and I also carryout Quasi-Judicial functions under numerous Acts like the Mamlatdar Court Act, Land Revenue Code, RTI Act, etc. The criminal jurisdiction includes maintenance of law and order and various other preventive actions. I also have a duty of granting arm licenses under arms Act.
8. Do you think the level of law studies has gone down as compared during your time?
I don't agree with this. However I think that as the time progresses, the law colleges are becoming more and more professional and training its students in various aspects. Even the introduction of 5 year course is a great step towards legal education. I think compared to our time, there is a lot of improvement in legal education and imparting of professional training to law students.
9. How do you manage your personal and professional life? Do you keep both separate?
Apart from professional life, one's personal life is equally important. And one has to strike a perfect balance between both of them, if your personal life gets disturbed it also adversely affects your professional life. So you should also give time for your family.
10. Where do you see yourself after your retirement?
I think there is nothing like retirement in life. One should always keep on continuously contributing to society. Government service is just one phase and there are various opportunities for a competent person to contribute to the society, even after attaining the age of superannuation. One must always keep his body and mind healthy to live life to its fullest satisfaction.
11. Do you have any advice to all our readers out there?
It is only hardwork which is the key for success in any field and there are no shortcuts. Shortcuts are only for short term benefits. It is only hardwork which gives you success on long term basis. Overall apart from your hardwork there should always be honesty in whatever you do.