Ujjaini Ghosh graduated from NUJS, Kolkata in 2006 and went on to pursue her BCL from Oxford. After her BCL she joined Herbert Smith, worked at Linklaters, Singapore with the banking group, and eventually graduated to Deutsche Bank in January 2013.
In this interview we speak to her about:
Her time at Oxford
Working at Linklaters
Her experience with Herbert Smith
How would you like to introduce yourself to our readers?
Well to put it in a nutshell and assuming that the readers are from NUJS, I would introduce myself as an alumnus (batch of 2006) of NUJS who spent some of her best and formative years at this institution, grew as a person, made amazing friends and now looks back fondly and maybe with a tinge of nostalgia at those years gone by.
Post NUJS, I joined Oxford for my BCL in 2006. After completion of my BCL, I joined Herbert Smith as a trainee solicitor and qualified as an associate in the finance division. I eventually moved to Linklaters in Singapore where I worked as an associate with the banking group and in January 2013 moved to Deutsche Bank where I am currently working as a legal counsel in the global transaction banking department.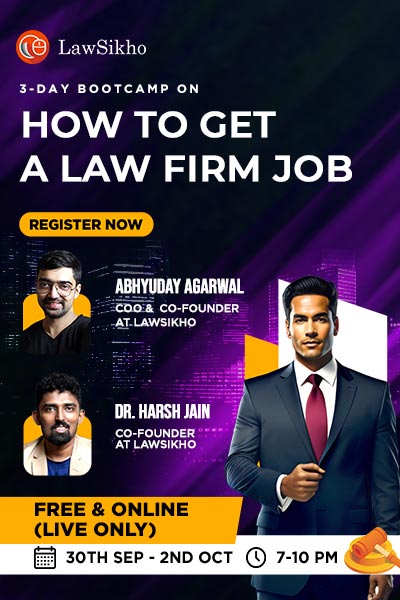 Why and when did you decide to do law?
To be honest, I decided to do law at a point where law was fast becoming a popular career option after engineering and medicine and I knew for sure that I did want to become a professional and make a difference though not necessarily in medicine or engineering! I joined NUJS after studying English honours for a year at St Xavier's College, Calcutta.
It was during my five years at law school that I realized that studying law was probably the best decision I could have made. NUJS was very interactive in its teaching methods and I could clearly link the knowledge of different spheres of legal education to the individual, society and corporations. More than the subject itself, it was the application of the subject that interested me.
How was studying at NUJS like for you?
The question does make me feel ancient! Studying at NUJS was a very interesting and a brilliant experience, an experience that transformed my personality, made me aspire, made me ambitious and taught me to drive myself as hard as I could. The ambiance, the faculty, the students, the activities made five years literally fly by. NUJS was not just about studies but it was also about the multitudinous activities on offer. I do remember taking part in moot court competitions, cultural activities such as singing, dancing and theatre, coordinating seminars and group discussions, being part of various committees, assisting in legal aid projects and the list goes on.
Life at NUJS ten years ago was very inspirational for the students. We were part of a fledgling institution and each one of us as students were driven by this urgent need to not only prove ourselves but also to make NUJS reach greater heights. The institution had an incredible moot court society which brought in awards with limited resources. The close knit student community made life in the hostel a lot of fun and the faculty members were not just "teachers" but friends and in some cases confidantes.
What sort of internships did you do while in college?
My internships were varied. I interned with Sanlaap (an NGO in Calcutta),  the trial court in Calcutta, Delhi High Court and law firms such as Khaitan and Amarchand & Mangaldas. I also interned with the Singapore International Arbitration Centre and Wong Partnership in Singapore. All the internships have played a defining role as these helped me understand how law worked in the practical world and also provided me with a better idea of what I wanted to do after law school. The internships were a stepping stone towards shaping my career. It's just been seven years since law school so there is a long way to go!
What was the first thought that came to you when you got your acceptance letter from Oxford?
I was ecstatic and actually cried with joy! The experience was brilliant.  The academic curriculum, the students and Oxford the town itself made the experience worthwhile. The BCL is an international course and draws students from all over the world. I made some amazing friends who I am in touch with till today.
What made you go into the corporate sphere of law?
The internships did help in making me choose my area of specialization. I found myself natural leaning towards corporate law as compared to other areas where I can see myself making an effort.
Would you take us through the application process for Oxford?
Applying to Oxford is similar to applying for any top rated LL.M program in the world. I would say to apply straight after law school requires some planning in terms of studying methodically, participating in extra-curricular activities, preparing good essays and actively seeking out references.
What was it like working at Herbert Smith?
Working at Herbert Smith was a fantastic experience. The training program is very thorough and the six months spent in each department goes a long way in understanding different areas of legal practice. The learning curve was steep but the kind of confidence and knowledge that I acquired is unparalleled.  I learnt a lot from the partners, the senior associates and my peers.
Could you enlighten us, in brief, on the particulars of Islamic finance and your role in the Finance Team at Herbert Smith?
I was an associate in the acquisition and leveraged finance team at Herbert Smith and subsequently Linklaters. The work has been varied ranging from vanilla lending to secured syndicated finance deals to highly leveraged secured deals.
Islamic finance to me is simply finance deals that are structured bearing in mind the principles of Shari'ah law e.g. there is no reference to interest in the documentation. However at the end of the day, the basic essence of financing remains the same.
How does it feel like to be Assistant Vice President – Global Transaction Banking at Deutsche Bank?
It's proving to be enjoyable and challenging at the same time. I am part of the transaction banking front office team which means I get to liaise with the different business teams on a daily basis. Its fast paced and solution oriented. Along with legal knowledge, I am expected to understand the various products that are offered to clients and draft/review documents and advise clients on the implications of different contractual arrangements. The work involves dealing with liquidity management products, international fund transfers and trade finance.
Deutsche Bank is a very fluid organization and I can see my role changing and growing as I grow with the business team.
What do you think of the young law graduates/students and the standard of education in the field currently?
I think very highly of them and they are definitely a very focused lot. I have not been deeply involved with the academic field for the past seven years so it's difficult for me to comment on the standard of education. I do feel that along with theory there should be a focus on the practical implementation of law.
Any advice you'd like to give to young lawyers who hope to follow in your footsteps?
I am sure that every young lawyer will be able to chalk their own path, but I would definitely encourage them to enjoy their years at law school and subsequently the practice of law. I would urge them to do what they want to do and not get bogged down in their fifth year and the first few years of legal practice by comparing themselves with their peers or superiors. Each lawyer is unique in his or her own way and there are no set rules to follow.  In seven years, I have learnt that its best to not take oneself too seriously or set very high targets but at the same time to enjoy learning and give 100% to whatever work I do at any point of time. Trust me, success follows when you can give as much as you can to your profession and yet manage to enjoy yourself at the same time.