Varun Sriram graduated from Symbiosis Law School, Pune in 2006 and thereafter also qualified as a Company Secretary Course from the Institute of Company Secretaries of India. He is currently a Partner at J. Sagar Associates, Chennai and practices mainly in General Corporate, Mergers & Acquisitions, Private Equity and Banking & Finance. He has over ten years of work experience in corporate legal work.
In this interview he talks to us about:
His law school life at Symbiosis Law School Pune;
The essentials of a good corporate lawyer;
His experience and work strategies for ruling the corporate market;
Opportunities that a corporate practice has to offer;
His views on the current demonetization of high value currencies and the new Insolvency Code; and
His fondness for corporate and commercial laws.
What interests or influences propelled you to pursue law as a career? What other options were you considering apart from law and how did you make the final decision?
It wasn't out of any specific interest at the beginning. Interest grew over a period of time, over a few years into practice. I took up a science group in eleventh standard since most of my friends chose science and I wanted to continue to be in the same class as them. It was during my mid-term that I started considering options for higher studies mainly due to peer pressure. I knew science wasn't my cup of tea and I should not continue in that stream. I asked the school principal if I could change streams to commerce and she was gracious to agree. I joined the commerce stream just a week or two before our half-yearly exams and aced business studies, economics and accountancy.  That's when I knew what my fundamental interests/strengths were even though I was not sure about future plans. I was considering my options in twelfth standard and one of my teachers mentioned that no student for several years had opted for law. Plus I was reading Perry Mason books back then and had seen quite a few movies with court room drama. Thereafter when I heard about Pune law colleges and life out there, I was quick to make my decision. I joined Symbiosis Law College in 2001 and never look back. My other option was to do a professional course in culinary arts and become a chef. I enjoy cooking and thought I would take it to a professional level. Then someone told me I could be a lawyer and still cook for people, but the other way round would not work. It made sense and I stuck to the plan.
What were your objectives and plans in the preliminary years of law school? What curricular and extra-curricular activities and internships did you opt for while in law school?
I did not have a plan, at least not for the first two years of college life. I spent time exploring Pune and making new friends. Sometime during my second year, I realised I had lot of time in hand and enrolled for ACS. I did one internship every year including outside of my home town Chennai. I did a few moot courts as well. I was also part of AIESEC, Pune. I would sum up my college life as academically above average, well rounded and a lot of fun.
Straight after law school, you got an offer from HSB Partners, Chennai. What was the work profile you were entrusted with there and how was your experience there during your initial days?
I joined HSB Partners by chance and not by plan. I was exploring my options after college. I took up a special project with a Danish MNC based out of Chennai to work on compliance aspects for them. I thought I would take the opportunity to get some perspective on management/strategy issues on the side. Within a few weeks, I realised it was not the right fit for me. I needed professional guidance. I met with some Industry leaders, entrepreneurs and lawyers to get suggestions. I even had an offer from an FMCG MNC based out of Mumbai for a legal role. Still, I was not convinced. I had done an internship with Mr. TK Bhaskar (TKB) in my third year of college and decided it would be good idea to meet him and discuss some options. That was the turning point. He offered me a position instantly after a brief discussion around 8:30 PM. I joined the next day not knowing that stint was going to be my beacon in the years to come. Initially, I worked with HSB Partners for two years. I was involved in a variety of work on corporate & commercial contracts, PE/VC and M&A work, corporate litigation matters, merger/de-merger schemes, drafting legal opinions on various corporate/commercial matters and occasionally even running to the consumer forum. Most weeks were six and half day working weeks. It was a good experience, especially the diversity of the nature of work that I was exposed to. I was also fortunate to get a lot of time from TKB.
Within a few years, (if I am not wrong it might be shortest journey for a new law graduate) you got promoted to partner at HSB Partners Chennai, a reputed law firm in the southern circle.  What skills and qualities do you think helped you achieve you this position?
While I continued to enjoy work at HSB Partners, I wanted to have first-hand experience in a Mumbai law firm specialising in PE and M&A work. So I started applying to various firms and had the opportunity to interview with a few of them. A very good friend and senior from college was working in Economic Laws Practice (ELP) and arranged for me to interview with one of the Partners. I interviewed with them and was offered a position instantly by Mr. Suhail Nathani and I took it up. I worked in ELP's PE/M&A team and did some fantastic transaction work. I learned a majority of private-equity transaction related nuances during my stint here. I moved after a few years to ALMT Legal in Bangalore and worked with well-known names like Mr. SR Arun and Ms. Dhanya Menon. I had the opportunity to do capital market work like IPO, Rights Issue etc. besides some good and large M&A transactions.         I spent almost five years between Mumbai and Bangalore before moving back to Chennai. I re-joined HSB Partners although I had an offer from a national level firm in Chennai. While I started handling more of transaction related work, I worked on other matters from time to time. I was extremely moved when I was elevated as a salaried partner, especially considering I was the first associate to be elevated as such. I think my progression is a result of the combination of many attributes – exposure to a variety of work, good mentorship, strong fundamentals and liking towards corporate/commercial legal matters, my dual qualification (Law and ACS) and my associations with reputed firms and individuals.
Your linked in profile says that you are driven by an "interest to find resolutions to intricate business requirements" and that your "practice emphasis has always been to add value to clients". What interests lead you to such a yearning?
The first sentence of the statement is based on my interest and passion. The second sentence of the statement is the end objective of my first sentence. That's how I look at it. Without facing challenging requirements, there is no intellectual stimulation. Without finding lawful yet workable solutions to clients under such circumstances, there is no value creation. Without value creation, there is no client. Thus I feel there is immense logic and purpose in that statement and living by it.
What are the opportunities that a practice has to offer? What are the essential requirements to rule the Indian corporate market?
The legal profession is going to become more specialised in the days to come. This is the natural progression. Clients demand, and rightfully so, deliverables under tight time-lines to keep pace with various commercial and M&A activities, competition etc. This is possible only if the lawyer in question is fundamentally strong in the subject matter and has good exposure on ground. The requirements for developing into a good corporate lawyer and continuing to be one are always dynamic and not constant or a one-time effort. I think the use of technology effectively will make a difference going forward. It is important to be aware of legislative/policy developments, changes, general business news, developments in transaction structures and practices, new and changing business models etc. It is combinations of all of these that aidsand improves one's legal acumen and helps one perform better as a corporate-commercial/transaction lawyer. Being level-headed, rational and solutions driven is vital.
Do you feel that doing a company secretary course from the Institute of Company Secretaries in India will be add fuel to one's work profile at a corporate practice?
Completing a Company Secretary course together with Law certainly gives an edge with regard to certain fundamentals academically, in corporate and secretarial laws and adds weight to one's resume. But I would not attribute more than that. Anything I learned out of a text book until I applied it on the job was to some extent surreal. Most of the real learning is on the job at least that has been my experience. I think if one has the time to study and get an extra degree, why not. It could CS, CA or MBA finance – all of them are good combinations with a law degree.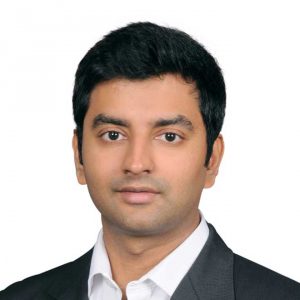 The newly enacted Insolvency and Bankruptcy Code, 2016 has stirred a dynamic shift in the insolvency regime. What is in your opinion, efficacious about this code in the Indian corporate market?
Prior to this legislation, there were multiple laws and forums that dealt with insolvency related issues. The insolvency code is a uniform and complete code dealing with insolvency issues and applicable to all companies (not banking companies), partnerships and individuals. The code has established a new framework, with a regulator, insolvency professionals and detailed adjudication mechanisms. The code if implemented properly, will lead to pro-active and effective resolution processes re insolvency matters.
You are currently partner at J. Sagar Associates, Chennai. What is your work profile there? Could you share your experience at the firm so far?
I primarily deal with private equity, M&A and other corporate and commercial matters. JSA is a tier-1 firm both in capability and culture. JSA is known and stands for work quality, expertise and good values. The organisation inculcates and encourages good ethos and transparency in dealing with people, both internally and externally. It is also interesting to note JSA's active involvement in pro-bono activities. This year being the 25th anniversary, additional pro-bono initiatives are under-way. This milestone is being celebrated by reaching out and giving in ways we can, so that others may be lifted by an experience of equality, empowerment and justice. I feel fortunate, proud and a sense of satisfaction being associated with JSA.
Why the special interest in corporate laws and commercial laws with a special focus on mergers and acquisitions, joint ventures, private equity, general corporate matters and corporate compliance over a number of sectors?
While I worked on a variety of matters during the initial two years of practice, I gradually realised I needed to focus on some area of practice. My natural inclination towards corporate/commercial and M&A matters made the choice easier. I think it's important for any fresh law graduate to get a feel and sense of as many diverse areas of practice as possible, initially. At some point it will naturally lead to a focus in one or more areas of their liking if all goes well.
Do you think the current demonetization of higher value Indian currency is going to boost the Indian economy?
The market sentiments are polarised on this. Professional write ups, views and emotions are mixed and economists in some cases have taken a cynical view. While I am no expert on policy issues, I think the logic behind the policy measure is sound. Implementation of the policy is another matter and there possibly could have been more systems and checks put in place for it being more effective and reducing hardship to sections of people relying on physical currency in their daily life. But now that the policy is already in play, improvising implementation dynamically is the need of the hour. Whether the policy will actually meet its purpose and objective i.e. eradicate black money/counterfeit notes, weakens the parallel economy thus consequently leading to better GDP, digitalisation of payments and receipts etc., only time will tell. It is also important to measure the purpose and positive effects of the policy against the cost of implementation of the policy factoring in all adverse ripple effects created, in some objective manner to test the success of the policy.
What were the challenges you faced in shaping up your career as it stands today and where do you see yourself ten years from now?
It will be unfair to say I faced any material challenges in shaping my career. I was reasonably dedicated, took a keen interest in work and looked out for client interest while never diluting integrity. I did not see or think of them as challenges. I don't know where I see myself in ten years. I just hope I have the strength and opportunity to do and continue to do what I like and proud of.
Do you agree that law students with a corporate legal legacy (family background) are more likely to succeed in practicing it?
Not necessarily. It may give a person an edge with respect to learning, networking and an immediate name in the market. But I believe one earns the tag as a good corporate lawyer over a period of time based on merit and work quality. Therefore, it is possible for lawyers without legal family lineage to also succeed, catch up, and even go past those who have it. It entirely depends on the individual, his/her capabilities and conviction. It needs to kept in mind that success is subjective, a state of feeling and difficult to be objectively measured.
What is your parting message to law students and young generation lawyers?
It is good to try diverse legal work for a few years before focusing on something more specialised. During the initial phase of your career, give more weightage to working with a good and reputed senior rather than the size of the firm, brand of the firm, pay package etc. Don't give into placement/peer pressure. If often you do not feel a sense of pride/satisfaction relating to the work that you deliver, start assessing the situation as rationally as possible. Never hesitate to make drastic changes in the way you work or your career options when you are convinced the outcome will be more positive. But never make them in haste. Always think through, talk to well-wishers and more experienced people before taking any drastic steps relating to your career.