Abhijit Mittal is a graduate from Symbiosis Law School, Pune, batch of 2011. Post Law School, he worked with Mr. Sanjay Jain, Senior Advocate, who is now the Additional Solicitor General of India at the Delhi High Court. Thereafter, he worked at  MNK Law Offices under the guidance of Ms. Anuradha Mukherjee and Mr. Gyanendra Kumar.  After his stint with Mr. Jain and MNK, he decided to take the plunge and start an independent practice, which is when he co-founded ADAZ Law Chambers with his long-time friend and now partner, Mr. Dhruv Rohatgi.
In this interview we speak to him about:
Striking a balance between academics and extracurricular interests
His diverse and prolific internship experience
Starting his independent practice
Kindly tell us something about your college days.
I pursued the five year BBA LL.B programme where in addition to law subjects (Corporate laws, Civil Laws, Criminal Laws, Procedural Laws, etc.), we were also taught subjects like Business environment & Ethical Practices, Strategic Management and Human Resource Management. While the above management subjects were taught for the first two to three years, the law subjects took the forefront in the fourth and fifth year of the programme. Symbiosis Law School is a fine institution that emphasizes not just on the theoretical aspect of law, but also on the practical aspects of it. It offers various co-curricular and extracurricular activities and I was fortunate enough to be a part of many such activities, which I thoroughly enjoyed. The legal aid, clinical legal and research cells are examples of such cells from where I learnt how to extend help to those who could not afford proper legal aid.  The various initiatives taken by my college not only provided me with the opportunity to showcase my talent, but have also, to a great extent, helped shape my future in the profession. In addition to studies and co-curricular, extra-curricular activities are also given their due. During my college days, I managed my time in a way that I could participate in various sporting events. In fact, I was a part of the college cricket and football team and I represented my college in various inter college tournaments and competitions.   Apart from the life in and around law school, Pune has a lot to offer. Since there are a lot of colleges in and around the city, Pune never seemed dull and was vibrant all day. In my opinion it is one of the best cities in India to enjoy your college life as it strikes the right balance between life inside and outside of a college. After all, there is a reason why Pune is also referred to as Oxford of the east.
How important do you think CGPA is in shaping a lawyer's career, especially as a litigator?
While I was in college, we did not have the CGPA system. We only had a set of external exams every semester and there was no concept of compulsory internships or assignments to be undertaken. Our batch was the last batch that passed out from Symbiosis Law School without the CGPA system. However, over the years, I have discussed the CGPA system with a couple of my juniors and interns and upon my interaction with them, I have gathered that CGPA is a good concept. This is because CGPA keeps the learner engrossed throughout five years and emphasizes on practical knowledge that is going beyond the textbooks and instils the habit preparing presentations, research papers and undertake compulsory internships amongst others. Thus, in my opinion, the CGPA approach enables the learner to get a better approach towards the profession, empowers one to think out of the box, prepare the students to step out of their comfort zone in the initial years and gain more practical knowledge alongside theoretical knowledge, which would definitely be a boon in shaping ones career not only as a litigator but otherwise as well.
What do you think matters more; in-depth study or studying to perform well at exams?
I believe it's a mix of both.  Aiming to excel at exams would ensure that the learner passes with favorable grades and qualifies for placements and/or further studies. However, anybody who wants to sustain and excel in his/her professional career, will require an in-depth knowledge of the subject. This is where I believe the CGPA system comes into the picture and plays an important role in shaping one's career.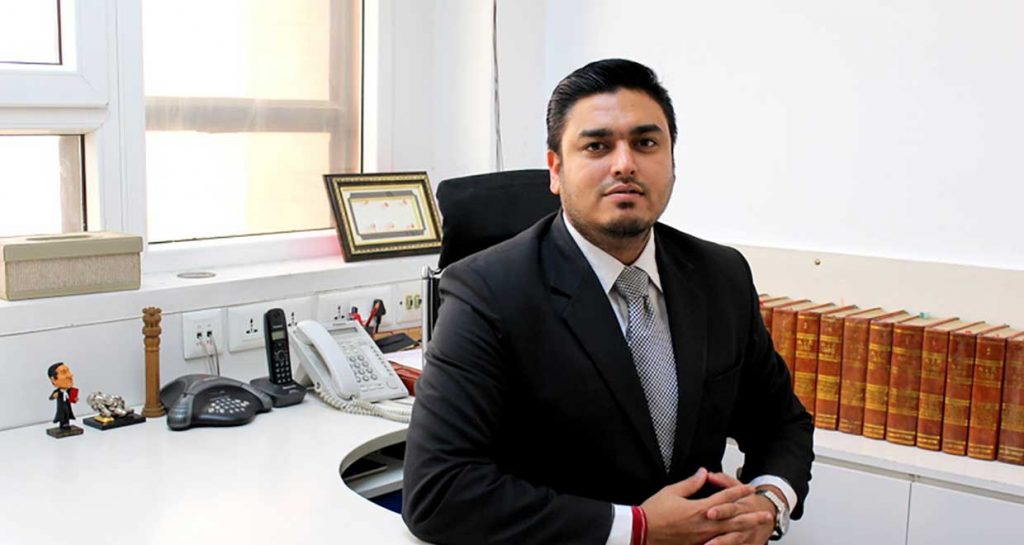 How important do you think co-curricular or extracurricular activities are in shaping an individual's career?
(Abhijit has represented his college in various cricket tournaments.)
I have been a sports enthusiast all my life. I was a member of the football and cricket teams in school.  Even in college, I was a member of the cricket team which won various laurels for the college at different levels. I believe that being a part of any extra-curricular activity or co-curricular activity plays a very important role in imbibing certain lessons of life in an individual which a textbook simply can't teach. It teaches an individual how to work in a team cohesively, to handle tough situations which builds in temperament and the ability to manage different things at one time, thereby improving the ability of an individual to multitask and manage time.  Being involved in sports ensures that these facets seamlessly blend into ones character and these are some characteristics which are necessary irrespective of the fact whether you are an independent litigator or working with a firm or in-house.
When did the litigation bug bit you?
I took up law as a career only because I wanted to be a litigator. I've known that I have been cut out for litigation since the time I decided to pursue law as a career. I have always been a very outgoing person and have never shied away from public speaking or conversing with people on any topic.  Which is why my father always told me that law as a profession would probably be ideal for me. Therefore, for me litigation was never just an option but the only choice.
I believe that a litigator must possess what I call the 'three Ps', i.e. poise, perseverance and patience. These three qualities, along with dedication and diligence would make one a well-equipped and successful litigator.
Please tell us about your internship experience?
(Abhijit has undertaken as many as ten internships during his time at law school, a feat very few students have managed to accomplish.)
As a student, I always looked forward to semester breaks as I was always very enthusiastic about interning and getting to know what practicing law is really like. This is why I always tried to make optimum utilization of each and every break.  Working as an intern not only helped me get an insight into the practical aspects of law, but also helped me get in touch with and socialize with many of my seniors in the profession, which I always believed would be of great help and assistance and it indeed was.
I had the privilege of working under Mr. Sanjay Jain, Senior Advocate, very early in my career.  Thanks to his guidance, I was able to steer myself well in the profession.  My first three internships were under him and he took a keen interest in teaching me how to conduct myself in meetings and how to proceed with a case once you open the file. Thereafter, I interned in trial courts which was a totally different ball game altogether. My trial court experience taught me the importance of a trial in a proceeding. The entire stage of conducting evidence and cross examination strengthened my will to become a litigator.
In the last two years of my college, when we were introduced to IPR as a subject, I developed interest in the subject and since I had already had my share of interning at the High Court and trial courts, I wanted to experience what it was like to do an internship at a firm. Since I had never worked at a firm before, I wanted to intern for the sake of understanding how a firm works and what it takes to be law firm lawyer. Also, during my interactions with briefing counsels in Mr. Jain's office, I gauged that law firms usually prefer interns from senior batches and that is when they are given good work, taken seriously and evaluated properly.  Hence, it is in my final year that I decided to do two internships with Anand and Anand and K&S.  My internships at these firms taught me to be disciplined in my approach and also taught me why it is important to have a regimented approach.
My varied internship experience was of great help.  In fact, since I was so used to the environment at the high court and trial courts in Delhi, that by the end of five years when I finally joined as a lawyer, I found it very easy to blend into the space which I created over my five years of internship and I did not feel like just another fish in a new pond.
How will you describe your experience of working as junior lawyer under Senior Advocate Sanjay Jain and as an associate at MNK Law Offices, New Delhi?
(Mr. Sanjay Jain is currently the Additional Solicitor General, Delhi High Court.)
My experience at both the places has been wonderful and enriching, to the say the least.  I started my career working under Mr. Sanjay Jain, Sr. Advocate.  His office is very different. He as a boss ensured that all his juniors were up to date with the files. As a matter of principle, the files were called from the briefing advocates a day in advance and the juniors were asked to prepare case notes and do their own research on the issues involved. Another benefit that I derived by working under a senior advocate was that it did not restrict me to a specific field of law but exposed me to several areas of law, very early in my career. The only drawback was that of not having the opportunity to argue in courts, which is why, after extremely enriching initial years with Mr Jain, I moved to MNK law Offices.   After Mr. Jain as a mentor and guide, I consider myself lucky to be nurtured by Ms. Anuradha Mukherjee and Mr. Gyanendra Kumar.  At MNK, I was entrusted with a lot of varied drafting work and was also given the opportunity to argue matters in courts and tribunals. It is at MNK that I learnt the very vital tact of dealing with clients personally, which in my opinion, is of prime importance. It helped oil my engines well in court and provided me with all that I was looking for.  MNK provided me with a lot of intellectual freedom and my seniors had a lot of belief in me, which was a great confidence booster. Working under Mr. Jain and then MNK built the right platform to launch myself independently and if given another chance I would not have it any other way.
You have also been part of many government panels as legal counsel. Kindly tell us about your work profile and experience there.
After starting my own firm, I was fortunate enough to be a part of a few government panels in the Delhi High Court such as NDMC, AIIMS, Union of India, to name a few. Being part of government panel is not an easy task.  As a matter of practice, the matters reach you around evening and in most cases the matters are listed the very next day.  One has to study the file through the evening and prepare for hearing the next day. What is interesting and challenging at the same time is that you would be in court the whole day and not know what is going to hit you, when you finally get a call from the respective panel litigation section in the evening. Having panel work keeps one on their toes constantly but it also provides an opportunity to learn about a new subject, new statute and a new branch of law on a daily basis. Furthermore, on numerous occasions, there is an MNC or a business conglomerate on the opposite side challenging one or the other actions/notifications of the government and it is not uncommon for them to engage the best senior counsels in the country. Being pitted right opposite these counsels is in itself a thrilling and challenging proposition. Therefore, I believe that being on a Government Panel brings out the best in a lawyer.
How much importance did you give to the suggestions offered by peers and seniors?
I am of the opinion that in this profession it is very important to be guided by the expertise and experience of your seniors and as stated above, I have been fortunate enough to have that kind of guidance and support from my seniors.  Since this profession is very vast, entailing many intricate procedures to be followed and these procedures changing with the drop of a hat, the suggestions and guidance of not only your seniors but your peers are of great significance. Having said that, I also feel that one should always evaluate the suggestions and/or opinions before blindly following them and also rely on one's gut every now and then.
What prompted you to start a law firm of your own?
(Abhijit's law firm ADAZ Law firm was nominated at the IDEX Legal Awards in the category of best startup law firm of the year 2015-2016)
I got into this profession with the vision of being an independent practitioner one day. After having gathered experience of both, a senior counsel office and a law firm, I realized that given the vastness of this profession and the numerous forums to be covered, in today's time, it is extremely tough to have an independent practice, especially if you are a first generation lawyer. I also gathered from my initial practice years that the client (whether an MNC or medium to small business setups) is looking for a one stop shop, for all  sorts of legal queries.  Accordingly, I decided to establish a firm setup, which would serve both the purposes, i.e. being independent and at the same time would be worthwhile of teaming up with like-minded professionals enabling us to scale our practice areas.  Accordingly, I teamed with Mr. Dhruv Rohatgi, who brings varied set of skills on the table, enabling the both of us to work in tandem.
Thereafter, in just eight months since its inception, we were nominated for the best startup law firm in India by IDEX legal awards, 2015-16. Even though we did not win the award, it made us believe that we are on the right track and if keep moving ahead, we would definitely be able to carve a niche for ourselves in this profession.
How will you describe your experience working for the firm you have co-founded?
The experience of having your own setup is a mixed bag of emotions. It is sometimes exciting, challenging, rewarding and can sometimes get demoralizing too. Each day brings with it a new opportunity and a new challenge. However, slowly and steadily, we have been successful in providing quality output to our clients and with almost a year and a half into the game, we have become wiser in our decision making and seem to be heading in the right direction.  As of now, we have a simple plan to stay focused, consolidate and strengthen our existing core practice areas which is dispute resolution (litigation & arbitration). We do, however, intend to widen our scope and venture into the corporate space in the coming months.
How will you describe your journey from being a law student/legal intern to an associate to the owner of the firm?
Well, after having spent more than five years in this profession I have realized that even though it is not an easy task to make your mark in this profession, especially as a first generation lawyer, however, it is not impossible to do so. I believe that even if one is a first generation lawyer, it is very important to be determined and focused from the beginning of law school and have able guidance and support from your seniors and your family. I was fortunate enough to have able support and guidance from not only my family but also my seniors Mr. Jain, Ms. Mukherjee and Mr. Kumar, who believed in me, at all times. I also strongly feel that if one keeps a professional approach and is determined to make it somewhere, this profession has enough space for everyone, provided one is extremely focused and has the hunger to grab on every opportunity one gets.
My journey from a law student to an associate to a co-owner of the firm has nothing been less than a roller coaster ride, it has been interesting and challenging at the same time and continues to be.
What does it take to start a law firm?
I am of the opinion that for starting any kind of business, whether it is a law firm or anything else, having the drive and passion to do what you want and to believe in yourself is of prime importance.  Furthermore, it is very important to have the ability to understand and be prepared for the fact that there are going be failures at some stage or the other (lots of them probably).  The key is to not get bogged down by such failures, but to get up and fight it out.
It is an established fact that a professional's life is mostly busy and also that's the way it should be. However, at the same time it is imperative to strike the right balance between one's personal and professional life.  Come what may, I make sure that I hit the gym whenever possible and on weekends, I ensure that I play cricket as well as soccer, but never at the cost of work.
What final piece of advice do you want to pass on to our readers?
Well, just to keep it straight and simple, I would like to quote Bob Dylan and this is something, I always tell our juniors and interns, "What's money? A man is a success if he gets up in the morning and goes to bed at night and in between does what he wants to do."
I feel that this encapsulates everything.  Of course, money is important and the fuel of life. But if an individual does what he or she wants to, he or she will do it to the best of their ability and eventually get the due recognition and reward for it, in whichever form it may be.