Adithya Reddy graduated from WBNUJS in 2008 and started his career in litigation as an Associate at HSB Partners. He then moved on to work at the Department of Commercial Taxes, Government of Tamil Nadu as a Government Advocate, and continued working on a variety of commercial law and taxation matters, before leaving to set up his independent practice.
Here, he talks to us about
Why internships in the first three years of law school are a waste
Why one must only pursue the field of law they are truly interested in
The pros and cons of working as a Government Advocate
How to set up an independent litigation practice
How did you choose to become a lawyer? What were your objectives when you thought about law while still in the preliminary years of at NUJS?
Law has always offered more career opportunities than what are commonly known. If anything, the variety of opportunities has only increased in recent years. In fact, I remember that this was the first thing Prof. Madhava Menon told me at my interview while joining NUJS in 2003. He said one should leave all career options open at least till the first 3 years of law schools.   This is what I tried to do in NUJS. While I always believed that litigation is where a lawyer can prove his worth the most, I did consider other options like pursuing academics or policy research.
My friends had no views about my career choice. I would be exaggerating if I say I myself was keen on becoming a lawyer. I was only sure of wanting to become a professional. In fact it was my mother who was totally impressed by her friend's son who had just graduated from NLS and was drawing a 6-digit salary. She then wanted me to join a law-entrance coaching course, which I did more out of indifference than interest.
How relevant do you think are internships for a present law student?
Most people who get a corporate job do so because of one good internship in their 3rd or 4th year. That is why, I see no reason why they should keep interning in different firms right from their 1st or 2nd year, that too twice or thrice a year. Even for litigation, it might, at best, help in gaining some basic idea about how a court works. It gives you no particular advantage when you start as practice. I am also not sure how the number of internships one does makes any difference, say to an LL.M application.
When did you actually experience the learning curve? What is your opinion when people say that all that they have learnt is in their years of practice?
My law school experience was very valuable for two reasons:
First, as you are competing with students of very high calibre, you have to learn independently of anything that the law school may provide for.
Secondly, a national law school by virtue of its brand and the people at its helm exposes its students to avenues and opportunities that no law student from an ordinary law school can get. I would say my learning curve increased once I found some optional subjects interesting after my third year.
Many people say that what is taught in law schools is not relevant for a litigating lawyer. This is absolutely true for a lawyer till he establishes good practice and starts arguing cases regularly. Once a lawyer develops enough practice to argue cases involving questions of law on a daily basis his academic knowledge gives him a distinct edge over his peers. So it is important for a national law school student to stay in touch with everything he learnt in law school and keep updating himself/ herself with current legal developments. It is also important to maintain research skills which many national law school students learn well through moots etc.
How was your work as a litigating lawyer at HSB Partners? Please tell us a little about your work profile while working there. Tell us what a typical day at work was like for you?
I was a litigating lawyer. HSB has considerable amount of litigation practice. In fact I started working in the city civil court for the first few months. I worked on many high profile litigations involving top corporates in the high court. I also worked in tribunals like the Company Law Board and Consumer forum. Most of the litigation was relating to commercial disputes. I was very lucky to have worked under the firm's partner Mr. T.K. Bhaskar who was himself a NLS graduate. He gave me full independence in handling much of his litigation practice. Mr. Bhaskar was also kind enough to entrust me with some very interesting non-litigation/ corporate matters, something I never expected.
A typical day at HSB started with me entering office by 9.00 am, much before most other associates, and sitting with the clerk to note cases in the daily cause list. The next 30-40 minutes involved hectic searching for case bundles and last minute preparation for the day's cases. I used to leave for court with few other colleagues and come back in the evening. The work day used to end anytime between 8 to 10 pm depending upon the amount of work required to be done for the next day.  The most hectic day used to be when a client needed an urgent case to be filed or when a case involving voluminous documentation and research was being argued in court.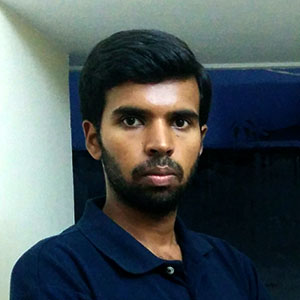 Thereafter you worked as a Government Advocate for the Department of Commercial Taxes, Govt. of Tamil Nadu. How did your appointment take place? What were the responsibilities you were entrusted with?
Many people fear taking up litigation as a career option for lack of family background or a connections in the profession. My appointment as government advocate is a great example how one can receive help in the profession independent of these things. I was recommended to become a government advocate by an Additional Advocate General only because he had noticed me as a good junior lawyer. I will forever be indebted to him.
For the first one year (since my appointment in early 2012) I was lawyer for the TN Government's commercial tax department. Sales Tax/ Value Added Tax is one of the few areas of taxation which falls within state government's jurisdiction. I argued many cases on behalf of the revenue involving the subject before the High Court. This stint also gave me my first few reported judgments.
In early 2013 the TN Government appointed a new Advocate General who is also one of Madras High Court's most senior and knowledgeable lawyers. He had known me from before and requested me assist him in his work on behalf of the government. I readily agreed. I worked with him for one and a half years. The variety of work I did in the AG's office was mind boggling and I can say with some lack of humility that very few young lawyers would have had such kind of exposure. This was bound to be, because government is the biggest litigant and is involved in cases touching upon almost every branch of law. A lot of credit for this would also go to the AG who treated me very kindly and gave me full independence to interact with the senior-most bureaucrats and officers in the government.
How and when did you decide to quit your job and start up with independent practice?
I decided to resign as a government advocate in October 2014 for two reasons. Firstly my work , especially in the AG's office, left me with very little time for anything else. I was entering my 7th year in the profession with no time to think of my own practice. Developing one's independent practice involves a lot of struggle. As a government advocate I was getting used to so much comfort that I used to have sleepless nights thinking of how I was going to manage when I begin independently some day. So I decided there was no point postponing the inevitable.
The second reason which is less significant is that being a government advocate required one also to be loyal to the political dispensation that was in power in the state. Not only did I have no sympathies for the political party ruling in the state, but I had my own political affiliations which I could not and did not want to hide beyond a point. I always felt guilty about having to lie to people about my political views.
Normally nobody would pay much attention to the political affiliation of a government advocate. But as government advocate attached to the AG's office I was the centre of a lot of attention. That was when I realized that people were talking behind my back about whether I belonged to the ruling party or not. This prompted me to quicken my decision.
What are you main practice areas? How has been your experience so far? Is it more comfortable be your own boss or is the pressure of work almost similar?
It has only been three months since I started independently. For this short period I have got more work than I expected. That only makes me nervous about maintaining this momentum. A lot private work I am getting also relates to the same area I worked on as a government advocate viz. sales tax/ VAT. But I am trying to get more work in other areas.
It is much less comfortable to be your own boss in the initial years. You have to think of how much you earn because you have expenses to meet. This is something you can blissfully ignore when you are a junior because the senior's infrastructure, staffs etc. is already there. Also there are expectations to meet.
As a practicing lawyer how did you manage to learn the basics of court room practice? Did you have anyone to guide and mentor you during the initial days of your practice?
Every senior I worked with has been a guide and mentor. It is just not possible for me or any junior lawyer to learn court practice without observing seniors and learning how they deal with clients, judges and other lawyers. What happens in the court room is just half of the work that forms part of litigation. There is drafting which you learn more directly from your senior by reading his drafts and by taking dictations from him if necessary. Also there is filing which you learn from the clerk.
How did your first hearing as an independent practitioner go? Which are the most memorable cases till now?
Well, as I said it has been only three months since I began independently. So it is too early to talk of memorable cases. The first case I argued after setting up my own practice was for a client who was faced with an adverse sales tax assessment. The judge set aside the assessment holding that the assessing officer had not applied his mind to the issue. I need to mention here that having good judges to represent your cases before is extremely crucial for a young lawyer to make a mark. A client is often only concerned about the result of his case. Judges who pay lesser attention to a case only because it is being argued by a young lawyer put his/her career prospects in great jeopardy. I have been lucky to have appeared to before some very good judges as an independent lawyer.
What is your workday like? Are there new challenges every day or did work fall into a predictable pattern?
My work day currently is a lot more relaxed than what it used to be. I don't miss my daily golf practice and spend little more time on my political/ social activities. Most importantly I don't miss my calls or at least I ensure I return them at the earliest! This is because now I have freedom to set my own schedule. I can go to court only for the time that my cases are taken up and leave immediately after that. The major challenge is to get new work and to retain clients I've just got. I've realized that it not always possible to impress a client. As long I am convinced that I have done my best for the client I remain satisfied. These are issues which are far less relevant when you are a junior.
How far is theoretical knowledge in law schools consistent with the practical arena?
It is very important once you start arguing your cases regularly. It gives you a clear edge. It is also important to impress your senior when you are still a junior.
The Bar Council of India has recently come out with new Certificate of Practice and Renewal Rules, 2014. What is your take on this?
I think it makes sense. Though, what is technically required to be considered by the Supreme Court is only questions of law, it is very essential for a Supreme Court lawyer to know how his case might have been decided at trial. Otherwise the approach tends to be very academic and detached from facts. Also it might help sensitise lawyers to the plight of clients who have to go through the entire process before coming to the Supreme Court.
How to make a conscious career choice – corporate vs. litigation?
My advice has always been for people to go with what interests them most. If somebody genuinely believes earning good money, that too pretty early in life, is important than obviously taking up a corporate job is better. I see some of my seniors from NUJS are already partners in the biggest law firms. This is guarantee of a prosperous and comfortable life. But litigation definitely allows you to grow to your full potential as a lawyer.  The uncertainty is what is exciting. The freedom is very satisfying. Also once you are a successful litigator, there is no limit to how much you can earn.
Another advice would be for students to be sure of what they want to do before taking the plunge. At least in litigation the competition is tough and every day you spend doing something else is a waste. There are many people with a head-start. Lawyers with a family background have a distinct advantage. They can probably afford to try out other options before joining their father/ relative's practice. But for a fresh lawyer every day brings new opportunities and new contacts.
What would be your parting message to law students who want to litigate just after graduation?
Never shy away from litigation because of the uncertainty. That is the most interesting aspect of the career. You could be under stress not knowing what to do next, only to be pleasantly surprised the very next day. It could be in the form of a big case or a big acquaintance, but rewards will keep coming to you from the most unexpected quarters. All that you need to do is show your talent and sincerity. Also, no matter how important success is, honesty and ethics have their own charm and will hold you in good stead throughout your career.