Smrity Sudan graduated from CLC, Delhi University in 2007. She holds a B.Com degree also and is a qualified Company Secretary. She has a very rich experience of working in India and Dubai. After graduation, she started working at Bharti Airtel Ltd. and later, switched over to DLF Ltd. Thereafter she moved to Dubai and worked initially at Emirates Legal FZE and then at, Dubai Legal Eagle (Al Dhaheri International). She has recently joined UD Group, Dubai.
In this interview, she talks about:
Working for Bharti Airtel Ltd. and DLF Ltd.
Working in Dubai as a Corporate Lawyer
How would you like to introduce yourself to our readers who are mainly law students and lawyers?
I am a Corporate Lawyer having experience globally in legal drafting, compliances and International Arbitration.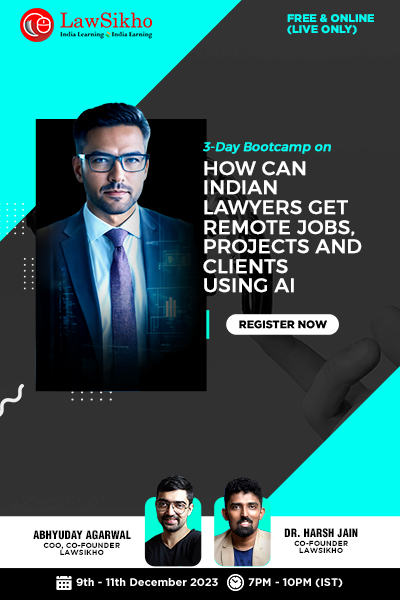 When and how did you decide to study law? Which universities did you consider for your legal studies? How did you settle for CLC, DU?
I decided to do law during my graduation. I enrolled myself for CS in 2003 and acquired interest in law subjects. I always considered CLC to be the most appropriate law college for me. Apart from being a well known university, CLC is the best law college in Delhi.
Having graduated from a non-premier law school, what would you say to the future graduates of DU regarding this?
Hardly few people manage to do law from the NLS, Bangalore. Only those who choose law as a career quite early in their lives aspire to join NLS. NLS is not the end. Look beyond and see many successful lawyers from other universities. Soli Sorabjee had graduated from Government College, Mumbai. Harish Salve did his LL.B. from Nagpur University, Mukul Rohatgi from University of Mumbai.
Many lawyers say that the first year after graduation is the most difficult year for young lawyers. How did you learn the ropes and what were the biggest challenges you faced?
Facing challenges means you are alive. You will find it in every step of your professional life. People find being exposed for the first time to the professional world a little challenging. As far as my first year of professional life is concerned, it was pleasant being associated with Bharti, a well-known brand, having great HR Policies and highly professional yet empathetic boss. First year of your work life is the year to learn the most when people are more than willing to help you learn. After that expectations begins and you are considered to be an expert. Learn and learn should be the agenda.
How did you decide to shift from Bharti Airtel to DLF Ltd.?
As I said, be open to learn the maximum in the initial years. Do not be stuck in the field you don't find interesting. My reason for change was to learn more of corporate legal work in DLF as my profile was more of secretarial compliances in Bharti. Both are great places to gain valuable experience.
You left DLF to join Emirates Legal FZE, a law firm in Dubai. What motivated this shift? How did your appointment take place?
It was a personal reason. After getting married I had to shift to Dubai with my husband. He had secured himself a great job in Dubai and we were excited at the prospect of exploring international work life.
But, only after 6 months of struggle Emirates Legal was the first break I got in Dubai. I felt that at that time finding a suitable job in Dubai was not easy. Despite having more than four years of experience, I was considered as a fresher. Yes, I was a fresher to a Civil Legal System and to UAE laws.
Thereafter you worked as a Legal Consultant at Dubai Legal Eagle (Al Dhaheri International). How did the switch from Emirates take place? How was your experience?
It was a right decision as I was not satisfied with the profile. Dubai Legal Eagle, an International Law firm gave me exposure to International Arbitration. It is an interesting profile for those who possess analytical abilities, enjoy arguing cases before a Tribunal consisting of members appointed from various parts of the world.
You've recently joined UD Group, Dubai. Which events led to your induction into UD Group? Were there any interviews or selection processes?
Being a Company Secretary and someone who has no interest to litigate, a Corporate Lawyer profile is where I find myself well fitted. Fortunately, the option of UD Group came to me through a consultant and I went through the 3 stages of interviews that lasted for almost 2 months.
What does your current work profile at UD Group consists of? How is a typical workday like? Can you tell us about a few of the most challenging problems you have faced thus far?
My work profile at UD Group consists of typical in-house counsel profile, which includes drafting of commercial contracts, negotiating transactions, Merger and Acquisitions, Restructuring, compliances etc. The most challenging part is to think on the lines of Civil Law System since my law degree is on subjects based on Common Law System.
Tell us a bit about work culture in Dubai.
The work culture is equally stressful because of long working hours. Magic Circle Firms and MNCs look for people who have acquired degrees from USA, UK, and Australia etc.
How difficult was the shift to a foreign law firm?
It was not very difficult rather it poured more confidence to deal with people from different countries and background.
How has been your B.Com degree helpful in your career?
Yes, my B.Com degree has indeed been quite helpful in understanding the commercial and business aspects of the transactions.
Can you give us advice on applications and interviews, especially with foreign law firms?
Build good CV. Approach consultants and apply directly on the websites of the Companies where you would like to apply. Register on LinkedIn and interact with people. Register on various websites offering services to find jobs like Legalweeks.com, Totallylegal.com.
What made you gravitate towards this field of Corporate Law?
I have always wanted to be a Corporate Lawyer. I followed my instincts and not the general perception of the society. I am happy to overcome the challenges coming my way.
Lastly, what would be your parting message for our readers?
Believe in yourself, trust your conscience and follow your dreams. Be a winner in the field of your interest. That's what success is.