Anas Tanwir Siddiqui graduated in law from RMLNLU, Lucknow, batch of 2012. He has since then served as Convener to the Legal Aid Committee, working in areas of free legal aid, RTI, infocracy, child rights, consumer protection, juvenile justice, etc. He is currently advocate at the Supreme Court of India, with over four years of litigation experience. A first generation lawyer, Siddiqui believes that enabling access to the legal system lies at the core of his practice. He has also just begun independent practice.
In this interview we speak to him about:
Deciding to pursue law despite family pressuring otherwise
His life, curriculum and extracurricular engagements in RMLNLU
His tremendous contribution to the Legal Aid Committee, and setting up a paralegal system of assistance in his university
His belief that at the core of litigation lies the intention to enable access to justice for all
What would you like to say to our readers in the manner of an introduction of yourself?
I am just a struggling lawyer who has faced and is still facing all the struggles that a young lawyer faces during his initial days.
What inspired you to take up law? Did you have to deal with any resistance from family or friends while making that decision?
Law was never really my first career choice. As any other teenager, I was pressurized into taking science at 10+2 level. So I also opted for PCB and as a natural progression I appeared for medical entrances, couple of which I miraculously cracked as well. However, I was never really interested in becoming a doctor. My family, especially my mother and my uncles, were really supportive, although my father had his apprehensions. The main idea behind opting for law as a career choice was that it gave me the freedom to read and know everything. A law student is never limited to reading law only. Law as a course satisfied my intellectual craving.
Tell us about your life as a law student at RMNLU.
Life in RMLNLU was more fun than work. I was never a studious student. However, law school gave me a platform which shaped my personality. When I entered law school there wasn't much "law school culture". As we were the second batch and the admissions were not through CLAT back then, the law school culture was absent. There wasn't any mooting culture or any co-curricular activities. I had resolved from the very first day in RMLNLU that I will utilise every opportunity that this place provides. Much credit goes to La Martiniere Boys' College, Lucknow, also for giving me the confidence to take initiatives. So with time things got streamlined and RMLNLU was a strong force among the law schools. We were fortunate to have some really good faculty like Prof. A.P. Singh, Prof. K.A. Pandey, Prof. Manwendra Tiwari, etc. The then Vice Chancellor Prof. Balraj Chauhan was also very supportive of the students. We started participating in mooting activity without much guidance. We learnt from our mistakes. In a nutshell, the life at RMLNLU gave me the confidence to lead and be vocal about my opinion.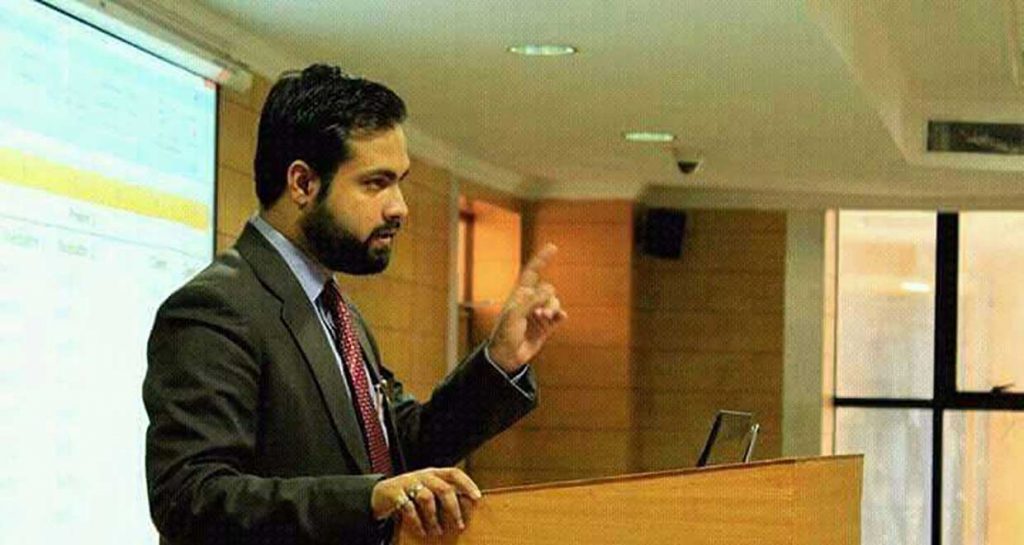 What are the causes you feel strongly about? How have you used you legal expertise in working towards them?
So when I was forced by my father to leave Lucknow and practice in the Supreme Court, he asked me to be a means for the poor to access the highest court of justice. He told me that I should never say no to a brief just because the client cannot afford to pay fees. I myself having been involved with the free legal aid movement felt strongly about the same. So today most of the cases I fight are for those who generally don't have the resources to access the justice system. I frequently represent the people declared as foreigners by Foreigners Tribunal in Assam. I also feel very strongly about the arbitrariness of government or its failure to control the fringe elements hell bent on destroying secularism in our country. Same is my view about the nepotism that is prevalent in the judiciary even though I myself belong to the same fraternity. So in this regard I have filed, strategized and appeared for causes pertaining to the same.
Throughout your time at college you have enjoyed authoring essays and papers. How did you find an affinity for legal writing? How do those skills help you in your career today?
The affinity for legal writing stems mainly from my interest in literature. I read a lot and a natural progression of reading a lot, is writing. Honestly, most of the essays and papers authored by me were more because of the pressure from a friend or for building up a strong resume. So the skills that I developed in law school now help me in drafting. Before becoming independent I have worked with three Advocates On record. The major part of the job profile while working as a junior to an AoR is drafting and this is where my prior experience of legal writing came in handy. Also, before writing any article or essay one needs to think a lot on the issue along with researching, these two skills are very important while drafting an SLP or Writ.
You have participated and placed in several MUNs, moots and held several organizational positions during your time at law school. What did you learn from these activities?
Mooting taught me to think like a lawyer and it took out the fear of public speaking or appearing before courts. In moots as well as in courts, you need to have spontaneity, an ability that developed due to my participation in moots and MUNs. I was lucky that I got the opportunity to appear before the Supreme Court in my initial days and I was not hesitant about arguing a matter anywhere. As far as holding organisational positions is concerned, I learnt leadership as well as being a team player from the same. The underlining factor of my participation in different committees was the idea of giving back to the institute. Any educational institution is known by its students and it was just a duty upon us to take RMLNLU forward and create a brand.
What do you think the present status of legal aid is in India?
(Anas has served as convener to the Legal Aid Committee for three years, working in areas of free legal aid, RTI, infocracy, child rights, consumer protection, juvenile justice, etc. )
Last evening I had a chance to watch the video directed by Prakash Jha promoting legal aid in the country. NALSA is reinventing itself and is doing a great job. Having said that, it is very disturbing that most Indians even today don't have access to justice. People are scared of going to courts or dealing with lawyers. This issue needs to be resolved and it can only be done by making people aware of their rights. My initiative was mostly inspired by the fact that as a kid I used to attend the legal aid clinics organised by various District Courts in Uttar Pradesh under the aegis of UPSLSA. My father was also a member secretary and their motto was "Nyaya chala Nirdhan se Milne". I was greatly helped by Justice Sudhir Saxena who was then the Member Secretary of UPSLSA when we were trying to establish the Legal Aid Committee. As far as students' contribution is concerned, I am really happy to announce that the Legal Aid Committee at RMLNLU has started a paralegal program and many students have joined the same. They sit at the assigned place right outside the university campus daily and provide legal aid to the needy. If the same model gets implemented in all law schools, it could be revolutionary.
Could you share with us some of the highlights from your experiences as an intern during your legal education?
I was lucky to intern in three major sectors like NGOs, corporate houses and litigation. The three sectors are very different from each other. While interning at Aman Biradri, I got a firsthand experience of the suffering of the street children. During my stint under Mr. Yashowardhan Swarup, I learnt about the intricacies of litigation, especially how to deal with a client.
What motivated you to choose litigation over your other options?
I am very old school. Litigation was my first choice. I firmly hold the belief that litigation is a service, and not a business. The idea that my skills can be utilised for those who have no access to justice was in itself a great motivation.
As a litigating lawyer having worked on several cases, could you share with some of the judgments you have read that have shaped you as a lawyer.
It may sound clichéd but the minority judgment of Justice H.R. Khanna in the ADM Jabalpur Case had a profound influence on me. Another Judgment that I find to be of great motivation is that of Brown vs. Board of Education, a judgment rendered by the U.S. Supreme Court ending racial segregation in educational institutions. Apart from judgments, two books that I feel every lawyer, especially young lawyers must read is Roses in December by the inimitable M.C. Chagla and Before Memory Fades by living legend Fali.S. Nariman.
The first few years after graduation are considered to the most challenging . How are you coping with these challenges?
It's true that the first few years after graduation are most challenging especially if you're in litigation and are living away from family. I remember travelling in DTC buses for two years and trying to cut expenses. Work is hard to come by, money even harder. Also, law school is a very protected environment whereas the world outside is harsh. Survival is a challenge. I have seen my friends and colleagues leaving litigation for good in their initial years. The only way to cope with these challenges is by constantly reminding oneself of the objective that one has in mind. One must also not let anyone dissuade you from your aim. When you enter litigation you earn much less and work harder than your friends working in a law firm or a corporate house. It becomes difficult to not give in to frustration and despair. One must remember that patience and perseverance is the key.
You have argued before the High Court and Supreme Court.  How do you prepare yourself before an appearance?
I read. I read my brief at least two to three times before standing at the bar. Also one must learn from what to say and even more importantly, what not to say in court. This is something that only comes with experience. Also one must always prepare case notes and do independent research beyond what is given in the brief. The art of advocacy is very much like acting. You need to get into the shoes of your client. You need to imagine all the possible queries from the bench. In the Supreme Court, you don't get much time to put your point across so you must be very careful while choosing your opening lines.
What has the experience been like working at the office of Adv. Ejaz Maqbool?
Ejaz Sir was my first senior. He is known to be a hard taskmaster. He was very particular about grammar and I learnt whatever little drafting I know from him. He believes that the only way to work is by actually doing work, which is why he would often push us into difficult spots, just so we may learn in the process. I was lucky to have been a part of some very important cases like the Sohrabuddin Encounter case, Gujarat Lokayukta Case, etc. Ejaz Sir's office is rife with opportunity.  Most importantly, I was lucky to have some really good senior colleagues who taught me a lot. I owe to them much more than I owe anyone in the profession.
Tell us a bit about the nature of work you did at the office of Adv. Fuzail Ahmed. What does a typical work day look like for you?
Fuzail Ayyubi's office was like a home to me. I worked there for more than three years. Fuzail Sir's office gave me the freedom and confidence to trust my work. Also the variety of work there was a huge factor in developing my legal acumen. I have never seen a lawyer as calm as Fuzail Ayyubi. In my three year long stint in his office I rarely saw him angry. A typical work day started with going to the Supreme Court to attend the matters and coming back to office and working on the matters to be prepared and drafted.
Congratulations on starting your independent practice as of 2017! What prompted you to take that step?
It was the motivation of Fuzail Ayyubi and support of Mr. Sanjay Hegde, Senior Advocate, that gave me the confidence to start my independent practice. Sanjay Sir has been really magnanimous to let me operate independently from his office under the British Chamber System. This is a very novel experiment that he is conducting and is a really good opportunity for young lawyers like me. I have been practicing exclusively in Supreme Court for a long time and now I intend to practice in other courts and tribunals. I will continue with my social justice litigation alongside commercial litigation and arbitrations.
What would you like to say to our readers who are mostly students and young lawyers, as a parting message?
To students I would like to say that the opportunities that you get in law schools shape your personality. Do everything that law school offers. Participate in moots, write research papers and get them published. You'll never get such an opportunity again. To lawyers younger than me I'll tell them that lack of means is no excuse. Anyone who works hard will eventually succeed.