Dr. Anindya Sircar has a unique distinction for holding two Ph.Ds, one in science and the other in law. He got his doctorate in Intellectual Property Law from NALSAR, Hyderabad, in 2007. After pursuing a doctorate in industrial microbiology, Dr. Sircar had a long stint heading the Intellectual Property Department at Biocon Group, which he was also instrumental in setting up. He is currently engaged in consulting, strategizing, teaching and conducting training programs in the field of Intellectual Property management. His last employment was as AVP and Head of IP with Infosys Limited where he was responsible for all IP activities of Infosys Limited and its subsidiaries. Additionally, he is visiting faculty on Intellectual Property to several universities and law schools.
In this interview we talk to him about:
His journey from science to law
The scope and prospects for intellectual property law in India
His teaching experience and what he would like law schools to do differently in their approach to IP law
You were deep rooted in science and got into the field of law for your Ph.D. How did you manage to acquaint yourself with legal terms and processes after being in the field of science for so long?
I had started off my career in scientific research after my Ph.D in Microbiology. In fact, I had joined the API research unit of Biocon Limited. Exposure to Intellectual Property at that stage was limited to only reading and understanding patents. Moreover, IP was not looked upon as a viable career option in India in the late 90s. It was at that time that the company got involved in an IP issue with another leading pharmaceutical company and I was asked by the CMD to handle the case with the help of external counsels. That was the first time I got an insight into the world of IP. The heat of the case died soon but my passion for IP continued to only grow.
I went ahead and started an in-house IP Department for the company. I had spent a lot of time with leading IP practitioners of the west. I stared reading relevant stuff and also took up courses, which finally ended up in my 2nd Ph.D. – in Law, specializing in IP. It was around that time Indian had joined the PCT and so there was some buzz in the air. The transition to IP had been quite smooth and my background in science has always been an added advantage in handling complex technical issues that often arise when dealing with IP. In fact it has been a lovely journey and the journey is still on.
After being involved with Chemistry and Microbiology at the graduate and post- graduate level, at what point did you decide to go for a Ph.D in Intellectual Property?
I had been heading the IP Department of Biocon at that time and was also teaching in leading law schools and management schools. My days used to be completely engrossed with different facets of IP, both business and academic. Additionally, my reading habits continuously kept feeding me with the recent developments in IP. At this stage, I happened to see an admission notice for Ph.D. and decided to go for it. The then Vice-Chancellor and Registrar of NALSAR were both extremely helpful and in fact the former ended up as my research guide.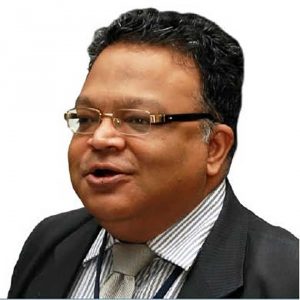 You received your doctorate in Intellectual Property in the year 2007. We are in 2017 now. Can you see significant developments in this area over the decade?
There has been tremendous development in the field of IP both in India and rest of the globe – more so in India. In India at the policy levels there have been several amendments to existing Acts, compliance with TRIPS, India becoming an ISR, the IP Policy, CRI Guidelines and many more. Needless to say, numerous workshops, conferences and awareness programs focusing around IP have taken place. The most encouraging fact is that today many students are coming forward to study and specialize in IP and there are several courses available too. The biggest achievement in India is that today people consider it a viable professional choice and the field is being sought after.
If Intellectual Property must be properly understood, what are the factors that one must necessarily have knowledge of? For instance, in studying law, politics plays an important role. Is there any such thing that goes hand-in- hand with Intellectual Property and Patents Law?
In today's world there are several super-specializations in Intellectual Property – prior art analysis, drafting and prosecution, analytics and intelligence, infringement studies, audits and due diligence, opinions, free and open source management, contracts, M&As, litigation and a few more. The requirements are really not the same for each of them. A proper blend of scientific and technical understanding and relevant legal knowledge can always prove beneficial. There is enough scope and space for representatives from both scientific/technical and legal fraternities to coexist.
You are visiting faculty to a number of law schools and you have also had the experience of working in corporate companies at top positions. What is the difference between the academic learning of IP and Patents and its practical application?
Most law schools have now incorporated IP in their curriculum. This is very encouraging but several needs of the industry in terms of skills do not get adequately addressed. Internships, which are mandatory in law schools, are an effective means of bridging some of these gaps. Some law schools run specialized courses in addition to the regular undergraduate and postgraduate degrees focusing on some of these skills. Many of the sessions in such courses are taken by industry representatives and practitioners. I am personally connected to some of them and strongly feel that some of the skills needed by the industry get taken care of. But requirements of the industry are obviously much higher.
There might be disputes between companies that are incorporated in different countries. Where does adjudication of the matter happen in those cases?
This is primarily as per the statute or as governed contractually.
Do disputes arising out of IP & Patents Law violations resolve through negotiation and arbitration predominantly?
Statistically, most of these IP disputes land up in the court. Some may get settled out of court, similar to litigation in other areas. Arbitration however is not very common in IP disputes.
A purely academic question- what are the grey areas in the framework of IP & Patents Law in our country that need immediate attention and rectification?
The framework and the statute for IP in India have been constantly evolving and more so in the last decade. Although, the CRI Guidelines are out, there are several ambiguities in the document. Additional clarity is desired, the faster the better. This will be of immense help for the ICT and related industries.
Students of law typically prefer working in corporate law firms or decide to get into litigation. How does the application of Intellectual Property differ in these career platforms?
There are numerous Corporate Law firms which deal in Intellectual Property. In fact there are several firms which specialize in IP and handle only IP matters. Corporate Law firms mostly deal in all aspects of IP, including litigation. However, the main focus for IP Law firms remains IP prosecution and IP management. Litigation involving IP in India currently is not very high. There are quite a few trademark cases but those involving patents or copyright are low. Additionally, corporates too employ a sizable number for their in-house IP departments.
You were AVP and Head of IP Cell at Infosys, and have earlier been Global Head – IPR at Biocon Limited. What responsibilities do these roles entail?
There could be a detailed JD made available for this. Primarily as a head, one is responsible for the overall and complete IP management of the company and its subsidiaries. In layman terms, this involves – IP Value Management, maximising the IP value for the company, and IP Risk Management, minimising the IP risk for the company. I was lucky that in the organizations that I worked, I always had a brilliant team which not only made my work easy but interesting too.
Assuming that you have to make hiring decisions for in-house or ad-hoc roles, what do you look for in a lawyer's profile?
This will primarily depend on the role for which the hiring is being considered as the work scope and expectations will differ greatly. More than academic records I am keen on the internship learnings when it comes to a fresher. Another aspect which influences me is the ability, and more so the interest to learn. There is no room for short-cuts.
As part of your work profile you must have had to talk to practising lawyers on IPR. Did the thought of practising law ever cross your mind?
I have been interacting with several practising lawyers for the last two decades and in fact many of the leading lawyers of the country have become good friends. I find the world of IP very absorbing and challenging and never thought of practicing law yet. Now that you have asked this question, I may start thinking.
What would be your message to our readers who are mostly young law students and lawyers?
Decide which branch of law you would like to practice, make an early choice, and stick to your choice. Choice of branch should be only on liking and passion and not any other criteria. You can't do well in something if don't love the same, hoping that you will be practising that branch every day for the rest of your life. Growth and success are bound to come. And most importantly, there is no short-cut to reach the top.