Hiral Vimadalal graduated from Pravin Gandhi College of Law in 2009. She is one of the founding members of Moot Court Society at Pravin Gandhi College of Law. She started her legal career as an Associate at 'India Law Services'. Thereafter she worked at V.A. Associates and Wockhardt Limited. She has recently joined Viacom 18 Media Private Limited as an Assistant Manager – Legal.
In this interview, we asked her about:
Law School experience
Importance of internships and co curricular activities
Strategies used while working with different law firms and companies
Why did you decide to study Law? What inspired you to do so? How did you get through to Pravin Gandhi College of Law?
How the idea of studying law crossed my mind is a very difficult question to answer! Ever since I was a twelve year old, I had pretty much made up my mind to study law. As a twelve year old I had practically zero exposure to what it would be like; but then languages, debates and drama were strong points of interest throughout my school time. I guess law was an extension to doing what I loved the most!
Well, I guess it was one of those strong intuitive decisions which guide you and shape your future that might've inspired me.
I missed getting into the premier law college in Mumbai and took up admission at another law college closer to home with the intention of working hard in the first year and then getting into that particular premier law college in my second year. However, two months into the course, PGCL (then known as SVKM's college of law) published an advertisement that admissions for their new five year course were open. Knowing SVKM's reputation of arranging world class facilities and the best faculty for all their courses, I jumped at the opportunity and moved. I am from the first batch to have passed out of the college. Making that move is one decision I am proud of!
What were your areas of interest during your graduation? How did you go about developing expertise and knowledge in these areas?
My key interest areas during my graduation were Intellectual Property Rights, Cyber Laws and Media & Entertainment Laws. My sister has done her MBA in marketing and my best friend is a Creative Designer; hence, I was always over exposed to the world of brands, ads and everything related! I think it was natural for my interest to lie in these areas! A silly confession – I am a brand buff and love advertisements. I am one of the few people who refrain from changing channels during advertisements.
I had a fabulous college life, where the principal of our college along with the great faculty, ensured that each student's interests were shown. They arranged for guest lectures and short workshops in various areas of law to ensure that all the students made an informed decision about their future.
IPR was taken care of in college as a part of the Mumbai University curriculum and I took up a six month certificate course in Cyber Laws from ASCL, Pune. This course provided me with an extensive understanding in Cyber Laws, cases, practical problems and solutions and of course the newly introduced (at that time) Information & Technology Act.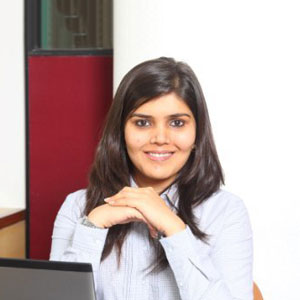 As a law student which activities did you participate in? Did you have any guidance on how to go about your academics, co-curricular activities and internships?
Since we were the first batch, we took up the initiative of setting up the Moot Court Society in our college. I was one of the founder members of the MCS along with few of my batch mates. I have participated primarily in Moot Court competitions in college and also in Client Counselling competitions, essay writing competitions and debates.
As the years started going by and we grew as an institute, we started taking up the roles as mentors and organizers of various moots in college. We also ensured that the best team gets to represent our college in moots held by other colleges.
Whatever that I may say about the faculty and guidance, would be less. They ensured that we had great firms/organizations/NGOs coming in for our internships and ensured that we got good exposure in whatever field that we wanted. Of course it was difficult initially being a new college, but we did phenomenally well! We had a very transparent set-up for everything and could openly share ideas and take initiatives for everything from internships, co-curricular activities and even guest lectures.
Our college organized a one of a kind three day festival called 'Shartrartha' which had a series of lectures and discussions by legal luminaries. We had screenings of several trial films followed by discussions on the practicality and applicability.
What kind of internships did you do while you were a student? Any remarkable experiences during your internships which might've contributed towards shaping your career choices?
I've had varied internships throughout my college years. However, I was never working straight throughout those five years since I loved being in college and was actively involved in the fests, moots, etc. I have interned at a full service law firm in my second year (when I hadn't even started studying the legal subjects) and went back there subsequently in my 3rd year as well. The firm gave me exposure in all sorts of litigation matters, civil and criminal, the nuances of contracts and some knowledge on IPR as well. I used to do a lot of research there, which form the basis of my research skills today.
Towards the end of my college, I interned at a full service IPR firm, which gave me faith that I could make it as an IP lawyer while reassuring my love for IPR as well. My senior in this firm gave me a lot of insight on Trademarks and the practical applications of what we learn in college. I predominantly did the drafting of replies to the objections raised by the Trademark Registry so it was a stepping stone to what was in store!
So these internships have shaped different skills and are a founding stone of everything that followed.
What do you feel about the perception that students of certain 'elite' NLU's have a much easier time in kick-starting their career as compared to law students from other colleges? Is this true at all?
As much as I don't want to believe it, it is true. Due to the curriculum and demi-god statuses of the National Law Schools, they manage to get the best internships, best placements and even better salaries. And it is not only the National Schools. It is even between the premier law colleges in cities vis-à-vis the others. I know how many times I have answered questions about my college and why I was not from the premier law college and what my college did. I have seen the scornful look on the faces of prospective employers when they hear that you are not from a particular college. In fact, even after a great interview, things have not worked out because I was not from a particular college.
I think it is high time the perception changes. People should be judged by their qualifications and talent rather than a name backing their education.
After graduating from Pravin Gandhi College of Law you joined 'India Law Services' as an Associate. How did the appointment take place?
After completing law, I was looking for a suitable job to kick start my career. I got to know through a friend that 'India Law Services' was looking to hire and so I sent my resume. I met the IP partner and it all fell in place.
You left India Law Services and had joined V.A. Associates. What led to this shift? How was your experience working there?
Joining V.A. Associates was technically not a shift. The IP partner of 'India Law Services' started his own practice and hence the entire team shifted with him. This experience, as I always maintain, was my college to the practical world. Mr. Parelkar is one of the most knowledgeable persons I have come across and to top it, he loves to share his knowledge. I've got a great exposure because of him and learned the procedural aspects of IP law, infringement suits and the works. While I was only assisting in suits, it gave me an insight into what is expected in a trademark infringement suit and what must be covered to get a favourable order. I got exposure into the functioning of the Trademark Registry and the nuances of dealing with them. This was also the first real experience at dealing with the clients and the Trademark Registry.
To sum up, all my skills have been honed by Mr. Parelkar and I would not be what I am and where I am if it were not for this experience.
You thereafter left V.A. Associates to start working at Wockhardt Ltd. as Senior Legal Executive. What prompted you to keep changing your job so frequently? What was the nature of your work there?
After working with ILS/VA Associates (which as I explained earlier was not a shift), it was time to spread my wings. I was looking for an opportunity where I could get exposure to the other aspects of IP. Even though my primary interests always have been in Media & Entertainment or Technology, Wockhardt came about and I decided to take it on since Pharma was booming as an industry and lot was happening in the Pharma IP space. My profile was IPR but my responsibility grew manifold. In Wockhardt I was handling a portfolio of 2500-3000 brands and we did everything in-house. We did not engage external counsels, except for litigations.
The working of a company is completely different than that of a law firm. We were a small team of five-six lawyers and maintained a policy of one-for-all and all-for-one. My senior Debolina Partap might have seen something in me, for she gave me exposure in so many aspects, apart from IP. She groomed me to be an in-house counsel. By the time I left, we had set up a full procedure and SOP for the trademarks/copyrights of the company, I had interacted with a bouquet of law firms internationally for our trademarks, which gave me so much exposure to the Trade Mark policies in various countries and also helped me establish a network. These experiences are really important to shape your future and take you to the next step. I have done several TM litigations, legal notices, and been a keen observer in negotiations, which have all helped me grow in more ways than I can explain. I have done Drug Litigations which involved different laws and had me interact with various government officials. It was also the first time that I got a practical insight into compliances and labour issues. Even though the exposure was limited, I had a lot to learn. I cannot sign off without thanking the organization for giving me my first ever Divestment Transaction. The myriad levels of interaction, the due diligence, IP streamlining, documentation, numerous negotiations and discussions were an experience which I cannot justify with words. Understanding the dynamics of an organization and also the correlation between departments of a company is something that I have Wockhardt and Ms. Debolina to thank for.
You've recently joined Viacom 18 Media Private Limited as an Assistant Manager – Legal. How did the switch from Wockhardt take place? Did you get an offer or did you apply for Viacom?
Viacom 18 was a dream job. I remember wishing that I somehow land a job there every time I crossed the building. As I said, Media & Entertainment laws have always been a key interest of mine. I was ecstatic when the consultant called me for an interview. While Pharma is extremely lucid and has a lot to offer, I felt it was time to finally pursue a dream job and make the switch before I got labelled as a Pharma Counsel.
The consultant called me with this opportunity and needless to say, I jumped at it. I was extremely uncertain of landing the job, given my non-media exposure, but my boss may have seen something in me, which I am forever indebted for.
What does your current work profile at Viacom 18 consists of? How is a typical workday like?
I am predominantly responsible for the IPR portfolio here as well. Viacom18 is growing every day in terms of IP and the issues are completely different. I am getting more exposure in Copyright and different areas and dimensions of IPRs which are specific to the Media and Entertainment industry. We have also undertaken to sensitize our Business Units to the TM/Copyright Law and hold training for them regularly. I have also been assigned a portion of the litigation profile, which of course is very different from the litigations I am used to handling. So in that sense I am still taking my baby steps with litigation here. My boss, Thomas George is a phenomenal person and is one of the very few "born intelligent" people. He comes from a litigation background, so he is guiding me at managing the litigations like a lawyer, rather than a Manager/In-House Counsel. He teaches in a way that one will never forget for their entire lives. I have a lot to learn from him and hopefully I am taking away as much as I can from his experiences. We have a great team here which is always willing to share and help each other. Everyone is super cool and friendly. It seems like I am working with friends, which makes work twice as exciting. I look forward to every single day here.
A typical workday is filled with lots of work and lots of fun too. Our day starts at 10.30am and is always action packed. There are several days which are busier than others if there are deadlines in terms of notices, responses to file and if there are several matters on board for that week. But we ensure to get our daily dose of fun as well. So as I said earlier, I really look forward to each day here!
Does Viacom 18 take interns? What is the process for same?
Yes. Viacom 18 does take interns. It is need based and we usually route it through HR. Sometimes, we can refer an intern to the team in need for one. However, we do not have a regular policy for taking interns or GTs in the team.
Many lawyers would say that the actual learning takes place in the years of practice. How far would you say it is true? What was the case in your situation?
It is true to the last word. While your school or college will lay the foundation stone, it is the practice and what you take out of those experiences that shape the rest of your career and future. You may study the law but will not know which provisions are applicable till you actually do a case involving that law. Further, it is not about the law. It is also about strategy, sometimes avoiding the conflict and how you tie up the interest of the Business unit/client and the facts, to put your best foot forward. Communication is also extremely important. What and how much to say and when is also an important part of the exposure.
In my case, I believe that every experience I have had during these years has taught me something. Practical aspects of the law can sometimes be very different from what it may appear in theory. This distinction will come only as you move ahead. I have been lucky to have had some great experiences and seniors who have really helped me get till where I am.
Lastly, what would be your parting message for our readers?
Law is an amazing field to be in if it gives you the kick. I have never wanted to be anything else. In today's day and age, when everything can be 'managed' it is important to be true to yourself and the profession. We are a big lot and have the power to do a lot if we wish!
Cherish all your professional experiences. Every challenge you are faced with leaves a lasting impression. So I urge the readers to always be open to getting the best of the experiences, both good and bad. Trust me, the bad ones teach lessons for life! And the good ones stay with you as a fond memory and a teaching for life!