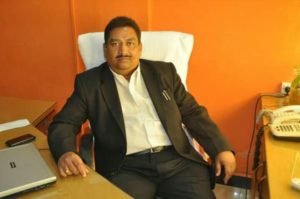 Mr. Dileshwar Naik, Prominent advocate and President of Vasco Bar Association, graduated in law from V. M. Salgaocar College of Law in the year 1997 and shares his views and experiences in his long and successful career. This Interview was conducted by SWITZY BRAGANÇA of GR Kare College of Law.
IN THIS INTERVIEW HE TALKS ABOUT:
Importance of Academics Writing

His views on Human Rights Advocacy

His advice to law students
1. CAN IT BE SAID THAT COLLEGE STUDIES PREPARE YOU FOR REAL LIFE PRACTICE IN COURTS?
Well, College years are full of fun, however studies are or atleast during my college days were limited to academics and it did not help much in real life practice in courts. Even mooting with academic interest just to score marks doesn't help law students to succeed in legal field. The subject and the cases which are chosen should be with an eye on legal practice and more and more mooting with the help of expert lawyers will definitely help students when they join practice.
The best way to prepare for real life practice is to actively take part in the functioning of the court by perhaps joining a practicing lawyer and even through internships. The Practical knowledge and training which I received from my senior Mr. Ulhas Shetye helped me a lot in practice as I got lot of exposure from him.
2. WHAT SHOULD A LAW STUDENT DO IN YOUR OPINION TO SHAPE HIS/HER PROFILE IN THE LAW FIELD?
A law student should during their academics if keen to join practice should join some lawyers office or firm and take practical training which will help them to choose their specialization and also make them more confident and ready to take up the challenges when they join real practice in courts.
3. HOW IMPORTANT YOU THINK ACADEMICS WRITING IS FOR A LAW STUDENT WHO WANTS TO BE AN ADVOCATE?
Academic writings, as it is practiced currently, I believe are limited to examination and marks and a student who wants to be an advocate needs practical training more than academic writing. Exposure in various courts and learning the procedures in courts helps a person to be a better advocate than the one who concentrates only on academics.
4. WHAT INSPIRED YOU TO BECOME AN ADVOCATE?
My late father, who was a police officer always wanted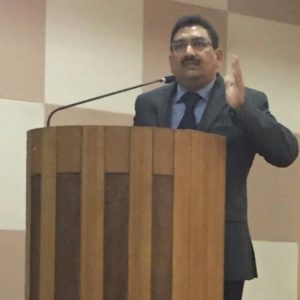 me to be a professional rather than taking up service though I was more keen to become a police officer like my father. However, as time went on, I realized that I had an interest in the subject that is collectively known as law and this interest slowly tilted me towards the profession.
5. IS THERE ANY SKILL OR SECRET YOU PICKED UP OVER THE YEARS THAT YOU BELIEVE IS CRITICAL TO A LAWYER'S SUCCESS?
I would say your devotion and experience automatically improves your skills as a lawyer and more importantly a lawyer should agree with the merits of his or her case and prepare for the case. Similarly is your discipline and behavior in the courts and with your clients. One needs to be sincere to the client and the courts and follow the ethical values for success and it does not need special skills.
6. TELL US HOW YOU HAVE MANAGED TO HANDLE YOUR FAMILY AND LAW SIMULTANEOUSLY?
It's a very tough question, because once you take up the legal profession you are a lawyer 24 hours a day and that very often makes it difficult to handle your family but that again depends upon your time management. A lawyer needs to plan the timings and that is how I have managed both family and law.
7. WHAT IS YOUR IN HUMAN RIGHTS ADVOCACY IN INDIA OVER THE NEXT DECADE?
There is definitely a change and a positive change in India and for lawyers to only depend on human rights advocacy, only time will tell. No doubt people are getting aware about their rights and privileges and education is playing a big role. So human rights violations are taken note by everyone.
8. DO YOU HAVE ANY PARTING ADVICE FOR ALL OUR READERS OUT THERE?
A lawyer who wants to make legal profession his ultimate goal then has to undergo hardships for at least the first five years, get well versed with the procedures of courts and educate himself and keep track of the latest developments in the legal field. Similarly lot of reading and being sincere to your clients, courts and to your colleague. Follow the legal ethics and prepare your case well in advance before you put up the case in court rather than last minute preparation like we are used to do for academical exams.