Naina Pachnanda graduated from NUJS in 2014. Her internship experiences with Hon'ble Mr. Justice Rajiv Sahai Endlaw, Mr.Sidharth Luthra and Luthra & Luthra Law Offices, were most instrumental in strengthening her interest in litigation. At present she is working with an Additional Solicitor General in Supreme Court of India, Mr. P. S. Patwalia. Her LL.M application to University College of London was duly accepted, but she chose to not go for it at the moment and instead garner more work experience.
In this interview we talk about –
She graduated from WBNUJS and her internship experiences from various places in India.
Working as an Associate Editor of Indian Law Journal.
Declining an LL.M opportunity from University College of London.
Working with Mr. P.S. Patwalia, an Additional Solicitor General of Supreme Court of India.
How would you introduce yourself to our readers who are mainly young and enthusiastic lawyers?
I completed my law from the National University of Juridical Sciences (NUJS), Kolkata, (2009-2014). Having graduated only last year, I have the same aims and aspirations as all of you and I to strive to do better always and every time. Having developed an interest in litigation over the past five years, I am now practising under a Senior Advocate, Mr. P.S. Patwalia, who is currently an Additional Solicitor General in the Supreme Court of India.
How would you describe your pre-college life as well as educational background? Do you have lawyers in your family who motivated you to pursue a career in law?
Being an IPS Officer's daughter, I had the opportunity to visit several cities and be educated in different schools during my childhood. I ultimately completed my schooling from Delhi Public School, R.K.Puram, where I had a very balanced student life, with the right proportion of studies and sports. During my childhood, I had the opportunity to represent my respective schools in squash, tennis, swimming and basketball. This apart I spent a great deal of my time playing the piano and gave examinations of the Associated Boards of the Royal School of Music, London.
As far as my decision to choose law as a career is concerned, my father, who is a lawyer by profession, and used to practise as an advocate in the Punjab & Haryana High Court, and my brother, who is currently a practising advocate at the Supreme Court of India, have been my inspiration behind having chosen this profession.
What inclined you towards the field of legal education? Do you reckon any specific incident that made you choose law as a career?
My brother was a law student, at the Gujarat National Law University (GNLU), at the time when I decided to sit for the Common Law Admission Test. I was greatly enchanted by the moot court competitions and conferences that he would tell me about during his stay at law school. I was also inspired by discussions with my father who used to be a lawyer at one time. Being in the police, he used to discuss various issues regarding trials and investigations and the criminal justice system, which imbibed my interest in criminal law, from the time when I was in school.
Tell us about your law school life, how instrumental was NUJS in shaping up your legal career? How well do you think your education at NUJS prepared you for real world practice of law?
I owe the person I am today, entirely to NUJS. I went in as a young girl and five years hence I came out as a strong, independent and learned woman. Today when people ask me whether to choose between a national law school and a private institution for law, I always advise them to choose a national law school, because, if given an opportunity, being in a national law school has its own charm. The competition between the students is very motivating and inspires one to do better and work to one's fullest capacity. The kind of hard work I put in at NUJS, be it in terms of preparing for exams, or even researching for projects and tutorials, has always taught me something different. Moreover, interactions with professors, some of whom have also been educated from the best universities in the world, and other legal luminaries who visited NUJS for guest lectures and workshops, also widened my horizon about legal education. Being at NUJS has not only groomed me to be more confident but has also instilled a sense of responsibility and perseverance in me.
Tell us about your internships in law firms across India, at the High Court of Delhi and the Supreme Court. How would you recommend students to go about choosing their internships?
My first internship was an NGO based internship, at the Human Rights Law Network (HRLN), under Mr. Colin Gonsalves. I got a chance here, to impart free legal advice to the poor and the underprivileged. This made me embark on the IDIA project (Increasing Diversity by Increasing Legal Access) as an active member, during my latter years at NUJS.
Thereafter, I interned with Dua Associates, a premiere law firm in India, where I researched on issues relating to anti terrorism laws, due to my interest in the field of human rights that developed during my earlier internship at HRLN.
Discussions with my father, over trials and investigations regarding the criminal justice system, increased my interest in criminal law. This interest developed further when I interned under Mr. Sidharth Luthra ( Senior Advocate, Supreme Court of India), wherein I had the privilege of assisting him in the curative petition that was filed by the Central Bureau of Investigation in the famous Bhopal Gas Tragedy Case of 1984 which is, to date, regarded as the world's worst industrial disaster. I not only received a feeling of self satisfaction when the judgment was declared in our favour, but there was also a sense of achievement of having been a part of the proceedings of such a landmark case.
I also keenly observed the art of court craft by witnessing various trial court proceedings and the cross examination of some of the witnesses in the famous 2G Spectrum case, where there was allocation of 2G Spectrum by the Government to various telecom providers; during my internship with Luthra & Luthra Law Offices, another premiere law firm in India. My brief stint with Amarchand Mangaldas & Suresh A Shroff & Co., gave me an exposure to arbitration, where I assisted them in matters involving commercial arbitration. Subsequently, I interned with Hon'ble Mr. Justice Rajiv Sahai Endlaw of the Delhi High Court. This internship provided me with an invaluable insight into judicial decision-making, which enabled me to enhance my research and oratory skills which are essential for a litigating lawyer.
In fact, my internship experiences with Hon'ble Mr. Justice Rajiv Sahai Endlaw, Mr.Sidharth Luthra and Luthra & Luthra Law Offices, were most instrumental in strengthening my interest in litigation.
In my opinion, law students should utilise their internships to endure different areas of law, which will make them aware of the particular field of law they are interested in; and ultimately lead them to pursue their goals.
You have presented papers at various law conferences and authored articles in several publications. Please share with our readers your experience.
Right from my first year of law school, I assisted my brother Vikrant Pachnanda, in editing articles and interviewing various legal academicians and lawyers, for the India Law Journal (ILJ), a global law journal, which was started by him, while he was a second year law student at GNLU. This imbibed in me a sense of knowledge about article writing, which is essential for a student, in any field. It also taught me how to examine legal issues and how to edit the lengthiest and most complex legal articles. This further enhanced my skills of writing and editing papers for publication and presentation at various conferences. Editing, writing and presenting papers instilled a great amount of confidence in me and improved my research and public speaking skills, which are very important for any and every law student.
My suggestion is that law students should make full and appropriate use of their time at law school, in terms of getting involved in writing articles for publication; essay writing competitions; paper presentations and other activities that will not only help them be proficient in their ability to research meticulously on various case laws and current legal issues, but also help them to be fluent and confident in speechmaking.
Please tell us a bit about India Law Journal. What are the basic constituents of an issue? Which skills do you get to hone being an Associate Editor of such a journal?
I am an Associate Editor of India Law Journal (ILJ) which is a global law journal (www.indialawjournal.com) and provides a forum for generating a cross current of ideas on emerging topical issues. India Law Journal features articles and interviews of several leading lawyers and academicians in the legal fraternity from different parts of the world and finds its place in several law libraries such as the Peace Palace Library at the International Court of Justice and the Indian Society of International Law. India Law Journal has also partnered with international organizations such as the American Bar Association, Kluwer Law International and Lexis Nexis, amongst others as a Media Partner in many international law conferences. Serving as an Associate Editor of India Law Journal has provided me with the opportunity to research on various current issues while editing articles, writing book reviews for the journal, analyzing legal issues and interviewing legal luminaries.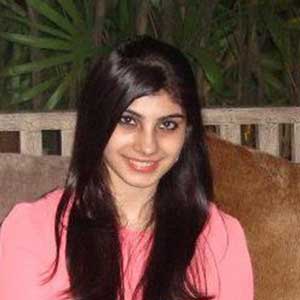 Please share with us your work experience with Mr. Paramjit Patwalia. What are the skills you bank upon at work?
I am very fortunate to be working under Mr. Paramjit Singh Patwalia. He is a very good senior to work under as he encourages his juniors to learn and perform to their fullest. He also guides us and instils in us, the desire to learn, improve and excel. The research and oratory skills that I gathered through my five years at NUJS including various internships, paper presentations and paper publications, have extensively helped me assist him in researching on various case laws and briefing him on several propositions of law.
What do you think clicked in your favour for your application at UCL?
(Naina had applied for admission to University College of London. She chose not to pursue her LL.M thereaftr even when her application was successfully accepted.)
Apart from academics, I was involved in a lot of extra circular activities during law school, such as writing papers for publication, presenting papers at legal conferences; editing articles, book reviews and interviewing legal luminaries for the India Law Journal (ILJ).
I was also involved in the IDIA project during law school, wherein I mentored Ms. Karthika Annamalai, through her first two years, in her academic work and overall well being. Furthermore, I represented NUJS in tennis at our sports festival, Invicta. Thus, I would say, this balance of academics and extracurricular activities during law school, coupled with my internships, worked in my favour, to secure admission at UCL.
As far as applying for admission is concerned, in my opinion, it is important to first decide on the subjects that you wish to further delve into after law school and short list universities across the globe, in accordance with the same. Thereafter, it is essential to meticulously read all guidelines and information regarding the course modules that you wish to study, in the shortlisted universities, on their respective websites. After reading this thoroughly, write your statement of purpose on the basis of this information coupled with the particulars provided in your cv, i.e. your academic and non academic achievements. It is further imperative to maintain a good rapport with college professors, have insightful discussions with them and seek their help regarding the letters of recommendation. Getting all the documents from law school, as per the requirement of the universities is the next step. I admit, applying for LL.M, is a strenuous procedure, and requires a lot of patience and hard work but where there is a will, there is a way, and the ultimate result will be worth the time and effort put in.
Do you have any plans to pursue higher education in the future? What are your future plans?
It was always my desire to pursue higher studies, straight after law school. Therefore, I applied to a few universities in the United Kingdom and secured admission in University College London (UCL) for an LL.M for the academic year 2014 to 2015. Despite UCL being a highly reputed university, I decided to garner sufficient work experience before pursuing my LL.M degree in order to make the most of it in terms of being an enriching and intellectually stimulating experience. I am happy with my decision as I have not only gained a vast amount of knowledge and expertise, in the last couple of months but have also begun to grasp the understanding of the practical aspect of law, which is imperative for a litigating lawyer.
Is there any message you would like to share with our readers?
It is important to pinpoint the field of law that you are interested in. It could be corporate law, litigation or even academics or law and policy making. No matter which field you pursue, it is necessary to work hard since there is no substitute to hard work. One should also give back to society by helping the poor and needy by engaging in pro bono work.