Zaryab Rizvi graduated from Symbiosis Law School, Pune in 2005. He started practicing law in Delhi right after graduation and has been independent from the very beginning, Zaryab is one of those who started out with their first few matters of legal career without a mentor or guide.
He is the Founding Partner of LCZF (Law Chambers of Zaryab and Firdouse) where they provide varied legal solutions to their clientele across the country and provide solutions in litigation, corporate jobs, compliances, IPR, ADR etc. Their clientele is diverse and includes MNCs, banks, shipping companies, government entities, private individuals etc.
In this interview he talks to us about:
His experience at SLS, Pune.
Importance of internships in shaping his career.
His experience of first time court appearance.
How he overcame the initial hurdles.
How would you like to introduce yourself to our readers?
I will prefer to call myself a learner who is in search of excellence and for which purpose I have put in my best efforts. I have done my schooling from the great city Lucknow, after which I joined Symbiosis Law School, Pune. After successful completion of law degree, I decided to work independently and ever since have pursued my passion. Being a first generation lawyer, the decision to work independently in an unfamiliar city of Delhi had its share of challenges, but my strong determination and focus never made any kind of pressure to halt and change my decision. My position or you can say mindset can be described aptly in the following words: "I just hate losing and that gives you an extra determination to work harder"- Wayne Rooney. I am the founding partner of LCZF (Law Chambers of Zaryab and Firdouse), which is a full service law firm. Our Head Office is located in Delhi, but we are operational all across the country through our wide number of associate offices. The firm is a one-point destination for all legal requirements of a client, where we ensure that tailor made solutions are provided to client's each requirement in the legal domain.
What prompted you to think of law as a career? If not law, what other options would you have considered for your career?
Choosing a career is one of the most important decisions of an individual's life, as it determines ones entire future life. Although there are several occasions, when a person may have to take up a call on the future profession, but the first of such a significant instance is at the time of selection of subjects/stream after the high school results. Fortunately, the power to take such decision, like all other important decisions of my life was given to me by my parents, after providing the insights and guidance about various options. I acknowledge the importance of all other professions, but I would say that many people make such an important decision of life just on the basis that, many others are deciding in favor of a particular stream of education and they should follow the same. The profession of law has been a noble profession, but the problem with the profession has been the deteriorating standard of lawyers between the periods of 1980's and 1990's. The said concern has been raised and discussed by multiple Courts, Judges, Bar Council of India and in this regard various measures have been taken for improving the standards. I believe that a person should consciously choose a profession and the same shall not be by default, but the irony with the legal profession for years has been that many people end up in profession by default and not by choice.
There are several reasons responsible for my inclination towards the legal profession, some of the prominent reasons are:
A) Desire to be able to provide assistance to many persons who are caught on the wrong side of the law and who do not have sufficient resources to defend themselves.
B) Recognition of the fact that a good lawyer is a person who possesses attributes like sharp mind, eloquent speech, command over the law, credibility in society, honesty and a rich taste in life, placing such lawyers in the elitist and distinguished class of the society. C) Apart from the above positive aspects, I also had certain bad experiences, with some unprofessional lawyers, while assisting my family in some of the civil disputes. Such instances also made my resolve stronger to be a part of the legal profession and make endeavor to raise the standards of profession by lifting my own personal standards.To answer to your second part of the question regarding options, which I had or considered apart from law, I will only say that although there were all the fields available to me, but I do not believe in options.
Describe your experience at Symbiosis, Pune as an undergraduate law student. Any highlights and incidents you would like to share.
I believe that all the educational institutions are respectable and knowledge imparted to students there is also good. However, having said that, I want to further add that, an educational institution is not only about imparting knowledge from the books, but such institutions are also responsible for giving a vision to the students. A student during the process of learning evolves his choices about his future course of action in the professional life. I believe that an educational institution should have conducive environment for the learners and shall provide all resources to the students, which eventually develops their skills and vision. For me, Symbiosis Law College is not just a college, I share a nostalgic relationship with the institute and all its members, be it the academic staff, administrative staff, support staff, fellow students as also senior and junior students. Moto or the central ideology of our alma mater is "Vasudhaiva Kutumbakam" which means the 'whole world being one family'. I was 18 years old, when I joined the Law College in Pune, about 1500 kilometers from my home.
There never arose a situation where my parents had to worry about me in the then alien city. The college truly lived up to its Moto and I never felt that, I was in a city where I have no roots. I clearly remember that several times some of the political outfits created ruckus in the city, about the people (students) from outside the State. But on every such instance the college management and Local Teachers/Students stood in firm support of all the students from other states, which action was not just in conformity with the Constitution of India but also was inline with the core ideas of the institution "Vasudhaiva Kutumbakam".
Our college was headed by Prof. Mrinal S. Raste, who was the principal of the College during the period of my academic journey in the College. Prof Raste went on to become the Vice Chancellor of the Symbiosis University (Deemed University) and along with the Management of the College, was responsible for enhancement of the Brand of the College. We were privileged to have academic faculty, which not just possessed immense knowledge of the Law subjects, but were very friendly and easily accessible to all the students. Although, all teachers were great but amongst them, my favorite guide and mentor was our torts professor, Prof C. J. Rawandale. He holds a respectable position in eyes of every student, as he is a knowledgeable and friendly person with a pleasing personality and is a "go to" person in every crisis situation, be it academic or otherwise. My connect and association with Prof Rawandale, did not end with the conclusion of my academic period in Symbiosis, Pune, but even thereafter it became stronger year after year. At present Prof CJ Rawandale, heads the Noida campus of Symbiosis, as its Director and because of him the doors of the Noida campus are always open for the Alumni of the college, which is quite helpful for all of us. Prof. Rawandale is putting immense efforts in bringing alumni closer to each other as also to the current students of the college, by organizing several events, paving way for colossal work opportunities to each and every one who has been and is part of my alma mater. Such a thoughtful faculty makes my alma mater, one of its kind. Symbiosis is a part of my life, which I cherish the most and I am thankful to the Almighty for granting me such an opportunity, which completely impacted and changed my life for good.
Where did you do your internships while at law school? How important were these internships in shaping your career?
During the breaks in the academic session, I used to join Law Offices situated in Delhi for internships. I interned at several places. All Internships I took up, were very helpful as I not just got opportunity of learning and understanding about the practical aspects of the functioning of Justice delivery System, but such internships also helped me to make informed decision about my future. It became relatively easy to choose between various avenues like job in a company/ law firm/ corporate work/ litigation etc. Amongst other internships, I also interned twice with Mr. Atul Sharma, (Founder, ASA Law Firm). I will say that my decision to choose litigation as my career was influenced to a great extent from my first hand experience with high profile litigation in his office. My first internship was in my second year of law and on the very first day, I attended proceedings in Hon'ble Delhi High Court, where we were seeking anticipatory bail for one celebrated singer accused of illegal immigration scandal. After being granted the relief, the moment we moved out of court, media surrounded our team and standing in a corner, even my face was telecasted across the globe. My parents were relieved that their son has actually joined work. Such small moments always remain special, although I have made numerous television appearances since I joined profession, but that appearance of few minutes will remain my best and most cherished one. I will say that the present generation is even better and are taking profession in a much more serious manner. I believe that such approach by young students is not only helping skill enhancement of the students, but at the same time is also having a positive impact on the larger scenario, as the quality of lawyers is improving with each day.
How did you overcome the initial jitters in a courtroom full of experienced lawyers and judges, as you started out independently?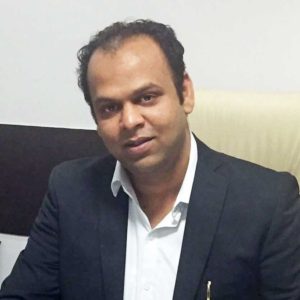 It is indeed a very pertinent question, why and how I started working as an independent practitioner in an unconventional way at the initial stage of my professional life. In the lighter vein I will say, that I still wonder and look for answers even today for the above question. But probably had I not taken such decision I may not have got to answer such an eccentric and rare question. On a serious note, it is true that I decided to work independently from the day one in an unconventional manner against the usual trend. I was fully aware that I will have my own share of challenges in pursuing the said decision and it would not be an easy sailing for at least a few years.
Trust me I was not wrong and there were ample challenges throughout the journey. I was not born in the profession with the silver spoon in my mouth, as I am a first generation lawyer, who decided to work in an alien city where I had no roots as such.Every aspect of the professional life and work, be it the simplest of jobs was a challenge and gargantuan, as there was no one whom I could have asked solution for my queries. I will say that my feeling on finding solution to a simple thing used to be same as of "Early man" who discovered fire accidently by striking stones together. It is true that the challenges were huge but my desire to pursue my aspiration, gave me inspiration to face all these challenges and I believe once you decide that "YOU CAN" surely "YOU CAN". As I said earlier that, I don't believe in options, for that reason I had no other option but to perform.I never had any fear of any senior advocate, judge, or advocate having more experience than me. As I always believe that if I had done justice to my work I will get justice in return. The only pressure I felt has been of miscarriage of justice for my client because of my adventurism (as some people used to term it in my early days). But in the past 10 to 11 years I have a success rate of over 99% in the cases, which I have handled. I always ensured that my decision to start independently should never be an obstacle in putting my best foot forward, when my client's interest is involved.
Describe your experience when you appeared in the court for the first time?
My first appearance in the professional life was before the Hon'ble Supreme Court of India. I could not have expected a better first appearance. Although my role in the said case was very limited as there were many other parties in the said case, but for a first generation lawyer who decided to practice independently and who practically had no experience, this opportunity to commence professional life before the highest court of the country was in itself a privilege. I think it is not very difficult to imagine my situation at such time. However, after appearing before Hon'ble Supreme Court in the very first instance, appearances before all other courts appeared to be relatively easy. Many years have passed since then but the memories of that first appearance are still fresh in my mind.
Did you ever have any other plans other than litigation? What are your views on LL.M.? Do you think Indian Legal Education needs to improve?
Litigation has always been the first love but apart from litigation I have been involved in a lot of Corporate work, which includes drafting/vetting Commercial Agreements, Contracts, MOUs, advisory compliances, incorporations/mergers/acquisitions etc. I have also imparted training on Sexual Harassment of Women at Workplace (Prevention, Prohibition and Redressal) Act, 2013 to various representatives of the corporate world in Delhi, Bangalore, Hyderabad, Noida, Gurgaon and Lucknow. Apart from the above, my several articles on different subjects have been published in some leading Magazines. The evaluation of the education system can only be done by examining the developed products of that system and in the present case the product is a lawyer. If I say that the education system is bad, the same would be absolutely wrong as the products of the same system have made not just the fraternity proud by their knowledge but have also got recognition to the country's legal acumen at the international stage. However, I agree that there is scope for improvement. In the present system, brilliant students of the top law schools are somehow more inclined towards non-litigation assignments. I believe that the exposure to litigation should be encouraged during the academic course, so that these students are better equipped to take up litigation assignments and jobs.
Tell us something about LCZF (Law Firm).
LCZF came to be formed by me along with Ms. Firdouse Qutb Wani ("AOR" SCI), with a thought that a client looks at it as a trusted resource. The name LCZF stands for Law Chambers of Zaryab and Firdouse. We wanted to be a one-point destination for all the legal requirements of a client and ensure that a tailor made solution is provided to the best of their interests. Today with the support and efforts of our able team of lawyers and Para-Legals, we have achieved this goal successfully. LCZF provides legal support to various private Corporates, Government Establishments as also to individuals. We provide legal solutions even in the remotest parts of the country and it has become possible through our wide network of capable associates across the Country. Further details can be checked by the readers on our website, www.lczf.in. We also take up Pro bono assignments, because I always feel that one should never live with regret that due to lack of financial resources, he/she could not seek justice. Furthermore LCZF, believes in giving opportunity to young law students, to taste the life of lawyers and learn the tactics of the legal practice, while they are still in cocoon, hence we have created an independent department in our Firm, which completely deals with the Law interns and round the year several students get benefited by the same.
Please tell us about your current occupation. What do your main tasks and assignment include?
During the course of my professional life I have handled assignments of diverse nature, as I have never restricted my professional abilities in small compartments. Presently, I will say that I am undertaking multiple litigation assignments which includes corporate crimes, service matters including writs, commercial arbitrations, matters emanating from Arbitration and Conciliation Act, matters under Companies Act including winding up, civil and criminal writs, petitions under Section 482 Cr.P.C, Bails, matters under SARFAESI Act, cyber-crimes, matters under labour laws, matters under Negotiable Instruments Act, matters pertaining to marriage, sexual harassment cases to name a few. I am also involved in advisory functions to start ups, factories, MNCs and Banks. My corporate assignments include drafting/ vetting Commercial Agreements, Policy Formulation, Contracts, MOUs, compliances, incorporations/ mergers/ acquisitions etc. I also give sessions/training on Sexual Harassment of Women at Workplace (Prevention, Prohibition and Redressal) Act, 2013 to various representatives of the corporate world in Delhi, Bangalore, Hyderabad, Noida, Gurgaon and Lucknow. Apart from the above, my several articles on different subjects have been published in some leading Magazines.For catering to the above assignments, I have responsibilities at LCZF. I aim for perfection in every assignment that LCZF takes up and for that purpose every document that is prepared by our team which of consists hardworking and capable professionals, has to come to my desk for settling before it goes to the Client for approval or is filed in the concerned court or Tribunal, as I want to ensure that no error is on part of LCZF. We believe that we as Lawyers have great responsibility on our shoulders to safeguard the interests of our clients and our small error or oversight can change the course of future of our client. My main work includes arguing matters in court, advising clients as per the requirement, supervising all the heads of the concerned departments, meeting clients and forging alliances with other Law firms.
Many law students aspire to secure a job. What do you think most are doing wrong, from your observation?
Most of the times life gives us multiple options and the choices that may determine our future. Similarly a law student has multiple options at the time of graduating, broadly we can categorize the same as: –
Option in the corporate side as legal manager.
Options with law firms handling corporate assignments.
Options with law firms handling litigation.
Options with small law firms/ Lawyers.
Other non-traditional avenues.
In my view all options are good and a person who joins any of the above has a good future. I'll say a person shall make the choice after considering the benefits and the challenges that one may face in the stream of his choice. I believe that the focus of an individual should always be towards satisfaction in the work that the person is undertaking as if a person is satisfied with the work he is undertaking his/her quality of work will always be good and for that reason he/she need not worry to secure a job as his/her work may have taken care of securing a job. I think many of the professionals take up assignments which they don't want to take but they land up in such domain due to choices driven by glamour, monetary benefits, family pressure, peer pressure, false evaluation, under estimating the challenges. In my view if we make a choice for reasons other than passion to do such things we are bound to be dissatisfied after a short span of time, as when we are passionate about a decision, we take every difficulty, which we face as a challenge and not as a dead-end. To conclude I'll say that aspiration to secure a job is not wrong, but the legal profession requires patience, determination, dedication, hard work, sincerity and perseverance which maybe difficult if we have made our choice for any other reason or consideration other than our passion.
What helped you shape your current profile within the field?
As they say, "Rome was not built in day" similarly I cannot single out one factor which is responsible for shaping my current profile. There have been several factors over the years, which have played important role at relevant time.As a first generation lawyer, I started to work in an alien city since the very beginning. I had no one to guide me, I learnt a lot from observing the masters of the profession in courts and at every opportunity. I'll not say that a Dronacharya had closed his doors upon me as I never knocked such doors, but yes, its true I learnt a lot while adopting Eklavya's way of learning.  Over the years I have had many people from whom I've learnt a lot, one such name is of Mr. C. Mukund (Advocate). I have had numerous opportunities to interact with him and every interaction has been of immense learning. I've not only benefitted from his knowledge of law but I am also influenced with his humility, humbleness, down to earth attitude and generosity.
Where do you see yourself by the end of coming five years? What are your long-term objectives?
Every individual must have goals in his life, as without destination we do not have a path, which we have to follow. I since the very beginning have set goals for myself, both short term goals and long term goals. The short-term goals are usually milestones in our journey to achieve long-term goals. I have set timeline to achieve such goals, as without timeline goals are rendered meaningless. In the coming 5 years I wish to work on assignments which test my abilities to enhance my legal acumen. As I said, I am learner, I would like that in the coming 5 years, I use such time to gather as much knowledge as I can, while putting such knowledge to good use and obtain good results for my clients. Although I have many goals in the long term, but if I look at the ultimate goal of my professional life, I would say that I want to be some one, fondly remembered in the legal fraternity.
What would be your parting message to our readers?
To the law students, I would say that, make a choice of your profession wisely and put your best efforts to continue chasing your goals. Do not quit the pursuit, due to any reason as the momentary troubles and roadblocks will vanish if you confront them, but if you quit, you will always regret taking such a decision and there will be no respite available to you, throughout your life. To all other readers, belonging to the legal fraternity, I would say, we all should make our best efforts to serve the Justice Delivery System, in a manner in which we ensure that speedy Justice is delivered and for which purpose we all should continue our best efforts, to further raise the standards. To conclude, I'll say that every professional associated with the domain of Law, be it an academician, Judicial officer, Legal Manager in a Company, a practicing Lawyer, Journalist involved in Legal assignments, organisations dealing with legal search tools, all are important and without any of them, the Justice Delivery System may come to a standstill. We all owe a responsibility towards the profession and we all should do our best to keep the Noble Profession, "Noble".
Md. Zaryab Jamal Rizvi
Founding Partner – LCZF (Advocates and Solicitors)
Correspondence Address: LGF, E-102, Kalkaji, New Delhi – 110019
Website: www.lczf.in  E-mail: zaryab@lczf.in  , advocatezaryab@gmail.com
Landline Numbers:  +91-11-46078301 – 02  FAX:  +91-11- 46078303