Abhijit Poonja graduated from University Law College, Bangalore, batch of 2008. Since then he has worked with Trilegal as Associate, Infosys as Associate and later Senior Associate, and Lead Counsel PPS as Senior Associate. He is currently Senior Member, Legal to Associate Director, Legal, at EdgeVerve, a wholly owned subsidiary of Infosys, in Bangalore. His responsibilities include direct reporting into CEO, Dotted line into Group Dy. General Counsel, acting as personal advisor to the Board, to name a few. 
In this interview we speak to him about:
Being an extraordinary student all through his graduation days
Being a first generation lawyer
The art of writing
What would you like to say to our readers in the manner of an introduction of yourself?
I am a people centric person and have always surrounded myself with great company right from my childhood. I find my life far more rewarding when achieving milestones with a great group of people around me instead of being defined by inanimate rewards from individualistic efforts. Apart from this, I am a very outcome driven person and try to measure my life against a bigger picture. As a philosophy, I prefer learning and teaching about life and as one reads this interview they will get a deeper insight of this philosophy and what makes me who I am.
What inspired you to take up law? 
Heading into my 12th standard summer holidays I had no definite plan for a major. I knew I would not pursue the traditional majors from Science or Commerce. During the summer holidays, I chanced upon a Law of Torts book at a family friend's house, which I found far more interesting than any book I had ever read. I eventually finished reading this book in about two days! This set the ball rolling for my conviction to take up law.
Initially my family was not convinced with this decision, given my father and older brothers were all engineers. However, upon seeing my resolve they eventually realized that law was my calling and my parents and brothers became my biggest supporters and mentors. I am now the first generation lawyer in my extended family consisting mostly of established doctors and engineers.
Tell us a bit about your time studying law as an undergraduate student at University Law College, Bangalore.
Before I explain about my experience at ULC, I would like to briefly explain the life which preceded college. I did my schooling at Bishop Cotton Boys' School, Bangalore. While I had numerous well-wishers in school, my two biggest supporters were my principal, Dr. Abraham Ebenezer and the senior program coordinator, Mrs. Indrani Sudarshan. They inspired me to trust my instincts and push the boundaries for excellence. It was this inspiration that made me take up law. Their guidance and influence has remained with me to this day as I consider them my life mentors.
At ULC, I believe what stands out for me is the perspective I got from my various interactions. I befriended people from all walks of life who shaped my outlook and notions of life. I am indebted to my college mates and college professors, especially the Dean Faculty of Law at ULC, Prof. Sudesh V., for playing such a pivotal role in making me the person I am today.
What advice would you give our readers in managing academics and co-curricular without compromising either?
(Abhijit has had an excellent academic record as a topper during his legal education.)
When I completed my five years at ULC, I was a University top five ranker, a University double gold-medalist, the college basketball team captain and member of the college cultural festival team. I had such varied experiences owing to my desire to excel in these disciplines and the support from the college ecosystem. They are mutually intertwined.
I would recommend to all students, that if the college ecosystem permits such diverse experiences, one must methodically chart out their semester/trimester (as the case maybe) and plan how best to participate and excel in academics, sports, moot courts, extra-curricular activities etc. I can assure each law student, from my personal experiences, if one makes the time and puts in the effort to experience differential disciplines it will only lead to a broader outlook in life.
What were you areas of interest during your legal education?
I took each year of law for the experience it had to offer, with an end-objective of deciding on my major in the final year. For these reasons, I can safely tell you I had the most rewarding experience whether it was contracts, company law, environmental law, jurisprudence, human rights and labour or IP laws. The preference to pursue corporate law after graduation is more attributable to my experiences during my internships, which has been explained in detail below.
Could you tell us about the internships you took up, and what you learnt from those experiences?
I did five internships during my college days, basically one in each year. I interned with a Senior Advocate (High Court of Karnataka), Holla and Holla, Dua Associates, Biocon and AZB Partners. You will observe these internships cut across the major areas of litigation (private practice), litigation (law firm), corporate law (law firm) and in-house. This was strategically planned as I traversed my college journey. I am grateful to each of these individuals and firms for giving me an internship and teaching me how to analyse and solve basic legal issues. However, my biggest take-away would be from the time spent at Dua Associates and Biocon. I worked directly with Partners/Heads of Legal and the manner in which these individuals analysed issues and arrived at answers was truly a revelation and a big learning. It was these experiences which paved the way for me to pursue corporate law once I graduated from ULC.
What advice would you give students in avoiding a decision paralysis?
As a person I am not comfortable when not in control of the end-outcome. This coupled with the fact that I was the first generation law student from my family, made me realize that I had to carefully plan each step to avoid being in a dilemma when graduating from ULC especially given the fact that I did not have a safety-net.
Towards this objective, I carefully charted out the different options which the legal profession had to offer and finally zeroed in on corporate law around my 9th semester. Had it not been for this foresight early on, I suspect I too would be struggling to find my calling after college.
On the issue of studying further, I chose to enter the profession from the get-go as corporate law had no requirements of higher studies for one to excel. This was further substantiated by my internships and interactions with individuals who were doing well for themselves in corporate practices of law firms or in-house.
From a law student to a lawyer, how will you describe the transition?
In my view, the most challenging aspect to overcome once we graduate is the daily pressure and associated decision making which comes with being a professional. In college, we do have some sense of comfort and protection, however, when we become a professional this requires us to take decisions in otherwise ambiguous moments and then stand behind those decisions. If students can make this transition successfully, the hard work and strong work ethics that accompany any successful professional can take such individuals to greater heights.  
Tell us about your early professional experiences at Trilegal.
As I mentioned earlier, I was keen on pursuing corporate law, whether it was at a law firm or in-house. During my 9th semester exams, a senior of mine from college mentioned Trilegal was recruiting. I finished my last exam and immediately attended the Trilegal interview the same day. The interview went well and I was offered the role of an Associate in the Bangalore office.
In 2008, when I joined Trilegal, it was a small firm of fifteen lawyers including the founding partners. Hence, during my short stint of one year and few months, I was fortunate enough to work with the founding partners Rahul (Matthan) and Prem (Ayappa) and then newly appointed partners, Ajay (Raghavan) and Kosturi (Ghosh). These individuals played a big role in my development as a lawyer. I credit a lot of my good practices such as diligence, basics in law, attention to detail and presentation skills to Trilegal and its team back in 2008-2009.
I must share an incident with Rahul from my Trilegal days. During a review, he told me, "Write to be read and never write to read". I never fully understood that statement during my stint at Trilegal, but later on, as I matured, this was one of the best pieces of advice I received and I understood the intent behind that statement. If I am able to be a trusted advisor to my clients today, one of the tenets of this trust is built on audience profiling, which was inspired from that advice by Rahul.
How would you compare the work environment and job profile between law firms and companies?
From my experiences, I found the difference to be the industry / market exposure. At Trilegal I was given exposure to legal issues across industries such as manufacturing, pharmaceutical, financial services etc. as back in 2008-2009 I was not assigned to any specific team and worked with all partners/associates. While in Infosys and now EdgeVerve I have opined on differing legal issues within the same industry i.e. IT and ITES.
Barring the above, I genuinely do not believe there is much difference between law firms and in-house. There are notions of one group working longer hours and harder than the other. However, this is good only for debates, but holds little objective merit. I have seen numerous lawyers who put in the long hours in both firms and in-house and have a stable grounding in the nuances of law.
How did you come to take up a position with Infosys?
In year two of my law firm journey, I asked myself what was truly my goal eight to ten years down the line. I quickly realized that being closer to business stakeholders and at the decision making table was my calling instead of playing the role of an external advisor to clients, which has its own merits and importance. Given this desire to move in-house, I reached out to an ex-Trilegal colleague of mine, who was working at Infosys, and I secured an interview and subsequently a job with Infosys Limited. At Infosys, I have encountered numerous bright individuals and influencers, but the ones who stand out are Dinesh (Vijayakumar), Utham (Chengappa) and Gautam (Rohidekar). All of these individuals taught me how to understand the core business issues, analyse the relevant legal frameworks and then arrive at the most pragmatic business advice. Learning to operate and stand-out within a reputed and vast ocean like Infosys is largely attributable to the mentorship I received from the above gentlemen.
How did you come around to running the internship program for Infosys?
In 2012, I mentioned to the then Dy. Head of Legal (Gautam) that we must collaborate with the student community and tap into the talent this community has to offer. Given this realization and the endorsement by Gautam, we designed a definitive process to re-institute the Infosys internship initiative, which operated in a more ad hoc manner prior to this. The internship initiative has been quite successful with few associates joining Infosys after initially starting out as interns. On a side note, I must say the law students today amaze me with their focus and determination. Should students be interested in applying to Infosys and its group of companies for an internship, they can reach out to Abhijit_Poonja@edgeverve.com and Riddhika_Shetty@infosys.com.
What does your role entail as an Associate Director – Legal at EdgeVerve?
In my role, I am responsible for the Legal function for EdgeVerve (the products subsidiary of Infosys) and its business operations across all geographies. This role requires me to be a personal advisor to the Board, CXOs and all Business Heads. Given the complexity of the role, one cannot be familiar with only India operations. Towards this requirement, I have developed my skills to deal with cross-functional and cross-border issues through extensive research and due diligence, a history of managing such transactions and the experience which comes with it and finally partnering with in-house counterparts and external advisors in these regions when dealing with ambiguous scenarios which research and experience are not able to navigate.   
What does a typical working day look like for you?
Being primarily accountable for the legal function at EdgeVerve, my portfolio includes matters across contracts, employment, compliance, regulatory and statutory queries, core product company issues like open source, export and encryption etc. My team and I manage all transactions related to the above. The team is co-located in the same office, i.e. Electronics City, hence we work very collaboratively in all transactions right from receipt to closure. Apart from this, I strongly believe in a work-life balance, therefore my team and I are in office usually by 9 AM and are off for the day by 7 PM.
On what parameters do you choose the projects you work on?
I made a conscious decision to specialize in corporate law. Apart from this, my association with the IT industry is more attributable to the advent of technology in the last decade and our fascination with software and its related businesses. Given this background, and within the IT industry, I chose to keep my body of work diverse and this is evidenced by the current role I am playing at EdgeVerve. I felt this gave me the best chance to grow in the profession and also gave me a broader perspective when analysing issues.
Did you have a mentor or guide during the formative years of your career?
 If you see my journey, as detailed in this interview, I have cited numerous influencers who made a big impact on my career. I do not believe we should look up to a guide or mentor only in the initial phases of our career but throughout. For example, I had about six years of experience when the EdgeVerve opportunity came along. Over the last three years at EdgeVerve, I was fortunate enough to have the guidance of the current Dy. General Counsel of Infosys, Gopi (Radhakrishnan). Gopi has helped shape my knowledge of the software business and put me on the path to becoming a seasoned attorney in this domain.
Outside of law, a very strong influence in my life has been my association with the Chief People Officer of EdgeVerve, Sushanth (Tharappan). I have found that sometimes consulting a seasoned professional, with no nexus to the legal profession, can often yield a different perspective which opens our mind to different possibilities and solutions. Sushanth certainly is that unbiased advisor in my life who has brought a different perspective to the way I approach life and work.
Without mentors in our life, we lose the benefit of their experiences and this is a disservice to their knowledge. As John C Maxwell said, "One of the greatest values of mentors is the ability to see ahead what others cannot see and to help them navigate a course to their destination."
Having published academic articles, could you take our readers through the process you adopt in writing papers?
I look at four factors – (a) the topic; (b) the medium; (c) the audience; and (d) the end-objective of the article. More specifically, let me explain these factors when I did the article for Association of Corporate Counsel (ACC).
I discussed with ACC and suggested an article on privacy legislation in India. Towards this objective, I recommended co-authoring an article along with Anind Thomas (Partner, AZB Partners) on the "Landscape of Data Privacy Legislation in India". This article was going to be published in ACC's magazine for in-house counsels across ACC's global footprint of subscribers. To reach this many subscribers to de-mystify a legislation which has taken shape in the last decade presented an interesting opportunity and therefore I was keen to write this article.   
How do you manage your time between your professional and personal interests?
My biggest interest outside of law has been the game of basketball, which I have been playing for over twenty years! I felt basketball gave me a platform to mould my personality. Through basketball, I learnt team work, tasting both success and failure as a team, and displaying perseverance and will power in the most adverse times. I meet my group of friends from school, college and corporate circles whom I play with and against every weekend. This serves as a great stress buster in our otherwise busy lives.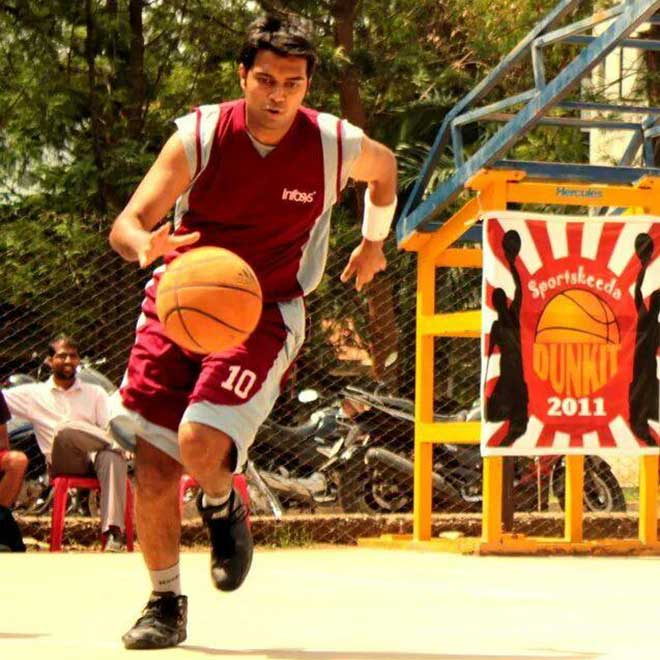 What advice would you like to give our readers, who are mostly law students and young lawyers?
I have seen that trusting one's instincts, charting out and executing according to a specific plan, being guided by a trusted confidante and putting in the hard work day-in and day-out can only result in continued success. In conclusion, I wish that my story has added a different perspective to all young readers and I wish all of them the very best in their careers.