Prashant Ramdas qualified in Law from Mumbai University, batch of 2005. His area of expertise includes E-Commerce, Media and Entertainment and Technology. He has more than twelve years of work experience and has worked as a practising lawyer as well as an in-house counsel with organizations like NSE.IT Ltd., Reliance Media (ADAG Group), Star India, Balaji Telefilms and Motion Pictures, Zee Entertainment Network, Essel Group and Times Group.
Currently he is serving as the Associate Vice President – Legal at Entertainment Network India Limited. ENIL is a subsidiary of Times Group and controls Radio Mirchi, Mirchi Movies, Times Outdoors, etc.
In this interview, he talks to us about:
The importance of always being open to learning and zeal for one's profession.
The factors that recruiters take into consideration while recruiting.
His responsibilities as an in house lawyer.
His inclination towards the media industry.
How will you introduce yourself to our readers?
Well for introduction, I am a young lawyer and always a law 'student' just like you guys, grown up only in age a bit. Though there have been no lawyers in the family, my grandfather always wished I become one, so I sort of fulfilled the prophecy.
What was it that got you interested in the legal field and pursue a career in law?
Law was probably the only subject that intrigued me right from the time I got introduced to it during my B.Com. I always aspired to be a professional and I clearly hated numbers and accounts, so I decided to pursue a career in law which was sans any of it. To be completely honest, in my opinion no combination with LL.B really helps in the profession. All what matters is how focused you are on what you have chosen voluntarily as your career path. B.Com in a way helped me generally to get a quick grasp and understanding of the commercial and business aspects of a transaction which are subject matter of the contracting and negotiations or non-litigation as we call it and which is my main area of interest.
How was your experience in law school? Which were the activities that you undertook?
I graduated from a modest evening law school as I had to support my education by working part-time and as such moots and extra-curricular were never my area of focus nor I had bandwidth for it. My internship with a reputed criminal lawyer to start with was surely of immense help. It gave me a clear picture of the struggle that lied ahead to be successful in this field and mentally prepared me for it. I shall forever be grateful to my early mentors to have let me get an early insight into the challenges and many nitty-gritties of legal drafting which laid foundation for my career. The budding lawyers should always remember to be a 'sponge' during their internships, take them very seriously and absorb as much as they can during the short stint, it benefits in ways you can never imagine at that stage.
What are your areas of interest in the legal field?
My area of interest has always been drafting and documentation, whether it's pleadings or agreements or the likes. Oratory was never my forte but articulation was and that's what I decided to focus on. During my internship, my practice in courts and even in corporate as in-house lawyer I made it a point to read drafts and precedents from good lawyers and reputed law firms as well as international documentations. Reading, observing their styles, vocabulary, logical arrangements with intention to merge and inculcate in what I have learnt, with the intent to develop my skill and ways to bring absolute clarity and simplicity in my drafting, always helped me to enhance my skills. And needless to mention, the learning never stops! Always observe, always be a student and stay humble, no matter how much you climb in your career.
What was your first job after law school?
I started practicing in Thane District and Sessions court immediately after graduation. A senior lawyer practising there was gracious enough to let me be a part of her chambers. The first lesson it taught me was Investment- Investment in your career and goals. I started with a meagre Rs.250/- per month in 2005 whereas my peers started with minimum Rs.15, 000- Rs.20, 000/- with reputed law firms and corporates. It shifted my focus from money to Law. I believe litigation is the foundation of legal career and every lawyer must get hands-on experience in it irrespective of areas of interest. Once you strengthen the basics, rest falls in line. In few years' time, I did manage to level up with my peers in spite of starting slow. So never be worried about where you start, be focused on 'how' you start. Invest your time and energy in learning, rest will take care of itself.
What are the factors do recruiters take into consideration while recruiting fresh graduates or young lawyers?
In my experience, I have always seen recruiters interested in evaluating how much you 'know' than how much you 'scored' or which law school you belong to. Marks and institution may get you to a door but you can enter only with knowledge. The other factors they consider are how interested you are in learning and exploring various areas of law, whether you are a 'cultural' fit to their organisation, how open you are to put in the amount of hard work required for the profile and the zeal for your profession.
You have been previously associated with Star, Balaji Telefilms, Balaji Motion Pictures, Zee Entertainment Enterprises, Times Group which is in the entertainment industry. Were you always inclined towards this industry?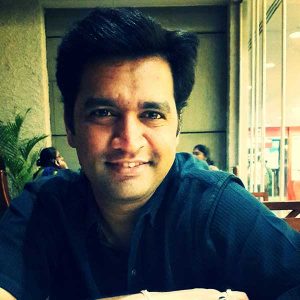 I entered this industry of Media and Entertainment by accident and without intent or much information about it to start with. It was a career decision I had to make from perspective of exploring other areas of law, being in early stage of my career i.e. areas other than Real Estate and IT which I started off with. The Media and Entertainment industry is all about Intellectual Property Law and Copyrights majorly. The field of copyrights, apart from being a niche, is immensely complicated and interesting. Just when you start thinking you have learnt a lot, you realise there is a universe out there waiting to be explored. New challenges keep cropping up every single day and that's what keeps me interested and fascinated about what I do. The work culture in this industry is indeed one of the factors which keep me glued. Most entertainment companies breed work culture that is informal, un-bureaucratic, open to ideas, casual but at the same time dead serious about the things they do. It's highly time sensitive, cost-sensitive and keeps you alive and on your toes always. You also get a sense of contribution to your organisation as you are entrusted to protect their core i.e. IPRs. So jump in if you want a rollercoaster ride!
You took up a position at Balaji Telefilms and went on to become the Associate VP of the Legal team at Balaji motion Pictures. Tell us about your professional experience and responsibilities?
After practising for 2 years in criminal and civil litigation as junior advocate, I got into legal team of NSE.IT (IT arm of National Stock Exchange), from where I moved on to media sector starting from Reliance Media. I was approached by a placement firm for opportunity with Star India and I got in to explore the field of copyrights. I handled legal documentation for all major channels of the company including Star Plus and the English cluster and also their content licensing business. However, working there I realised that though a reputed broadcaster gives you immense international exposure, the detailed knowledge of on-ground production of a television serial/films is equally important, to widen your perspective, understanding and practical realities of media production, which in -turn helps you in your overall understanding of the core business of content production and there was no better place than Balaji Telefilms and Motion picture for learn it. In addition to variety of contracts, it taught me the ground realities of productions, artist negotiations, difficulties faced by production teams etc., which helped me to cover the risks as well as be more articulate, accommodative and to simplify my agreements, to standardise them and ensure quick closures.
Can you tell us about your responsibilities as the Managing counsel at Zee Entertainment?
Zee being a media giant gave me exposure to wide variety of businesses and transactions. I handled their major television channels including flagship Zee TV, content acquisition and licensing business, food e-commerce business as well as their digital business apart from general corporate transactions.
What made you shift to the Times Group? How has your work experience been so far?
Shifting to Times Group was again a conscious career decision, as I was presented with an opportunity to handle their Radio Broadcasting business under guidance of an experienced professional and chance to handle litigation profile which I was estranged from a long while. Knowledge of copyrights in musical works is core to this business and is also a very important and complicated area of copyrights. Apart from the work profile, the work culture at Times Group is a huge plus, as they give you complete freedom to work as well as to maintain a healthy work-life balance. It also helps to maintain your efficiency at work, which most organisations talk about but never implement.
What are the skills one needs to develop in order to succeed as an in house lawyer?
As I mentioned earlier, to succeed in any field, the only thing that helps is to focus on your area of interest. If one is interested in litigation aspects, voracious reading of case laws, pleadings and working under a knowledgeable general practitioner (unless you have pre-decided your area of work) is very crucial. If one is interested in documentation side, reading of as much variety of good contract drafts, understanding of contract law and laws relating to the transactions is very important. Sincerity and hard work in these areas will definitely take you places and will make you confident to take up any challenges in your area of work.
Describe the typical day of an in house lawyer? How is this different from working at a law firm or a chamber?
Working in chambers of a lawyer is a whole different experience. You are immersed in research work, reading up laws and precedents and picking up your senior's manners in dealing with clients. As against that, in-house is more about applying what you learnt in the chambers or law schools. It is more operational in nature and all about meeting deadlines. It also involves the most important and interesting aspect i.e. learning the business models, revenue streams and understanding the business requirements of core business of your organisation. Streamlining and standardising the current processes and continuously evolving your documentation to align it with requirements of your internal customers (i.e. businessmen) to help them expedite document closure, bring in more revenues for the company and at the same time to protect its interest in the best manner. Thus, the core role of an in-house lawyer is to be a 'business enabler'.
What are you views on the importance of higher education in the legal profession?
Education is never ending. Higher education should definitely be pursued, if you firmly believe it is going to add to your present skill sets and knowledge. Its necessity, I believe depends on lot of factors like personal aspirations, targets, interests in higher studies, career benefits considering the position you are working at etc. I personally did not pursue LL.M or other courses as I felt I have enough to learn in my area of practice alone and being focused on it helped me achieve my personal goals. But as I said it's an individual choice considering their circumstances.
What are the challenges you have faced in building your career as it stands today?
The basic challenge at the beginning of my career was sustaining with a very modest income in spite of earning pressures, with a belief and faith in what I was investing in. Due to lack of early guidance, contacts and references and also not being from a top rated law-school did hinder my chances to get a rocketing start, however it also taught me the importance of hard-work, self-reliance, self-development, persistence, self-belief and making way through any challenge. It was never a cake-walk to what I managed to achieve thus far, but it taught me to stay humble, to be open to learning from everyone including interns and peers I work with and to help those who have zeal for this profession in whichever little way I can.
How do you maintain a work life balance?
Work never ends. If it does you will no longer be required. Therefore, prioritising is important. Know what is important to be done. Keep a track of your work so that nothing important misses your radar. Work efficiently through the day and more often than not, you will find yourself leaving the office in time, without prejudicing your work. Focus on the fitness levels of your mind and body equally as they in turn help your efficiency at work. Do this and you can maintain a work life balance with ease.
What advice do you have for our readers?
Though I am not as accomplished yet as to advice, from my little experiences, I can only reiterate and say 'Never stop being a student!' Identify your strengths and decide your area of focus early in your career and work relentlessly. Work hard but most importantly enjoy whatever you do and never forget to have fun. All the best to each one of the readers for their aspirations and thank you for reading. Feel free to reach out to me at prashantramdas@gmail.com should you have anything to ask.