Shubhi Sharma graduated from Symbiosis Law School, Pune in 2007. She then completed her Master's with a focus on competition law, arbitration and finance from King's College, University of London. She worked at Vahura as a Talent Management Specialist and a Social Media Artist before moving on to working as a freelancer creative social media manager. In this interview, she talks about:
Her decision to pursue law
Experience at Symbiosis Law School and Master's at King's College
Exploring her creative side and eventually taking it up as a full-time profession
Decision to not pursue a traditional job in the legal profession
Balancing work with personal life
Following her passion against all odds
How would you introduce yourself to our readers in one sentence?
I am the 'mother of Egg-Heads' (popular name for my cartoon characters), who, after a law degree from Symbiosis Law School and a master's degree from King's College London, is now practicing the humorous side of law.
What made you choose law for your graduation? Was there any pressure to join this field?
Will you believe me if I say that it was an influence of movies and TV shows?  From 'Meri Jung' to 'Ally McBeal', I was influenced by all of them. However, it was probably my genes that pulled me towards law. My father still is my biggest inspiration and I grew up watching him practice. As a matter of fact, I grew up in an environment where intense discussions were a part of our daily routine. As kids, we were expected to be aware – socially and politically. In addition to that my time at Welham Girls' School, further enhanced and shaped my debating skills. After winning series of awards in both debating and dramatics, I felt the next best thing was to study law. To be sure, I underwent the necessary career counselling sessions, and my choice of profession seemed in sync with my attributes.
Tell us about your life at Symbiosis Law School, Pune.
One thing about the five years at Symbiosis Law School, Pune is that they just flew by. We were the first batch of Symbiosis Deemed University and our management wanted us to have the best of everything. The batch of 2007 was extremely special, each one of us came with our own special traits – focused, diligent, unconventional, highly ambitious and a lively bunch.
Our classes usually got over by noon, which left us with ample time to do things we liked. This was one of the advantages of a non-residential college. While most of my friends spent time in the library, I was busy converting our study material into humorous study notes- something like a story made from the content of the subject. That was my unique way of preparing for exams. In retrospect, I guess that's where the seed was sown. This content was an excellent way to study, and was often used by my study group as the last minute resort to memorize for exams – you know – no-body forgets a good joke! Probably it was this interesting style of preparation that helped me win the prestigious Ram Jethmalani Award for Excellence in Law of Evidence.  On the other hand, I also utilised my free time by opting to help a new advertising firm with their IPR queries, but instead, ended up working with their creative team.
Another interesting thing about Symbiosis was its campus. We had other courses running on the same campus. That gave us the opportunity to befriend students pursuing other courses and expand our knowledge.
How involved were you in co-curricular and extracurricular activities?
A lot more than I was involved with books! I did a lot of theatre and debating in my early years.  Being on stage brings out the best in me, it is therapeutic. I wasn't called 'Drama Sharma' for no reason. On the other side, I was very active in contributing ideas to an advertising firm. I can proudly say that my ideas were used in various ad campaigns in and around Pune.
Why did you choose King's College, University of London for your Master's? What was your area of specialisation?
I was always keen on doing my higher studies outside the country, UK being the priority.  It was about gaining international exposure, meeting fellow students from across the world, and experiencing a different education system. When I was shortlisting colleges, my priority was the ranking of the college, curriculum it offered, and its faculty.  KCL is not only the one of the top ranked colleges, it is also known for its incredible faculty –  Prof Richard Whish, Prof Tennekoon, Toby Landau QC, to name a few. I consider myself lucky to have studied under their guidance.
My LL.M. was focused on competition law with additional subjects of arbitration and finance.
How was your experience there? What was your biggest learning experience?
My LL.M. at KCL not only taught me the intricate details of syndicated loans or gave me the in-depth insight on per se rule in EU Competition law, but it also changed the way I thought. The pedagogy followed at King's is different from the one in India. It forces you to think beyond the regular. It was intriguing to observe the mix of minds in the class; everyone came with their own opinions, experiences and perspectives. Unlike my previous batches from school and college, my class at KCL had a few students who were way senior to me. Learning about their professional lives and experiences made me realise that we, at the start of our careers, restrict ourselves to walk down a particular paved path. Today, when I look at a few of my class mates from KCL, I see a Competition Law lawyer turned into a full time travel photographer and an associate from a Magic Circle law firm as a legal journalist. To cut the long story short- KCL and the people I met there taught me one thing –  to think beyond the regular.
My LL.M. was not all about the curriculum, it was an overall experience.  My stay in London gave me the opportunity to travel. I backpacked across half of western and southern Europe with students from across the world!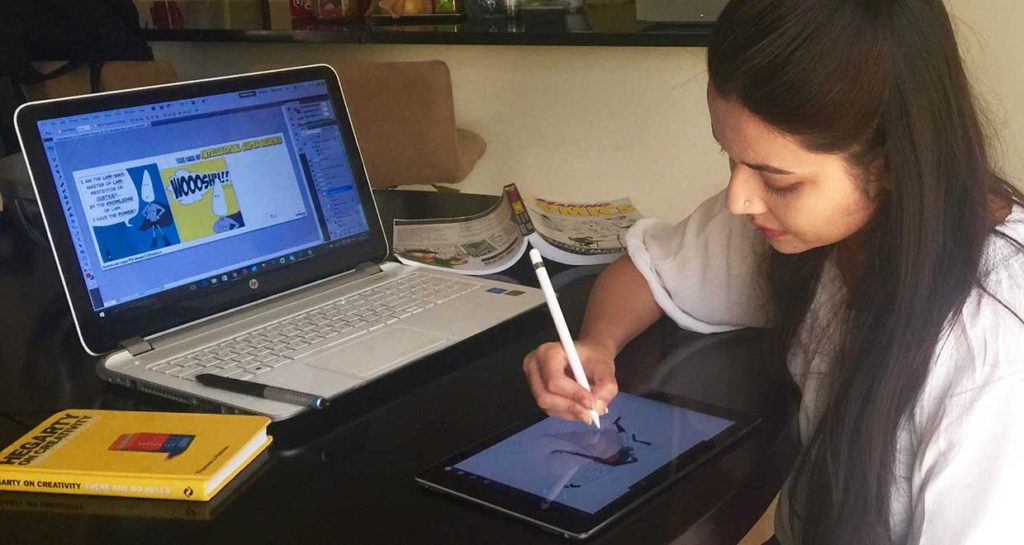 After completing your Masters, you started working with Vahura, a legal talent specialist firm. Why did you choose to move away from pure law work in a law firm?
The original plan was a regular one –  apply to the law firms and make a career. Luckily, I came across Vahura. What really attracted me was their business offering: they are unique in their solutions and the best in the industry. When I met Ritvik Lukose (CEO, Vahura), I was floored by his sense of vision. The concept of Talent Development Service excited me. It was relatively new at that time, and I knew I could contribute a great deal there. I felt I could use my creative side to this project too, which I did. The best part about Vahura was that I could retain my creativity and identity. Ritvik gave us complete freedom to run the show our way and that helped me grow personally as well as professionally.
Did you ever contemplate joining a top corporate law firm, or even become a litigation lawyer, while a law student?
I suppose we all grow up the same way and compare ourselves with what our friends or seniors are doing. 'Career' becomes all about taking up a secure job. I too belonged to this line of thought.  I would be wrong in saying I am not ambitious, it is just that with time my goal changed. I wanted to be successful and be known for what I do best. Even though I tried, I didn't see myself fit into closed spaces and a structured environment. I needed the freedom to explore and shape my own identity.
Please tell us about your work as Talent Management Specialist & Social Media Artist at Vahura.
At Vahura I worked for the Talent Development Service, now known as the Mentorship programme. This programme is a series of end to end recruitment preparatory services for law students and young professionals, to help them improve their recruitment potential, and make the right professional choice. Something, we all needed during our final year at law school. We created detailed, comprehensive workshops catering to the core needs of students. These workshops were not long, monotonous, yawn-inducing training sessions. In fact, we made sure that there was a good balance of knowledge, psychometrics test, interview snippets of seniors from the industry, and humour – that's where the Egg-Heads made their first appearance. I enjoyed this role thoroughly, as a major part of this profile included intense market research, interviews of luminaries from the industry, preparation of accurate content, design and presentation.
My role with Vahura also evolved. As a team, we regularly plan or modify the strategy. My main deliverable is comic banners created under the pen name Pen-Ultimate. It has been two years since we started! Over this time, Vahura gained immense visibility and Pen-Ultimate & Ultimate Lyre gained popularity.
Why did you leave Vahura?
The decision to leave Vahura was a difficult one, but necessary at that time. I had started to feel the need of getting into the creative field completely. Although, my profile at Vahura was giving me enough opportunity to pursue that, I wanted more. Honestly, I did not have an immediate plan. But I knew I had to get myself out of my comfort zone to take the step, which, at that time, was completely unknown to me. I was confused but, I never lost focus. I took a much needed break from work, and started figuring out my next career move. I was looking at something where I could use my knowledge of law more creatively. I used this time wisely; I connected with people from the creative industry and took their advice, researched on various options, took a few online courses. Ritvik and Balanand (from Vahura) played a major role in this decision making.  It is they who planted the idea in my head.  Sketching, doodling or just scribbling stick figures has been my stress buster since childhood, and those little puzzles started to fit in together. The creative bug had bitten me by then, and I figured out how to put my artistic brain to good use.
Currently, I am a freelancer, working as a creative social media manger. I provide creative marketing solutions on various social media platforms. My clientele is mostly from the legal industry, who are either looking at increasing their visibility or targeting to be known in a particular segment of services.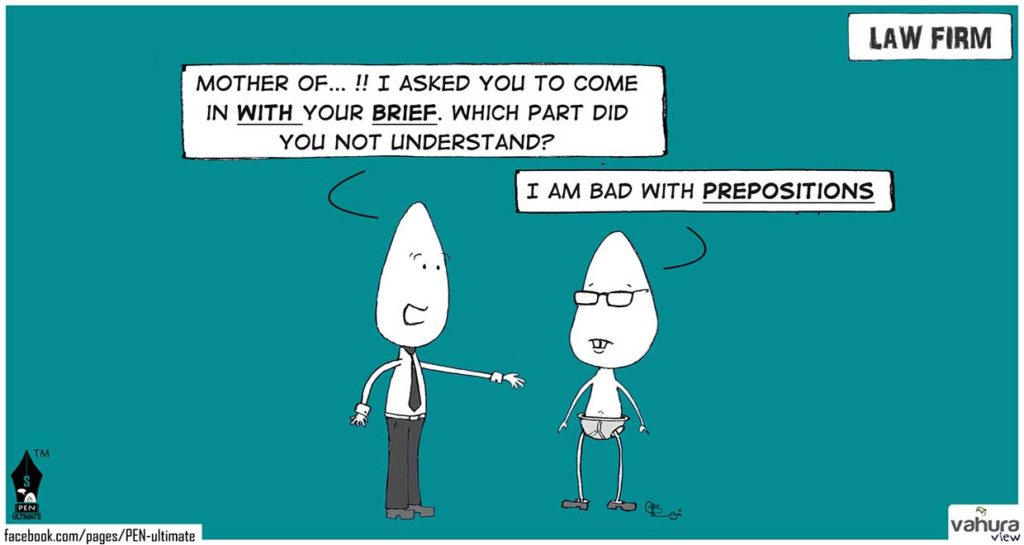 You are known for your satirical cartoons on the legal field. What is your source of inspiration?
I don't have to look for inspiration. It's all around me- friends, family, former batch-mates, ex-colleagues, former students and my husband. I am a good listener with decent observation skills. I have a mind which sees humour in almost everything. Every work of mine is associated with a real life incident. I use Egg-Heads for my legal cartoons.  I try to depict a general life of a lawyer- working during holidays, dealing with a demanding boss, appraisals, legal subject matter, courts, love lives – and so on.  Other than the usual legal cartoons, one of my personal favourites is a series called 'Legally Ever After', showing famous fairy tales with a legal twist. 'Bollywood's Special Procedural Laws' is another very popular series by Pen-Ultimate. Keeping the look and feel of Bare Act, I draft imaginary sections applicable to (in)famous legal system of Bollywood. And they come with case laws too. Chadhha vs Govind 1993. DAM. 32 (Tareek pe Tareek case), State of Bollywood vs Dr. Asha Mathur 1985. MeriJung. 11 to name a few.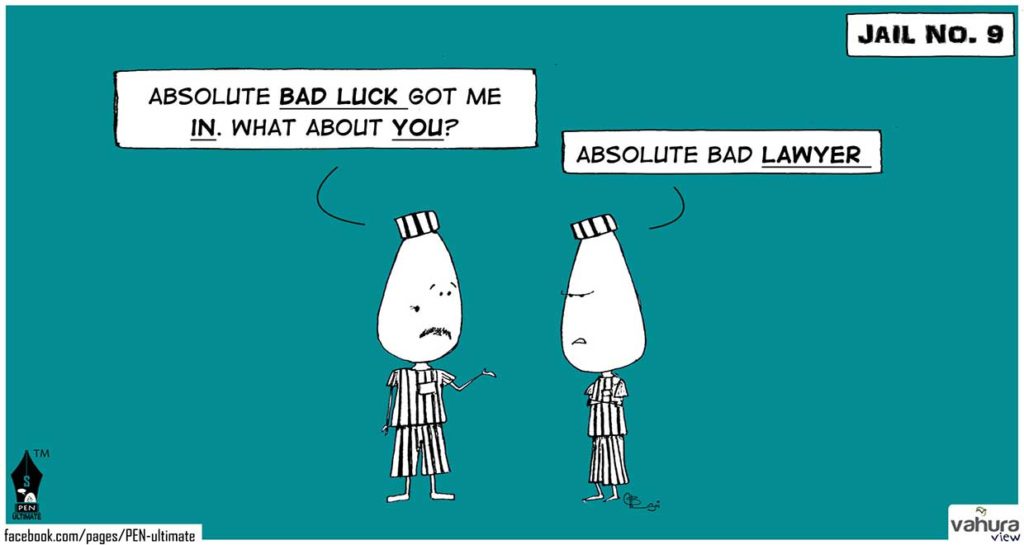 How do you prepare these cartoons?
Preparing a comic isn't as easy as it seems.  Thinking of a concept, preparing a script, working on illustrations, all are very time consuming tasks with their own challenges. A lot of research goes into figuring out a concept. Never had I thought that I would be reading articles on legal maxims to get a gag out of it. Once the idea is ready, I write the script. Writing dialogues is a delicate task. A shabby punch line kills the joke completely, and I cannot risk that. Once I have my script in place, I start working on the illustration and presentation. This is the part I enjoy the most, specially working on the character's expressions. I make sure I add a new style of presentation with each comic. I went from regular one frame cartoon to three-five frame comic.
Are you planning on developing your cartoons into other forms?
Yes, there is a lot lined up. A full comic book is my next aim. Other than that, I will be soon launching GIFs of my cartoons. Long term plan is to have animated videos of them. I am currently working on other forms of humorous illustrations, with different characters, pertaining to non-law fields. If all goes well, you will soon be seeing Egg-Heads merchandise as well.  Fingers crossed!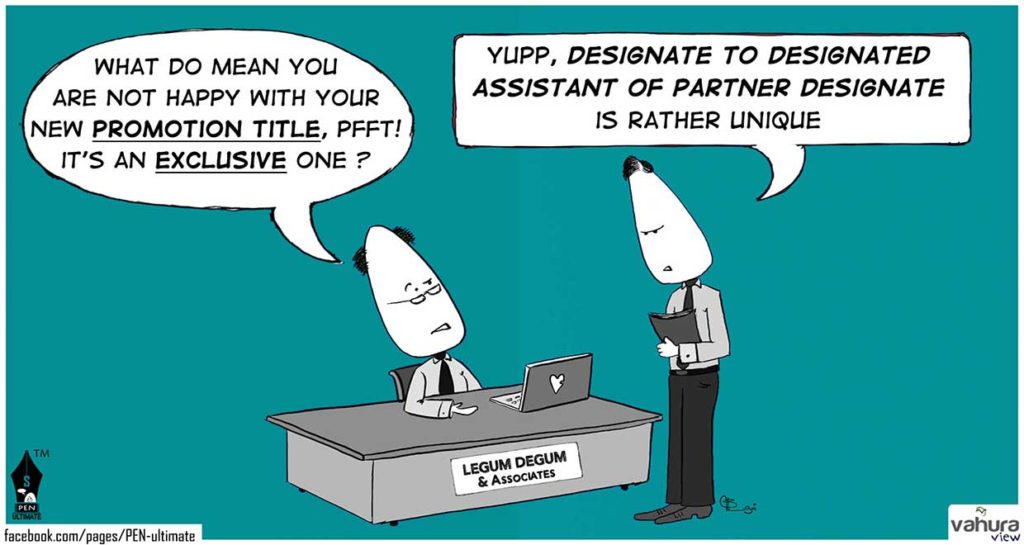 Did you face any problems?
Of course! It is not easy to make a lawyer laugh. As soon as they saw a cartoon on legal set-up, they jumped into the technicality of it. It took me some time to understand the right kind of humour and presentation to tickle their funny bones. But this was a part of the learning process.
The real problem I faced is an artist's worst nightmare. There was a time my cartoons and banners were being used by others. The tragedy was that they would ruthlessly remove my logo and put theirs. It was very disheartening to see my own comic, which took days of hard work, being circulated with someone else's logo on it.   There were times I received my own work on WhatsApp! I used to be happy and disturbed that the same time. Luckily, things have changed now. Egg-Heads have found their own identity and so has their original creator-the mother of Egg-Heads. Also, my IPR is in place now. So logo-removing thieves, beware!

You also freelance as a social media expert. Tell us more about your work.
Well, it is more of a blend between social media marketing and creative marketing. It's a digital world today, and everyone is looking for ways to utilise it to their benefit. But, with everyone doing similar kind of marketing, the purpose is somewhat lost. That is where I come into the picture.  I prepare a strategy for my client which enhances their USPs and aims at a good rise in their visibility among the target audience. This mostly comes along with creative content. Keeping in mind the target market, client requirement and the social media platforms, I prepare the content. The basic idea behind this is to get the attention of the viewers and to create an image of the client.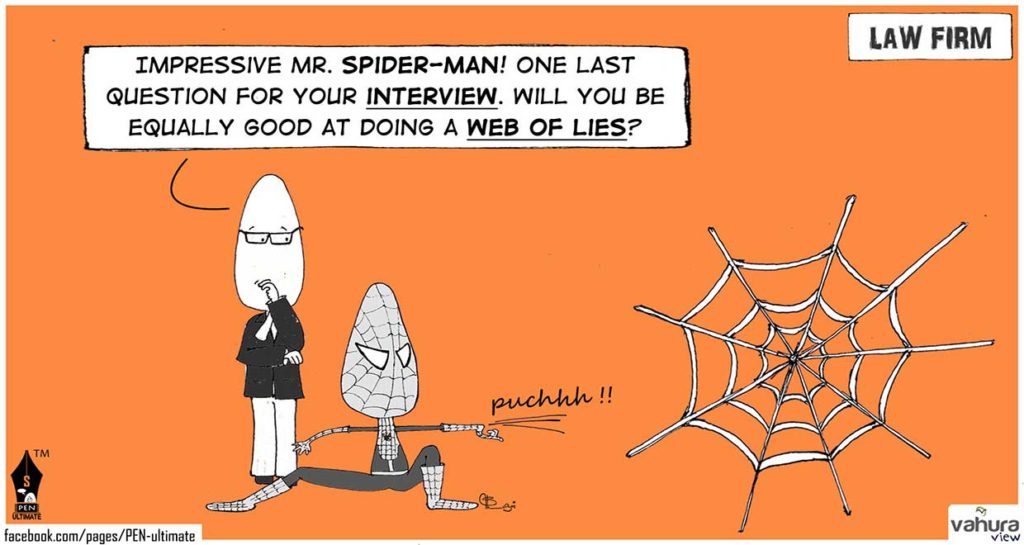 How hectic can this get? How do you ensure wide publicity?
Oh! It gets hectic. It is a one-man show as of now. I have to do everything by myself- researching, preparing the plan, its execution, communication with clients, artwork, finances, and also getting myself a cup of tea in between work.  The good thing is that I didn't have to worry about business development. My work did that for me.
Honestly, I haven't felt the need of serious publicity for my work. It is getting attention organically. So far, Facebook, Instagram, Twitter and even LinkedIn have been working well. I am looking at a gradual growth. Today, people have a very limited attention span, it takes a minute to get noticed as well as fade away. I ensure to have active engagement with the audience. I have also gradually started creating more presence across various platforms.
How do you manage it solely by yourself?
As of now only one brain is working on this. But with increasing work, I am looking at hiring virtual interns soon.
You have now completely shifted out of the legal profession. Did you face any opposition or dissent from your family regarding this? How easy a decision was this to make?
It wasn't easy, not even close to being easy. I was thinking of moving out of a highly sought after career line. In a typical scenario, that is not something a sane mind would do. Judgemental eyes are always following you around. One little change and you are bombarded with questions. Before answering anyone, I had to be sure myself as it was a drastic, high risk shift. Talking about the 'road less travelled' sounds good but to actually plan on walking down that path is like planning to walk into a tunnel, not being sure of finding light at the end of it. The most difficult part was to make that decision; and once I was sure, there was no looking back.
My friends and my family were extremely supportive in my decision to take the leap of faith. Courtesy to my two fairy God 'mothers'- my brother and my husband. Thanks to them, I went from manual sketching to fully digital.
Do you now regret taking up law for your graduation? Do you feel you would have been better off with a degree in closer connection to your current work profile?
Not at all! I am a mix of things- my knowledge of law/legal industry combined with my creative expertise makes my work unique. I enjoyed studying law, so have no regrets there. Art and humour come naturally to me. And by God's grace, I have been able to find a way to combine the two. A degree could help, but then imagination cannot be taught.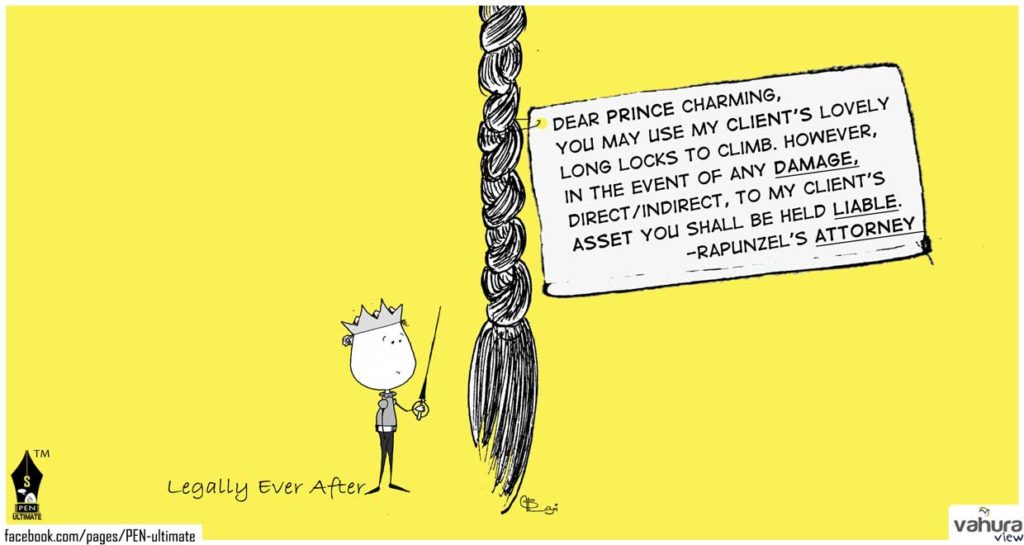 Most law students would hesitate to change their fields like this, majorly because they fear economic instability. What would you have to say to such young students?
Money is important. There are no two thoughts about that. But how can we be sure that it will come to us by following a certain set path? It is a big world out there, with many opportunities.  Think differently, have the courage to pursue your dreams, but first be sure of your dream. A half-hearted passion will take you nowhere. I often hear – "you are so 'lucky' to turn your passion into your profession". Well, to quote Seneca- 'luck is what happens when preparation meets opportunity'. Cliché as it may be, but there is no substitute to hard work.
I feel it is more to do with finding your real potential. Had I continued to be a lawyer, right now I would be doodling instead of taking notes during some yawn-inducing con-call. Not a sign of a good lawyer, is it? We're born with a set of skills and we acquire a few over our lifetime, what matters most is what we make of our unique potential. Money will come eventually.
How can an Indian law student find their feet in an arena such as creative content development or social media/marketing? Since there is no degree to show for these fields, would it be difficult to find gainful employment?
I won't deny the fact that the sector is difficult if you are looking to break away from the regular work. On the other hand, people are experimenting with ideas, and are able to make their presence felt. The challenge will always be there if you want to do anything offbeat. The good news is that we are living in a time of start-ups after all! The best part about social media marketing is the freedom an artist gets to be unique, unconventional and at times even bizarre! There is no set syllabus, no rules or guidelines. Your task is to formulate a strategy which catches the interest of the target groups.
A law student/graduate willing to make a mark in this field can start with mapping the legal industry. In today's time, all law firms are seeking visibility. But they cannot be in the news seven days a week. So, the next best place to make their presence felt is on social media. When these firms approach the social media experts, they find it difficult for an outsider to understand the mind-set of the people in the legal industry. They want someone who understands the market as clearly as they do. Who would know the legal market as well as a lawyer does? Another lawyer. There! You have a market ready.  I see  great potential here.
How do you balance work and personal life?
Even though I work from home it does get a bit difficult to strike a balance between professional demands and daily household tasks. Well, as they say, creative minds are not very good with time management. I can vouch for that, my brain doesn't understand 9-5. An idea can strike at the oddest hour and if I do not work on it at that moment, there is a high chance I will lose the essence of the entire concept. Living outside India comes with its own challenges; biggest one being to do everything on your own with no help whatsoever.  But I have no complaints at all. I have a great support system in my better half. Honestly, I don't know how we do the balancing trick, but at the end of the day, everything is taken care of.
What is the one advice you would like to give young law students?
Do not fall into the trap of 'what will people think'. The day you master that, you will feel free from distractions and obstacles which stop you from reaching your true goal. On the other side, get inspired by success of friends/ acquaintances. Jealously, comparison, and bitter competition will only do one thing- take away your peace of mind.